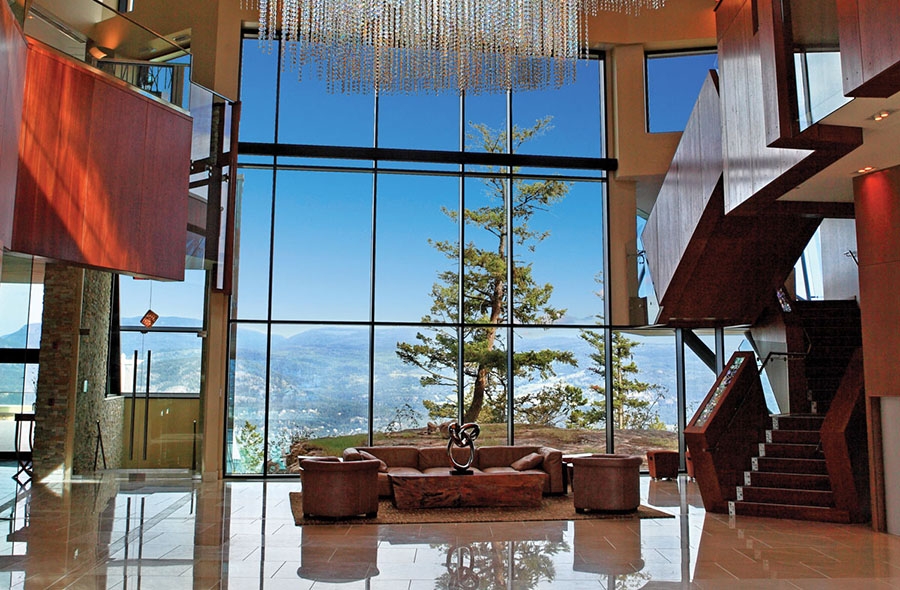 The site of unparalleled natural beauty and award-winning architectural magnificence, Sparkling Hill Health Resort is a one-of-a-kind $122 million masterpiece—the only resort in the world to incorporate Swarovski crystal elements into every aspect of its design, amounting to more than 3.5 million crystals worth over $10 million.
Behind the magic is principal owner Gernot Langes-Swarovski, patriarch of the Swarovski family and former head of the legendary crystal empire that bears his family name. As much a destination as the spellbinding location it inhabits, Sparkling Hill Resort is the only public place outside of the Swarovski crystal showroom in Wattens, Austria where all of the design, technology and ingenuity of Swarovski can be viewed and experienced in one location.
Located between Vancouver and the Canadian Rockies, this spectacular hideaway is carved into a granite rock face high on a ridge overlooking 84 mile long Lake Okanagan and 36 holes of championship golf. The resort's elegant, European-inspired design juxtaposes a decidedly urban vibe with the raw honest beauty of the landscape. Arrive by limousine from the closest airport, just 20 minutes away, or take a six-minute helicopter transfer from Kelowna International Airport, where private jets land around the clock.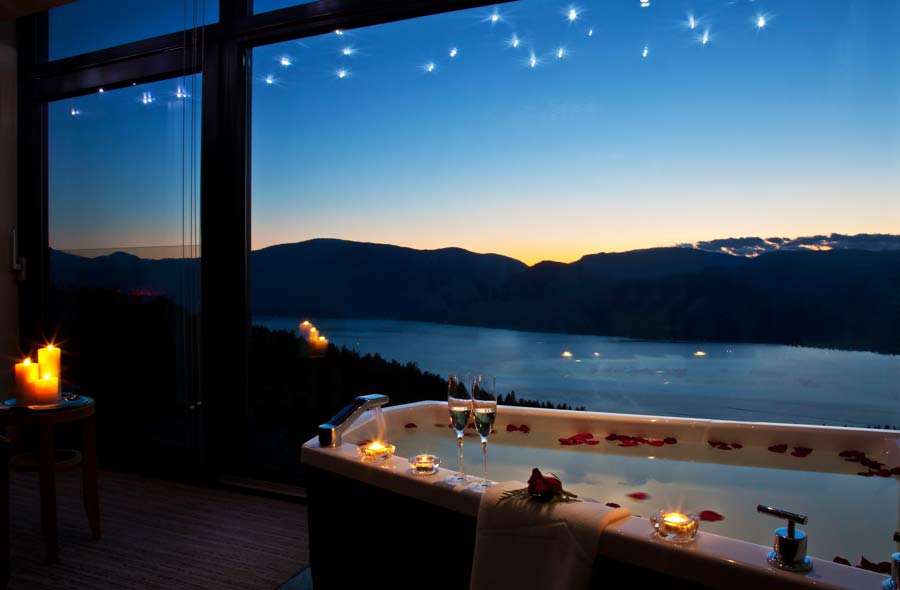 All 146 rooms at the resort are open concept with unforgettable panoramic views with either endless mountains or lake with stunning sunrises or sunsets through floor-to-ceiling walls of glass. Rooms literally transform into outdoor oases by means of a sliding glass window wall.
Freestanding tubs with Swarovski crystal sky hold prime window-side real estate, walk through glass showers, solid granite dual sinks and beautiful Swarovski crystal elements are woven into the décor.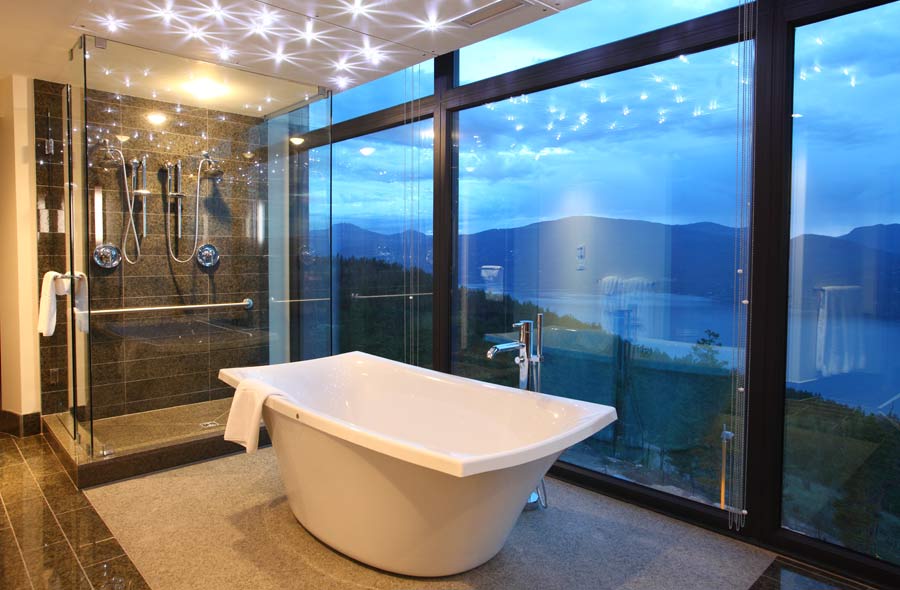 Penthouse suites have sleek spacious master baths with enchanting lake and mountain views through floor to ceiling glass walls from the freestanding soaker tubs and separate walk-in showers for two, master baths also have a private sauna/steam room. Suite style is refined as the glass walls bring the outdoors in, while inside, handsome hardwood floors, Swarovski crystal works of art and European flair set the tone for a rich, yet laid-back abode. Each of the resort's three sumptuous corner penthouse suites feature a bedroom with gas fireplace and separate living and dining room. Views are mesmerizing, and you'll be witness to the most amazing sunsets night after night.
Special Offer for Jetset Readers
*LIMITED TIME OFFER: Book Your Stay with us until September 15, 2015 in a Deluxe Lakeview Room and receive a complimentary suite upgrade, based on availability at the time of booking. PROMO CODE: JETSET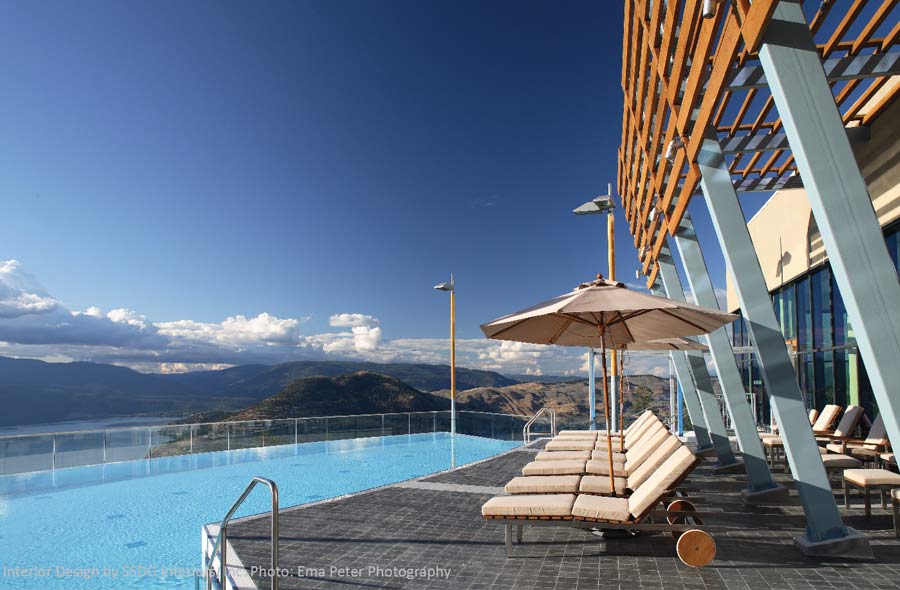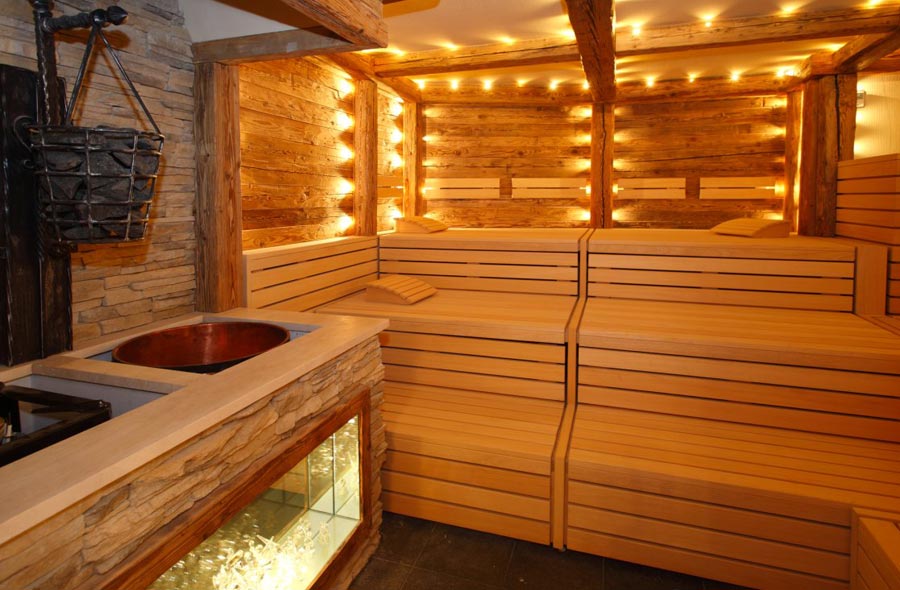 KurSpa
Merging the German word for healing, "kur" and the Latin word for health by water, "spa," KurSpa offers 40,000 square feet of therapeutic paradise, where flowing water soothes, rejuvenates, invigorates and cleanses. Designed by an Austria-based industry leader, KurSpa boasts 48 treatment rooms and over 100 transformative treatments and therapies that utilize pure thermal water, Dead Sea salts, volcanic dust and essential oils of plants and flowers. Guests seeking a comprehensive detox program meet with the resident naturopathic physician who will tailor treatment and nutrition plan for the length of your stay. Among Kurspa's many features are experience showers, seven unique steams and saunas, an indoor pool with underwater music and light, Kneipp water therapy and specialized aromatherapy and themed couples treatment rooms. Open, airy and flooded with natural light, the KurSpa is both uplifting and soothing, an oasis of calm and tranquility.
KurSpa's signature treatment and North America's first and only European Cryotherapy Cold Sauna (-110 degrees Celsius/-166 degrees Fahrenheit), offers a treatment popular in Europe and widely used by Olympic athletes and sports clubs to enhance performance and recovery. Although hard to believe, three minutes exposure to extreme cold is infinitely therapeutic, boosting endorphin and energy levels, doing wonders for the nervous, circulatory and immune systems, and treating chronic pain and inflammation. Cryotherapy is used by physicians in Europe to treat patients with chronic pain such as arthritis, for two treatments three minutes each over ten days can eliminate pain for up to one year.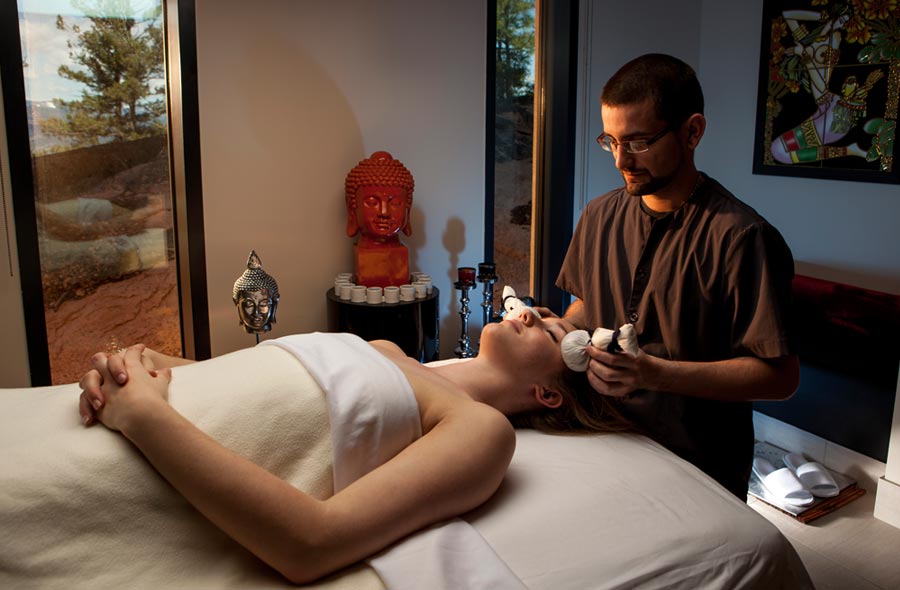 "The integrative health clinic at Sparkling Hill Resort is revolutionary in its concepts and is simply unlike any other health facility in the country, or practically anywhere else as KurSpa combines naturopathy, homeopathy, kinesiology and psychology, along with all the traditional spa services – all under one roof says", says Dr. Bryce Wylde, Thought Leader, and Practitioner. KurSpa is providing a complete wellness experience that will leave you feeling renewed and revitalized. Since its inception, the clinic at KurSpa has been recognized for its innovative healing programs, designed to improve the quality of your life, and to help you achieve optimal health. Each program is customized for a guest's special needs, such as alleviating pain or stress, healthy weight loss, or simply a desire to improve overall energy and vitality. Seven-night health programs from cleanse and detox to anti-aging to athletes' recovery programs are available.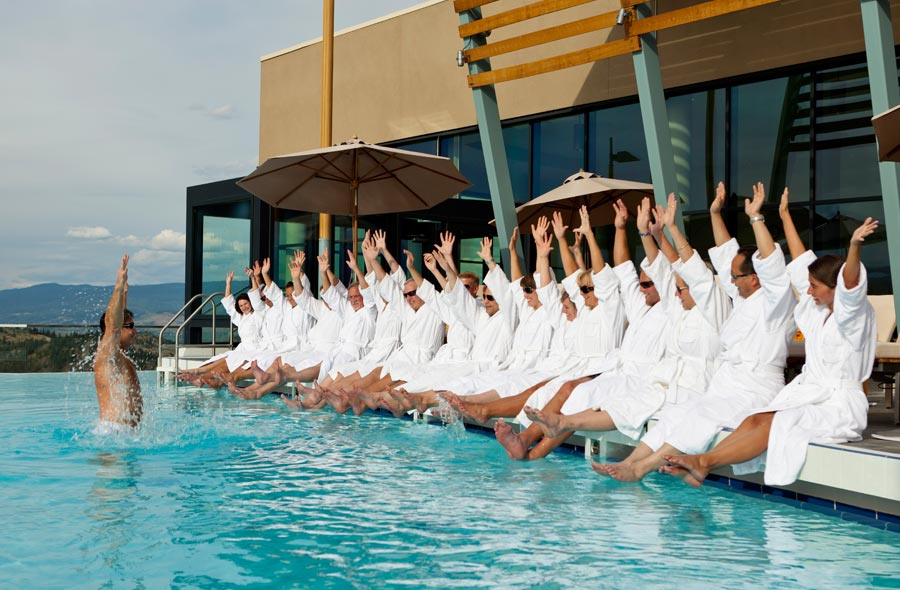 Take advantage of the resort's corporate wellness programs that encourage healthy living, empowering and motivating leadership teams from around the world. Specially tailored retreats include reviews of healthy living habits, life coaching, stress management techniques and personal assessments with a naturopathic physician.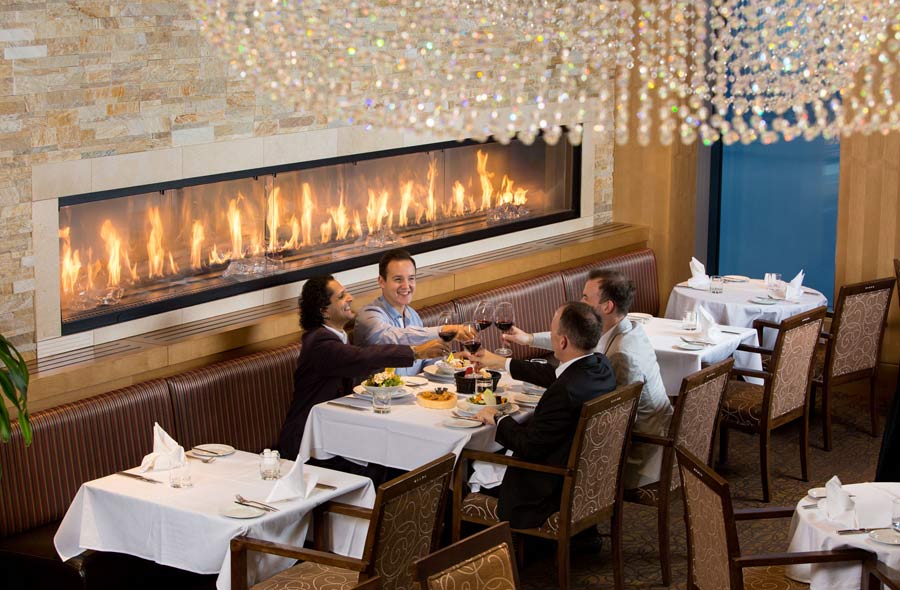 Peakfine is Sparkling Hill's signature dining room offering stunning sunset views over Lake Okanagan with private sections for a more intimate dining experience. Sample a delicious blend of European culinary practices and West Coast gastronomy with a focus on local and seasonal fare sourced from the heart of the Okanagan Valley and the shores of British Columbia.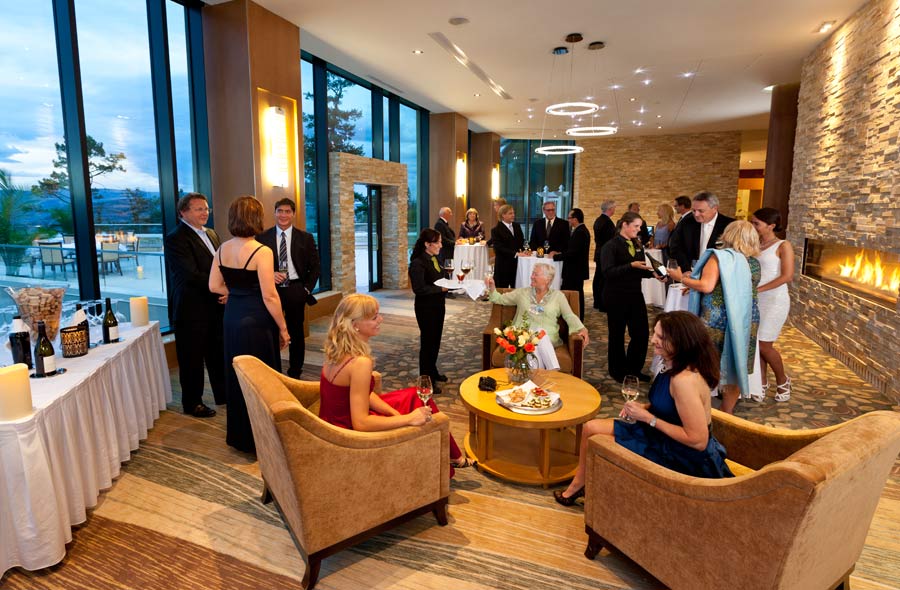 Sparkling Hill Resort offers over 10,000 square feet of meeting space characterized by an abundance of natural light and fresh air, complete with banquet rooms and outdoor terraces, the latter an ideal spot from which to enjoy the region's Mediterranean-like summers. Here you will meet, golf or ski and spa – work, play and relax – in the most luxurious (and productive) way imaginable. While a change in pace and scenery is a great way to gain fresh perspective, discuss new projects, strengthen relationships and fine-tune strategy, pairing hard work with exhilarating play and serious pampering will restore and replenish mind, body and spirit. You will leave motivated, inspired, recharged and ready to take on the world.
Barrique & Java is a European pastry and coffee lounge by day and in the evening transforms into a comfortable retreat in which to sip intoxicating cocktails and drink in the view. The wine bar features some of the Okanagan's finest wines alongside a wide selection from across the globe. Private dining at Gernot's is rustic chic, a private space decked out with 100-year old reclaimed wood from a nearby local ranch, as well as rich leather furniture, a glittering Swarovski crystal chandelier and glowing fireplace. Gernot's serves as the private club room to Gernot Langes-Swarovski when he's at the resort, Gernot's can accommodate parties of up to 50.
Predator Ridge Golf Resort, just two minutes from Sparkling Hill, is one of North America's best golf resorts, offering 36 championship holes. The Doug Carrick-designed Ridge Course opened in 2010, sports breathtaking views that give way to dramatic elevation changes and is regarded as one of Canada's best. The Predator Course, designed by legendary architect Les Furber, is a true links-style course with rolling hills, long grasses and undulating greens. For those looking to hone their game, The Predator Ridge Academy is led by former two-time winner PGA pro Richard Zokol and former LPGA pro AJ Eathorne has an instruction level unmatched in Canada.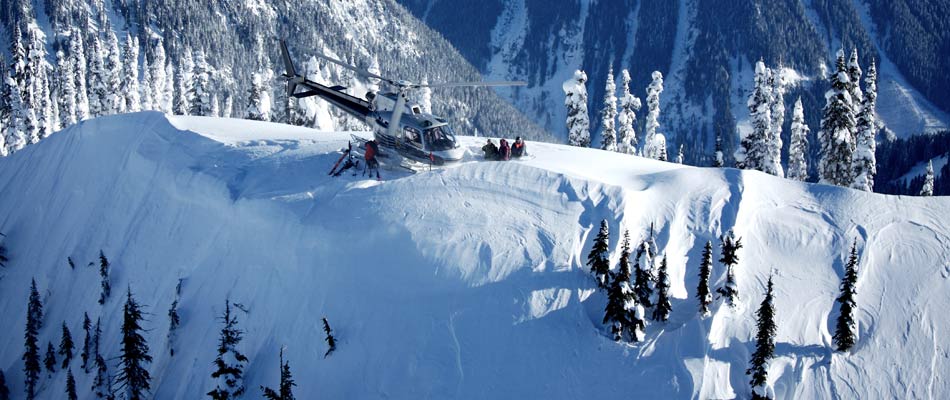 Special heli-experiences include half- or full-day heli-wine tours in the breathtaking Okanagan Valley, now in the top ten wine destinations in the world and often referred to as Napa of the North (190 plus wineries). Hop on a helicopter from the resort's heli-pad for a heli-wine tour that soars through canyons and over glaciered mountaintops, and take in the renowned Mission Hill Family Estate and 50th Parallel Winery wineries to name a few. Sample wines and opt-in for a gourmet picnic lunch atop a mountain or a three-course lunch at the Mission Hill Family Estate Terrace Restaurant. Adrenaline junkies love the resort's small group heli-ski packages, complete with muscle-soothing treatments at KurSpa after a day spent tearing up the famed Monashee Mountains with wide open bowls, long unbroken chutes and naturally spaced forests. With expert guides leading the way, experience some of the best untrodden powder on the planet. For the less adventurous, Sun Peaks, Silver Star and Big White ski resorts tout top downhill trails and light dry powder.
AWARDS & RATINGS
World's Best Spa Resort in the Mountain Category, SENSES Wellness Awards, Berlin, 2011
Fodor's Top 100 Hotels 2012 Award Winner
Fodor's Top 10 Mountaintop Resorts in the World 2013
AAA Four Diamond Property