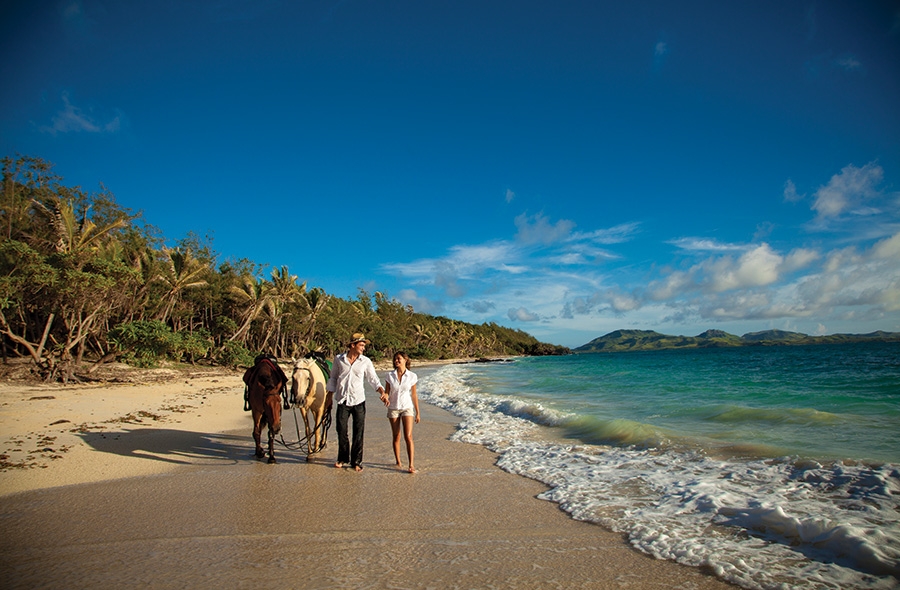 The word paradise is often used far too indiscriminately to describe vacation destinations, but on a recent trip to Turtle Island, a private, 500-acre island in Fiji, we finally discovered the true meaning of that word.
In fact, "fantasy island" might be an even better description.
It's not like we had nothing to compare Turtle Island to. We've traveled to many islands around the world. But before we even left home, we started discovering just how special this island is when the staff asked us to fill out a pre-visit questionnaire to help them fulfill our every desire.
After landing at Fiji's Nadi International Airport, we entered Turtle Island's office where Mary greeted us with a big smile. We were driven to a day room that smelled like fresh coconuts where we were offered coffee, tea and delicious pastries as well as a place to freshen up before heading out to the island by seaplane. When we arrived on Turtle Island, we were greeted again with smiles, two ice cold Pina Coladas (thanks to our questionnaire), a song and a large welcome banner. Then two Fiji warriors carried us from the seaplane to the shore. That was just the beginning of our visit, and from there it just got better every day.
"The resort's Fijian chefs create flavorful, one-of-a-kind dishes that incorporate produce grown in the resort's own garden as well as fresh seafood caught by local fishermen."
There are 14 Bures (private villas) on Turtle Island, and ours was spectacular. Our spacious, light-filled retreat was located right on the water's edge. One of our favorite touches is that each Bure comes with the services of a Bure Mama, an incredible woman who is dedicated to making sure you have everything you need throughout your stay. Our Mama, Laite, stocked our Bure with fresh squeezed juice, a fresh fruit plate, homemade cookies, brownies, a variety of beer, wine and champagne and anything else we asked for or mentioned that we liked. At Turtle Island, everything is included, from meals and all beverages to activities like snorkeling, paddle boarding and horseback riding. Whenever you need anything, you simply radio the staff and it will be taken care of.
We had the best of both worlds here, privacy when we wanted it as well as opportunities to socialize. During our social times, we made connections, friendships and memories that will last a lifetime. If you're so inclined, you can even reserve the entire island to be enjoyed privately with family and friends.
Turtle Island is ringed with pristine, white sand beaches, so it's easy to find a private beach to enjoy. There is nothing quite like spending the morning being the only two people snorkeling in crystal clear water, having a lobster and champagne picnic lunch on your own beach and then taking a nap in a shaded hammock. At one point, we ran out of champagne and I was a little hesitant to use the radio, but decided to call (to make my wife happy, of course). The staff was so accommodating and eager to take care of us, they were back on the beach within minutes with more of everything!
There was never any stress involved in planning and scheduling anything we wanted to do. The staff understands that plans can change and they're very flexible. We had a relaxing couple's massage and we also went horseback riding, rode bikes around the island and became PADI certified for diving.
We found the dining experience at Turtle Island to be unlike anything we've ever experienced before. The resort's Fijian chefs create flavorful, one-of-a-kind dishes that incorporate produce grown in the resort's own garden as well as fresh seafood caught by local fishermen. When I caught a tuna and Spanish mackerel on the morning fishing trip, we were served very fresh sashimi for lunch that day. At dinnertime, there's a communal table where you can meet many interesting people. We also found it very easy schedule a private dinner whenever we wanted.
The staff at Turtle Island was fabulous. Every resort strives to have a staff this good, and getting to know them personally was very refreshing. After dinner they would join the guests for music, dance and drinks (kava for them). We even visited one of the local villages where some of the staff live. We caught a glimpse of their culture and how close their families and communities are. The village is an extended family, and when you stay at Turtle Island, you are considered part of the family. We can't wait to return.