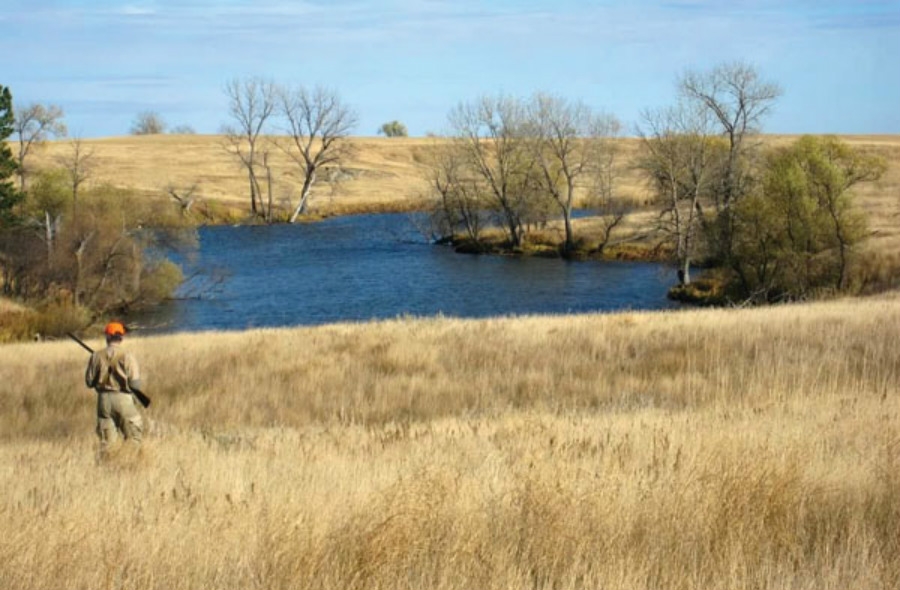 Set on 250,000 acres of high plains grasslands overlooking scenic Firesteel Creek in Northwest South Dakota, Firesteel Creek Lodge has been owned and operated by the Lindskov family for generations.
This historic Lodge dates back to the turn of the century when it served as a stagecoach stop on the Bismarck-Deadwood stage line. Now, it has been beautifully-remodeled to accommodate up to 26 guests, and offers some of the finest upland hunting available anywhere in the world.
Your upland hunt will take you to a completely different ranch each day where you will hunt the never-ending horizon of the upland grasslands as well as the beautiful breaks of the Grand River country with its heavy brush draws and coulees and thousands of acres of stubble and corn fields. Throughout the day, you will have the opportunity to hunt several species of upland game, including the world-renowned Ringnecked Pheasant, the heart-pounding Sharptail Grouse and the everelusive Hungarian Partridge.
Exquisite meals will be served throughout your stay, and after a great day of hunting, you and your fellow guests can relax in the spacious lounge in the Main Lodge which features a majestic fireplace constructed of rock from the family's ranches. Here, you can enjoy a cocktail from the complimentary full-service bar, watch your favorite sporting event or head downstairs for a game of pool. Or, you can step outside onto the stone patio and enjoy a cigar as you take in the incredible South Dakota sunsets or listen for the howl of coyotes in the distance.
Two additional buildings are located adjacent to the Main Lodge. The Sharptail Building includes eight bedrooms, and the Hungarian Building features an additional eight bedrooms, each with a private bath. Upstairs, there's a bar and lounge area with a 50" LED flat screen TV and leather couches and pub tables for lounging. Down the spiral staircase to the main level is an additional locker room and gun cleaning island along with pub tables and another 50" LED TV. The main level also includes a massage room for taking out the knots, and a marble and copper-tiled steam room capable of seating six. Like the Hungarian Partridge, this caliber of accommodations is a rarity to find in the hunting world.
Firesteel Creek Lodge is located 5.5 miles north of Isabel, South Dakota. Exclusive buyouts of the Lodge can be arranged. The Lindskov family looks forward to welcoming you.