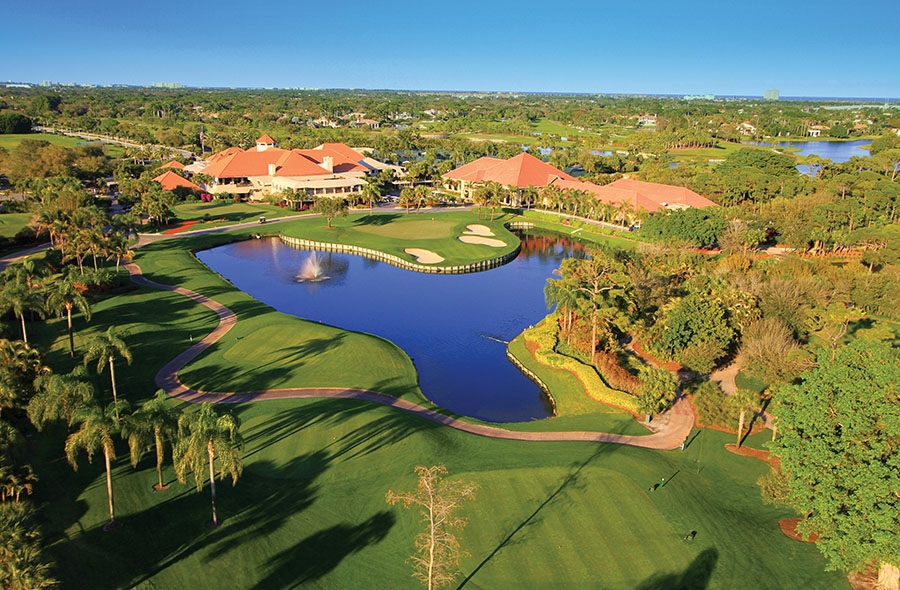 To enter Frenchman's Creek Beach and Country Club is to feel the warmth of home and the energy of the great outdoor Florida lifestyle.
Greeted by tranquil waterfalls amidst tropical greenery and the warmest of welcomes, you will know you have entered a community in its truest sense.
We invite you to discover a country club community with standards far surpassing the general five stars. Here, white-gloved service and casual elegance go hand in hand. The secret of our success: impeccable service delivered by an exceptional, international, and educated staff.
Exclusive to Frenchman's Creek is the private Beach Club—a slice of paradise featuring an Olympic-sized swimming pool, resort-style cabana service, and a gourmet restaurant with side service. Everything is provided. Just come relax with your family.
Enjoy an exquisite 90,000-square-foot clubhouse with five lounge and bar areas, including a sports bar with billiard tables and four dining venues. A 24,000-squarefoot state-of the-art fitness center and spa; luxury resort pool and lap pool; and full-service nail salon and spa treatments are all at the ready. Additionally, 16 Har-Tru tennis courts, which include lighted and stadium courts; two designer championship 18-hole golf courses; and a driving range with an international caddie program are all part of the Frenchman's Creek experience. Complimentary clinics with certified professionals are also available upon request.
Other amenities include: five-star resort concierge service; all-day complimentary valet service; complimentary breakfast; dinner hors d'oeuvres; bottled water, coffee, and tea; healthy snacks and cookies; a club sommelier; planned entertainment; educational seminars; art exhibitions; airport and local transportation; food delivery service; a business center and conference rooms, as well as a library; mailing and notary services; and dry cleaning pickup and delivery. Children appreciate the activity center, playground, and basketball court, as well as special club programs like a carnival, ice-skating, amusement rides, and games that are scheduled throughout the year.
The residents-only, year-round Frenchman's Creek sits on prime private South Florida real estate and features some of Palm Beach Gardens' most elegant homes. Choose from a full spectrum of residences— from golf villas to custom oceanaccess estates. Both the homes and the impossible-to-replicate lifestyle distinguish Frenchman's Creek Beach and Country Club from neighboring communities.
We invite you to take advantage of our dynamic five-star resort amenities. Come to Palm Beach Gardens, Florida, and enjoy the kind of life most people only dream about.
For more information on confirming your Frenchman's Creek experience, please call toll-free (877) 781-7552 or visit us online at www.FrenchmansCreek.com. We have everything you need to turn moments into memories, 365 days a year.