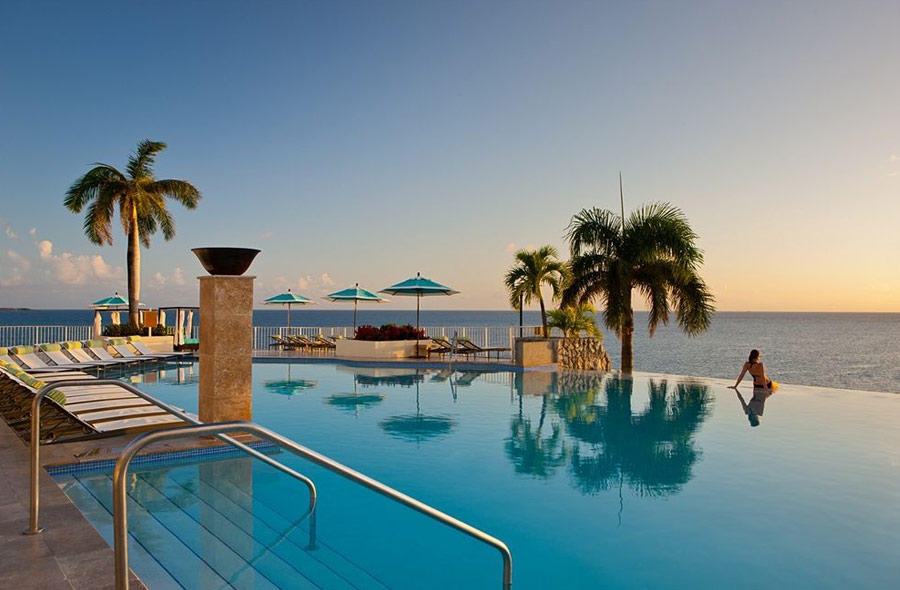 The island of St. Thomas, which sits just 1,100 miles off the coast of Miami, was acquired from the Danish in 1917 for a mere $25 million in gold. In the depths, Frenchman's Reef Marriott Resort lies for all Jetsetters to indulge.
Now the most popular of the U.S. Virgin islands, St. Thomas has become a Mecca for jetsetters looking for crystal clear Caribbean waters, endless luxury shopping (duty free) and quality full-service resorts, all while remaining on U.S.-governed soil. No passport is needed for American citizens.
On a recent visit to the island, my wife and I had the opportunity to stay at one of St. Thomas's "crown jewels of a resort." Atop a rocky cliff overlooking the turquoise blue, warm waters of the Caribbean Sea to the south and the vibrant town of Charlotte Amalie to the north, sits the Frenchman's Reef Marriott Resort. This resort has been a St. Thomas landmark for over thirty years. Fresh off a $48 million renovation, it continues to remain one of the finest resorts in the U.S. Virgin Islands. Frenchman's Reef is located only fifteen minutes from the airport and five minutes away from downtown, making it the perfect resort from which to explore the island.
Known as a "Mecca for luxury shopping," Charlotte Amalie is rich in history and full of culture. Selective shoppers enjoy the unparalleled selections of fine jewelry and watches accompanied by duty free pricing. A short 30-minute ferry ride takes you to a nature lover's paradise, St. John, which is known for offering some the world's best snorkeling. No trip to St. Thomas would be complete without spending a day touring the famous beaches of St. John. Do not overlook the abundant white sand beaches on St. Thomas, though. Magens Bay, Hull Bay, and my favorite, Linquist Beach, all provide unforgettable Caribbean memories.
Resort life. From the time we checked in to the Frenchman's Reef Marriott Resort to the last look back and wave goodbye, the service and hospitality provided by the staff was some of the best we have ever experienced on any Caribbean Island. Their attention to detail and the cleanliness of the resort was superb. Whether we were sitting out on the room's balcony, laying poolside enjoying a book or meeting up with new friends for a drink at The Rum Bar, we enjoyed views from every area of the resort that were truly breathtaking. The gentle Caribbean breeze carrying the sweet smell of fresh blooming tropical flowers throughout the resort grounds was a constant relaxing reminder of the reason jetsetting is the life we strive for.
A large portion of the Marriott's $48 million renovation to the property went into updating the resort's rooms and suites. From the contemporary yet elegant décor, to the rain-style shower heads, down to the soft 300 count sheets, nothing was overlooked by the Marriott Group throughout their renovation. When booking your stay, try to reserve the Presidential or Governor's Suites. Just trust me on this one. Be forewarned though, not wanting to leave your room could be a serious side effect.
When visiting St. Thomas, there are endless activities to choose from: boating, scuba diving, snorkeling, fishing, hiking, shopping and sightseeing, just to name a few. Choosing which activities and adventures to do on vacation can often be a chore. The Frenchman's Reef Resort makes this process truly painless and easy at its Adventure Center located in the main lobby. A short visit with their knowledgeable and friendly staff will help you plan and make arrangements for the best recreational opportunities the islands have to offer.
The resort's private beach is a major plus for discerning travelers wanting the security and privacy offered by few destinations. It stretches along the length of the Morning Star property. Both properties share amenities and the Marriott name. The beach is inaccessible to anyone except resort guests. It has natural rock cliff barriers on either side. Enjoy snorkeling, kayaking and sunbathing right in front of the resort without worrying about paparazzi or any other annoyance during your leisurely beach time.
Dining is always a top concern when choosing an island resort for any jetsetter. Let me prefix this next segment by stating that we can honestly say that we enjoyed every meal experience at this resort. Start your mornings off at the Aqua Terra Ocean Front Grill. Enjoy the All-American breakfast buffet complete with an omelet station manned by friendly cooks eager to whip up your perfect custom omelet. The fresh tropical fruit platters, smoked salmon trays and an array of fresh baked pastries are never ending.
A cup of their premium fresh ground coffee seals the deal and makes for a great start to every morning. All of this can be enjoyed while watching the cruise ships docking in the harbor. For lunch, head down to the resort's open air restaurant, Sunset Grill. Overlooking the bay entrance, this casual eatery serves up both American and Caribbean favorites along with some amazingly refreshing frozen cocktail drinks.
After finishing up your day's activities, no matter how elevating or relaxing they might have been, head over to the Rum Bar for an evening drink before dinner. Let the island's top bartenders make you one of the world's best Mojitos. Sit out on the open air deck with your drink in hand gazing out over the bay as the town and sailboat lights slowly illuminate reflections on the calm evening waters of the harbor.
For dinner, the Aqua Terra Grill provides an excellent selection of fresh seafood and perfectly cooked to order steaks. If you feel like being entertained during your dining experience, head over to Coco Joe's. This casual beachside eatery/bar is a favorite among people who enjoy local music and lobster buffets. You would be hard pressed to find a frown among the crowd dining here.
If a romantic dress-up dinner is what you are looking for, the Havana Blue Restaurant is the epitome of romantic restaurants. Overlooking the beach, this top notch, cutting edge restaurant screams jetsetter. Do not forget to make reservations in advance for this one. The latter two eateries are a short walk or shuttle down the hill to the Morning Star Beach Club. Both properties share restaurants, pools and the beach.
No trip to any resort is ever complete without treating yourself and your loved ones to a relaxing spa treatment performed by a well-trained staff, in a serenity-filled environment. The Lazule Spa at Frenchman's Reef makes this possible with over 4,000 square feet and its own private pool. The Lazule's ultra-contemporary facility includes seven newly renovated treatment rooms, a couple's room, outdoor massage cabanas, a eucalyptus steam room and a full-service beauty salon.
When booking their services, do not overlook the LaStone massage. Using fifty-four hot basalt stones and eighteen chilled marble stones, this treatment will ease your tight muscles and alleviate all of your tension. Whether you are visiting St. Thomas for business or pleasure, the Frenchman's Reef Marriott resort is a top pick for any jetsetter looking for exceptional service, modern amenities and that true Caribbean relaxation we love to pursue.