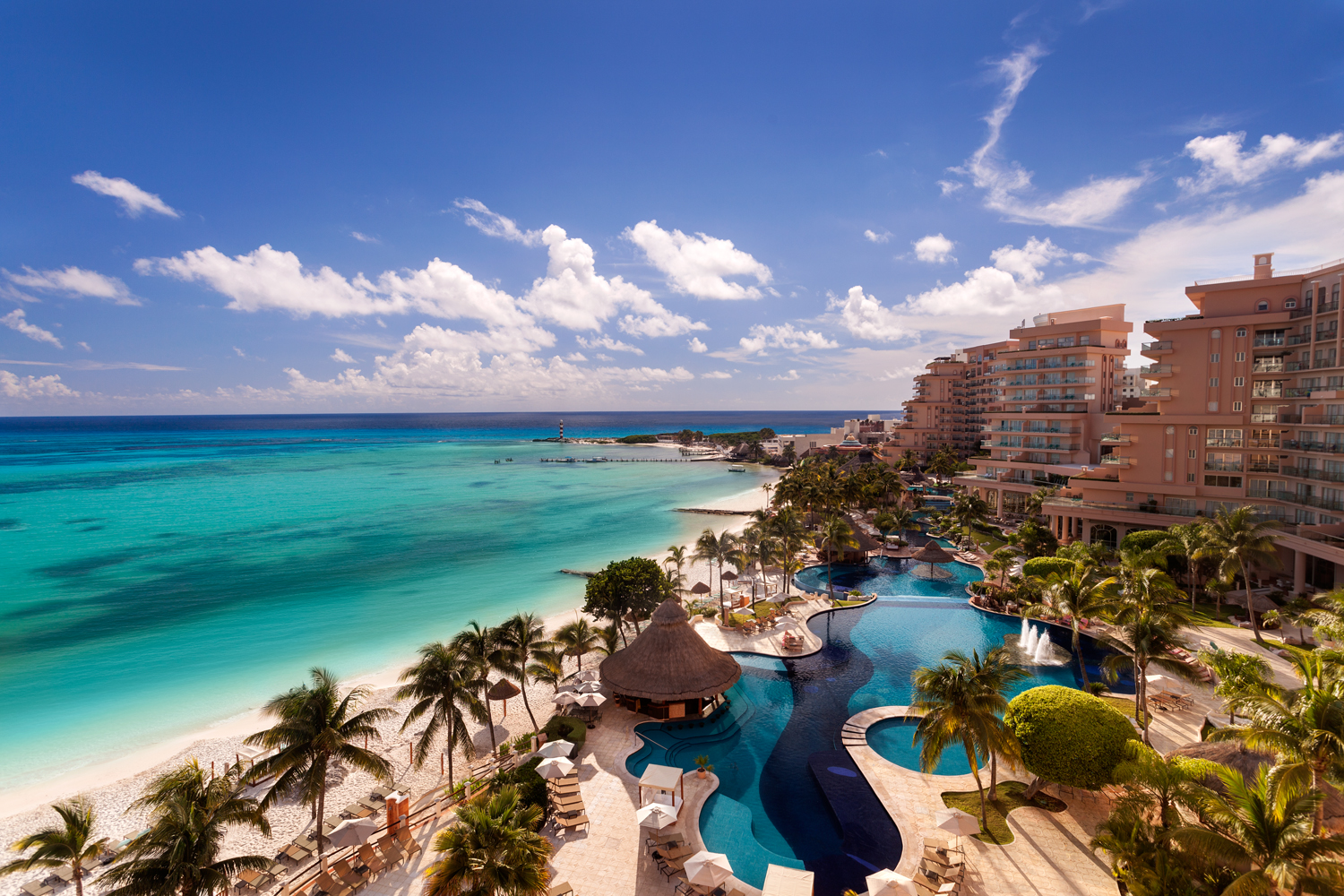 The Grand Fiesta Americana Coral Beach Hotel in Cancun has perfected a formula that will appeal to travelers who live the Jetset lifestyle. On a recent visit, I experienced firsthand how their stated purpose of "transporting guests to a state of sublime contentment" is accomplished.
Let's start with the impressive physical structure that is the Grand Fiesta Americana Coral Beach Hotel. It oozes charm, history, and old-world opulence. The word "Grand" in the name is apt, as the hotel certainly lives up to that moniker. The entrance is grand. The service, from a dynamically-cast staff, feels grand. And the check-in process is most certainly grand (and something that sets the relaxing and upscale tone of your visit).
The attention to detail, and the total commitment to service is on display in the simple aspect of checking-in to this beautiful hotel. It's a microcosm of what you can expect your entire stay. The hotel has a phenomenal club level called the Grand Club. The highest two floors of the hotel are devoted to the club, which provides a dedicated lounge with a personal concierge where guests can enjoy espressos and coffee drinks, cocktails, wine, beer, and food throughout the day. Make sure your reservation includes access to the Grand Club (it comes standard when booking the luxury suites).
Once you are checked in to your suite, the breathtaking views open up through the expansive windows, offering a sneak peek of what your vacation will entail. Ownership and management of this hotel understand that many of of their guests will be traveling with families, and they have done everything possible to ensure that it's an unforgettable stay for everyone.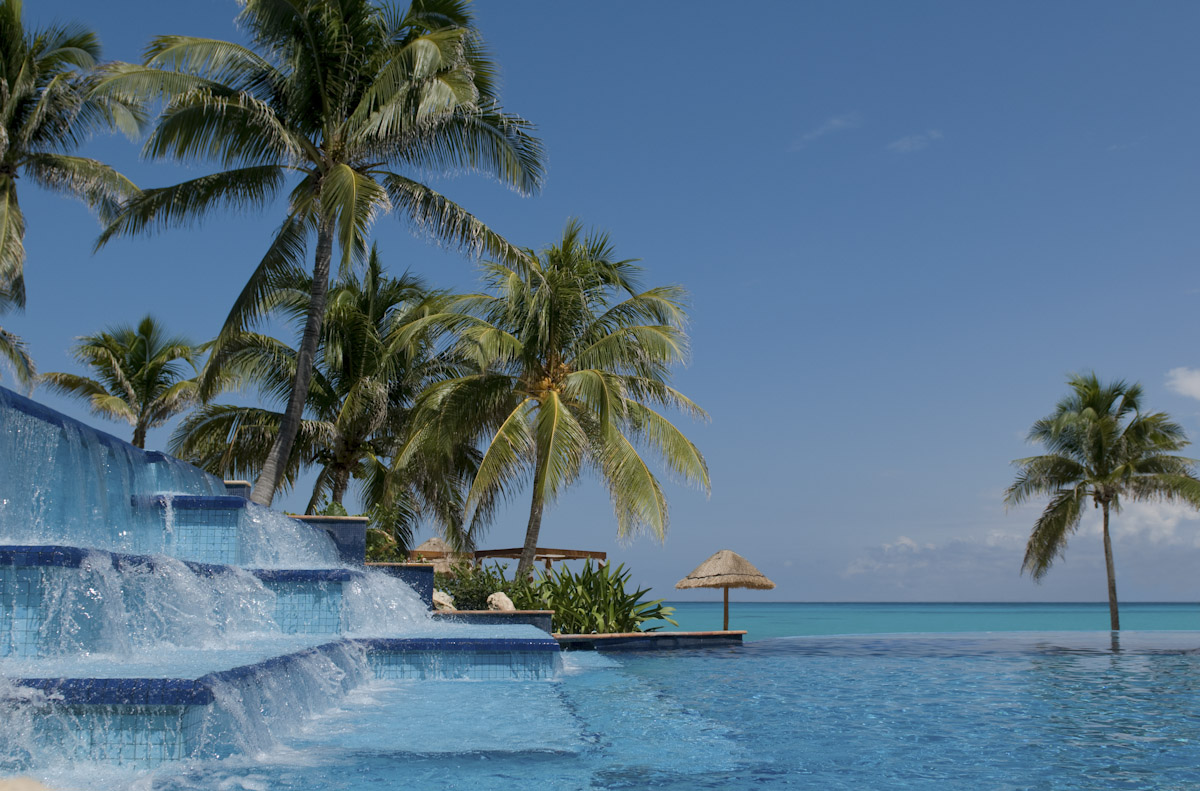 One of the special aspects of this hotel, and something I really appreciated and enjoyed, was the fact that when you are inside the actual hotel, it has the energy and feel of a thriving big city property. But the views from the floor-to-ceiling windows are also constantly reminding you that you are in paradise. There are 602 suites in this hotel, with décor that is warm, yet refined. The hotel offers two presidential suites, 79 master suites, and an exclusive executive floor with amazing panoramic views. All of the suites face the ocean, and have private terraces facing the turquoise waters of the Caribbean. The bedding is soft and extremely comfortable, and on par with what you find at luxury hotels in the U.S., and amongst the finest I have experienced in Mexico.
Another aspect of the hotel that sets it apart is the quality and quantity of dining options. We experienced an incredible dinner at the Five Diamond-rated LeBasilic, featuring French Mediterranean cuisine. Live jazz in the background of this tasteful and elegant hotel couple with a creative and delicious menu to make this a prime restaurant that would easily stand alone. This is where you want to enjoy a special dinner without the kids. Vina Del Mar is another outstanding restaurant that features the hotel's famous champagne breakfast buffet. It is so light and airy throughout the multi-leveled space, with a festive atmosphere running high at all times. It's the perfect place to start your day as endless breakfast options abound.
At the upscale La Joya, you can experience the true culture of Mexican cuisine, as it comes to life in this award-winning restaurant with a menu that explodes with flavor and authenticity. On top of a delicious meal, try the complimentary tequila tasting the restaurant offers that is as entertaining as it was enlightening. It will open your eyes to the process of brewing Tequila and allow you to taste some very diverse tequilas that will broaden your appreciation for the spirit. In addition, Isa Contoy is a beach front restaurant featuring fresh seafood during lunch and a special buffet for dinner, and Coral Cafe is a European-style bistro offering causal fare. The hotel has done an outstanding job of making sure that your vacation includes memorable meals.
In order to ensure that parents can get dressed up and partake in the upscale dining and enjoy an adults' night out, lounge on a beachfront cabana, or partake in the award-winning Gem Spa, the hotel has invested heavily in making sure kids have a great time. They recently made a $2 million dollar renovation to their Coral Kidz Club. I don't think I've seen a hotel kids club that was as high-tech and comprehensive. Essentially this is a 50,000 square foot, state-of-the-art children's center that will ensure your kids are never bored, and you will never feel guilty enjoying a massage or extra cocktail lounging by the pool or jet-skiing in the Caribbean because your kids will be having as much fun as you are.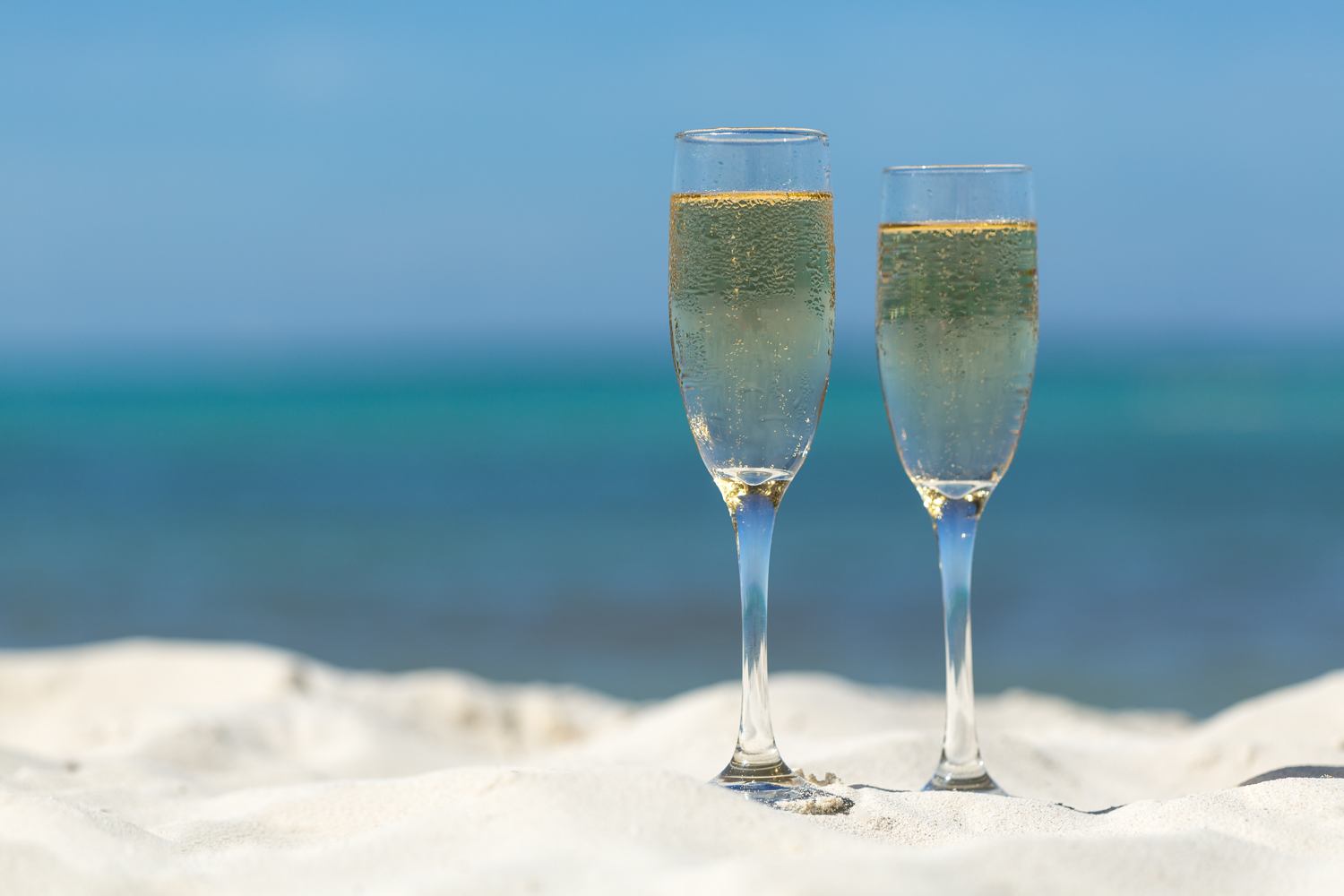 The Gem Spa is truly a stunning and sophisticated compound. This is not a typical hotel spa — it's a 40,000 square foot mecca of relaxation. That's the best way to describe this multi-tiered relaxation village. It's a destination onto itself, one that has to be experienced in person. We had a fantastic hour-long massage, but the showstopper was the 90-minute, 10-step hydrotherapy ritual. It will take you to a new level of relaxation, and couldn't recommend it more.
Finally, most likely the reason you are considering Cancun in the first place, is because you need a beach vacation. You want the sun, the crystal blue ocean, the exquisite white sand, and the soothing sounds of the waves pounding the shore. The Grand Fiesta Americana Coral Beach Cancun will deliver all of that on the highest level as well. The beach is private, and at all times you will be attended to by a waitstaff that will cater to your ever need. The Grand Club sundeck and beach club are a priceless amenity, family-friendly, and a great place to work on your tan or watch the sun set as you sip on your favorite cocktail and enjoy the light fare offered outside. And all of this is at all times paired with the absolutely stunning backdrop of a tropical wonderland.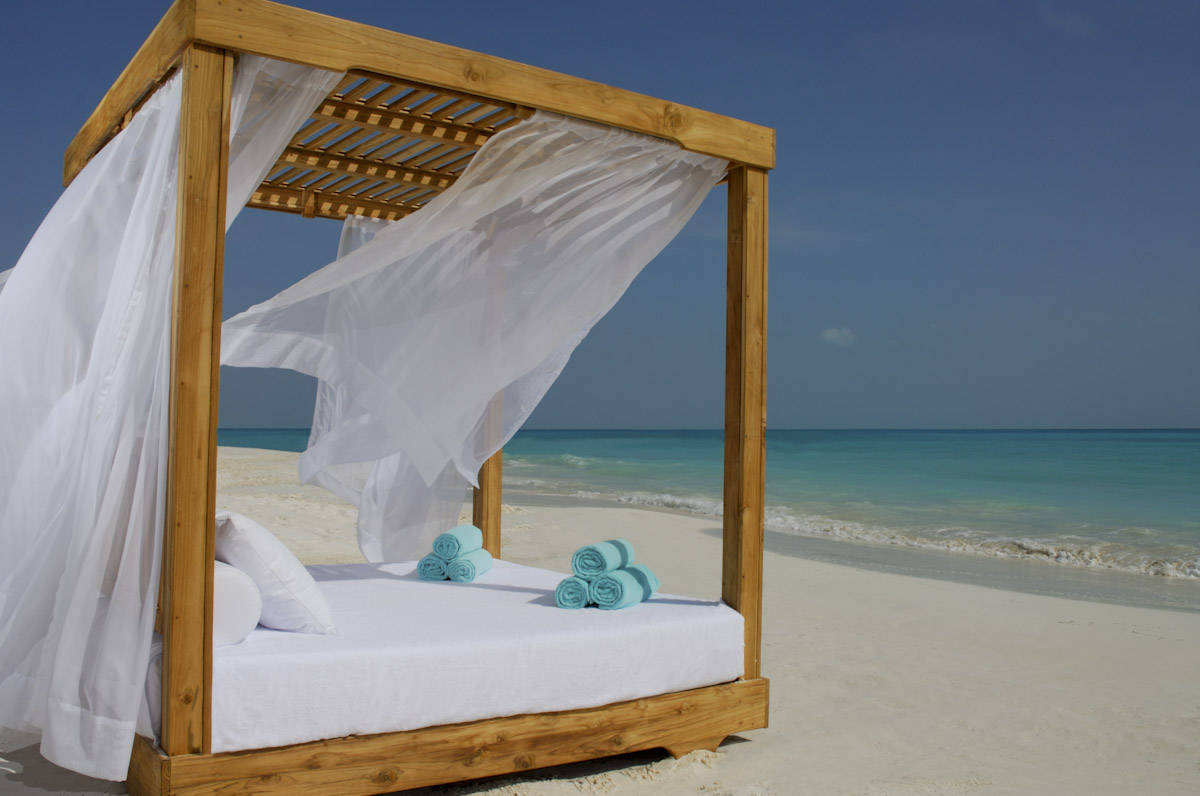 The Grand Fiesta Americana Coral Beach Cancun delivers top-notch service, accommodations, amenities, and fun. I enjoyed it as a family vacation, with my wife, our children (seven and nine years old), and our nanny. But because of the forward-thinking management of this luxury hotel, it felt like we were able to enjoy a glamorous couple's getaway as well. It was like two vacations in one. I couldn't recommend it more.