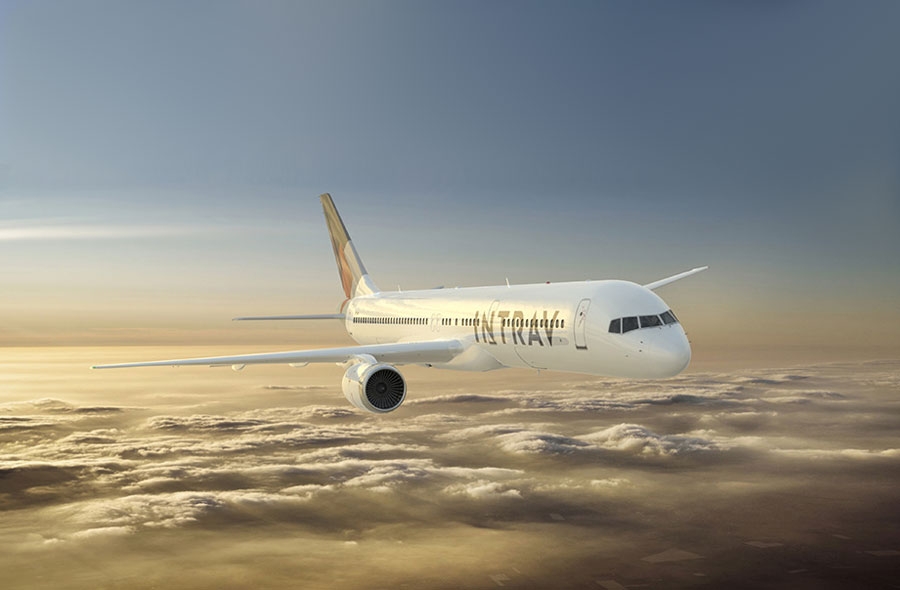 Whether you're a seasoned ambassador of world travel or an adventurer seeking new horizons, Intrav will take you to the most fascinating places on earth in true, first-class luxury.
Our 25-day journeys around the world are limited to 50 elite travelers on our private Boeing 757-200ER custom configured with 180-degree first-class, flat-bed seats and Wi-Fi connectivity. Journeys include luxury accommodations, 24/7 concierge service, personalized ground services and ultimate dining freedom. With Intrav, you can travel the world in a way few can.
On our custom Boeing 757-200ER, designed exclusively for Intrav, the seat goes back flat without putting you in someone's lap. We took the space usually reserved for 233 commercial passengers and transformed it into 50 personal oases of calm and relaxation with over six-and-a-half feet of personal space and lounge seating. Pull up the privacy screen, pull down your silk eye mask, turn on the built-in seat massage and doze off to Vivaldi playing on your complimentary iPad®. Use the onboard Wi-Fi and power outlets at your seat to catch up on work or … never mind. You're on vacation.
Luxurious Italian-designed seats customized exclusively for Intrav
180-degree first-class, flat-bed seats throughout the cabin
Over six-and-a-half feet of personal space (79″ pitch) means you can stretch out comfortably (leg rest extends even when seat is upright)
In-seat, personal massage system
Adjustable lumbar support with 4-way adjustable headrests
Private lounge seating—creating the perfect setting for mingling with your travel companions
Privacy screen for optimal comfort
Celestial bedding with pillowtop mattress, duvet and deluxe pillow
Personal iPad® (yours to keep)
Wi-Fi connectivity, multiple AC power outlets and USB ports located at every seat
Noise-cancelling headsets for in-flight use
On-board chef and caterer provide personalized, first-class meal service featuring fresh local ingredients and personal favorites
Fully stocked, open bar features top-shelf wine and spirits
An experienced crew of 11 oversees your safety, security and absolute comfort
Duty-free shopping
There are first-class hotels and then there are the legendary ones. The ones that evoke a world unto itself and inspire you to outstay your stay. These are hotels where the artwork on the walls is original and the mini bars are custom-stocked with your favorite spirits. Where luxuriously appointed rooms cater to rejuvenation as much as relaxation, and ever-present service always comes with a smile. Unique touches are everywhere. From the chic sophistication of cosmopolitan towers, to the timeless opulence of royal palaces, to the quiet charm of open-air bungalows, the fine properties on our itinerary ensure that no matter how far we roam, you'll always feel right at home.
Intrav is redefining travel for the discriminating 21st-century traveler. Our dedicated journey concierges will take you to the most fascinating places on earth in true, first-class luxury with personalized ground services focused solely on you. Let us sort through the numerous, complex details of world travel so you never have to. From the moment you call with inquiries to long after you've returned home and unpacked, your journey concierge is dedicated to turning your jet-setting aspirations into reality before, during and after your journey.
Take advantage of Intrav's global network and economies of scale. We fly direct to places that have no commercial direct flights; we offer true first-class services throughout your journey where regional airlines do not. When you land (usually at a less-crowded airport closer to your destination), we'll make sure your bags are delivered directly to your luxurious accommodations while you enjoy expedited passage through Immigration and Customs. Whether it's bypassing the long lines or enjoying coveted VIP access at exclusive venues, there is simply no other way to do what we do.
To reserve your space or for more information, please contact your travel professional or call 1 (888) 757-9700 or (206) 209-5770 or email [email protected]