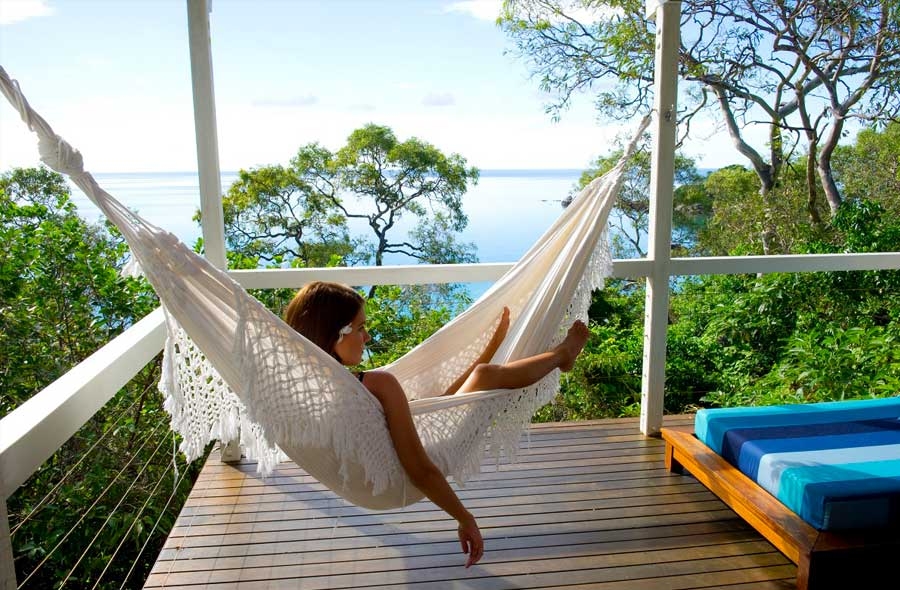 If you've ever dreamed about escaping to your own private island, your search for your personal piece of paradise starts here.
Island living has an appeal all its own, from the mesmerizing seas to the soft sandy beaches to the tantalizing island cuisine. Then there's the inviting concept of living on "island time," where life slows down, so you can, too. And when you can enjoy that lifestyle on a private island, the experience is that much better. There are no lines to wait in, no throngs of souvenir shoppers to negotiate your way through. It's island living at its best, especially when you can rent out the whole island for your personal enjoyment. We've searched the world to bring you the very best private islands, and they span the world, from Australia's Great Barrier Reef, to the coast of Belize to Sir Richard Branson's private retreat in the British Virgin Islands. All you need to do is choose your favorite one to begin your private island adventure.
Cayo Espanto
This four-acre island retreat is located off the coast of Belize in the calm waters of the Western Caribbean. One great thing is that you won't have to worry about avoiding the crowds. Cayo Espanto contains just seven villas, and full island rentals are available so you can host up to 17 of your friends and family members and have the whole island all to yourselves. Except, of course, for the staff. With a staff-to-guest ratio of two to one, you can be assured of enjoying exceptional service and island cuisine prepared by award-winning chefs. The island's luxurious accommodations range from Casa Ventanas, a one bedroom, over-the-water bungalow; to Casa Estrella, a spacious two story, two bedroom villa with two private docks and views that seemingly go on forever. Every villa except Casa Ventanas has a private seafront infinity edge plunge pool. How refreshing.
Things To Do
The second longest barrier reef in the world is located nearby, making Cayo Espanto a world class destination for snorkeling and diving. Other options include sea kayaking, reef and spear fishing, deep sea fishing and guided excursions by boat and plane. Guests can also opt to go cave tubing in the Belizean rainforest or explore the ancient Mayan ruins at Xuanantunich followed by a photo safari to track down exotic species such as jaguars and toucans.
Getting Here
Fly into Belize City, then transfer to San Pedro Airport via local flight or helicopter. Guests are met in San Pedro by hotel staff and escorted to Cayo Espanto, a short boat ride away.
Lizard Island
Lizard Island is located at the northern end of Australia's legendary Great Barrier Reef, so naturally, the snorkeling and diving in its turquoise waters are nothing short of incredible. The island is ringed by two dozen deserted powdery white beaches and features a choice of luxury accommodations, ranging from rooms and suites offering breathtaking views of Anchor Bay to villas set high atop Sunset Ridge. The most exclusive is The Pavilion, which delivers spectacular 270 degree panoramic views from its perch high above the Coral Sea.
Things To Do
Of course, snorkeling or diving at the Great Barrier Reef with its 200 species of coral and endless parade of colorful marine life is a bucket list-worthy experience not to be missed. And then there's Cod Hole, considered to be one of the most highly revered dive sites in the world. But there are plenty of other activities to enjoy, as well. First of all, there are all of those great beaches to explore along with big game fishing, windsurfing, sailing and hiking to do. When it's time for relaxation, there's the Azure Spa, which offers a full menu of rejuvenating services inspired by ancient Aboriginal medicine and healing traditions. And at the end of the day, there's nothing quite like savoring a private beachside dinner under a canopy of sparkling stars.
Getting Here
Regular flights to Lizard Island are available from all Australian capital cities via Cairns. The connecting flight takes approximately 60 minutes and private charter flights are also available.
Peter Island
Offering 1,800 acres of secluded tropical beauty, Peter Island is the largest private island in the British Virgin Islands. Located just four miles from the island of Tortola, Peter Island is home to Peter Island Resort & Spa which offers 52 luxurious oceanfront and beachfront suites along with three over-the-top villas. It's no wonder that the resort's island buyout program is popular with guests in search of the ultimate getaway. The most opulent of the resort's accommodations is Falcon's Nest, a 22,000 square foot, six-bedroom estate perched high above the Caribbean and equipped with a commercial kitchen, media room, spa suite, fitness room and nanny's quarters. The villa's outdoor living area is equally impressive, with its swim-up bars, zero-entry infinity pool, waterfall and Jacuzzi. Crow's Nest, a 6,000 square foot Santa Barbara-style villa has four master suites and a private veranda offering sweeping views of the neighboring islands. Hawk's Nest, a three-bedroom villa with a two-bedroom nanny's apartment, is infused with British charm and is set high above the sea.
Things To Do
For starters, there are 30 dive sites within a 20-minute boat ride of Peter Island. Other activities include Silmaril sailing yacht charters, deep sea fishing and helicopter tours. The resort has an exercise trail and fitness center as well as Hobie Cat and Sunfish sailboats, mountain bikes, snorkeling gear and windsurfing boards and sails. The island also has five beaches to enjoy, including Deadman's Bay Beach which has been named one of the most romantic beaches in the world. Dining options specialize in organic and seasonal cuisine and include Tradewinds restaurant which boasts an extensive wine room, Deadman's Beach Bar & Grill, and Drakes Channel Lounge. For a special celebration, guests can arrange for the "Stranded Island Experience" where they will be "stranded" on White Bay Beach while being treated to an elegant picnic with fine linens and china.
Getting Here
Peter Island can be reached via charter flight or commercial flight into Terrance B. Lettsome International Airport in Tortola. Guests are welcomed and escorted to Peter Island's private airport lounge for refreshments and check-in before being transferred to the island via private launch.
Necker Island
Sir Richard Branson can afford to be picky when choosing a private island, so the fact that he chose Necker Island in the British Virgin Islands as his personal paradise might just mean that you'll find it to be to your liking, too. This 74-acre retreat offers everything you would expect —dazzling turquoise seas, coral reefs teeming with sea life and sugary sand beaches. But the star attraction is the long list of amenities this island has to offer. First of all, there are two ways to book a stay on this spectacular island: Arranging for a full-island buyout or making reservations during selected weeks called "Celebration Weeks." You may recall that the island's Great House was lost to a devastating fire in 2011. While it is being rebuilt, Sir Richard is generously making his private home, Temple House, available for rental. Built to his exacting standards, it includes a freshwater pool, large lounge and panoramic views. There are also six beautiful Balinese-style houses that can each accommodate a couple or single. Cabins on the Necker Belle, a 105-foot luxury catamaran are also being made available while the Great House is being rebuilt. Fine dining on the island can be as formal or relaxed as guests desire and include a wide choice of international wines, top quality spirits, international beers and an excellent house champagne.
Things To Do
As you might imagine, the island offers every water sport imaginable — kite surfing, sailing, windsurfing, waterskiing, kayaking and, of course, snorkeling. There's also an aqua-trampoline which is anchored to the sea floor and a world first: the Necker Nymph, a three-person aero submarine designed exclusively for Virgin Limited Edition. Guests can also enjoy the pool complex with its thatched Crocodile Pavilion and the Necker Island Spa where they can experience "Leha Leha," the Balinese term for peace, relaxation and daydreaming.
Getting Here
From San Juan (Puerto Rico), St. Thomas, Antigua or Barbados, take a connecting flight to Beef Island, just east of Tortola. From there, it's just a 30-minute transfer to Necker Island via private launch. Necker can also be reached by helicopter.