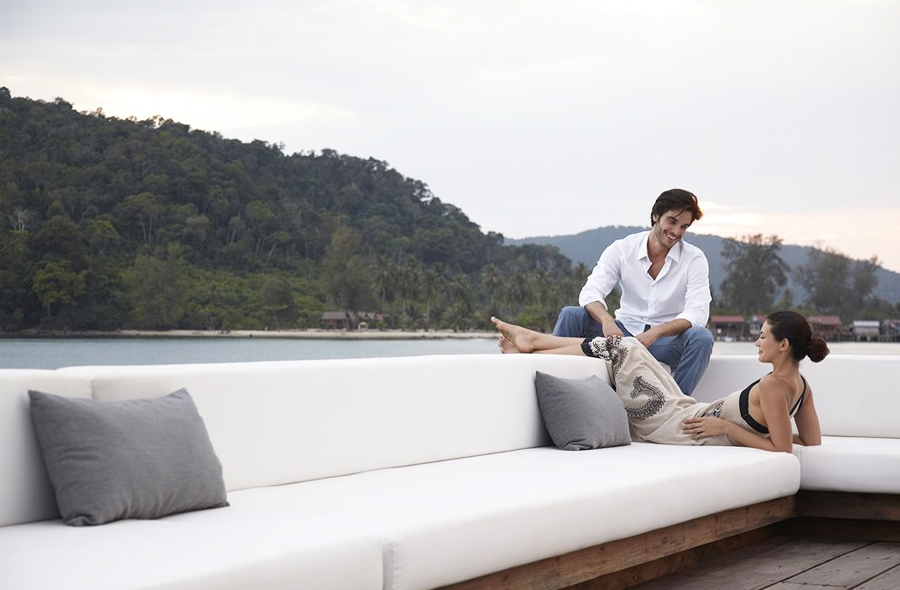 Island Getaway. These two simple words instantly conjure up thoughts of mesmerizing ocean views, sand between your toes, a refreshing drink in your hand and having precious time to slow down. And that getaway will be even more enjoyable when the island is private.
So where will your next trip take you? The Caribbean or the South Pacific? Or how about the Gulf of Thailand or the Indian Ocean? We've brought together four distinctive island destinations for you to consider when island hopping, each one is idyllic and will beckon to you in its own way.
Cambodia's Koh Rong Archipelago
Stay: Song-Saa
If the thought of escaping to an island destination where few travelers have ever ventured before appeals to you, then set your sights on Cambodia's Koh Rong Archipelago. "Undiscovered" is the perfect word to describe this string of islands set in the sapphire waters of the Gulf of Thailand. That is, until you decide to discover them for yourself, at which time you're sure to think of plenty of superlatives of your own.
Two of these islands merit your special attention. Nestled side by side, they are named Koh Ouen and Koh Bong, but the locals call them Song Saa – the Khmer tern for "The Sweethearts." They are home to Song Saa Private Island, an eco-friendly retreat that promises to provide "Luxury that treads lightly." The resort occupies both islands, which are connected via footbridge over a marine reserve to protect the delicate reefs and exotic tropical marine life below.
For accommodations, the resort offers a choice of 27 villas, some set over the water and others offering jungle and ocean views, each of them thoughtfully crafted from sustainable materials. The resort's design, with details such as thatched roofs and natural, rough-hewn timbers, was inspired by Cambodian fishing villages. Koh Rong may be undiscovered, but this is one isle you'll never feel deserted on.
The resort's Vista Restaurant & Lounge Bar offers the perfect setting to take in a blazing sunset or starry night while enjoying Executive Chef Neil Wager's contemporary, sustainable spin on traditional Khmer cuisine. And as though Song Saa wasn't relaxing enough, they've created The Song Saa Sanctuary where you can indulge in holistic spa treatments dedicated to your personal wellbeing.
Fiji Islands – South Pacific
Stay: Dolphin Island
The first thing that may surprise you about Fiji is its size. While many people may think of it as a single destination, it's actually a collection of more than 300 islands that are scattered across 200,000 square miles of ocean. It's a dreamy paradise filled with turquoise lagoons, white sand beaches and lush rainforests.
While Fiji blissfully seems like it's a world away, it is surprisingly easy to reach – just a 10 hour flight from L.A. and five hours from Hawaii. Once you present your passport, you'll be granted a four-month visa, although with so much relaxing, snorkeling, beach walking and other activities to enjoy, you may wonder if that's enough time.
So, with so many islands to choose from, where should you stay? We suggest Dolphin Island, an exclusive, intimate retreat devoted to hosting a maximum of eight guests at a time. On this idyllic, 14-acre South Pacific isle, you can simply kick back and relax or enjoy an aquatic adventure like sailing a Hobie cat, or going sea kayaking or snorkeling in the warm, clear waters surrounding the island. Whichever activity you choose, you're sure to work up an appetite for some delicious Fijian cuisine prepared with locally grown ingredients and freshly caught fish.
When you retire to your bure (Fijian wood-and-straw accommodations), you'll find luxurious amenities like pure cotton linens, well-appointed bathrooms and even an outdoor shower. They've thought of everything. On your last night on Dolphin Island, you'll be treated to a traditional Fijian lovo dinner where foods are wrapped in palm leaves, then slowly cooked over stones in an earthen pit – all the more reason to return for another visit.
The Maldives
Stay: Niyama
This special island getaway is located in the Indian Ocean just across the equator and southwest of the southern tip of India. It's made up of nearly 1,200 coral islands set amid 26 natural atolls. The reefs not only protect the islands from wind and waves – they provide the ideal conditions for a dazzling array of marine life. The conditions for vacationers are just as welcoming. After all, it's easy to relax when you're surrounded by soothing views of the deep blue sea and white sand beaches dotted with palm trees.
For your accommodations, consider Niyama, a peaceful retreat located just 40 minutes by seaplane from The Maldives' capital of Malé. Enjoy sweet dreams in your over-water pavilion, and when the sun rises, take a cruise on a dhoni, a traditional Maldivian boat. Or, maybe you'll prefer a sunset cruise. You can even tour a coral nursery at the Marine Biology Lab. Then, for the ultimate way to end a perfect day, enjoy a gourmet picnic on the beach after indulging in a rejuvenating treatment at the LIME Spa.
The Modern Honolulu
A Cosmopolitan Lifestyle Hotel
The Modern Honolulu introduces cosmopolitan chic for leisure and business pursuits in Hawaii. The hotel deftly combines sexy and sophisticated in every part of the guest stay. Every element is original; authentic or custom-designed to enhance the experience. The vibe of The Modern Honolulu is contemporary and sophisticated.
The hotel is home to Morimoto Waikiki, which daily serves guests the culinary delights of Chef Masaharu Morimoto, known to millions as star of Iron Chef and Iron Chef America. Inside Morimoto Waikiki dining is theater. Chef Morimoto's vision translates to the plate in the open kitchen or at the full sushi bar.
The Modern Honolulu's progressive luxury is as refined as it is relaxed. The Spa's exhilarating treatments are developed around the purest and most exclusive products in the world –– natural, organic, hand-crafted and sustainable. Two stylish pools overlook the Pacific for daytime fun while a vibrant scene at the Addiction nightclub and The Study lobby bar offer evening rendezvous. In addition to The Modern Honolulu's amenities, guests can indulge in all that Oahu has to offer – luxury shopping, beaches, and nature.
The Modern Honolulu invites guests to make the most of every moment.
TheModernHonolulu.com
or call 877.713.7885