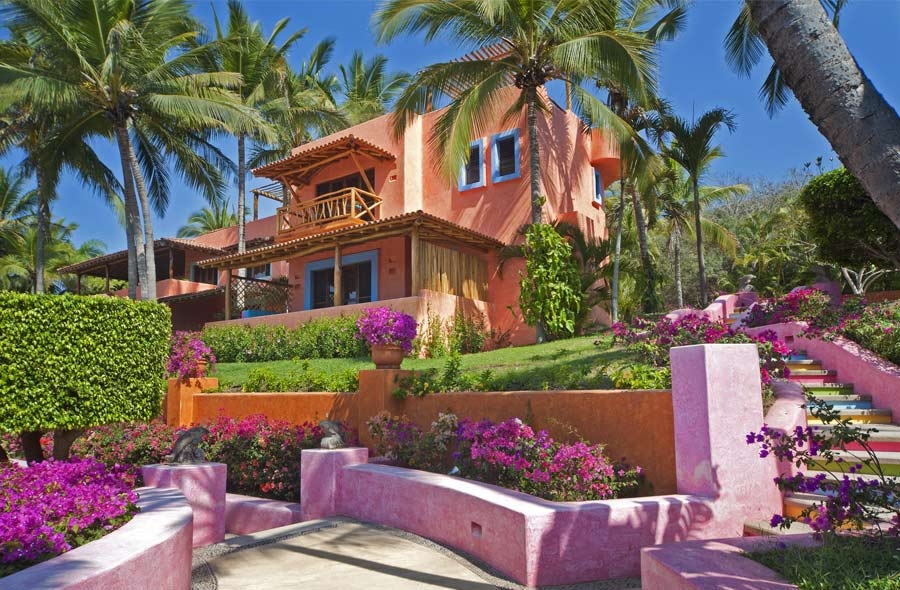 Your magical getaway begins on a winding, deserted-looking trail in a chauffeur-guided luxury SUV, and then, out of nowhere, you feel as if you have suddenly stumbled into a secret tropical paradise – one that could have come straight out of a Hemingway novel.
Located 74 miles south of Puerto Vallarta on the Mexican Riviera, Las Alamandas is one of the most secluded luxury resorts in all of Mexico. Hidden along the Pacific, this exclusive retreat is tucked away on an incredible 1,500 acres of private nature reserve, where white sand beaches are surrounded by rocky coves and aquatic life flourishes.
The first thing to catch your eye is the illuminating turquoise sea in which golden flecks seem to dance along the surface. A flurry of color from plush gardens, including the ever-alluring yellow Alamanda, the flower for which the resort is named, lines perfectly-laid paths of stones and pebbles that meander through the property. No wonder celebrities come to this enchanting utopia in order to escape from their normal day-to-day Hollywood grind. And for those who wish to travel discreetly, Las Alamandas has its very own private 3,300-foot airstrip which can accommodate a variety of small passenger and private planes.
Your journey continues as your chauffeur escorts you to the front door of your suite where you are personally greeted by name by the resort manager. You are promptly handed a refreshing towel, and then, in true Mexican tradition, a mouthwatering margarita made with all-natural ingredients.
If you are looking for a quiet, peaceful vacation, Las Alamandas exudes tranquility, offering an optimal spot for relaxation. With only seven villas harboring 16 private suites, each with its own spacious terrace and most with a Jacuzzi, it will feel as if this exclusive boutique hotel was put there just for you.
Each suite is specifically tailored to make you feel right at home with incredibly serene indoor-outdoor living. Every suite swims in opulence, and you will be doted on like royalty as the professional staff at Las Alamandas takes the utmost pride in providing you with the very best luxury experience.
"Las Alamandas Delivers On Every Luxurious Checklist."
A truly ideal destination for couples, Las Alamandas is especially designed for romance. Hidden far from any city, this tropical piece of heaven literally radiates romance from every corner. At Las Alamandas, you discover that even the simplest of activities can turn into the most romantic experiences, such as a private gourmet picnic on one of the resort's four unspoiled beaches, where the only footprints in the sand will be your own. The stylish rooftop Estrella Azul bar is a must for enjoying a sky of endless stars while sipping signature creations by the resort's mixologist. And no adoring couple can leave Las Alamandas without having champagne together atop Lookout Point, a seaside cliff from which you and your special someone can experience the most breathtaking Mexican sunset. After the resort staff sets up everything, you are left alone to enjoy the extraordinary scenery in complete privacy, enjoying the bubbly and watching dusk turn the sky into a melting palette of color and the mighty Pacific into a sea of silver.
Another activity to indulge in is a deeply soothing massage in the privacy of your own suite or under a charming palapa which is just steps from the beach. Masseuse Xochitl Fernandez and her team specialize in a variety of techniques, including La Stone therapy.
Whether you are there for a romantic getaway or a relaxing retreat, Las Alamandas delivers on every luxurious checklist. There are no roads running through this paradise, no bustle, no urban soundtrack. There is just the sound of peace and tranquility, for time seems to stand still here at Las Alamandas and the burdens and stress of life melt away.