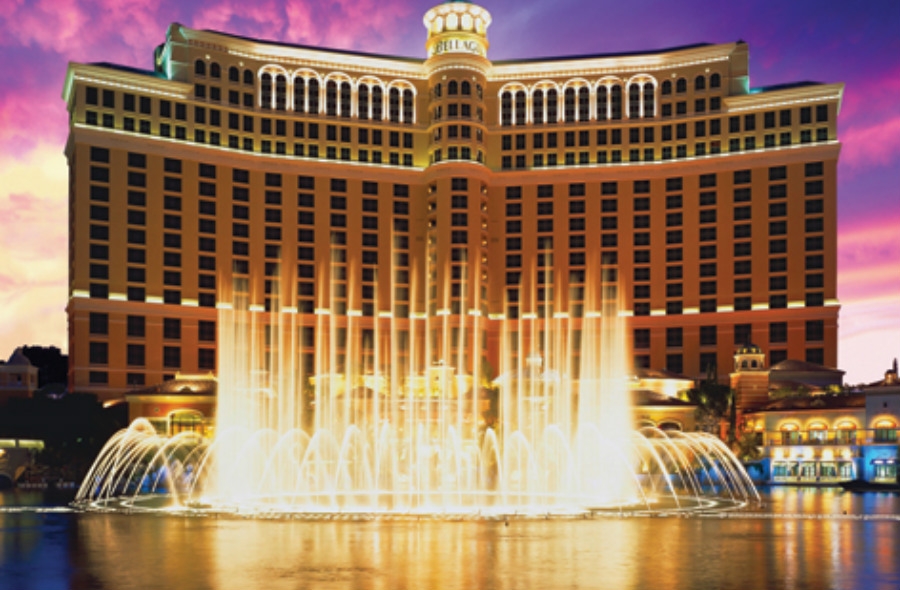 With its long list of shows, casinos, nightclubs, spas, and restaurants, it would be virtually impossible to run out of things to do on any given trip to Las Vegas. Best of all, there are so many fabulous hotels to choose from, that the experience can be totally unique each time you visit.
Where To Stay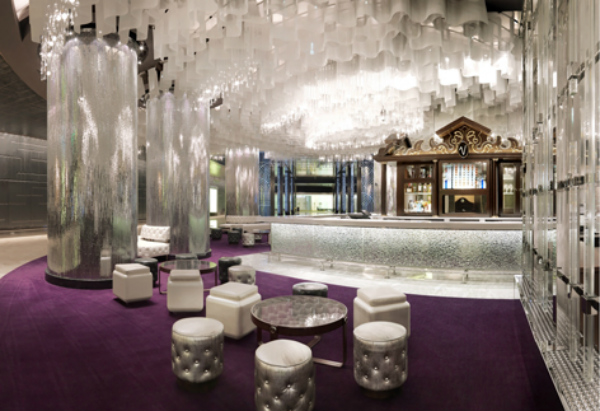 The Cosmopolitan of Las Vegas
The Cosmopolitan claims that it is redefining the Las Vegas experience and it's easy to see why. This unique luxury resort set in the heart of The Strip offers unexpected and interesting things to see and do around every corner. From the intimate urban interiors and distinct pools, to the desert-inspired spa and world-renowned dining, you'll find that it's all in the details at The Cosmopolitan.
For additional information and reservations, please visit CosmopolitanLasVegas.com or call (702) 698-7000.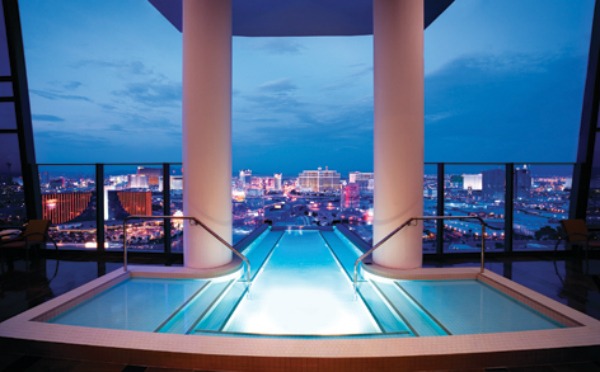 Palms Casino & Resort
Palms Casino Resort is home to some of the most lavish and unique luxury accommodations in Las Vegas. From one-of-a-kind Fantasy Suites, including the Hardwood Suite, the only hotel room in the world with its own basketball court, to the two-story Sky Villa, a 9,000 square foot chic space featuring a 12-person glass-enclosed Jacuzzi tub overlooking the sights of Las Vegas, Palms caters to a variety of discerning tastes. Penthouse A at Palms Place is like your dream metropolitan city apartment. With over 3,500 square feet of space, this contemporary living space features hardwood Brazilian ebony and marble flooring, a dining room, gourmet kitchen, state-of-the-art media room, game room and five (yes, five) 42″ plasma TVs. A large balcony runs the length of the suite with a hot tub, perfect for a sunset toast overlooking the city.
For additional information and reservations, please visit Palms.com or call (702) 942-7777.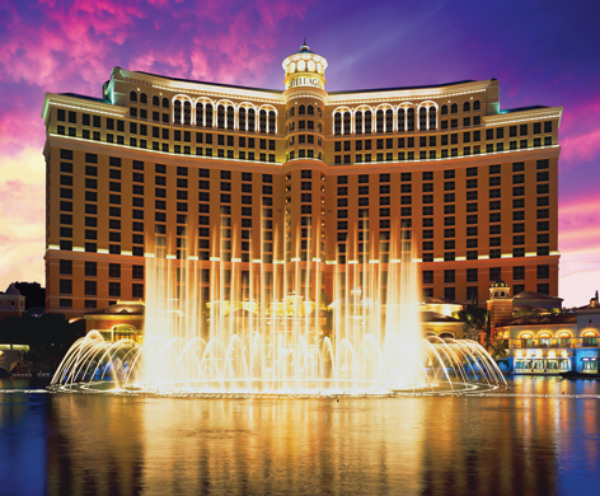 The Bellagio
Contentment and opulence will be the hallmarks of your luxury hotel experience at the AAA Five Diamond Award-winning Bellagio. The guest rooms are a true retreat unto themselves and the hotel offers a wide choice of suites. The most spacious of them, the President's and Chairman's suites, are set atop the hotel's Spa Tower and preside over the Las Vegas Strip. The epitome of quality, romance and elegance, the Bellagio offers luxurious accommodations, gourmet restaurants, an inviting spa and upscale shopping along with a healthy dose of cultural enlightenment.
For additional information and reservations, please visit Bellagio.com or call (702) 693-7111.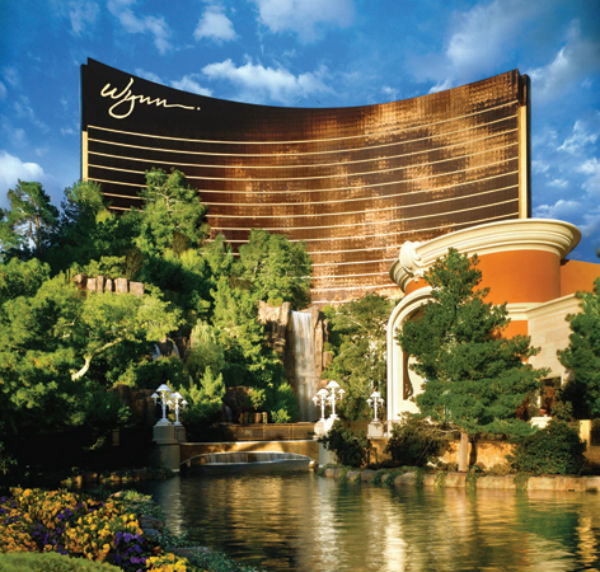 Wynn Las Vegas
For an unparalleled stay right in the heart of the Strip, choose the sophisticated Wynn Las Vegas. Beautifully designed, this exquisite hotel features spacious, luxurious accommodations paired with every possible convenience — from top-notch entertainment and magnificent restaurants to an extraordinary spa and golf course. Plus, the hotel's elegant sister property, Encore, is interconnected, so its boutique-style facilities are just steps away and can just as easily be enjoyed.
For additional information and reservations, please visit WynnLasVegas.com or call (702) 770-7000.
Mansion Concierge
Mansion Concierge is dedicated to providing outstanding personalized service for you and your entourage. Our client's Las Vegas vacation experience is enhanced because they choose exceptional professionals to organize the details of their stay. Let our connections and experience in organizing activities make your stay uncomplicated. Enjoy more of your vacation time while Mansion Concierge accommodates your every need. Reservations for Nightclubs, Tours, Power Shopping, Golf, etc., ………. Simple.
Concierge service begins on arrival and continues until we shake hands and send you home with amazing lifetime memories. We do not believe that any of our competitors offer concierge service as extensively or effectively as we do.
For additional information, please visit MansionConcierge.com or call (702)-461-8082.
Where To Eat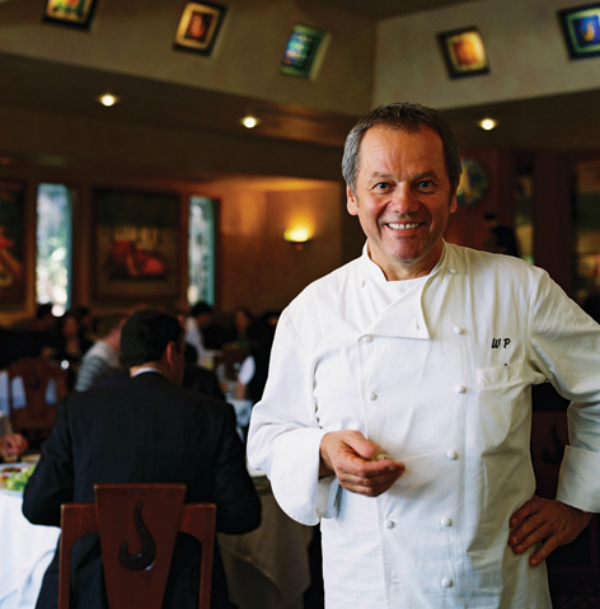 Cut At The Palazzo
Celebrity Chef Wolfgang Puck brings CUT, the award-winning Beverly Hills steakhouse, to The Palazzo. CUT is a classic steakhouse with a modern twist, serving the best steaks and seafood in a modern, super-chic environment. The upscale steakhouse features USDA Prime Nebraska corn-fed, 35-day dry-aged steaks and Japanese Wagyu Beef.
For additional information and reservations, please visit Palazzo.com or call (702) 607-6300.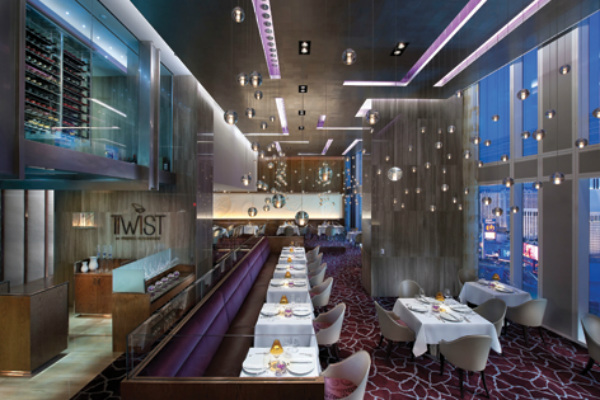 Twist Mandarin Oriental
The Mandarin Oriental's signature restaurant, Twist by Pierre Gagnaire, is the only venue in the U.S. where you can experience the extraordinary cuisine of Chef Pierre Gagnaire. Owner of several highly-acclaimed restaurants around the world, Chef Gagnaire has garnered three Michelin stars for his eponymous restaurant in Paris.
One of the most artistic and celebrated chefs in the world today, Pierre Gagnaire opened his first and only U.S. restaurant at the Mandarin Oriental, Las Vegas to rave reviews in 2009. Most recently, Twist received the coveted Forbes Five Star award for 2012.
For additional information and reservations, please visit MandarinOriental.com/LasVegas or call (702) 590-8888.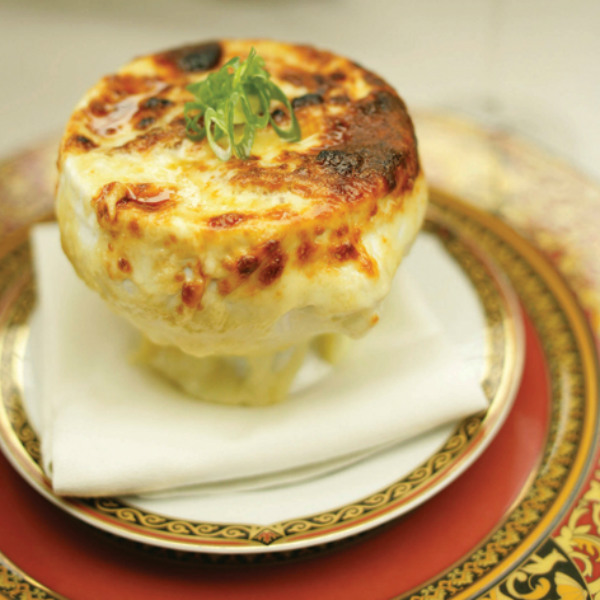 Andre's At The Monte Carlo
Attaining the accomplishment of being the most honored and awarded restaurant in Las Vegas is no small feat. But such are the accolades given to Andre's inside the Monte Carlo Resort Hotel — the AAA Four-Diamond home of contemporary French cuisine inspired by renowned Celebrity Chef André Rochat. Savor the flavorful results of Chef Rochat's personal touch in the main dining room that showcases the alluring juxtaposition of French blue and charcoal grey tones, or take a seat in the sleek lounge with a choice cigar and cognac pairing. At Andre's, your meal becomes an evening event.
For additional information and reservations, please visit MonteCarlo.com/Restaurants/Andres.aspx or call (702) 798-7151.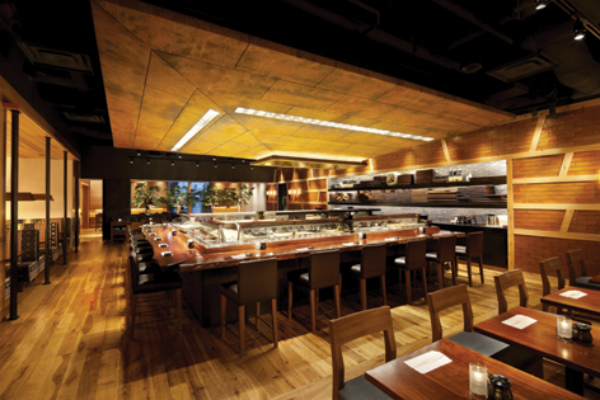 Blue Ribbon Sushi Bar & Grill
Blue Ribbon Sushi Bar & Grill at The Cosmopolitan of Las Vegas delivers a memorable dining experience that features a compendium of favorites from the restaurant's flagship New York location. This Vegas outpost offers diners award-winning sushi offerings, exquisite Japanese steakhouse fare and an opulent array of Blue Ribbon classics in a warm, yet vibrant setting.
For additional information and reservations, please visit CosmopolitanLasVegas.com or call (702) 736-0808.
Where To Relax
 
TAO Beach At The Venetian
TAO Beach, an icon resting atop the famous TAO Asian Bistro and Nightclub, transports visitors to an exotic Balinese escape and adds a new layer of sophistication to the TAO experience. Everyone deserves to indulge in a day (or two) of being pampered, and TAO Beach knows how to spoil its guests. You won't have to lift a finger as one of the gorgeous cocktail waitresses or handsome pool boys stands ready to refill your fresh fruit cocktail or get you another delicious alcoholic Popsicle to help cool you off. All in all, it's a day fit for a VIP at TAO Beach.
For additional information, please visit TaoBeach.com or call (702) 388-8588.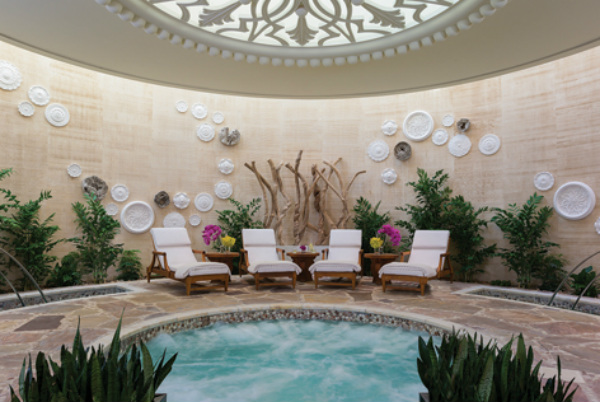 Spa At Wynn Las Vegas
Sprawling across 45,000 square feet and boasting 45 treatment rooms, the Spa at Wynn Las Vegas provides the ideal location for relaxation. The Spa offers separate facilities for men and women, complete with eucalyptus steam rooms and saunas. Each area also offers a whirlpool flanked on either side by plunge pools and lush foliage.
The Spa at Wynn is noted for customizing treatments to each guest and addressing their unique needs and concerns. Its signature spa treatment is the Good Luck Ritual. The 80-minute treatment is based on the elements of Feng Shui, but it's for the body. For thousands of years, Feng Shui has been used to achieve wealth, health, prosperity, happiness and harmony.
For additional information, please visit WynnLasVegas.com or call (702) 770-3900.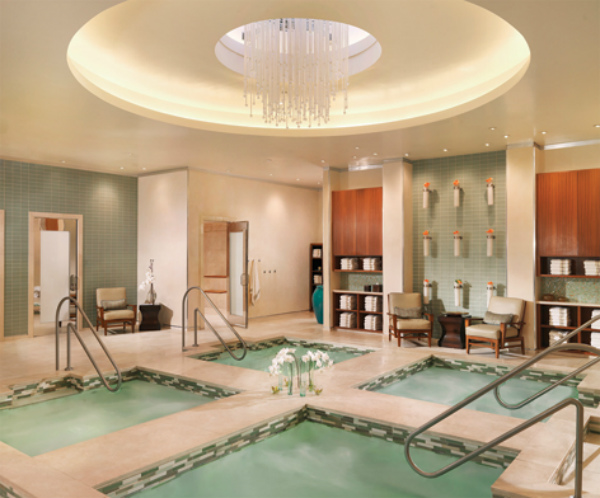 Spa At The Bellagio
Step inside this ever so inviting Spa and breathe. Within, a bliss-inspiring, comprehensive selection of therapeutic facial and body care treatments, and an invigorating exercise facility will elate your senses. Soothe the mind and awaken the spirit in Las Vegas.
The treatments at The Spa Bellagio are extensive, to say the least. Guests can choose from a wide variety of facials and add on other options such as treatments for décolleté, lips, or eyes. Body treatments include wraps, peels, Vichy showers and hydrotherapy treatments, and, of course, massages and world therapies. Among these world therapies are The Spa Bellagio's famous Ashiatsu Oriental Bar Therapy, in which the masseuse literally holds on to a bar attached to the ceiling as she works the stress out of your muscles with his or her feet; and the Raindrop Therapy, in which drops of essential oils are dropped along your spine like rain. The Spa also offers waxing and beauty care for nearly every part of the body.
For additional information, please visit Bellagio.com/SpaSalon or call (702) 693-7472.
Where To Play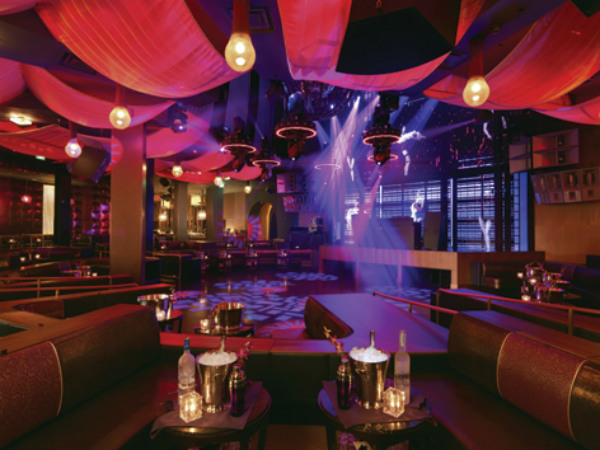 Marquee Nightclub & Dayclub at the Cosmopolitan
"Marquee Nightclub & Dayclub unites the very best of every great international city's music scene into one spectacular and singular setting," notes partner Louis Abin. "The club's truly unique attributes provide the ideal nightlife complement to The Cosmopolitan of Las Vegas."
As one of the most expansive nightclub venues in the country, this monumental 60,000 square foot, David Rockwell-designed venue encompasses seven bars that transition patrons between three lavish rooms and a variety of musical experiences.
For additional information, please visit MarqueeLasVegas.com or call (702) 333-9000.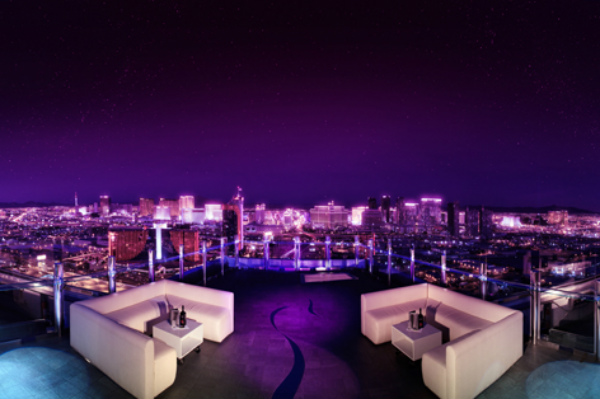 Ghostbar at The Palms
High above the glittering Las Vegas Strip, Ghostbar is a sultry and sophisticated indoor-outdoor lounge and sky deck on the 55th floor of the Palms Casino Resort. The seductive, chic Ghostbar offers ultra-lounge luxury with floor-to-ceiling windows offering a dramatic view of the night sky and city below. Patrons can lounge on the ultra-contemporary furniture, get pampered in the VIP lounge and mingle at the terrazzo bar. The dramatic outdoor deck provides an almost 360-degree view of the glittering Las Vegas skyline and posh seating areas with a glass inset in the floor offering a jaw-dropping view straight down.
For additional information, please visit Palms.com or call (702) 942-7777.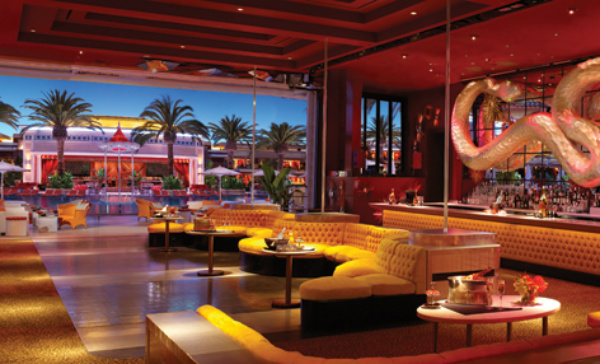 Surrender Nightclub Encore Las Vegas
Surrender Nightclub is an indoor/outdoor club that is sure to please. Steve Wynn in his never-ending quest for perfection, and Vegas club pioneer Sean Christie have teamed up to create this one-of-a-kind club. What makes it unique is that you start off indoors encountering a 120-ft long metal silver snake resting behind the bar. Eight dance platforms surround you where a team of gorgeous go-go dancers put on a wild show for you. The high-end decor by Roger Thomas blends in perfectly with the lush design of Encore. As you move back, a gigantic 45,000 sq-ft outdoor club awaits you where you will find three tiered pools, VIP cabanas with flat screen TVs and amazing views of the Strip, and bungalows with all the furnishings including your own sound system, private bathrooms and temperature controls. You can also find beds and couches reserved for VIP bottle service.
For additional information, please visit WynnLasVegas.com or call (702) 770-7000.
Where To Shop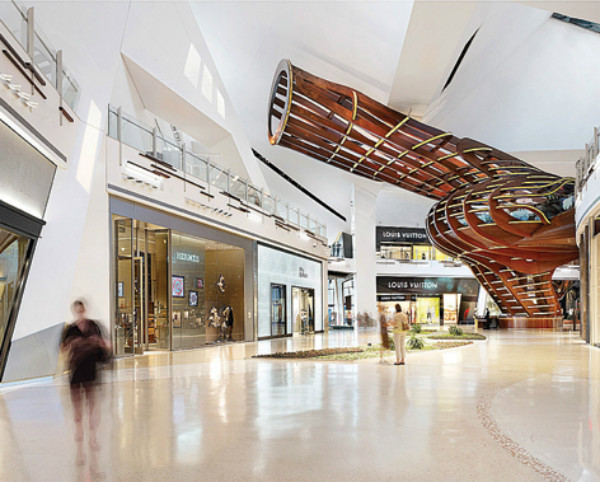 Crystals At CityCenter
The 500,000 square-foot retail and dining district, Crystals, is one of Las Vegas' premier shopping experiences. It's located in CityCenter, the spectacular multi-use development features an unparalleled collection of unique hotels, luxury shops, restaurants and entertainment.
Crystals showcases an unprecedented array of the world's most exclusive retailers, including many flagship stores. For many of these brands, their Crystals location represents their largest location in Las Vegas, the United States, or in some cases, the world.
Invigorate your Crystals experience with enticing creations from celebrity chefs such as Wolfgang Puck and Todd English, the innovative Social House, and the first Mastro's Ocean Club in Las Vegas.
For additional information, please visit CrystalsAtCityCenter.com or call (702) 590-9230.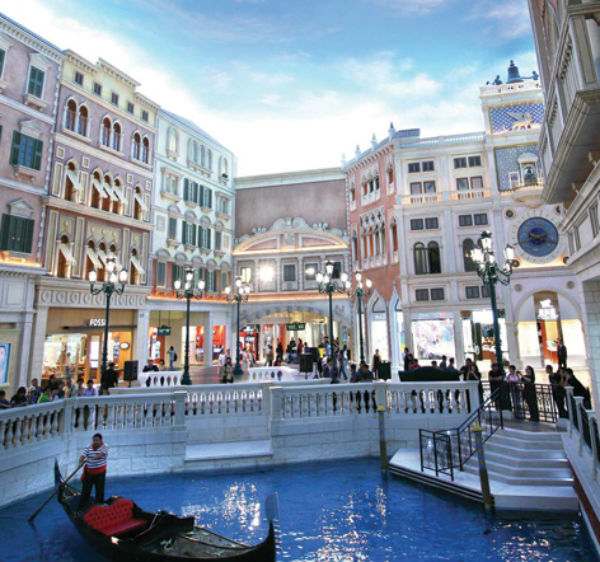 The Grand Canal Shoppes At The Venetian
From romantic gondola rides and live opera shows to rustic architectural facades, the Grand Canal Shoppes captures the true spirit of Italy. In addition to offering exquisite shops and fine dining, an experience at Grand Canal Shoppes delivers more than your average mall trip.
Ladies can find the perfect outfit at popular retailers like Bebe, Ann Taylor and BCBG. Banana Republic and Kenneth Cole carry both men's and women's apparel. While guys are finding the perfect grooming kit at The Art of Shaving, gals can head to Sephora for all their makeup and beauty essentials. But be careful — you can spend hours in here just by trying out all of the products. After all the shopping and sightseeing, we're sure you worked up an appetite. If you like to people watch, sit "outdoors" at Canaletto. You'll also a great view of the Grand Canal and the live opera shows throughout the day.
For additional information, please visit TheGrandCanalShoppes.com or call (702) 414-4500.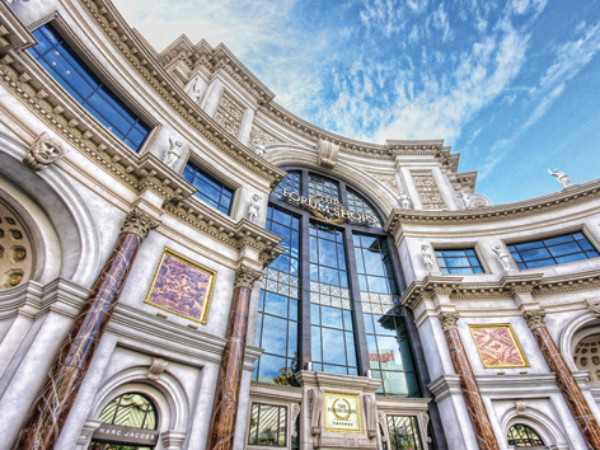 The Forum Shops at Caesars
The Forum Shops at Caesars boasts a unique atmosphere that simulates ancient Roman streets and has no visual rival in the world. More than 160 stores create a retail attraction similar to the Via Condotti, Rodeo Drive or Madison Avenue. Where else can you shop at high-fashion stores among dazzling surroundings, including fountains, statues and facades? The Forum Shops offers fabulous shopping in a visually stunning atmosphere.
Talking statues. An exotic fish aquarium. World-renowned restaurants. Oh, and the selection of high-end retail stores isn't too shabby, either. With stores from famous designers like Salvatore Ferragamo, Gianni Versace, Dolce and Gabbana and Louis Vuitton, you won't have a problem with splurging.
For additional information, please visit Caesars.com or call (702) 893-4800.