I've got the next million dollar idea. Somehow find a way to bottle up and package the aura and vibe that emanates from Loews Coronado Bay Resort, then sell it to consumers worldwide who want to take a break from the stress and hassles of day-to-day life.
It would be the next best thing to being there. All it takes is one whiff of the seaside air flowing through the open-air doors of the main lobby that unveil breathtaking panoramic views of downtown San Diego, and you will find yourself catapulted into a different mood. I believe it's because of a combination of location, the level of service you experience from the first second you arrive and that magical air you breathe in, that you literally get mesmerized. Once you walk through the main entrance, you've officially left your normal, everyday life, and for as long as you decide to stay at the Loews Coronado Bay Resort, it's on.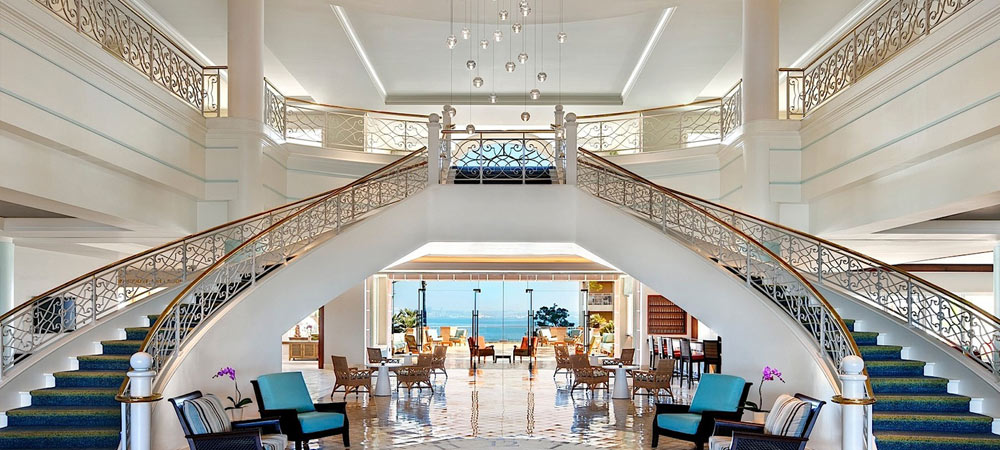 On an appearance level alone, the colors of the decor and the elegance of the design pop, especially in the lobby area, which draws your attention and focus to an open and engaging check-in area. Your attention and glance will almost immediately go upwards, to the grand, majestic, sweeping staircase which reveals even more incredible views on the second floor, as well as the resort's signature restaurant. The pace and atmosphere of this elegant yet casual, vibrant and breezy resort evokes relaxation throughout.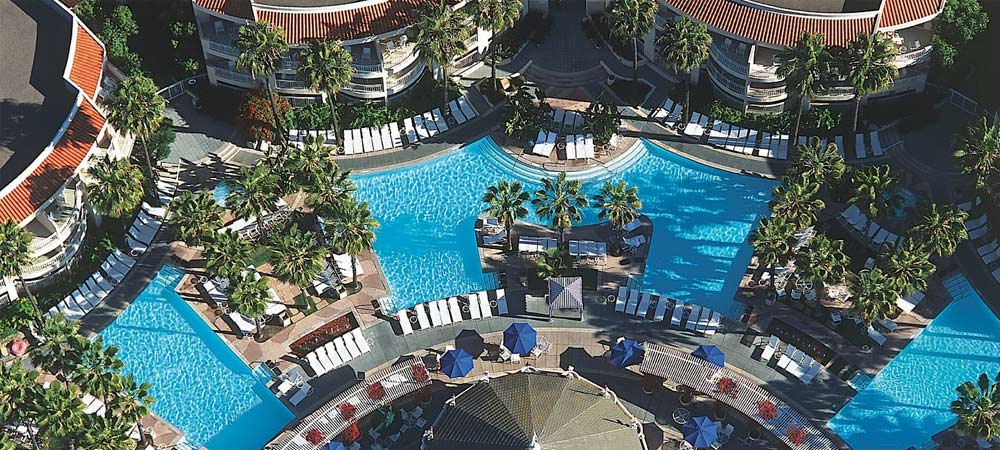 The resort is situated on a private, 15-acre peninsula surrounded by the Pacific Ocean and San Diego Bay. It's a nice little slice of Pacific paradise, loaded with amenities and outstanding service, perfect for a weekend retreat with the family or an extended vacation any time of the year.
If you have not traveled to San Diego recently, make sure you are aware of the fact that the weather has a very good chance of being ideal. That means any and all of the outdoor activities offered in and around the resort will be in play. How many hotels have you stayed at where it is a viable option to simply walk out the door and step onto a sailboat for a private chartered tour? Because of the 80-slip marina located at the resort, that is always a possibility. The resort works with world-class surfing instructors at Coronado Surfing Academy, always ready to teach you the correct way to catch a wave. If you haven't tried standup paddle boarding yet, it is a phenomenal workout, and San Diego Bay offers a smooth ride. You can be as active as you want to be on your vacation. Action Sports Rentals is on property, so at any time, you can water ski, go biking or power boating throughout the bay.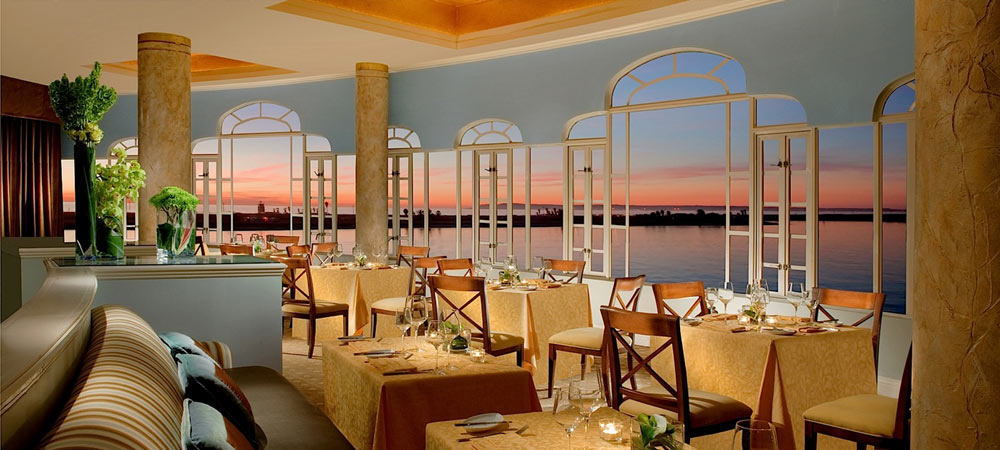 The Loews Coronado Bay Resort has a variety of restaurants that feature seaside SoCal fare, including Mistral, Market Café and La Cantina. Mistral is a destination restaurant for locals, and an unexpected treat for visitors who have spent the day at the beach or on a deck chair by the pool. Menu selections are creative, family-friendly and delicious. Chef Adam Cho has a love of organic ingredients that will make a dinner at Mistral during your stay here not only memorable, but a true highlight of your trip.
The Market Café on the main level takes full advantage of the marina views, and has a variety of menu options that showcase the culinary variety of SoCal. It's convenient, with a full espresso bar service available at all hours.
If you are traveling with children on this trip, I highly recommend you turn them loose for a few hours at the Loews Go Wild! Kids Camp in partnership with the Living Coast Discovery Center. Kids ages 5-12 can discover San Diego through nature hunts, arts and crafts, beach explorations and games, animal interactions and more. This will allow adults time to indulge in one of the 14 treatment rooms (10 indoor and 4 outdoor) at the Sea Spa or visit the Spray Salon. A full menu of spa services is offered, including a Vichy rain shower and a Watsu therapy pool. There are also a variety of fitness classes, including beach yoga.
Loews Hotels & Resorts is known for wisely selecting ideal areas of major cities for their locations worldwide. If you are looking for the opportunity to have some unmatched family fun, or want just a coastal getaway to refresh and unwind, consider this very cool SoCal resort to make your vacation or getaway weekend as active or relaxing you want. People in San Diego know how to chill. We could all take some valuable lessons from them.
Oh, and if you think of a way to bottle up the unique vibe of luxury and relaxation that exists here . . . let me know.