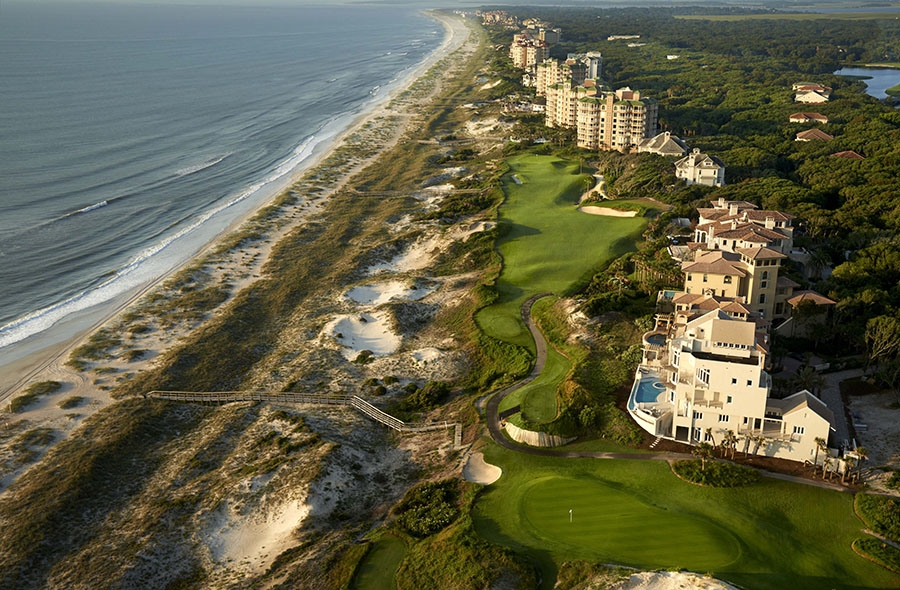 As I traveled from Jacksonville International Airport to Amelia Island, my driver, Sam, shared an interesting fact: eight different nations have flown their flags over this land to claim it as their own.
This made me even more curious about what this 13 mile-long barrier island in Northeast Florida had to offer. Once I arrived on the island, I understood why France, Spain, Britain and the others wanted to stake their claim here. Amelia Island is a natural beauty — it's lushly forested with stately oaks draped in Spanish moss and has amazing coastal views and an abundance of wildlife.
I also soon discovered that Omni Amelia Island Plantation Resort knows a thing or two about how to make a grand entrance. As I entered the lobby — as beautiful as it is — my eyes skipped right over the décor and were instantly drawn to the mesmerizing views of the Atlantic straight ahead.
But first things, first. If you travel to Amelia Island by private jet, you'll arrive at Fernandina Beach Municipal Airport, just four miles from the resort. A driver will greet you and transport you to the resort where you can rent an island hopper (a gas-powered golf cart) to take you anywhere you want to go. The resort covers 1,350 acres, and there is so much to see and do here that there really isn't any reason to leave the property during your stay.
For accommodations, you'll have a choice of oceanview rooms or a variety of oceanview suites, including the spacious new End Suites that feature wraparound porches and endless views. The rooms' soothing décor combines beachy blues and greens with natural elements to create an atmosphere of relaxed coastal elegance. Or, you may want to choose one of the luxurious one-, two- and three-bedroom private villas spread throughout the resort.
So, what is there to do here? A better question might be, "what isn't there to do?" The resort contains more than seven miles of tree-shaded trails, ideal for walking, bike riding or taking a guided Segway tour offered by the onsite outfitter Amelia's Wheels. Ocean sports enthusiasts have a choice of kayaking, paddleboarding, and catch-and-release fishing for brim and large mouth bass in freshwater ponds, as well as saltwater fishing for tarpon and other species. Sailing charters are available, as well. There's also a Nature Center onsite where guests of all ages can learn about the many species that call the island home, including great blue herons and the loggerhead, leatherback and sea turtles that nest here.
Golfers will want to test their skills on the resort's 54 holes of championship golf that border the ocean, salt marshes and those beautiful, Spanish moss-draped oaks I mentioned earlier. If guests want to finesse their game a bit more, the staff of the golf academy is ready to help. The resort's Racquet Park offers 23 Har-Tru® fast-dry, clay courts and a staff of experienced tennis pros. This is hallowed ground for tennis fans — some of the sport's greatest players, including Andre Agassi, Chris Evert and the Williams sisters have played here.
Kids are treated like mini-VIPs at the resort. Upon arrival, they receive a "Kitchen Kids" backpack filled with goodies, and there are plenty of family-friendly activities like dive-in movies and making s'mores on the beach. There's also Heron's Cove Adventure Golf that offers 18 holes of nautically-themed miniature golf. The staffs at the Camp Amelia day camp and Camp Amelia @ Night are available to entertain kids ages 4-10 while parents enjoy some time alone. After a day of enjoying these fun activities, you may find that you're ready to wind down and relax. You could head to the full-service spa to indulge in something soothing like a Seaside Sensory Journey body treatment or a couple's massage. Or, you could stake your claim on a beach chair on Northeast Florida's largest pool deck or take a dip in the adults-only infinity-edge Serenity Pool that overlooks the Atlantic. And, of course, there's always the option of simply taking a relaxing stroll down the beach.
There's plenty to do at Omni Amelia Island Plantation Resort, but I have to admit that I've saved one of the very best things for last — the food. There are ten restaurants and lounges to choose from, ranging from the charming French bistro-style Marché Burette gourmet food market and deli, to the casual Natural Slice pizza joint where the hand-tossed dough is made with salt water from the Atlantic, to Oceanside restaurant with its "Floribbean" cuisine, and the Verandah, specializing in freshly-caught seafood prepared with Southern flair.
The expert culinary team at the resort is led by Omni Hotels & Resorts' Regional Executive Chef Daven Wardynski, who is something of a culinary wizard; doubling as Executive Chef for Omni Amelia Island. During our stay, my group had multiple opportunities to see him work his magic with unique combinations of flavors, ingredients and dining experiences that were nothing short of amazing.
Chef Daven is also the driving force behind "The Sprouting Project," a specially designated area of the property that encompasses an aquaponic greenhouse and organic garden where herbs and produce are grown for use in the restaurants. The "Project" is also home to multiple beehives that produce palmetto honey for the resort. A smokehouse and barrel room for honey, vinegars, hot sauce and barrel-aged cocktails is slated to be added soon.
After a tour of this eco-friendly operation, we enjoyed an outstanding wine pairing dinner served on a rustic farmhouse table in the greenhouse. We began with a delicious carrot soup infused with the flavors of coconut and cilantro, which was followed by three more inventive courses, and the Chef's menu for the evening wrapped up with an orange and white chocolate cake that members of our group were still dreaming about the next day. The Chef even made creative use of liquid nitrogen to top off our desserts with tequila dippin' dots. Where have you ever seen that? These special dinners are offered at The Sprouting Project once a month, so be sure to make your reservations accordingly. You won't want to miss this extraordinary farm-to-table experience.
Chef Daven also offers the "Chef's Kitchen," a private culinary experience for 12 guests where he showcases his innovative cuisine and creative use of local ingredients. This multiple-course, wine-paired tasting dinner is held in a private dining room in the resort's Sunrise Wing. A massive saltwater aquarium serves as the base of the dining table, making the event a treat for both the eyes and the taste buds. It's another not-to-be-missed experience.
Omni Amelia Island Plantation Resort is a lush, luxurious retreat where you can embrace nature, be nurtured, and be as active (or as blissfully inactive) as you want to be.