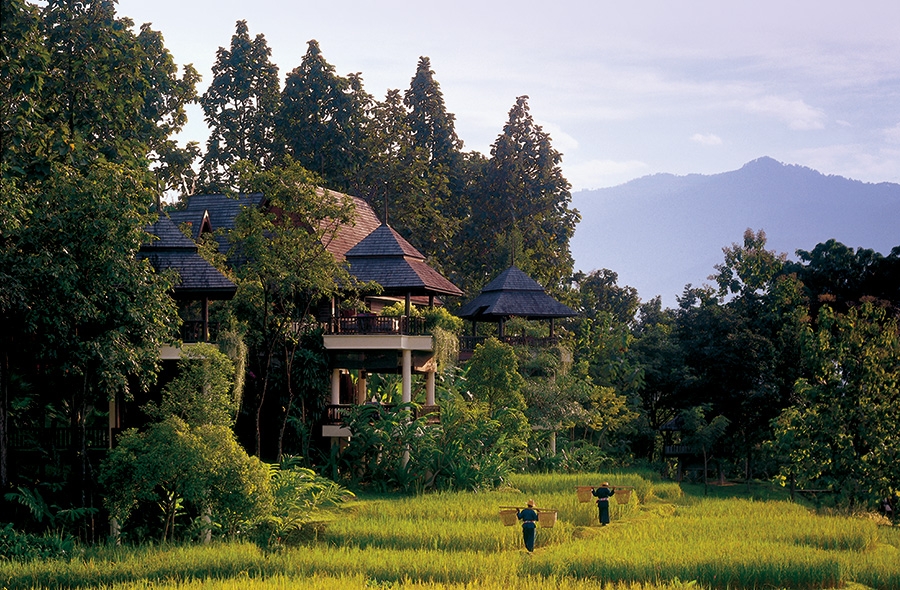 With such few weeks of precious vacation time, make them count by going all out. Ideal fortnight itineraries allow for urban action and rural serenity in equal measure.
Let's not forget that getting there should be as much pleasure as the holiday itself. With this in mind, I board Cathay Pacific Business Class bound for Hong Kong. With in-flight service this polished and pristine, we're nearly forlorn when it's tarmac time again.
My ideal Asia itinerary taps a symphony of Four Seasons — Golden Triangle to Chiang Mai to Hong Kong to Hangzhou. Why one brand when the luxury field in Asia is so flush with assets? Simple. Luxury is rooted in the quality of the experience, not the thread count of the sheets or the fleet of Phantoms. Four Seasons made experience its main differentiator before it was trendy, and in the process, reinvented the definition of luxury. More importantly, it's about continuity and emotional coherence.
The journey begins in Thailand's northern Golden Triangle, bordering Burma and Laos. I meet Yuki, a magnificent Asian elephant, on arrival at Four Seasons Tented Camp; in under 10 minutes I'm besotted, falling under her hypnotic spell. She is, after all, a well-traveled, ex-international supermodel who worked in Japan. Her eyelashes flutter long and lush as she bats her doe eyes in my direction. At 25, she's seen it all — photo shoots, working Pattaya's tourist strip, performing in cabarets.
In rescuing elephants abused by logging or those trawling urban streets doing tricks with their mahouts — Hindi for "person who rides elephants" — Four Seasons restores the Kingdom's reverence for elephants. By supporting mahout families with income and as the lead donor to the Golden Triangle Asian Elephant Foundation, the resort helps to end animal exploitation and the poverty cycle that creates it.
Dressed in the mahout garments laid out in my tent, my heart races as I catapult onto Yuki for the first time. Mind you, this isn't riding in a basket tourist style; this is as bareback and intimate as it gets — cotton-clad thighs meet pachyderm head. I learn basic verbal commands to steer, stop, start. Nothing unites you more with an elephant than learning to praise her. Later on, in the sanctuary of my five-star tent, I kick back in a hand-hammered copper tub with a spine-tingling view of the herd grazing the plains. I write a note to Yuki at bedtime, from a monumental safari desk worthy of Rudyard Kipling.
A quick flight takes me over to Four Seasons Chiang Mai, set on 20 acres of landscaped terraces, waterfalls and rice paddies nestled in the Mae Rim Valley. I check into a guestroom in a two-story pavilion designed in the local architectural style, complete with soaring teak wood ceilings and outdoor gazebo.
As a rabid Thai noodle hound, I find the lure of the resort's celebrated cooking school too much to resist. It's like the chic set of MasterChef in the context of a luxury resort — but sans pressure, meltdowns or fits of crying. Over the course of the afternoon, I learn precision knife skills and tips on balancing flavor profiles from the resident masters. Best of all, the indigenous feast that follows is well worth the sweat equity.
In keeping with the best in culinary sensuality, I hit Hong Kong on a high. With two Michelin-rated restaurants under one roof, Four Seasons Hong Kong is the apex of epicurean cred in a city teeming with competition. Furthermore, Chef Chan Yan Tak is the first Chinese chef to receive three stars in Michelin history. I swoon at his delicate Cantonese seafood masterpieces, won over by his subtle integration of French truffle and foie gras. Later that night, at two Michelin-starred Caprice, the selection of Bordeaux and Burgundy trophy wines would exhaust even the most intrepid Russian oligarch. Caprice also houses Asia's largest artisanal French cheeses cellar. Think nightcap at Tiffany's, but in place of diamonds and pearls, there's Abbaye de Belloc and Reblochon sourced from the most passionate affineurs.
The next morning, I'm ripe for the Four Seasons Extraordinary Experience "In the Footsteps of a Dragon" — a bespoke tour of Hong Kong's hidden hawker stalls. Guided by one of the hotel's expert Chinese Culture Ambassadors, I taste my way through Chef Chan Yan Tak's childhood, savoring his fave local delicacies. A highlight is vibrant Kowloon, where Tak grew up and still draws his culinary inspiration.
I end the journey on a meditative note at Four Seasons Hangzhou, situated enviably on West Lake, a site that's stirred the hearts of poets and painters for centuries. The hotel's signature draw is a Champagne picnic on the lake in a traditional wooden boat — the Chinese answer to the gondola. The pagoda-inspired spa is exceptional, with treatments based on ancient rituals drawing on regional herbs, spices and flowers. Mingling ancient serenity and best-in-class modern luxuries, this is the perfect antidote to Hong Kong's 24-hour buzz. Under the spell of the lake, even the most manic person is a little more mindful here.