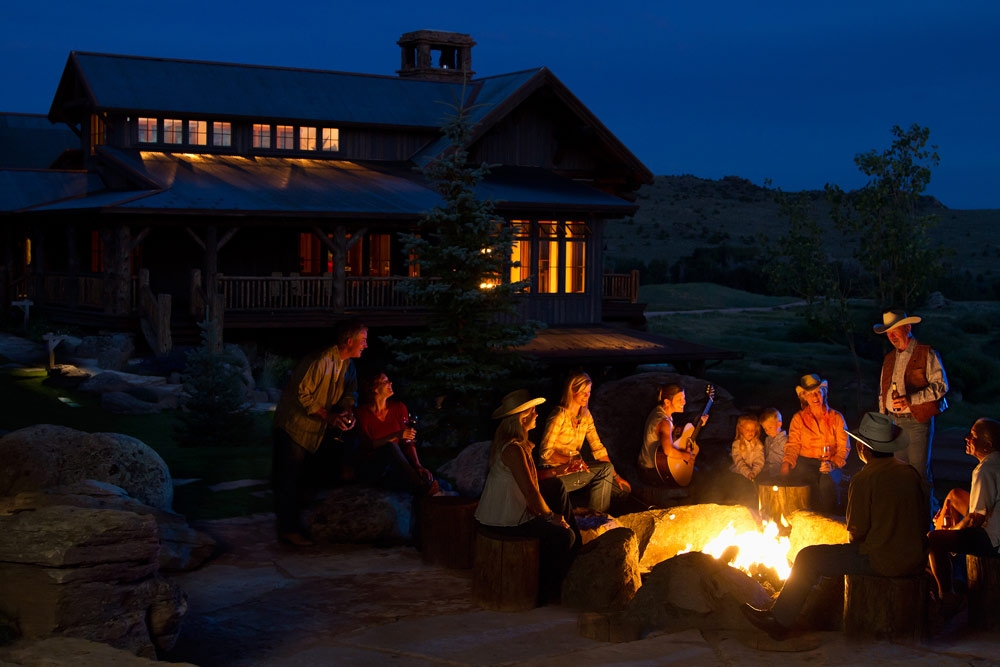 Red Horse Mountain Ranch Resort is known for its all-inclusive dude ranch vacations that include an extensive list of guided adventures, well-appointed accommodations and first-rate western hospitality.
Red Horse Mountain Ranch
A Resort With First-Rate Western Hospitality
Located on 300,000 acres, the ranch is a 1.5 hour drive from the Spokane International Airport near Coeur d'Alene, Idaho. The ranch offers the perfect location for a western family vacation. Full-service, all-inclusive ranch vacations are available from June through October, and our all-inclusive family dude ranch vacations are available from June through August. The ranch also offer couples' dude ranch vacations in September and October with a special Girl's Getaway Week.
Along with a full schedule of beginner-to-advanced western horseback riding and outdoor adventures, the ranch includes a famous kids' program packed with outdoor activities and horseback trail riding (ages three and up). Our all-inclusive rates include a private cabin or suite, chef-prepared meals, a cocktail hour, laundry services, daily housekeeping service, snacks, non-alcoholic beverages, and alcohol beverages. Guided ranch adventures, included in the all-inclusive package, are: advanced horseback trail riding, scenic and all-day horseback rides, horseback riding lessons, fly fishing lessons, lake fishing, archery, sporting clays, a high-element challenge course, zip line, climbing wall, hiking, yoga, kayaking, bike tours, swimming, and a lengthy list of self-guided adventures. Make your reservations today and start a new family tradition.
Red Horse Mountain Ranch Resort
888.689.9680
[email protected]
RedHorseMountain.com
Pine Creek Sporting Club
Experience The Unspoiled Florida Wilderness
Pine Creek Sporting Club is the perfect place to build a family tradition. This members-only hunting plantation is located 80 miles northwest of Palm Beach, set amid native pines, old oaks, cypress stands and broom grass.
Residents enjoy 2,400 acres of unspoiled Florida wilderness, conveniently located 1.5 hours from Palm Beach and Orlando. Pine Creek offers world-class hunting, sport shooting and fishing, as well as a fully-furnished, 7,000 square-foot lodge with dining and catering facilities, a pool, equestrian center, fitness center and library. Members also have use of Pine Creek's Bell 407 helicopter.
Pine Creek offers 1,100 acres for quail, pheasant, and dove hunting, and members can also pursue turkey, boar and white-tailed deer. The club employs three full-time hunting guides and dog handlers in charge of a mix of 40 Labrador retrievers and English pointers.
Pine Creek is the escape you've been hunting for. It may be your second or third home, but it will surely be first in your heart.
A limited number of luxurious cabins from $800,000 and pristine 40-acre ranch sites from $1,000,000 are still available.
Pine Creek Sporting Club
561.346.9365
PineCreekSportingClub.com
Mineral Branch Ranch
Fabulous Turnkey Opportunity In Florida
This beautiful 342-acre Florida property has it all . . . lodging, golf, sporting clays, a stocked fishing pond, private 3,000′ landing strip, an established citrus operation and so much more. Best of all, this ranch is completely turnkey — all furniture, livestock and equipment is included, and the projected $300,000 annual income when the ranch's red grapefruit trees go into full production is more than enough to cover the cost of maintenance and a caretaker's salary.
Built in 2012, Mineral Branch Lodge features an exterior of cypress lap siding and porches that were handcrafted with massive, rough-sawn cypress timbers. The interior walls and ceilings are covered with rare Pecky Cypress and the floors are made of reclaimed white oak. The lodge's 19' high double-sided fireplace is accented with natural stone.
The 6,659 square foot lodge includes three separate buildings connected by covered walkways. The common area building includes a gourmet chef's kitchen, dining room, living room and game room/bar along with a mudroom and a bathroom. The detached master suite features a huge master bath with natural stone walls and floor. The third building includes three guest suites with private baths. Each guest suite has French doors leading to a private porch with beautiful views of the property. The ranch also includes a fully-equipped, screened-in summer kitchen
The ranch's private nine-hole golf course was professionally designed by the architect who designed the Black Diamond Ranch golf course in Lecanto, FL. Its 2,900+ square foot Pro Shop includes a 360 square foot air-conditioned bar ideal for lounging in after you play a round of golf. The Pro Shop also has a large covered porch and a state-of-the-art audio system that can be heard from the furthest green.
This turnkey property has everything you need and is ready for your arrival.
Heartland Real Estate Group
Marty Wohl
863.381.2179
[email protected]
HeartlandRE.net
Brush Creek Ranch
A Lodge And Spa InThe Wyoming West
Step through the gates of The Lodge & Spa at Brush Creek Ranch and this historic 15,000-acre cattle ranch will unfold for the vacation of a lifetime in the heart of the American West.
Tucked against million-acre Medicine Bow National Forest in the famed Platte River Valley, all-inclusive, customized adventures prevail at this Preferred Boutique™ destination and Orvis-Endorsed Fly Fishing & Wing Shooting Lodge, setting a new standard in private luxury ranch escapes.
Families, friends and colleagues venture from across the globe to indulge in a vast collection of authentic outdoor experiences — from horseback riding, fly fishing and shooting sports to mountain biking, hiking and sunrise yoga under the breathtaking Wyoming skies — amidst a spirit of genuine hospitality and classic western fun.
The stately, 38,000 square foot Trailhead Lodge & Spa and a lush array of finely-appointed new and historically-renovated cabins and suites offer spectacular surroundings and comforts to renew and inspire.
Dining experiences unfold in a "moveable feast" fashion, with gourmet Rocky Mountain cuisine served in a variety of settings, including the Trailhead Lodge Great Room, the open-air Chuck Wagon, Creekside Dinner Camp and yurts built deep into the forests.
At night, stargaze, roast marshmallows around the campfire and have old-fashioned fun in the BCR Saloon, enjoying your favorite specialty brew, wine or handcrafted cocktail over a round of pool or karaoke.
Arrive via private aircraft into Saratoga's Shively Field, just thirteen miles from the ranch's front gates. Inquire for ten to twenty-five percent Jetset savings.
The Lodge & Spa at Brush Creek Ranch
307.327.5284
66 Brush Creek Ranch Road, Saratoga, WY 82331
BrushCreekRanch.com
Fay Ranches
Brokering Coservation Through High Ideals
Greg Fay founded Fay Ranches in 1992 to help conserve the river corridors and agricultural landscapes by brokering ranches and recreational properties to conservation-minded individuals. Fay Ranches has been consistently providing the highest quality brokerage services in the American West for over 20 years from its home base in Montana, west to Oregon and south to Colorado. This dedication has resulted in Fay Ranches being honored as a "Top Brokerage Firm" by The Land Report for three straight years.
The growth and success of Fay Ranches have been guided by four pillars:
Sporting Pursuits — Our brokers are continually researching the ever-evolving market of ranch and sporting properties to find clients the perfect ranch for bird hunting, fly fishing and big game hunting with friends and family.
Family — The Fay Ranches staff is dedicated to family and to helping clients find that perfect ranch where they can create memories with their own families.
Conservation — Through the use of conservation easements and land stewardship, Fay Ranches has guided owners toward a legacy of conserving wide-open spaces, enhancing and creating fisheries and wildlife habitat and implementing sustainable agricultural operations.
Ranch Value — Fay's experienced and knowledgeable staff members utilize their extensive knowledge of the marketplace to find a ranch that reflects each client's goals. After the purchase, Fay Ranches will assist owners in managing ownership costs and income without losing sight of the original goals.
Fay Ranches also leverages the latest technology relative to brokerage, ranch and land management for the benefit of its clients from the initial meeting through the life of ranch ownership.
If you've not met the Fay Ranches team yet, we welcome the chance to get to know you and to welcome you and your family home.
Fay Ranches
800.238.8616
FayRanches.com/JSM
Deer Valley Guest Ranch
Own A True "Out West" Colorado Experience
Deer Valley Guest Ranch is a unique and historic ranch nestled at the base of the prestigious Mount Princeton in Central Colorado. Deep roots reside at this established resort, dating back to when a local family first planted the seeds of this dream ranch in 1954.
The variety of buildings provides endless opportunities. They were built to maximize the majestic views. Guests leave with an extraordinary experience and a memorable visit. The local Buena Vista airport makes it a convenient destination.
The peaceful seclusion of 123 acres with lake frontage draws dude ranchers and guests from around the world in search of a once-in-a-lifetime "Out West" experience. A multitude of activities are provided through the ranch's programs, including horseback riding, hiking, white water rafting and fishing. But the adventures don't stop there.
Access to national forest land, 14,000-foot mountains to climb and some of the most exhilarating mountain biking trails fill the summer days of visitors near and far. Winters in Chaffee County offer an abundance of snow mobile tours, snowshoeing and cross country skiing as well as downhill skiing and ice fishing on any of the several lakes nearby. In fact, Buena Vista, Colorado was runner up for the "2014 Travel Awards: Best Mountain Trip" in the April 2014 edition of Outside Magazine. The area is truly a remarkable place to visit.
Embark on the opportunity to own Deer Valley Ranch as is or pursue your own dream as this incredible resort is available for sale. Adventure awaits.
Pinon Real Estate Group – Buena Vista
Julie Kersting, GRI, Broker Owner
[email protected]
719.395.0200 • 719.395.7840
$5,500,000 • PinonRealEstateBV.com
Back at the Ranch
Hand-Crafted Luxury Cowboy Boots
Back at the Ranch in Santa Fe, New Mexico, has earned an international reputation as a "go to destination" for some of the world's finest handmade luxury cowboy boots, prompting the New York Times to call it "…probably one of the best custom boot companies in the country."
Inspired by a dedication to traditional craftsmanship, Back at the Ranch owner Wendy Henry believed she could bring a fresh, modern twist to this traditional fashion icon.
Using only luxury materials and sourcing some of the world's most unique exotic skins, the've been creating thousands of one-of-a-kind custom boots popular with A-list actors, filmmakers, country music stars, politicians, and fashionistas from around the world.
"Our second- and third-generation craftsmen, men have spent their lives making cowboy boots, each one by hand in our El Paso, Texas factory," says Wendy. Their motto is "perfection is in the details."
These distinctive boots are also highly sought after not just because of their exquisite designs, but also for their modern innovations—such as using Vibram soles, a line of ankle-hugging short boots with side zippers, and the ability for customers to customize their boots with their own designs.
Back at the Ranch occupies a distinctive place in the world of luxury cowboy boots: known equally for modern, fashion forward designs and commitment to exemplary customer service.
Back At The Ranch
888.962.6687
[email protected]
BackAtTheRanch.com