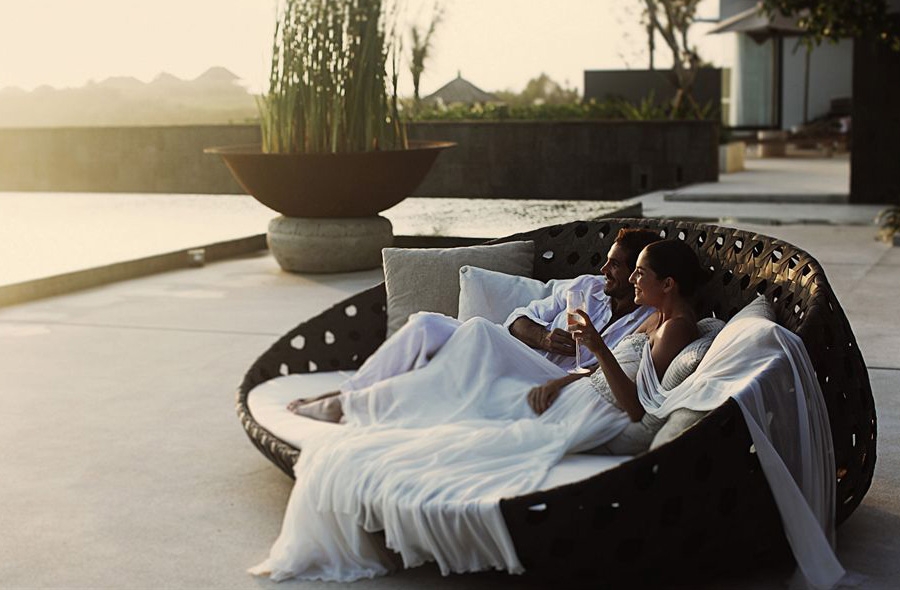 Summertime was made for travel, so we've brought together a diverse selection of luxurious destinations for you to consider.
If Europe is on your itinerary, a stop in Barcelona will offer you a refreshing feast for the senses on the Mediterranean coast. Or, if fishing and water adventures are calling out to you, the seaside setting of Zihuatanejo, Mexico might be just what you're looking for. And if it's an island vacation you're after, what will it be? Bali or Fiji? Maybe you should just visit both.
BARCELONA, SPAIN
STAY: MANDARIN ORIENTAL
This vibrant, cosmopolitan seaport city seemingly has it all art, culture, beautiful beaches and equally beautiful people. As Spain's second largest city and the capital of Catalonia, Barcelona is a true feast for the eyes. The city is world-renowned for the innovative, modernist architecture of Antoni Gaudi. Two of his works, Sagrada Familia and the house-turned-museum Casa Batilo, are among his most famous. Barcelona also a walkable city offering plenty of outdoor markets, restaurants, museums, bars and boutiques to enjoy, not to mention impromptu performances by street musicians. One of the city's top shopping destinations is the Passeig de Gracia, an elegant boulevard lined with upscale boutiques and stunning architecture.
While there is certainly no shortage of international cuisine to enjoy in Barcelona, no trip to the city would be complete without experiencing authentic Catalan cooking, the most important ingredients of which have been described as "olive oil, garlic, sun and patience." Visitors will also do well to follow the example of the locals who love to go "de tapeo" enjoying an informal evening at their favorite tapas bar, sampling a variety of mouthwatering dishes. There's so much to see and experience in this scenic city on the Mediterranean. To take it all in from one great vantage point, visitors can hop on the Tramvia Blau (blue tram) to travel to the top of Tibidabo, the highest point in the city.
From its ideal location on the Passeig de Gracia, Mandarin Oriental, Barcelona makes an excellent home base for exploring all the city has to offer. Housed in an elegantly restored mid-20th century building, the hotel features exquisitely designed interiors by internationally-renowned Spanish designer Patricia Urquiloa. The Spa at Mandarin Oriental offers a wide range of holistic therapies as well as signature life-enhancing programs created exclusively by Mandarin Oriental. The hotel is also home to Moments restaurant headed by Chef Carme Ruscalleda who has attracted major buzz and earned two Michelin stars for her traditional Catalan cuisine.
BALI, INDONESIA
STAY: ALIILA VILLAS SOORI
The Indonesian Ministry of Tourism promotes Bali as "Simply the World's Best Island," and while some tourism organizations are prone to hyperbole, they might just be on to something. As one of the most famous destinations in Indonesia, Bali offers the kind of idyllic island setting of which vacation dreams are made. Whether visitors simply want to pursue peace and serenity in a breathtaking setting, actively engage in outdoor adventures or immerse themselves in the local culture, Bali and its friendly people will deliver. Naturally, water sports are popular here and Kuta Beach is a top spot for surfing and sunsets. Parasailing and jet skiing are also available, and cruises to the surrounding islands can easily be arranged. Diving enthusiasts will find plenty of great dive spots around the island, and those who prefer to observe Bali's colorful sea life from a safer distance can do so by submarine. For the adrenaline junkies at heart, Bali offers the thrill of white water rafting down the Ayung River, or, for a faster way to get down to the river, bungy jumping from a cliff top.
Bali is also known for its world-class spas where luxurious treatments run the gamut from those on the cutting edge to traditional treatments once enjoyed only by princesses in ancient courts. The island is also steeped in ancient traditions. By visiting sacred temples, palace ruins or a traditional Balinese village, visitors can soak up some of the island's fascinating heritage.
For accommodations, one of the 44 exquisitely designed 1-10 bedroom villas at Alila Villas Soori should easily fit the bill. The resort is ideally located on the island's southwest coast, less than an hour from Ngurah Rai International Airport and nestled between lush, green rice terraces and a soft, black sand Balinese beach. This relaxing beachfront paradise is also located just 20 minutes from Bali's most sacred and visited temple, the Tanah Lot Temple. The contemporary Asian architecture of Alila Villas Soori enhances the resort's zen-like, blissful feel.
ZIHUATANEJO, MEXICO
STAY: LA CASA QUE CANTA
Located on Mexico's Pacific Coast in the state of Guerrero, Zihuatanejo was once a quaint fishing village but has now evolved into a mecca for travelers in search of postcard-worthy views, water-based adventures and a chance to experience local Mexican culture. Here, fishing enthusiasts can bag 75-100 pound sailfish nearly year-round, or pursue marlin, dorado (mahi-mahi) or yellow-knife tuna in season. Opportunities to snorkel and scuba dive here abound, and children and adults can get up close and personal with playful marine mammals through Delfiniti's dolphin encounter offered in nearby Ixtapa. A relaxing day can also be enjoyed while strolling the winding streets of Zihuatanejo, exploring the galleries and folk art shops, then ending the day on a perfect note, selecting a palapa-style open air seafood restaurant and indulging in the catch of the day while enjoying the sunset.
An intimate, romantic hideaway awaits at La Casa Que Canta that delivers breathtaking views of Zihuatanejo Bay at every turn. Guests can take a dip in the resort's infinity pool or its oceanfront seawater pool. Spa CLARINS is located onsite and guests can also indulge in yoga or tequila tasting classes or cooking classes under the expert guidance of Chef Juan Antonio.
AN ISLAND OF YOUR OWN
FIJI'S TURTLE ISLAND, THE ULTIMATE GETAWAY
come away to Turtle Island, your exotic private island paradise. Relax, unwind and reconnect with your partner along with 13 other couples or reserve the entire island for the ultimate in privacy. During the 30-minute seaplane flight passing over a string of ancient volcanic lagoons and jagged islands, the modern world fades away, and you feel yourself relaxing, at last. Then, in the distance, Turtle Island rises on the horizon. It's your own private paradise.
Your flight touches down on the crystal clear waters of the legendary Blue Lagoon, and glides to the edge of an unspoiled beach. Fijian warriors carry you to shore, where you're greeted with native songs, smiles and your favorite tropical cocktail. Welcome home.
Turtle Island offers 500-acres of lush tropical forest surrounded by vibrant coral reefs, and is graced with 14 powdery white sand beaches. This is heaven on earth.
During your stay, home is a spacious villa known in Fiji as a buré, crafted with island-grown hardwoods and hand-woven vaulted ceilings. Every buré has a four-poster king-size bed, a living room, and a walk-in double shower for two, a full-sized in-room Jacuzzi tub, and a bar stocked with fruits, spirits and beverages of your choice. For napping, there's a secluded queen-size daybed on the veranda, as well as a hammock beckoning you. Fourteen burés dot the shore of the Blue Lagoon.
Guests are paired with a dedicated concierge, affectionately called "Buré Mama," who tends to your every whim, ensuring the pampered relaxation, privacy and service you crave. Enjoy romantic champagne and lobster picnics on a private beach, snorkeling and diving adventures, horseback riding at sunrise and reef fishing with a Fijian guide … Fiji's culture flourishes on Turtle Island.
Your chef expertly prepares anything you desire. Global fusion cuisine might pair just-caught crabs and trevally with fresh herbs and lettuces from our gardens. Every meal is perfectly harmonized with world-class wines. Dine out on a lantern-lit pontoon, or anywhere else you wish.
At nightfall, step out and be greeted by the magnificent Southern night sky, untouched by ambient light, aglow like diamonds on black velvet. Welcome home.
Your heart will plan your return. Turtle Island, once discovered, is never forgotten.