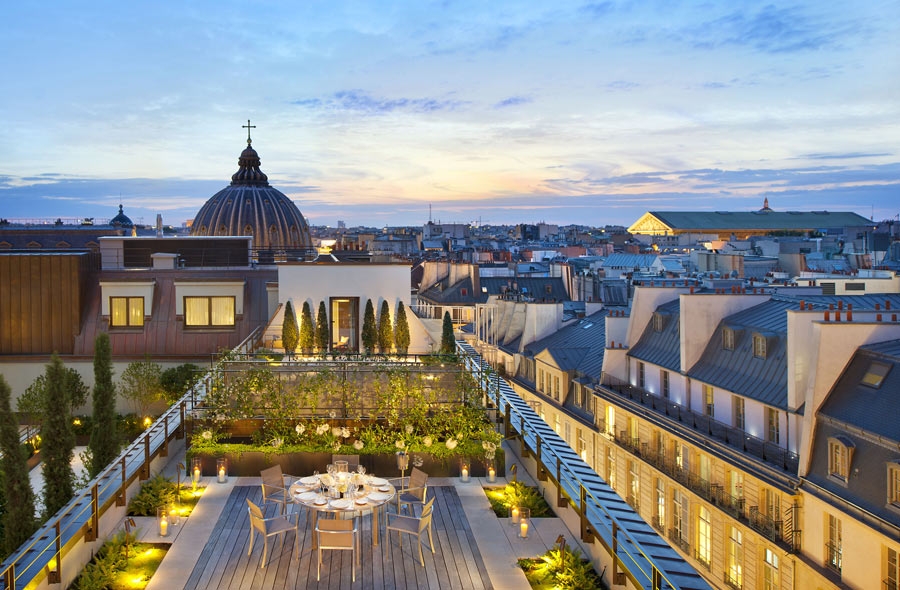 The latest and greatest addition to Paris, France in luxury hotel properties is the Mandarin Oriental Hotel; a modern Parisian that is infused with a subtle air of exoticism and romance.
Yes, they grabbed my attention here as well. If not for those words, then a visit to their presidential suite would most certainly lure anyone. As a recent patron of the establishment, I can attest to this romantic and modern attribute of Paris in everything from the décor, to the amenities, to the cuisine of their restaurants. For a segment in my upcoming televised show, Seductively French, I was graciously welcomed by the hotel's General Manager, Philippe Leboeuf, for a personal tour of the grounds and discuss its sophisticated elegance. With refined luxury at its core, this Mandarin is seducing guests far and wide, as celebrities and the most affluent people in the world are flocking now to Mandarin Oriental Hotel, Paris to experience what they call "a new Paris."
My experience in the crème de la crème of all presidential suites, The Suite Royale Mandarin, was so over the top I (half) jokingly told Leboeuf I was never going to leave. "We want our guests to feel this way," he reassures me with a charming smile. However at 20,000 Euros a night, I was able to at least enjoy the moment as an invited guest. For those curious, that would be over $26,000 US dollars in today's conversion, per night.
This suite totals over 3200 square feet, includes a bar, dining room, a study, private gym and steam room. Moving up, picture this: Vast 360 degree views of Paris from the suite's rooftop patio. I see Montmartre, the Louvre, Beaubourg, and no view of Paris would be complete without the Eiffel Tower, flirtatiously twinkling at me that special night. Dashing décor adorn with fine marble, silk, and art everywhere. "Every piece of furniture has been designed for this suite," describes Leboeuf. It charmed the pants right off me (the suite, when I was alone, not Mr. Leboeuf) so I took a bubble bath with their luscious toiletries, and sipped champagne while watching the Eiffel flirt with me, again.
The Mandarin Oriental Hotel is modern in design and décor but Leboeuf states, "we wanted to still be very Parisian, and romantic. We have our savior-faire and Oriental heritage but we want to portray to be very Parisian, hence all the couture elements." The one couture detail that blew me away was the headboard in the bedroom featuring silk hand embroidery of artist Man Ray's Neck by the legendary Maison Lesage that took an unbelievable 650 hours to complete. These truly artistic and glamorous interiors Mandarin describes as "haute couture decoration, distinguished by extreme attention to detail." Would you expect anything less from the French anyway, or from a Mandarin Oriental for that matter?
The Mandarin Oriental Hotel, Paris is not what you would imagine for a typical Parisian hotel. It is not flamboyant and fussy, nor overly ornate and grandiloquent. It is however, elegant, inviting, and pleasing to the eyes from the time you enter the lobby and throughout. "I think the 'Wow' effect from visitors is certainly what strikes me the most," describes Leboeuf of the reaction he gets from a visitor's first time at the hotel. "People want to see something new, something different in Paris." Evident, as it is the place to see and be seen at in Paris, according to all the celeb sightings in just over their one-year anniversary. Some names of visitors I can mention include Liam Neeson, Queen Latifah, Maggie Cheung, and French classical pianist Hélène Grimaud. During my time spent there, my celeb sighting was the lovely French actress Catherine Deneuve chatting over drinks with friends in the garden.
Ah yes, the garden. To me, it is a Zen-like escape from the big city with an abundance of vegetation seemingly transporting you to yet another paradise. The restaurant Camélia is a "continuation of the indoor landscaped garden," and is one of two under Executive Chef, the awarding winning Thierry Marx. I very much enjoyed my dinner there of scallops in "the essence of white truffle," but can you hardly be surprised? The dish was a sort of East meets West (much like the hotel itself) where Marx's intent was to blend ingredients common to French cuisine to that of the culinary traditions of Japan.
Sur Mesure par Thierry Marx is the restaurant not to be missed. I don't know if I can say I was more impressed with the fare or the stunning design. The space is entirely white, as it is "the ultimate symbol of timeless elegance." If you can get past the impressive design décor to enjoy another sensory pleasure, be sure to try the Soya Risotto, and the L'Oeuf Éclat. Feel free to send me a thank you for this suggestion any time after your visit.
All in all, it is an exquisite place to stay while in Paris, as it is also centrally located, near the best shopping and site seeing. It is a symbol of what they refer to as "a new Paris" with an eclectic touch from the art it houses, to the cuisine they serve, to its Oriental aura. Leboeuf stresses to me that quality service is the "very essence of hospitality," and at the end of the day this is exactly what a visitor wants from a luxury hotel.
Thank you to Philippe Leboeuf and staff for all their generosity and warm reception. Until we meet again Mandarin, where I can wallow in your "subtle air of exoticism and romance," I shall visit you in my sweet dreams.