I'm crouched down on the bow of a bird-spotting lancha boat with photographer Steve Winter, a National Geographic legend.
A man who, over months at a time in the bush, has spent more time with big jungle cats than people. This specialized craft is powered by electricity, allowing us to glide silently through the mangroves. Our nimble craft swans past a kaleidoscopic wheel of every conceivable green — from chartreuse to emerald to lime, in quantities that nearly obscure the canal. Jurassic ferns unfurl in such a vivid shade of jade, one starts to suspect this sub-species of being ostentatious showoffs.
Just north of Playa del Carmen, Mayakoba is a short drive from both vibrant beach communities and secluded jungle ruins. Imagine six miles of freshwater canals connecting three top-tier hotels: Banyan Tree, Rosewood and Fairmont. In a savvy move toward experiential learning holidays, Mayakoba — the gold standard in eco-luxury in the Riviera Maya — pairs their award-winning ecosystem with the world's most highly-respected wildlife photojournalists — National Geographic photographers Steve Winter, Tim Laman and Brian Skerry. Wildlife Photo Master Class weekends are brilliant, three-night, intensive experiences, allowing shooters of all levels to capture an arena of more than 200 species of birds and native wildlife. It's a beach holiday with a learning curve — the perfect mix of sanguine languor and lively stimulation.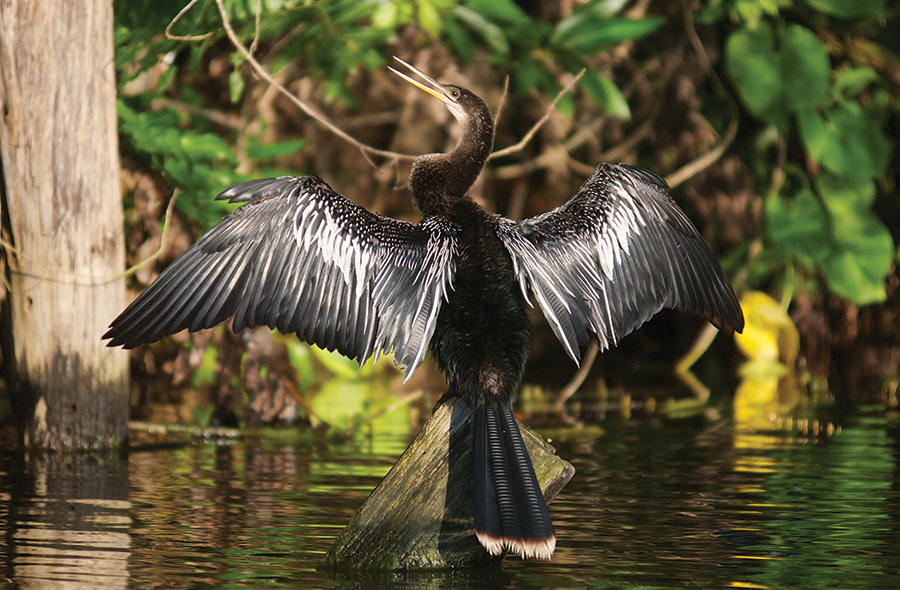 A leggy Limpkin makes quick work of an endless buffet of golf-ball sized snails. Winters drawls, "That's what we call behavior, people. Birds doing things!" This triggers a wave of shutter clicks across the boat. Using a long and tapered bill, the Limpkin devours two canal squatters, discarding the shells like candy wrappers before flying off. Winters makes a point of telling us how remarkable it is that the birds are so relaxed here, not a skittish one in sight. It's surely a tribute to how softly development evolved here, everything planned with impact on wildlife front of mind.
Unlike resorts built around overbooking your every hour, Mayakoba prides itself on its mindful pace. Vice President of Operations James Batt beams as he muses, "This workshop is the first of its kind in a resort context; this is where luxury travel is heading — once-in-a-lifetime learning experiences." Staying at the five-star Banyan Tree, Master Class guests attend dinners, lectures and excursions, gaining invaluable one-on-one and group guidance from the industry's elite.
With enthusiastic species identification call outs by Nick Ruggia, Winter's comedic genius of a stepson, you quickly learn to differentiate Roseate Spoonbills from Wood Storks, and Boat-billed Herons from Yucatan Jays. Ruggia's steady stream of sightings is impressive, like an auctioneer taking inventory of an Audubon lot. While I adore birds, my heart is with wild tigers. Winters' intrepid and beautiful partner Sharon Guynup gives me goosebumps as she tells me of their new book, Tigers Forever (National Geographic Books/Random House). A must read for any tiger enthusiast.
Wildlife Photo Master Class at Mayakoba Dates: September 4 – 7, 2014 (with Brian Skerry); October 30 – Nov 2, 2014 (with Steve Winter); December 11 – 14, 2014 (with Tim Laman). $2,499 per couple for three nights in a Luxury Pool Villa at Banyan Tree Mayakoba, plus taxes and fees.