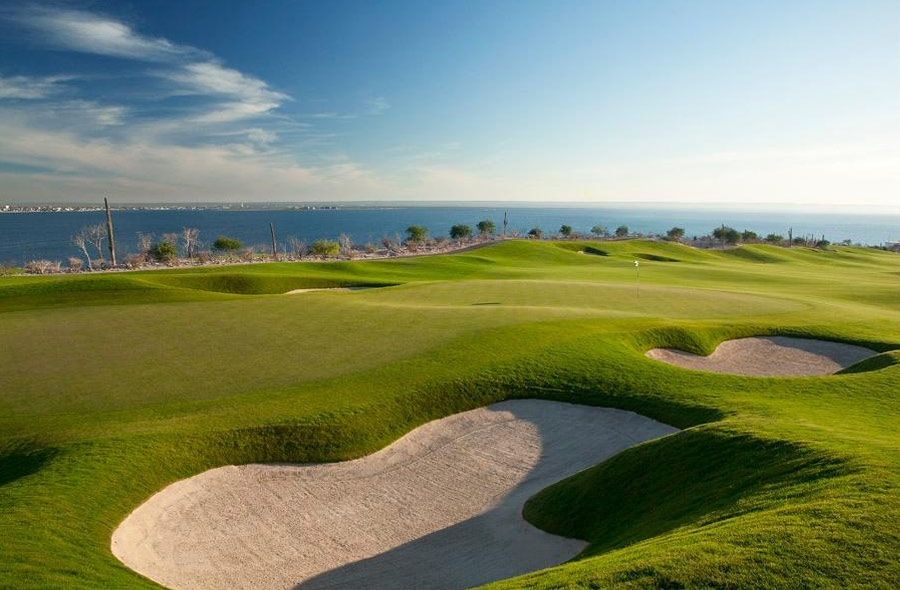 As every jetsetter knows, some of the world's most stunning beaches, resorts and golf courses reside south of the border.
Mexico offers perfect temperatures and an even more perfect escape from polar vortexes and whatever other nasty weather afflictions may ail those in the Midwest and East Coast this spring. If you are looking to purchase a vacation home, or simply need a few rejuvenating days at a first-class resort, Mexico has you covered.
Those searching for vacation property in Mexico could do no better than stunning CostaBaja. Located on the breathtaking Sea of Cortez in southern Baja California (where it is sunny 340 days a year), CostaBaja is just five minutes from downtown La Paz. Situated on 550 acres of environmentally-protected coastal lands, this residential, master-planned resort community features a vast array of real estate options. And a state-of-the-art marina, five-star resort, spa, galleries, shops and the first Gary Player-designed golf course in Mexico make it an incomparable site for your vacation home.
All CostaBaja homeowners receive social membership to the luxurious CostaBaja Beach Club. As a member, you'll also have exclusive access to the Gary Player Signature 18-hole, par-72 course — with its innovative design that adeptly incorporates the seaside desert landscape — as well as the five-star CostaBaja resort with its illustrious Espiritu Spa. CostaBaja is also a boat owner's haven, offering 250 docking slips ranging from 30 to 200 feet, and granting unparalleled access to the sparkling Sea of Cortez and greater Gulf of California.
"CostaBaja features offers sweeping panoramic views of the Sea of Cortez."
CostaBaja features a wide variety of homes that blend seamlessly with the landscape and offer sweeping panoramic views of the Sea of Cortez. Their design melds rustic Mexican and contemporary stylings, and the homes in CostaBaja's Las Colinas neighborhood are serenely nestled on the mountainside. The regal Vista Mar neighborhood offers luxury homes and casitas set on a bluff overlooking a private white sand beach. Square footage ranges from 1,750 to 4,700, and prices start at just $560,000, ensuring that whatever your needs are, CostaBaja has the perfect vacation home for you.
Lying in the heart of Mexico City, Mexico, is one of the country's preeminent hotels, The St. Regis Mexico City. If you have yet to visit the largest city in the world, you will not find a more ideal location to explore this bustling metropolis than that of the extravagant St. Regis. Ensconced in a sleek, 31-story tower (Torre Libertad), the St. Regis is unquestionably one of the premier luxury hotels of downtown Mexico City. Located within the best address within the city, The St. Regis Mexico City overlooks the historic Paseo de la Reforma. A magnificent boulevard of architectural splendor, plazas and monuments, exclusive art galleries and boutiques, it reflects the thriving culture of one of the world's great cities. Nearby, the Polanco and Condesa districts are both dynamic destinations brimming with famed designer boutiques, great restaurants, handicraft stores and art galleries.
Deluxe Rooms offer guests a light and airy haven to unwind, relax and take in spectacular city views. Refined style, uncompromising amenities and signature St. Regis Butler Service combine to create an extraordinary experience. Sumptuous linens on comfortable beds and a luxuriously-appointed marble and onyx bathroom provide the ultimate sanctuary to retire from the day.
St. Regis Butler Service has been a treasured hallmark of the St. Regis experience for over one hundred years. From a perfectly-pressed suit ready for an important meeting, to a favorite book at hand for an evening read, to a thoughtful, last minute gift for a loved one, no request is too small or unattainable no matter what the hour of the day. St. Regis Butler Service ensures that unique preferences are understood and addressed flawlessly at St. Regis hotels around the world.
"St. Regis is unquestionably one of the premier luxury hotels of downtown Mexico City."
With its innumerable rejuvenating treatments, the Remede spa at The St. Regis Mexico City will transport you to an entire world of relaxation. You can also indulge in the hotel's daily celebratory tea and champagne rituals, or ask the concierge to secure you a table at one of Mexico City's outstanding four-star gourmet restaurants like Izote, Cambalache or La Vineria. Its location, service and opulence make The St. Regis a must-stay for those who visit Mexico City.
Further southeast of Mexico City (along the white sand beaches of Mexico's Caribbean coastline), you will discover Riviera Maya. This beautiful resort town near Cancun is where Karisma Hotels & Resorts just opened the latest in its series of innovative and game-changing Generations Resorts. These "gourmet inclusive" resorts are perfect for those who love to indulge . . . and overindulge. As a guest at a Generations Resort, you will enjoy unlimited gourmet a la carte meals, premium spirits and 24-hour room service. Anything you desire, whenever you desire, it is available at the Generations Riviera Maya.
This brand-new luxury resort is situated right in the heart of Riviera Maya and overlooks the resplendent crystalline beaches of the Caribbean. While at the resort, you will have a private butler devoted to your every need and you'll experience unlimited tastes from any of Generations Riviera Maya's many delectable restaurants and lounges. From the casual fare at Chef Market to the Pan-Asian cuisine at Jade to the spices and flavors of Caribbean specialties and Mexican street food at Palms Gourmet Terrace, you will indulge in a wide assortment of global cuisine. This unique experience makes Generations Riviera Maya truly a one-of-a-kind resort.
From the transcendent Sea of Cortez to the massive metropolis of Mexico City to the stunning beaches of Riviera Maya, Mexico offers a diverse escape for jetsetters in need of some serious rest, relaxation and indulgence. So make the journey this spring and immerse yourself in all that this gorgeous country has to offer. You'll certainly be thankful you did.