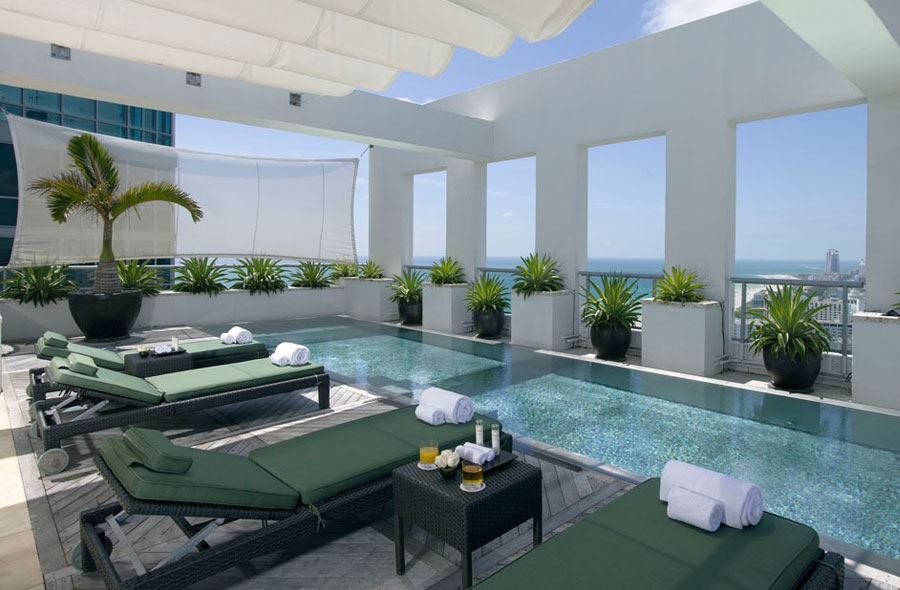 One of the many factors that make Miami such a great place to visit is that the city keeps reinventing itself, and in doing so, it invites visitors to do the same.
While some elements, such as the city's sizzling nightlife scene continue to evolve, there are some things visitors can always count on: Sunny year-round weather, top-ranked beaches and an eclectic mix of tantalizing international cuisine. It's a place where urban chic meets Old World Florida, making it the perfect place to enjoy virtually every type of activity under the sun, from sunning to shopping to savoring the local culture.
The Setai, Miami Beach
The Setai is a place so calming and serene that it is sure to change guests forever, whether they're staying for a night or longer. Born out of a vision, The Setai reflects a passion to provide an experience that few can imagine. Starting with an intimate setting, The Setai creates a private world that connects guests with what have always been the greatest attractions of Miami Beach: the beach, the sun, and the night.
For additional information and reservations, please visit
Setai.com or call 305.520.6000.
Where To Stay
ONE Bal Harbour
ONE Bal Harbour offers the pinnacle of luxury for the most sophisticated travelers. As one of Miami Beach's most exclusive resorts, ONE Bal Harbour is known for its elegantly modern design, deluxe accommodations, refined interiors, highly-personalized service and unparalleled world class amenities, all which create a perfect harmony of comfort and charm.
For additional information and reservations, please visit
OneBalHarbourResort.com or call 305.455.5459.
Mandarin Oriental
This elegant waterfront hotel affords 360-degree views of downtown Miami, South Beach and the ocean from its prestigious location at the mouth of the Miami River. Set on one of the world's most unique island paradises, the Mandarin Oriental, Miami is absorbed into an upscale, predominantly residential community. Blending signature touches of Asian elegance with South Florida style, the Miami Mandarin Oriental promises an unforgettable luxury hotel experience in Brickell Key.
For additional information and reservations, please visit
MandarinOriental.com/Miami or call 305.913.8288.
W South Beach
Located on sought after Collins Avenue, the W South Beach offers breathtaking beachfront accommodations coupled with a vibrant and social atmosphere. With a laidback attitude during the day and a social scene as hot as the brilliant Florida sun by night, this luxurious and contemporary luxury hotel is just the ticket. This hip five-star boutique hotel stays true to the W brand with trendy rooms, playful modern amenities and a vibrant South Beach-inspired vibe.
For additional information and reservations, please visit
WSouthBeach.com or call 305.938.3000.
Fontainebleau
A spectacular blend of Golden Era glamour and modern luxury, Fontainebleau today reinvents the original vision of legendary architect Morris Lapidus — a stage where everyone plays their unique part. At Fontainebleau, striking design, contemporary art, music, fashion and technology merge into a vibrant new kind of guest experience. Guests are invited to enter a world where they are free to play, shop, dine, spa, meet or simply relax — however they define a perfect day.
The 20-acre oceanfront hotel features an expansive poolscape, a pristine Atlantic Ocean beach, the 40,000-square-foot Lapis spa and two chic nightlife venues including LIV, the ultra-exclusive and high-energy nightclub that is home to celebrities and VIPs.
For additional information and reservations, please visit
FontaineBleau.com or call 305.535.3283.
Where To Eat
Prime One Twelve
A steakhouse located inside the Browns Hotel, Prime One Twelve specializes in large portions of steaks and chops. The dining room has exposed brick columns and dark wood tables and floors. In addition to the traditional filet mignon and bone-in rib eye, the menu includes a one-pound Kobe-style hamburger and hot dog. Sauces and flavored butters are available, and sides include a Serrano ham and Manchego cheese gratin, a five-cheese truffled mac and sauteed broccoli rabe with garlic.
For additional information and reservations, please visit
MylesRestaurantGroup.com or call 305.532.8112.
The Forge Restaurant & Lounge
Legendary for its opulence, this restaurant has been wowing patrons since 1968. It is a steak house, but a steak house the likes of which you haven't seen before. The tried-and-true menu includes prime rib, bone-in filet, lobster thermidor, chocolate soufflé and sinful side dishes like creamed spinach and roasted-garlic mashed potatoes.
For its walk-in humidor alone, the over-the-top Forge is worth visiting.
For additional information and reservations, please visit
TheForge.com or call (305) 538-8533.
Zuma
Zuma, located in the heart of downtown Miami, brings Chef Rainer Becker's internationally acclaimed style of modern Japanese cuisine to America. Already renowned in London, Hong Kong, Istanbul, Dubai and Bangkok, Zuma Miami offers a sophisticated cuisine philosophy of flavorsome, modern Japanese dishes in a fun and vibrant environment inspired by the informal Japanese dining style called Izakaya.
For additional information and reservations, please visit
Zumarestaurant.com or call 305.577.0277.
The Villa By Barton G.
The critically acclaimed Dining Room at The Villa By Barton G., with its pebble mosaiced walls and storied history, features refined continental cuisine fused with Barton G. style. The intimate 30-seat restaurant is a gastronome's delight with signature dishes that include Truffled Asparagus Salad, Maple Glazed Barramundi and Duo of Beef Rossini.
The Dining Room also features a carefully cultivated wine list culled from the world's finest vintners. Diners at the restaurant can also choosew from a variety of specialty cocktails such as The Villa Martini, a scintillating blend of liquors served in a Versace martini glass.
For additional information and reservations, please visit
TheVillaByBartonG.com or call 305.576.8003.
Where To Play
Nikki Beach
Nikki Beach Miami has established itself as the landmark venue for ultimate private parties and large celebrations, and always lives up to its reputation as a South Beach Miami party playground for jetsetters, celebrities, VIPs, guests and visitors alike.
Nikki Beach Club in Miami is comprised of a large oceanfront complex featuring an outdoor beach club, an award-winning restaurant and a sexy South Beach nightclub favorite. Enjoy full food and VIP bottle service in a fabulous cabana and lounge bed during the day while soaking up the South Beach sun.
For additional information, please visit
NikkiBeachMiami.com or call 305.538.1111.
Delano Hotel Pool
The Delano's pool is nothing short of the very same perfection the hotel prides itself on. Much like the interior, the outdoor pool area is almost heavenly. By day, the Delano's pool deck consists of guests lounging on white cushions resting upon their beach chairs, oftentimes munching on frozen grapes from the bar. By nightfall, the pool scene transforms into an extravagant party atmosphere where music inspires those in attendance to dance. The pool bar attracts a beautiful champagne-sipping crowd, but even guests who are dressed in evening attire still find that it's hard to resist the intoxicating allure of the pool. Many guest remove their shoes and hike up their pants and skirts, wading toward the single wrought-iron table and chairs in the pool's shallow end.
For additional information, please visit
Delano-Hotel.com or call 305.672.2000.
Doral Golf Resort & Spa
The TPC Blue Monster at Doral Golf Resort & Spa, home of the World Golf Championships-Cadillac Championship, has hosted prestigious PGA TOUR events for over fifty years. In fact, virtually every great name in golf has had a moment of glorious personal triumph on this world class track. At 7,125 yards from the tournament tees, and with a series of strategically placed bunkers, both length and finesse are needed to score well on this historic course. Renowned golf course architect Gil Hanse has been retained to work directly with Donald J. Trump and the PGA leadership to enhance and renovate the Blue Monster, making it one of the most famous golf courses in the world and home to a PGA event every year since its opening.
For additional information, please visit
DoralResort.com or call 305.592.2000.
Liv At Fontainebleau
The quintessential 21 and older nightspot fuses the appeal of an ultra-exclusive lounge and a high-energy nightclub. LIV™ is home to celebrities, VIPs and Miami's local party crowd. Within over 18,000 square feet of striking architectural design and lavish decor, DJs spin everything from rock to hip hop to house.
For guests seeking ultra-VIP treatment, the nightclub offers six private skyboxes, each featuring European bottle service, a mini-bar and banquettes with secured purse drawers. A voyeuristic design throughout the nightclub allows people to see the entire venue from almost every point in the room, while edgy performance vignettes heat up the night with the nightclub scene's sexiest dancers.
For additional information, please visit
LivNightClub.com or call 305.674.4680.
Mansion Nightclub
Mansion, named "Miami's Hottest Club" by various publications, has played host to some of the entertainment world's most glamorous events, from Diddy's MTV Video Music Awards celebration party and Britney Spears' Miami performance, to live performances by Prince and Velvet Revolver. Grand and majestic, and easily configured to accommodate events of any size, Mansion's residence-meets-nightlife concept features multiple floors of design and architectural decadence. Heralded design elements include sweeping staircases, ornate fireplaces, Venetian glass mirrors, dramatic crystal chandeliers, exposed brick walls, towering keystone arches and cozy sitting areas that mix modern Lucite pieces with the luxurious banquets.
For additional information, please visit
MansionMiami.com or call 305.531.5535.
Mynt Lounge
If there's one club on Miami Beach synonymous with exclusivity, it is Mynt Lounge. The list of celebrities that have passed through Mynt's doors would fill a dozen Rolodexes, but serial offenders include Ricky Martin, Paris Hilton, Lindsay Lohan, Britney Spears, Cameron Diaz, Mickey Rourke, Sean Penn, Jennifer Lopez, Giselle Bundchen, Colin Farrell and Jamie Foxx.
Add to these boldface names the hordes of models, designers, fashionistas, top DJs, scene-makers and high rollers, and you understand why Mynt's velvet rope has long been the highest hurdle in Miami Beach nightlife.
For additional information, please visit
MyntLounge.com or call 305.532.0737.
Where To Shop
CocoWalk
CocoWalk, Miami's multicultural marketplace, is a premier open-air shopping, dining and entertainment destination. Its distinctive design is created to blend seamlessly with historic Coconut Grove, the bayside village known for being eclectic, eccentric and always exciting. CocoWalk's unique boutiques, casual dining, live music and ultramodern movie theaters provide the perfect mix for relaxing "Grove style."
For additional information, please visit
CocoWalk.net or call (305) 444-0777.
Bal Harbour Shops
Miami's most esteemed, upscale shopping experience, the Bal Harbour Shops, is set in a lush open-air, garden with waterfalls and exotic foliage. In addition to legendary boutiques such as Gucci, Prada and Versace, shoppers can also enjoy charming outdoor cafes, salons, an art gallery and two of the best department stores around, Neiman Marcus and Saks Fifth Avenue.
For additional information, please visit
BalHarbourShops.com or call 305.866.0311.
Where To Relax
Wet – W Hotel South Beach
The W Hotel South Beach invites you to make a splash at WET, an outdoor heated swimming pool offering non-stop food and drink service plus a dedicated personal sunblocker who'll help you cover those hard-to-reach places. Experience the VIP lifestyle inside a private cabana with a flat screen TV, high-speed Internet access and a private outdoor shower. If you and your friends get hungry, WET Bar & Grill will send over food and drinks while you chill under the palms.
For additional information, please visit
WSouthBeach.com or call 305.938.3000.
Acqualina Resort & Spa
Holistic, meditative and restorative treatments based on Ayurvedic principles are the basis of this elite Miami Beach spa in South Florida, where guests are invited to enjoy the full-day spa experience. Quiet lounges, sauna and steam rooms, a spa pool and terrace, and a selection of spa cuisine comprise the ESPA Journey. Arrive at this Miami spa hotel and enjoy hours of peaceful relaxation both before and after spa treatments.
For additional information, please visit
AcqualinaResort.com or call 305.918.8000.