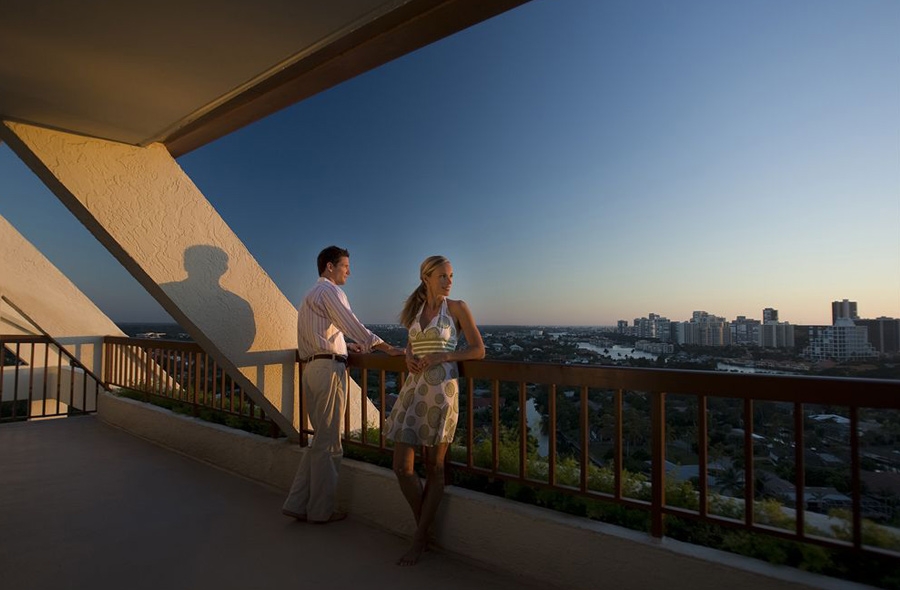 Set on 23 waterfront acres on Florida's Paradise Coast, overlooking a pristine 200-acre nature preserve and mangrove estuary reminiscent of Old Florida, the Waldorf Astoria Naples welcomes guests to world class luxury in an idyllic setting.
The resort features three miles of white sugar sand beach and is a short stroll or bike ride along palm-lined streets to world class shopping and dining. Welcome to Southwest Florida's best kept secret.
The 18-story tower (the highest in Naples) offers unmatched views of the Gulf of Mexico and surrounding bays. The tower features 395 guestrooms and 29 tower suites, all recently refurbished and comfortably appointed with private balconies. I stayed in the Penthouse Luxury Grand Suite, a preferred choice of visiting dignitaries and celebrities. This suite, which commands 180 degree views from the luxurious wraparound balcony, includes a spacious living room, kitchen and dining room. Each room has a very modern feel, with contemporary paintings, amenities and bedding.
Waldorf Astoria Naples also features 50 low-rise bungalow suites adjacent to the Tennis Center. Each suite includes a living room, separate bedroom and bath, and all feature a sleek Asian-inspired décor. The suites also have private balconies overlooking manicured lawns and the bungalow pool deck.
The resort's unique, modern feel is instantly noticed in the lobby area which features a one-of-a-kind circular water sculpture reaching nearly three stories in height. The lobby is bright and inviting, with a wonderful coffee/espresso bar just off to the side. World class service is delivered by Waldorf's seasoned staff members who are ready to customize a one-of-a-kind stay for each guest. Once I checked in, Aura Restaurant and Bar presented familiar favorites in a sophisticated yet comfortable atmosphere. Aura includes a stylish lounge area and expansive, illuminated reef-inspired bar top, all part of a soaring lobby great room that is fresh from a feng shui-style makeover by designer Robert Barry. The area infuses warm natural elements that match its pristine setting, awash in natural light by day and aglow with ever changing ambient color by night. Bar service was provided by Paul and Liz. Try the happy hour from 5-12.
Just outside the great room and lobby area, guests are greeted by the warm ocean air and a view of a three pools, one featuring a 100-foot waterslide. Also located poolside is a great cabana-style bar featuring light cuisine and drinks.
A signature world class steakhouse called Strip House is also on the property. Strip House is surrounded by an open terrace that overlooks the pool and skyline of the city. Strip House's innovative menu, executed by Chef Mark Van Schaick, includes prime cuts of meat charred to perfection, signature side dishes such as truffle creamed spinach and goose fat potatoes, an extensive wine list and the famed 24-layer chocolate cake. Guests can indulge in a seductive dining experience in this popular Naples steak house. The striking red interior, designed by David Rockwell, is decorated with black and white images of women photographed by Studio Manasse in the early 1900s in Vienna. Our world class server was Kasia who offered a hand selected bottle of red wine, poured over an aerator. We had the bone-in rib eye, cooked to perfection, and topped it off with a mile-high decadent chocolate cake. The whole staff, including Javi, the GM. took great care of us.
When it's time to relax, Waldof Astoria Naples has an extra special treat for the jetsetter. The Golden Door Spa is on site, offering guests a Zen-inspired haven of relaxation amidst paradise. The indoor/outdoor spa village is comprised of private treatment pavilions featuring 12 modern, Asian-style treatment rooms and relaxation areas. Jetsetting couples won't want to miss the Golden Door Villa, a private retreat within this spa sanctuary. This retreat is truly remarkable and is perfect for dignitaries, celebrities, couples, or for someone who wants to feel as though they're a million miles away. The Villa offers an Asian-style platform daybed, soaking tub, whirlpool bath, indoor treatment and lounge areas, and a private outdoor sundeck and patio. The Villa is truly something to see. It would be ideal for the VIP couple, and, without question, is world class in presentation.
The spa also includes a separate hair and nail pavilion with a four-station "buff-bar" for vegan manicures, a pedicure banquette for four, and hair designs by the master stylist. The immaculate outdoor gardens offer coed sauna, steam and eucalyptus rooms, and a signature meditation labyrinth. All products offered are eco-friendly or organic.
One interesting feature of Waldorf Astoria Naples is that it's an eco-smart beach retreat that has been recognized by the Florida Department of Environmental Protection. Beach lovers only need to take a quick hop over the mangrove to enjoy three secluded miles of white sand beach.
Water sports include sailing, windsurfing and aqua cycling. Canoeing in the 200-acre estuary is also offered. There is also a great little bar and restaurant right on the beach offering guests world class food and drinks while they keep their toes in the sand. Special thanks to Dolphin Transport for private transportation. The valets, Mariano and Luis, were great.