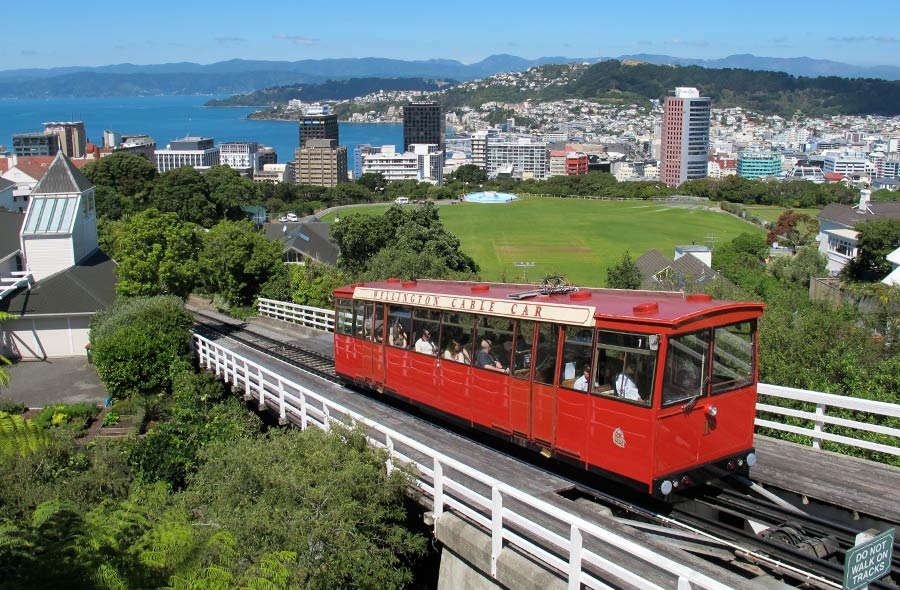 In a way, it hardly seems fair that a country that measures only about 1,000 miles long and 250 miles wide should be able to keep so much spectacular scenery to itself. But then again, it's all the more reason to visit this unbelievably photogenic country. If New Zealand isn't already on your "must visit" list, it should be.
First, the basics. New Zealand encompasses two main islands that are named, simply enough, North Island and South Island. Auckland, the country's largest city, is located on North Island and serves as the gateway for international travelers. Getting there is easy via non-stop service from Los Angeles and San Francisco on Air New Zealand. The airline's Business Premier class promises "the best sleep in the sky," thanks to spacious leather seats that convert into lie-flat beds equipped with memory foam mattresses, duvets and full-size pillows. Other amenities, including a personal 12.1? touch screen entertainment system and excellent New Zealand cuisine and wines served by an attentive concierge, make the flight time literally "fly" by.
Choosing the best time of year to visit New Zealand really depends on what you want to do when you get there. If skiing, snowboarding and other winter sports are on your agenda, then June through August is the time to go, since the seasons in New Zealand are the opposite of those in the U.S. That also means that when you tire of the winter weather back home, you can enjoy summer in New Zealand any time from December through February.
North Island
Auckland offers all of the world class dining, designer shops and luxury accommodations you'd expect from a large city. Known as the "City of Sails," it is also a mecca for water-based activities, including harbor cruises, fishing charters, and whale and dolphin watching excursions. Auckland's Viaduct Harbor is also the home port for Explore NZ's America's Cup Sailing Experience. It offers a thrilling, once-in-a-lifetime opportunity to become a crew member on an authentic America's Cup yacht. If you prefer a land-based tour, you can ride in style as Bularangi Motorbikes takes you to see the sights of Auckland — on the back of a chauffeur-driven Harley. And if that's not enough of an adrenaline rush, you can go base jumping off of the observation deck of Auckland's iconic Sky Tower. With SkyJump, you'll be tethered by a wire, and after a breathtaking 11 second fall at about 50 mph, you'll land in the Sky City Plaza, having earned your bragging rights.
Just a 45-minute flight away, Rotorua is a scenic region filled with 16 lakes, volcanic peaks and rolling hills carpeted with forests. One whiff of the sulphur-tinged air upon arrival will give you a preview of one of the area's top attractions — geothermal pools so rich in minerals that they are highly prized for use in spa treatments. The city's Polynesian Spa, which overlooks Lake Rotorua and offers 26 therapeutic hot mineral bathing pools, is considered to be one of the top spas in the world. Rotorua is also an excellent gateway for exploring the country's fascinating Maori culture. The Te Puia cultural center offers an excellent introduction to the arts, crafts and lifestyle of the Maori people.
For accommodations in Rotorua, Solitaire Lodge promises just what its name suggests — a secluded retreat tucked away on a private peninsula on Lake Tarawera. This intimate, 9-room lodge offers luxurious lakeview accommodations that are only topped by the attentive, personal service of the staff. While you're there, you can hike, fish or mountain bike, enjoy a nightcap by the blazing fireplace, or simply gaze up at a million stars at night. While you're enjoying New Zealand's brilliant night sky from this peaceful haven, the only sound you're likely to hear is the sound of water gently lapping on the shore.
Pure Cruise New Zealand, based in Rotorua, offers private charters of the luxury yacht Tiua, a 53-foot catamaran equipped with two en-suite cabins, three bathrooms, a spacious foredeck, lounge and bar. While cruising on Lake Rotoiti, you can view wildlife, fish for trophy-sized trout and visit hidden thermal pools only accessible by boat. Or, you can simply kick back, relax and enjoy the idyllic views of this pristine lake.
Located at the southern tip of North Island, the beautiful city of Wellington is New Zealand's capital city and cultural center. A local band, The Mutton Birds, may have described it best in their lyrics: "I wish I was in Wellington, the cafes and the bars, the music and the theater and the old Cable Car, and you can walk everywhere 'cause nowhere's very far." Wellington, which has been compared to San Francisco for its homes terracing up the surrounding hillsides, is also home to a number of fascinating museums and attractions, including Te Papa, the interactive national museum of New Zealand, and Zealandia, a wildlife refuge.
South Island
The fact that one of South Island's mountain ranges is called "The Remarkables" should tell you something about the scenery you'll find here. It's easy to see why many scenes for the Lord of the Rings movies and The Hobbit were filmed in the area. After all, why bother with CGI when so much natural beauty already exists?
Queenstown is South Island's top visitor destination and the headquarters for outdoor adventures. Want to go skiing or even heli-skiing? No problem. How about hiking? More than 60 miles of trails await you. Water sports? River rafting, jet skiing, kayaking and jet boating down the Dart River are just a few of your options. Ready to hone your bungy jumping skills? Then head for the A. J. Hackett Bungy center. They invented this crazy sport.
Here are a few more "must do's" to add to your Queenstown list. Stroll the streets of this charming waterfront city filled with shops, galleries, restaurants and pubs. Ride the gondola up to Skyline and take in breathtaking views of Lake Wakapitu and the surrounding mountains. Even better, plan to have dinner while you're up there. Also, be sure to take a scenic drive along the coast from Queenstown to the tiny town of Glenorchy. Just make sure your camera batteries are charged and that you allow plenty of time because you'll want to stop often for photo ops along the way.
If you're a wine lover, you'll also want to sample some of the region's award-winning wines. The Central Otago Wine Trail contains more than 30 wineries and vineyards. The region is best known for its Pinot Noir, but you'll find excellent Rieslings, Chardonnays, Sauvignon Blancs and other vintages to enjoy, as well.
When it's time to retire after a full day of activities, the five-star Millbrook Resort offers a quiet respite in the country, just minutes from Queenstown. This resort, named for its iconic flour mill which now houses a fine dining restaurant, offers views of The Remarkables that are, well, simply remarkable. The resort also offers 27 holes of championship golf and a spa, and is located near the historic gold rush town of Arrowtown. Millbrook's most luxurious accommodations are its exclusive multi-million dollar Fairway Homes, each offering spacious entertaining areas and the services of an in-house chef.
We've only scratched the surface of all there is to see and do in this compact, yet wonder-filled island country. After just one visit, you'll likely agree that North and South Islands could also have easily been named "The Remarkables." You'll also understand why so many visitors leave only after vowing to return again.
SolitaireLodge.com
PureCruise.co.nz
Millbrook.co.nz