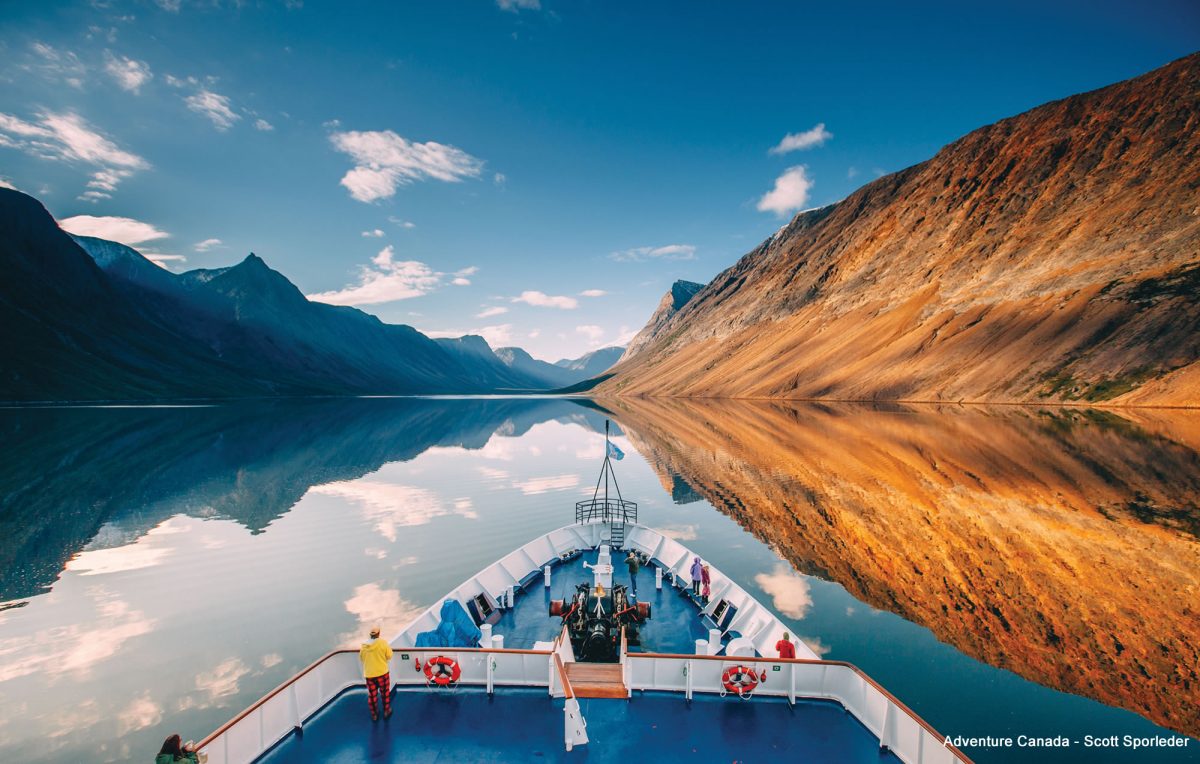 In the new world of global travel, far flung escapes that once seemed alluringly remote—from Maldives to Madagascar—are now one mere layover away. With super jets, bullet trains and the impending advent of space tourism, you can only imagine what's next. Craving off the beaten path adventures? We've designed this wish list of destinations with truly intrepid travelers in mind. From ethereal rain forests to golden ribbons of empty beach, let this list inspire your next trip. It may not be easy to reach some of these spots—but the payoff is well worth it.
Nunavut – Canada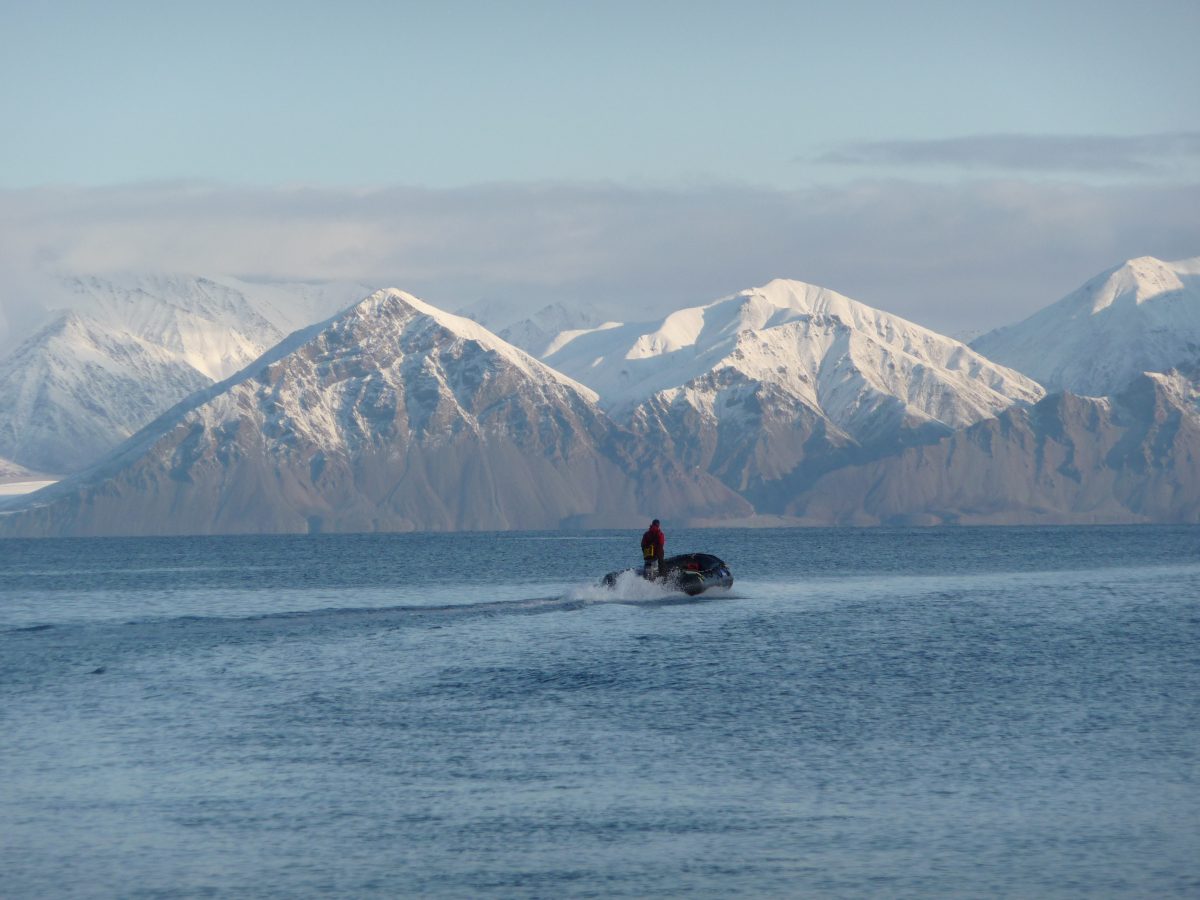 The Arctic remains the most enigmatic, elusive region on Earth. Adventure Canada makes a trip to this unpredictable, hostile environment the most rewarding sea voyage you will ever take, spotting whales, walrus, polar bear, musk ox and evasive narwhal in comfort and security. Adventure Canada cultivates kindred alliances with local leaders, making for the most magnetic curriculum featuring intimate, inner circle access. Nunavut is a highlight of their Arctic Safari. Tendering ashore in Mittimatalik, you'll be treated to a drumming and Inuit Games presentation at Pond Inlet Community Hall. The emotional nirvana of traveling with Adventure Canada comes with stacking the deck, uniting the foremost Arctic academics and artists aboard the purpose-built Ocean Endeavor.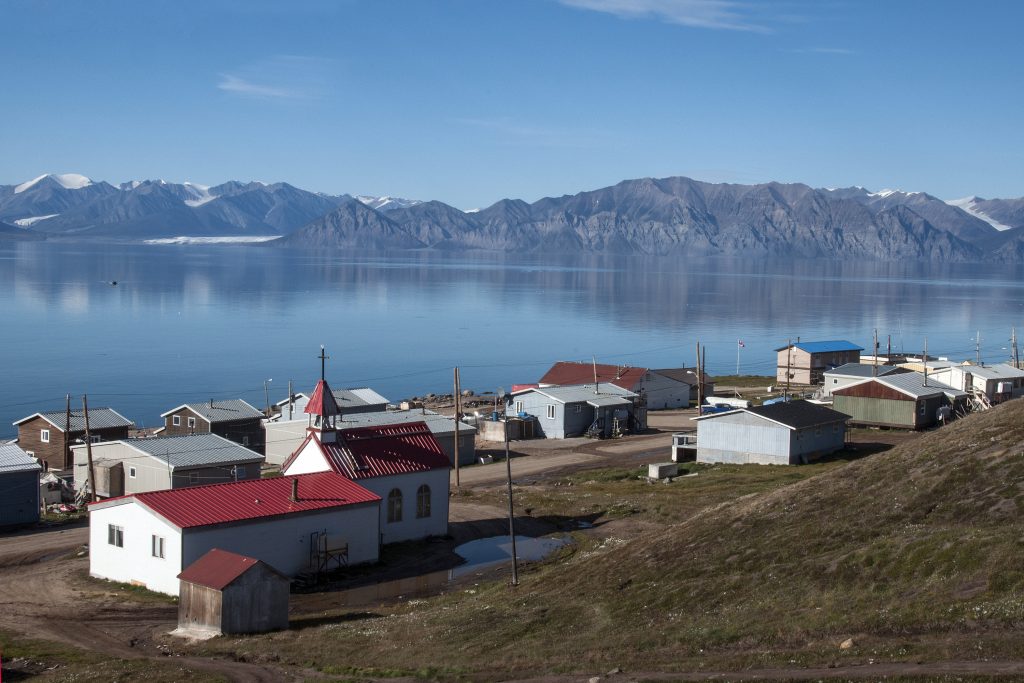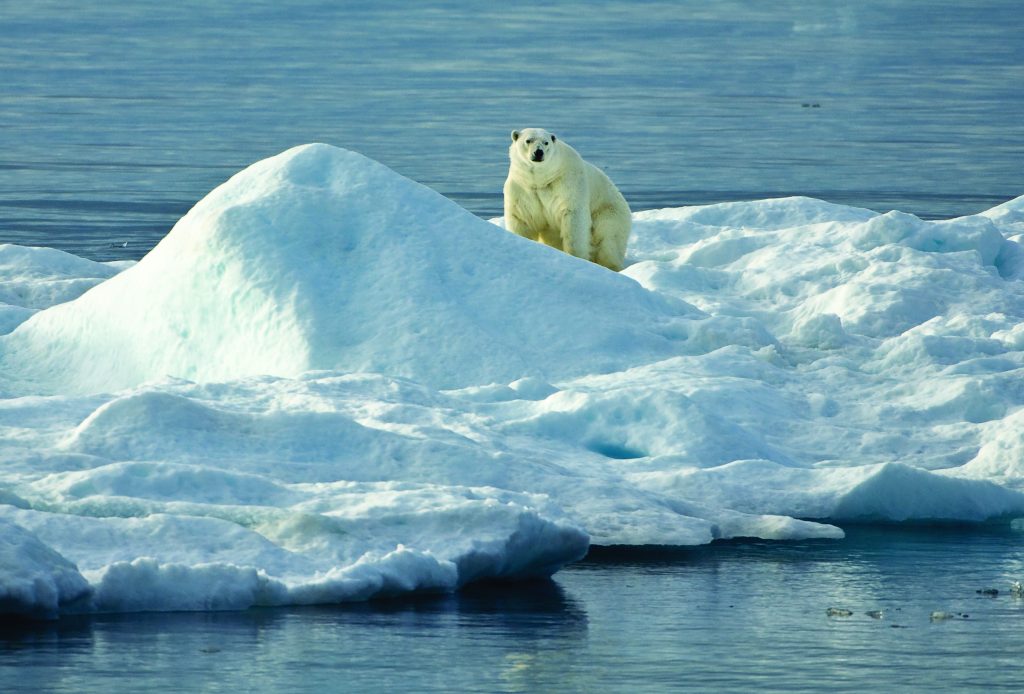 Insider Tip
Get to know Anguti Johnston and Joshua Qaumariaq on day one. Adventure Canada's most lovable onboard culturalists bring their Nunavut home to life through strong storytelling and inventive social skills. Don't miss Qaumariaq's musical performances; he holds a Queen Elizabeth II Diamond medal for contributions to music in the North.
Slane Castle – Ireland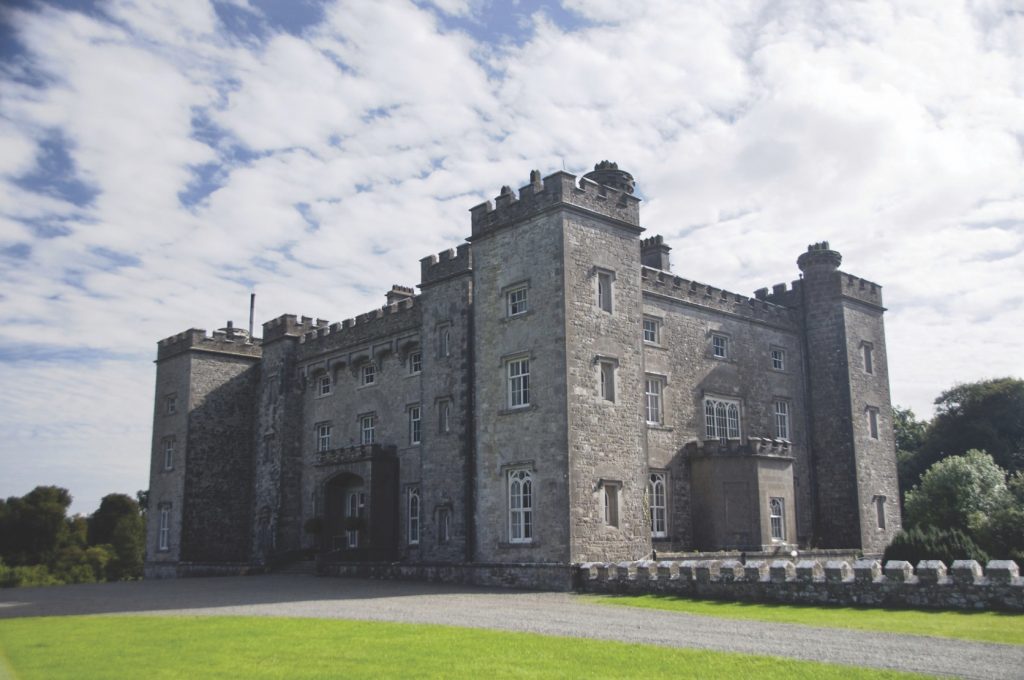 Nestled in the Boyne Valley of County Meath, Slane Castle has been the family seat of the Conyngham family since it was built in the late 18th century. It's a spellbinding site of sense and sensuality where you can admire museum-quality cultural objects and utterly fascinating aristocratic artifacts. History junkies are in luck — there are ten suites to choose from when staying here. In 1984, U2 lived in the castle while recording The Unforgettable Fire. The Drawing Room was converted into a recording studio, and the video for Pride was filmed in the Gothic Revival Ballroom created for George IV's State Visit in 1821. Guests feel like they've been invited home for the weekend. Rooms are filled with carved furnishings and intricate tapestries gifted to the family from all over the globe.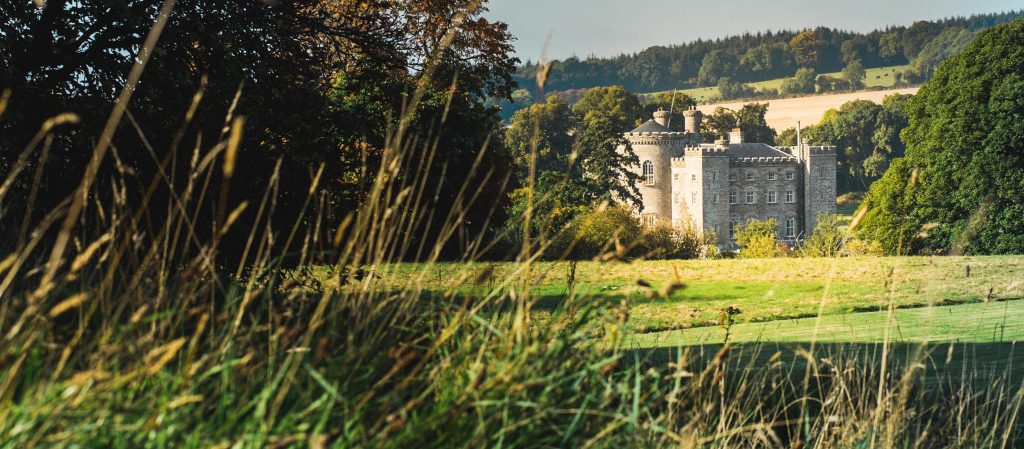 Insider Tip
Your best bet for day trips? Brú na Boinne, where Newgrange builders from 5,000 years ago designed the Neolithic passage tomb to come alive with sunlight each winter solstice. Yet another UNESCO World Heritage-worthy site is close by — the Hill of Tara is best known as the seat of the High Kings of Ireland.
Duba Plains Camp – Botswana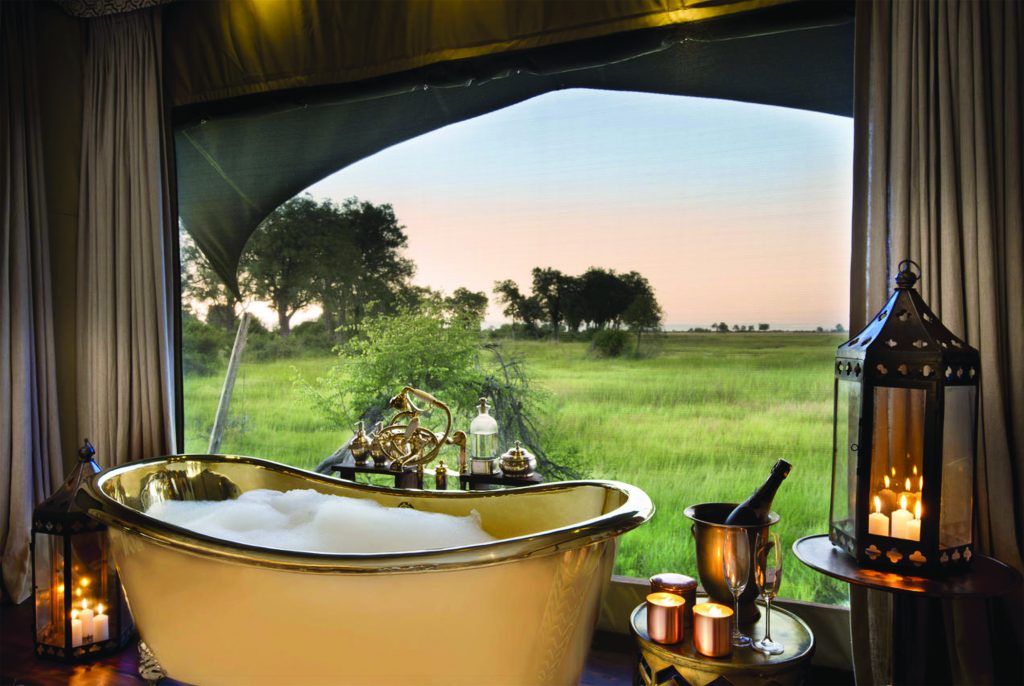 As one of Botswana's preeminent upscale tented camps, Duba Plains Camp has a special place of honor for wildlife. Here on the resort's sprawling footprint of unbridled wilderness, buffalo, elephant and warthog graze across the savannah. Get pumped for thrilling game drives, or on lazier days opt for languid boat excursions. Night drives cast a spine-tingling spell, thanks to the clandestine sounds of nocturnal wildlife. Hippo and hyena hide out deeper in the delta. Built on an island shaded by ebony and fig trees, large tents boast soft beds, en suite bathrooms featuring al fresco showers, and verandas perfectly poised to survey the vivid floodplain. Every guest is catered to like a king, whether they reign over the trading floor or are the overworked patriarch of a plucky band of kids.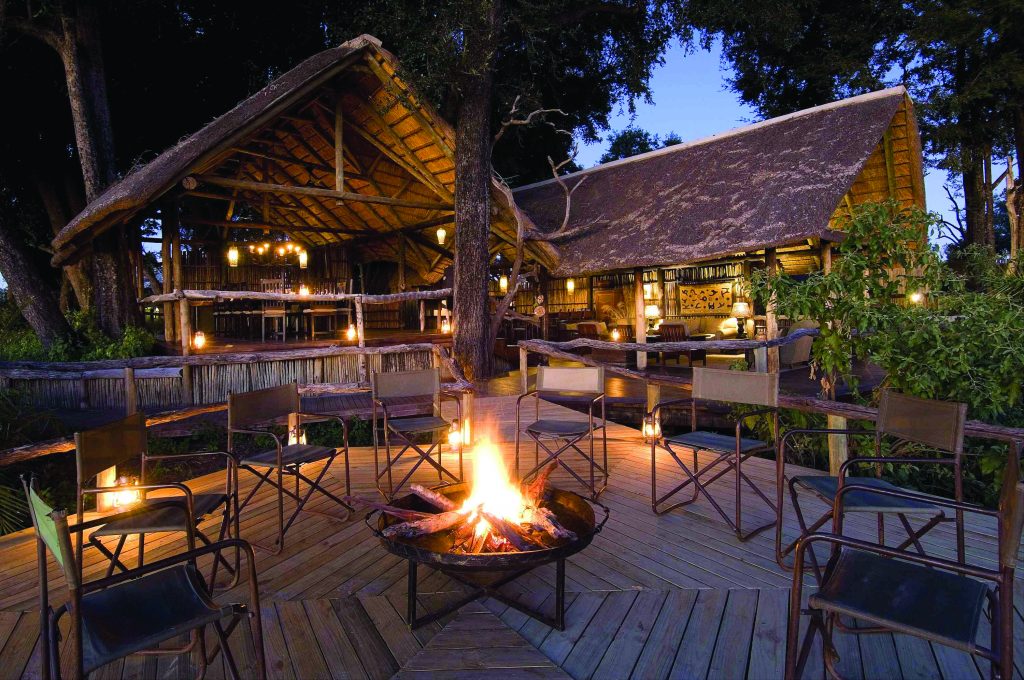 Insider Tip
Get inspired for your trip by checking out the National Geographic documentary, Relentless Enemies. The thoroughly riveting lion and buffalo footage was filmed at Duba and should give you a healthy respect for the authenticity of this camp.
GreatPlainsConservation.com/Duba-Plains-Camp/
Svart Powerhouse Hotel – Norway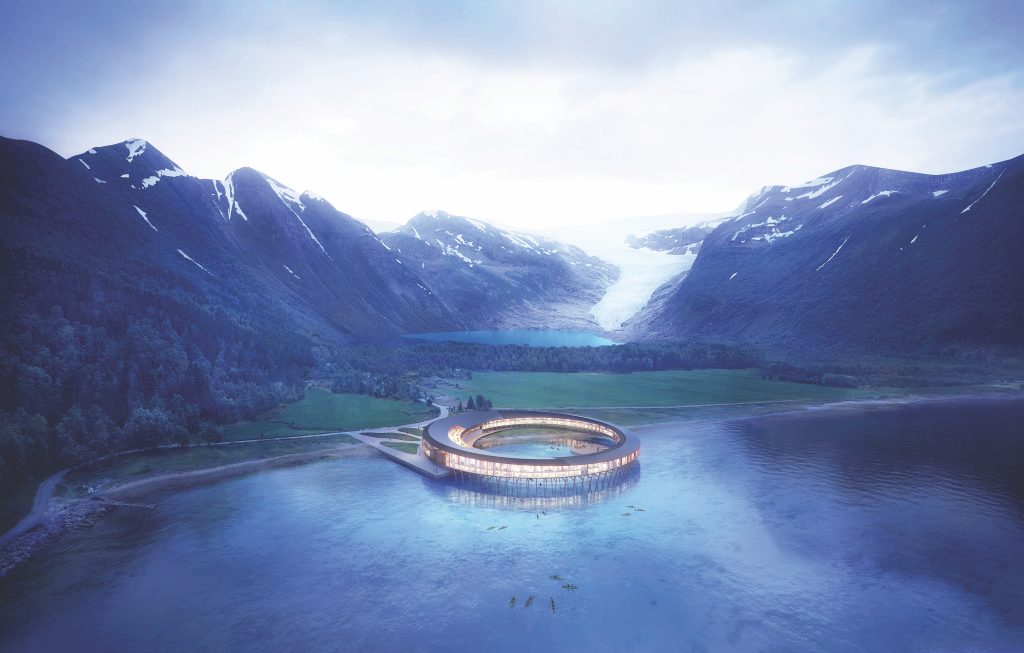 Anchored at the foot of the Svartisen glacier, the Svart Powerhouse Hotel, slated to open in 2021, will be the world's first lodging located above the Arctic Circle. A compelling circular configuration provides guests panoramic views of the fjord, and, more beguilingly, the ephemeral sensation of living at the icy edge of civilization itself. The energy-positive, low-impact build respects the unique features of the plot — the rare plant species and blue ice of the Svartisen glacier. Inspired by local fishing heritage, the ring design pays tribute to the vernacular architecture of Northern Norway. Channeling your inner Arctic explorer will be humbling; external vanity will seem frivolous here. You'll find yourself in conversations that delve deeper than surface babble.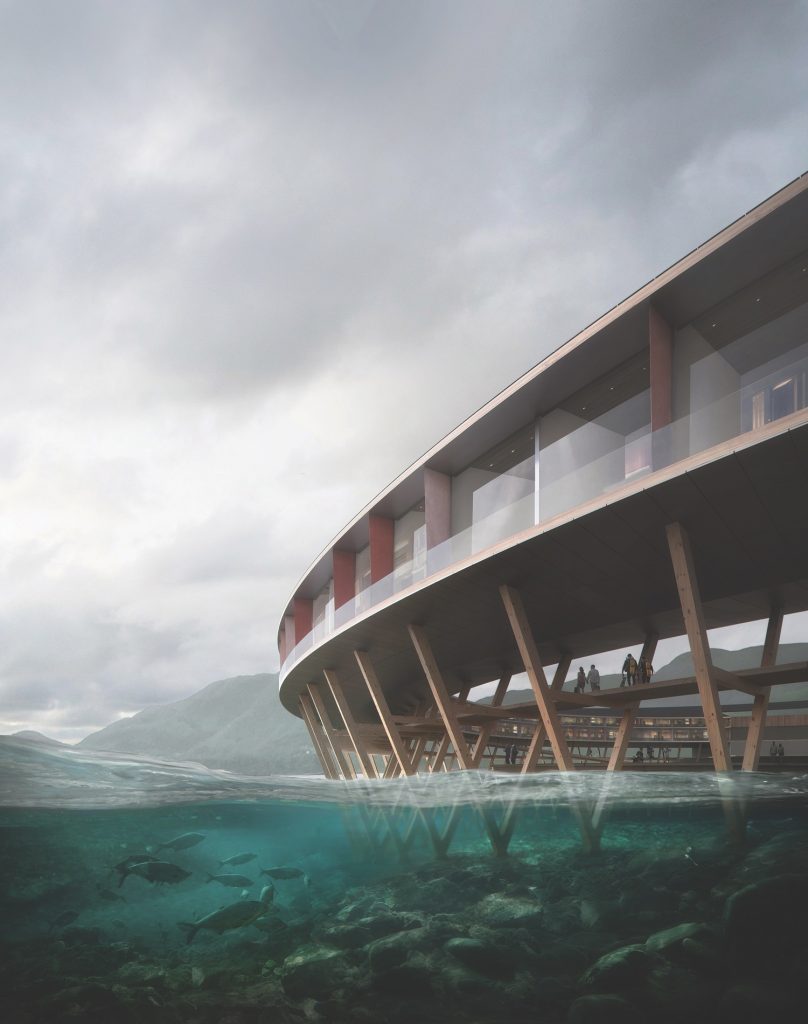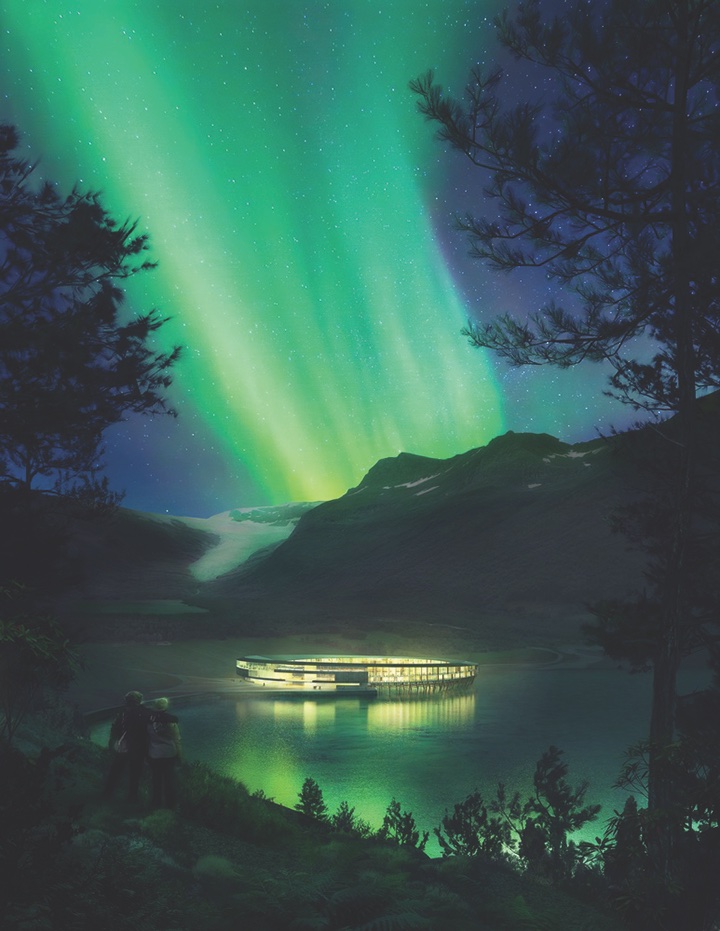 Insider Tip
Inventive strategic positioning of solar panels will allow the building to harvest its own energy, operating on about 85 percent less energy than a standard hotel. Private terraces cast a shadow, eliminating the need for artificial cooling. Extensive mapping of how solar radiation behaves in relation to this specific mountainous site led to ingenious structural modifications.
Sharq Village and Spa Doha – Qatar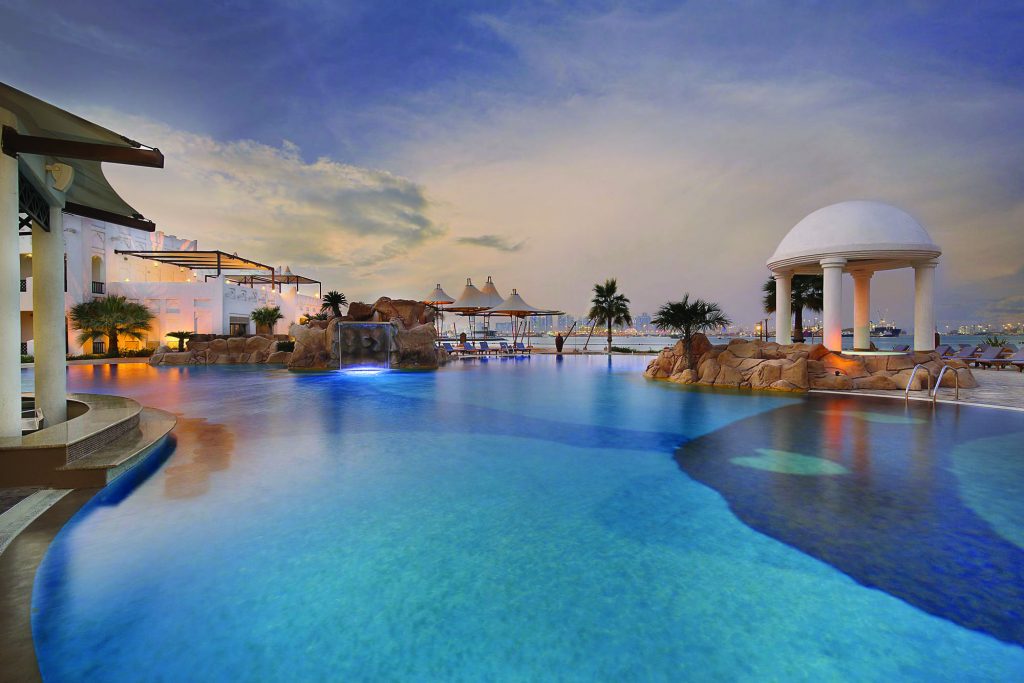 If the stars align and you're lucky enough to find yourself at Sharq Village & Spa in Doha, you're basically royalty in the eyes of the staff. Couples' spa treatments are a big deal here, with return guests citing the onsite Six Senses Spa as the tipping point to a truly great stay. Dining is a major draw, too, bolstered by the recent arrival of the ultimate evening venue in town, Cyan Lounge. It has been a runaway hit, a vibrant, new hot spot bringing together delectable shared plates, refreshing signature drinks and an extensive selection of premium shisha flavors to get guests up to speed with the local vibe. It's a paradise built on the foundations of nearly six millennia of Qatari tradition, operated by the esteemed Ritz-Carlton Hotel Company. What could be more alluring?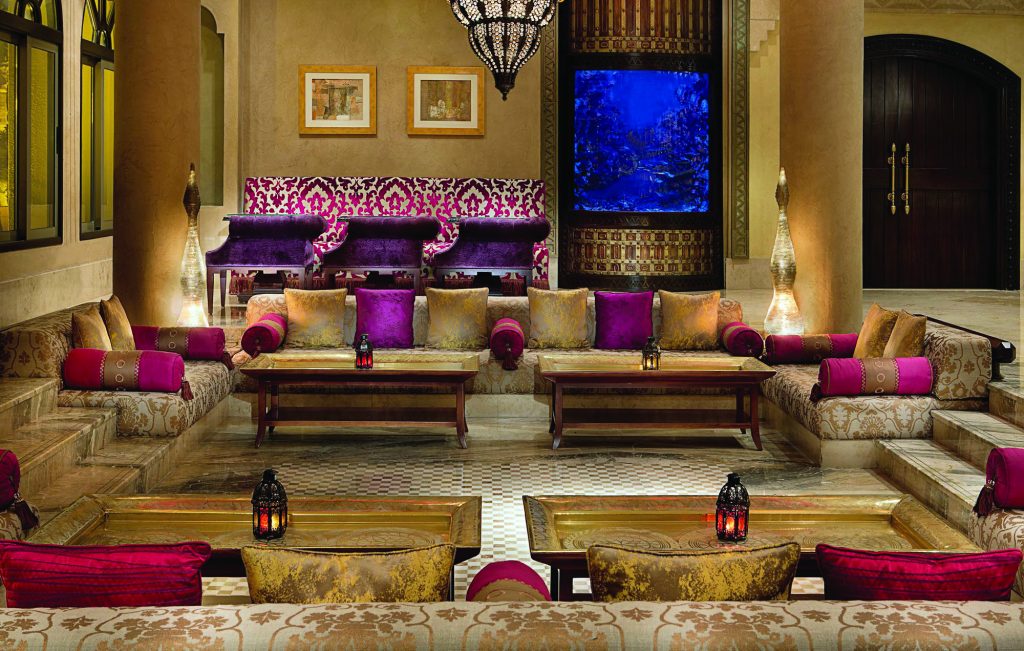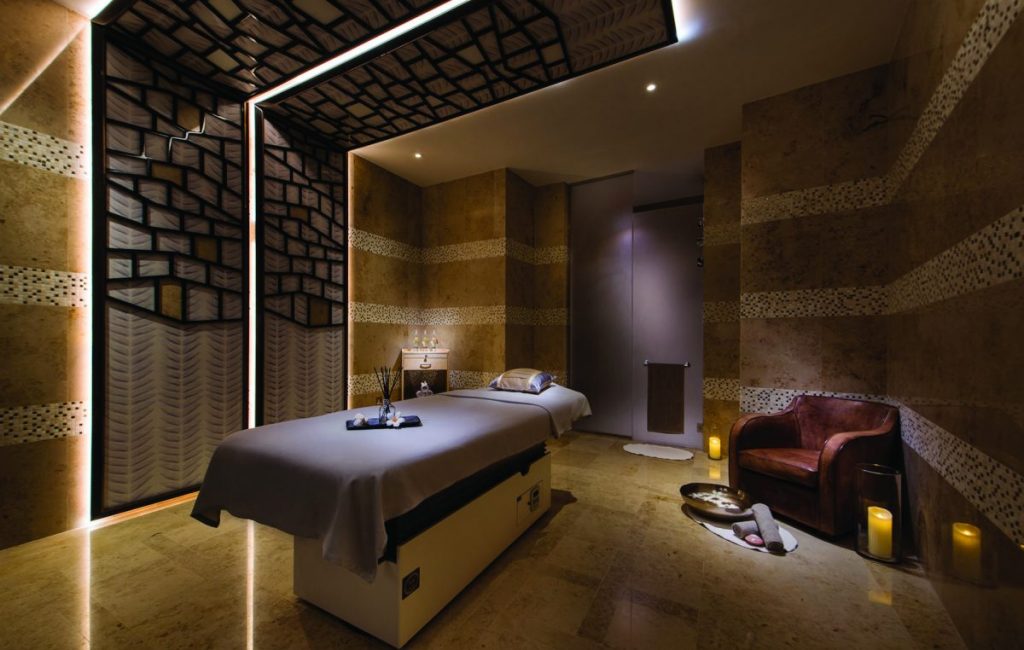 Insider Tip
Arrive in style aboard Qatar Airways' state-of-the-art Qsuite, the industry's first-ever double bed in Business Class. Ingenious privacy doors slide closed to create your own cabin. As the world's fastest-growing airline with one of the newest overall fleets, they're making headlines as the official sponsor of the FIFA 2018 and 2022 World Cups.
Francis Ford Coppola's Blancaneaux Lodge – Belize

Hypnotized by Francis Ford Coppola's cinematic repertoire? Needless to say, the bucolic bonhomie here draws many an A-lister to make a pilgrimage to the original Coppola family retreat turned resort. Book the Coppola Villa, tailor made for big, boisterous family reunions and indulgent romantic getaways. Drink in dramatic views from the elevated open living area or take a dip in the private plunge pool. A small kitchen with an illy espresso machine, refrigerator and wet bar services a massive hand-carved dining table overlooking the deep rock pools of Privassion Creek. Coppola's personal art and antiques are displayed throughout. This villa also comes with a full-time attendant to anticipate your every need.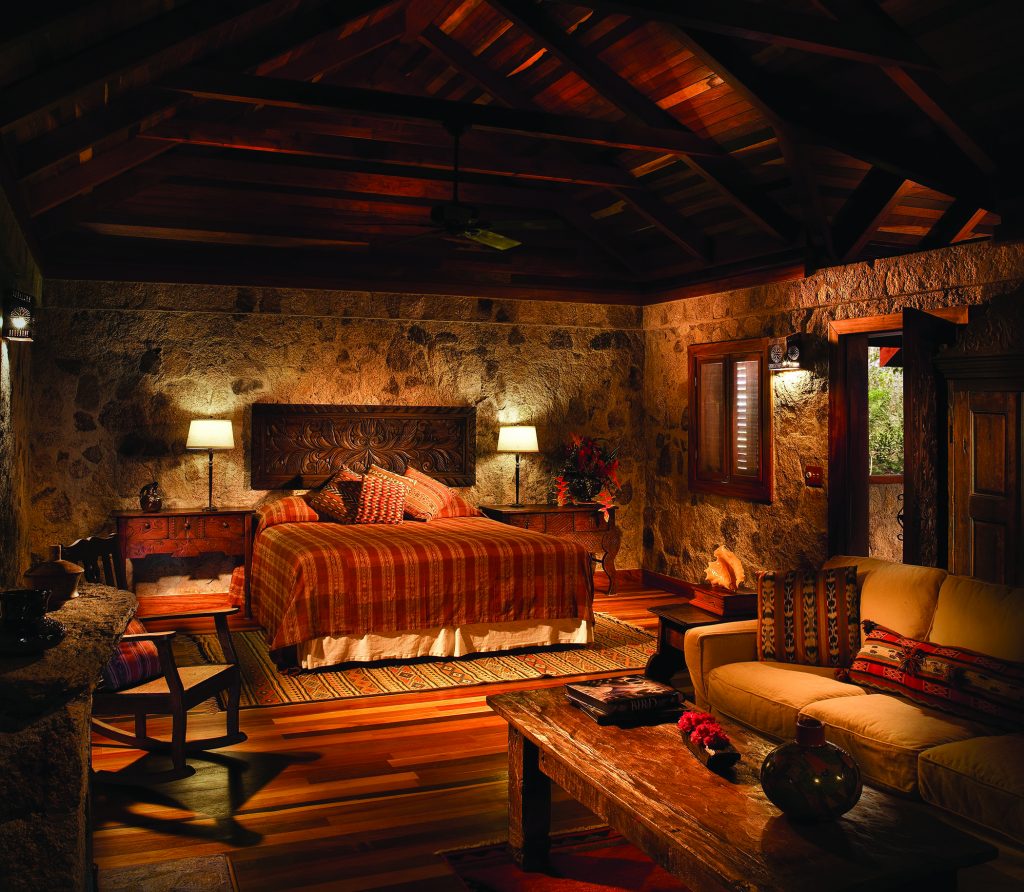 Insider Tip
The director's beloved eco-friendly jungle hideaway in Belize sets the gold standard in organic farming for the region. Feast your eyes on his fresh passion project, the Garden Spot kitchen, nestled between idyllic crop rows. At the new chef's pavilion, enjoy convivial meals in one of the most soulful, stirring food narratives in luxury hospitality.
TheFamilyCoppolaHideaways.com/Blancaneaux-Lodge
Bulgari Resort Bali – Indonesia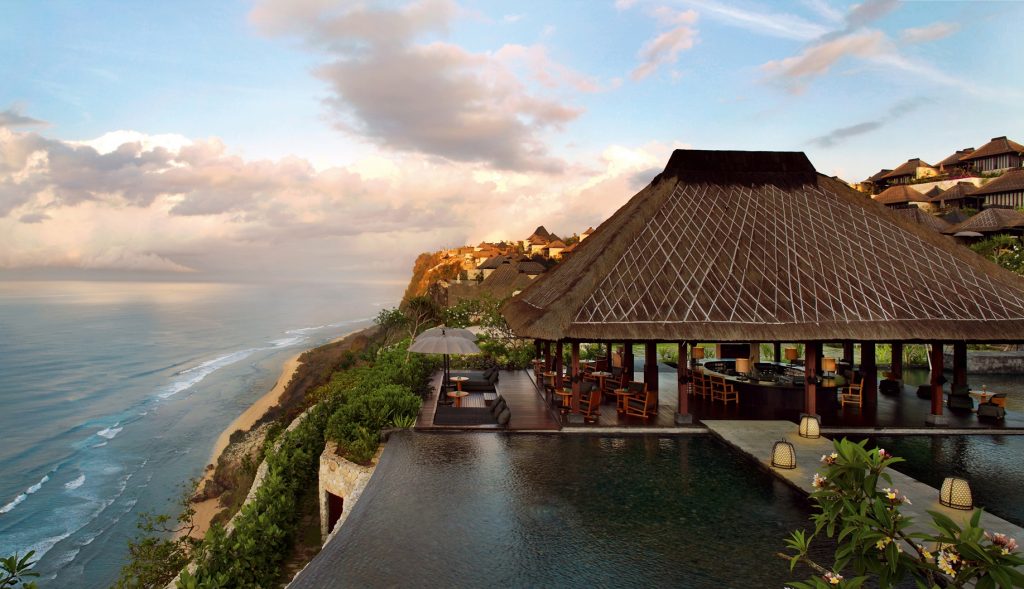 When staying at a luxury resort, value for money means more than goose down pillows and cabana butlers. Bulgari Resort Bali not only gives you a sublime setting, high-end amenities and consummate service, it also delivers intangible delights. The resort inspires a more refined reality, making you feel a little more loved every day of your stay. In the big spend game, nothing feels more satisfying than supporting a hotel that truly looks after you. Staff carries out your wishes with monastic discipline. Bulgari Resort Bali's fabled surroundings are steeped in an Uluwatu mystique all its own. Balinese architecture is combined with contemporary Italian interior design at this signature resort. Through designer Antonio Citterio's masterful use of materials, villas are richly adorned and impeccably finished.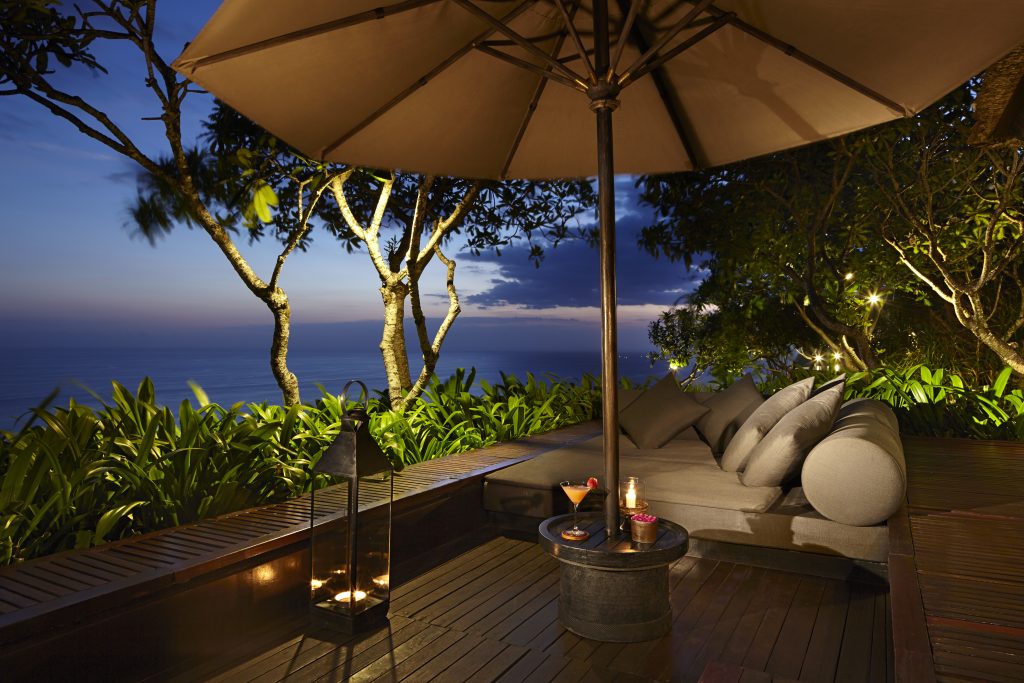 Insider Tip
Roger Federer took over the Bulgari Villa after the 2009 Australian Open. Given that every one of the 59 villas comes with its own oversize lap pool, celebrities and newlyweds alike love the total privacy of this resort. Romance is the name of the game here. The bathing area is massive, taking up fully half of each villa's indoor area.
EcoCamp Patagonia – Chile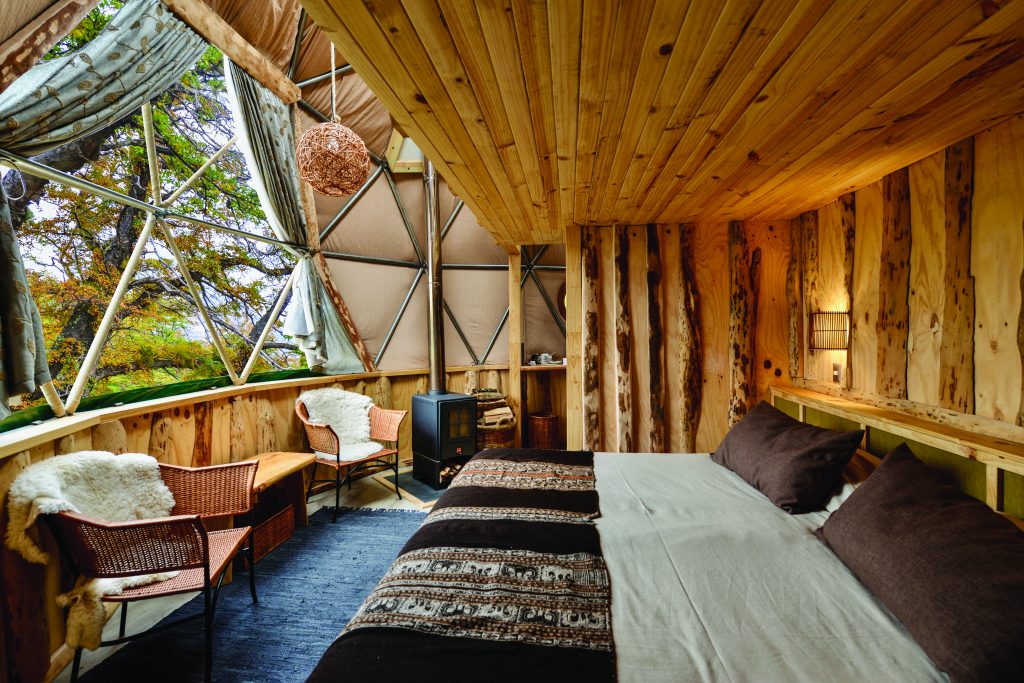 Nestled in the cradle of Torres del Paine National Park's majestic mountains and crystal-blue icebergs sits EcoCamp Patagonia, a rustic campus of fully-sustainable geodesic domes. A highly decorated award-winner in the eco-dome movement, the camp opened in 2001 and was the first hotel of its kind in the world. Since then, EcoCamp Patagonia has become an industry leader in sustainable lodging, offering an oasis in the park where visitors can connect with the wild while still enjoying modern amenities. Staff thrive on guiding guests through beguiling and adrenaline-pumping excursions. Once back in the embrace of paradise, guests enjoy drinks in the Bar Dome or unwind in the Yoga Dome. Spark up convivial bonds with fellow campers over bounteous culinary feasts in the Community Domes.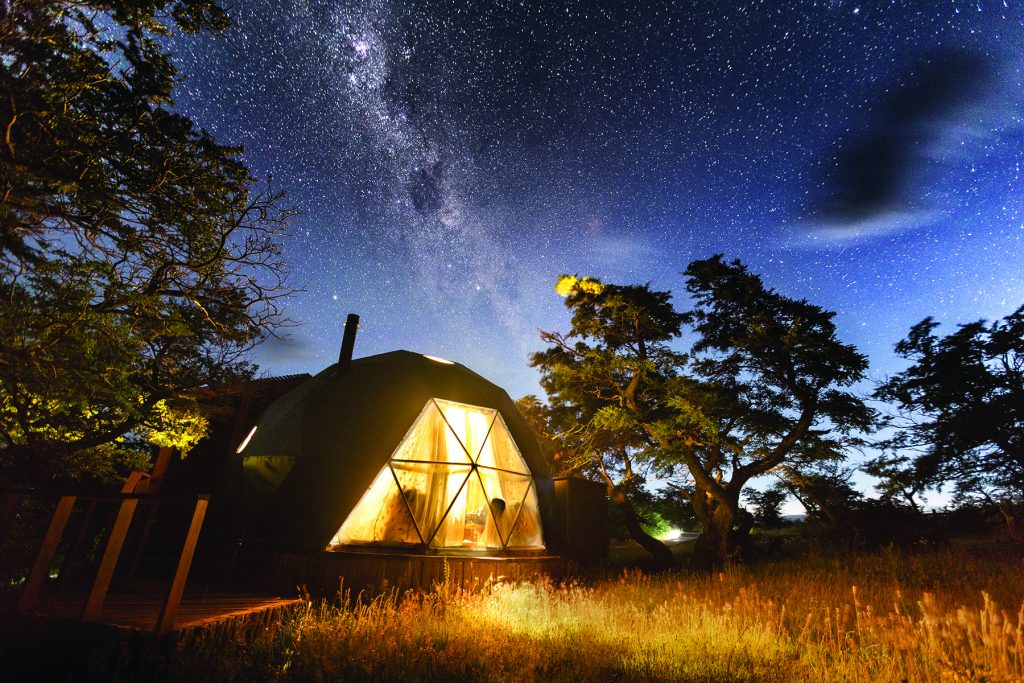 Insider Tip
To stay at EcoCamp Patagonia, guests book one of the all-inclusive options, which include transportation, excursions and meals. Trail junkies will love the famous W trek. If you're more intrigued with the indigenous creatures and critters, consider a day trip with the Wildlife Safari.
The St. Regis Bora Bora Resort – French Polynesia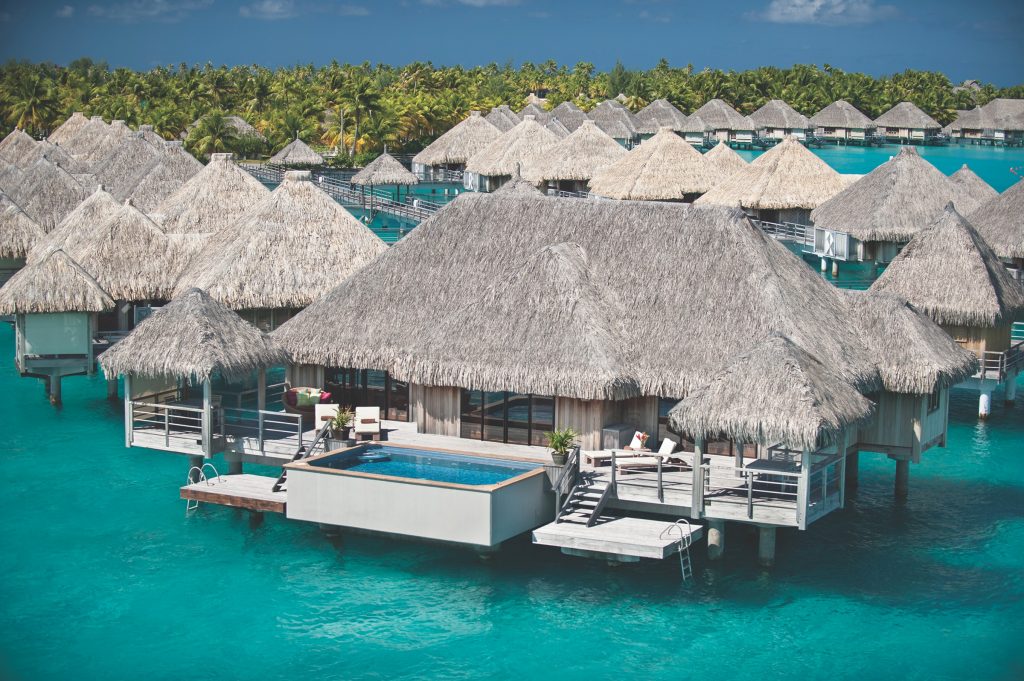 Every thatch-roofed villa at St. Regis Bora Bora feels positively presidential; they don't do starter rooms here. Perched on stilts above the tide along a series of timber walkways, the luxuriously-appointed colony of villas reveals their most alluring face at sunrise and dusk. Spy on a school of needlefish through a perfectly clear glass floor under your coffee table. Mount Otemanu emerges chiseled by the teeth of the ocean, physically and spiritually, while across the lagoon, Motu Tapu strikes a stunning silhouette. Think picnics on private beaches with a sarong-clad cook catering to your every whim. This millionaire's haunt is a haven of order and courtesy. Vendors offering second-rate mementos are completely absent. It's simply not allowed.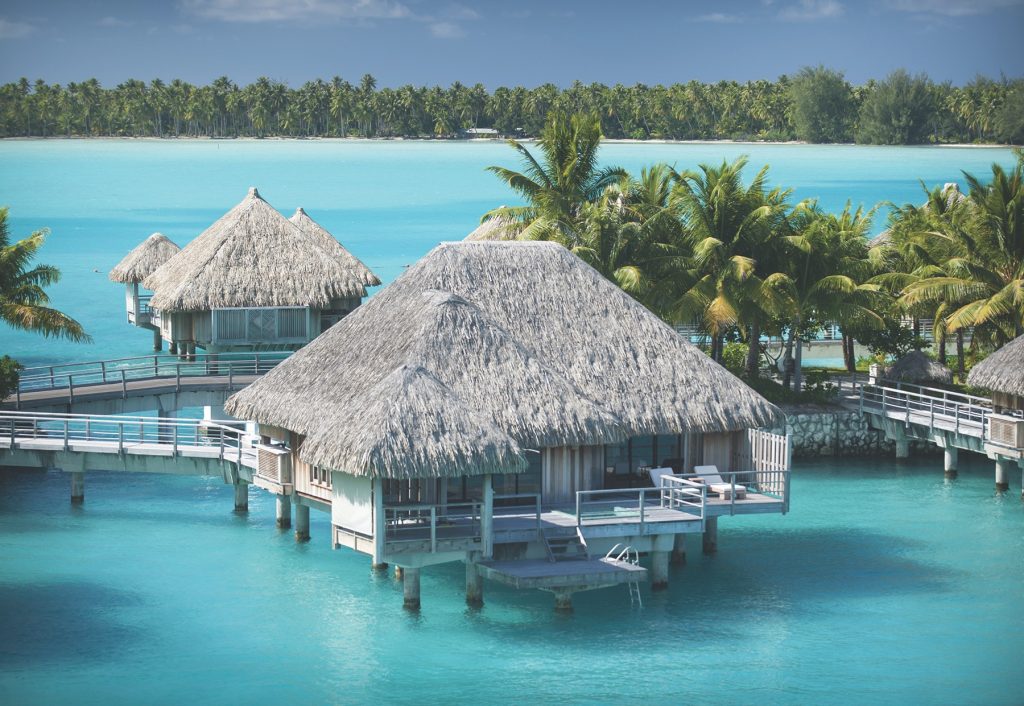 Insider Tip
Is your sweetheart a silver spoon foodie? Warm them up at the hotel's signature Lagoon restaurant by star chef Jean-Georges Vongerichten and you'll score major points. At this signature restaurant suspended over the sea, a parade of masterful dishes saunters out of the kitchen to deliver the finest gastronomic experience in all of French Polynesia.