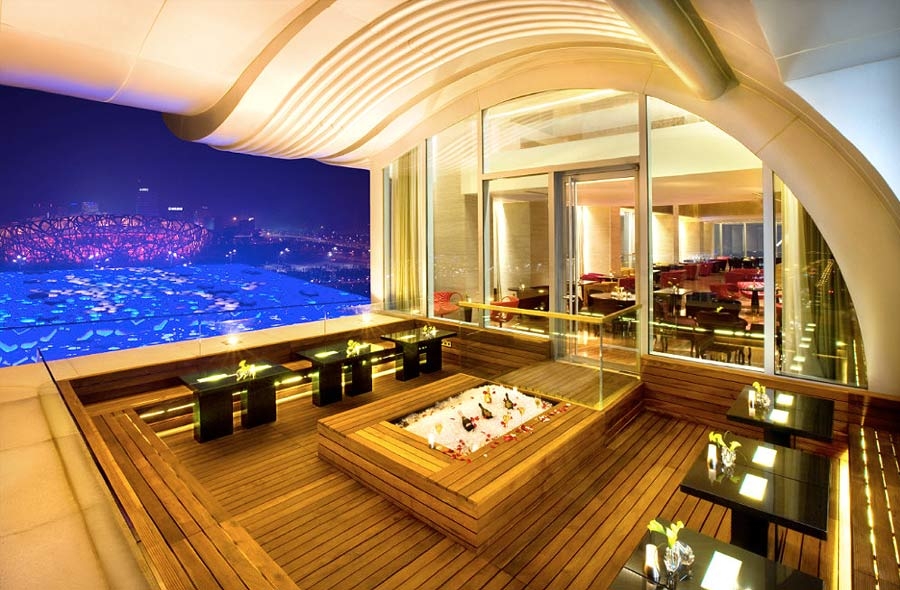 Pangu 7 Star Hotel Beijing is China's newest icon and the latest masterpiece of world-renowned architect C.Y. Lee, the man behind the world's tallest building and Taiwan's financial center, Taipei 101.
The luxury 7-star hotel is currently one of the nicest hotels in Beijing. Built right on time for the 2008 Beijing Olympics, this high-end hotel features one of the world's most dazzling vistas of Beijing's Olympic Park, including the famous "Water Cube" aquatic center as well as a gallery of modern architectural icons like the Beijing National Stadium, known as the "Bird's Nest," that was also built for the 2008 Olympics and is illuminated every evening.
The Pangu 7 Star Hotel Beijing features luxury interiors created by Milan-based maestro Ricardo Bello Dias. The architect was able to find a balance between Chinese classical tradition and contemporary European glamour. The hotel's 234 luxury guest rooms, including 140 suites, feature soaring, eight-foot ceilings and Baker furniture, the same found in the U.S. Presidential White House.
The Pangu 7 Star Hotel Beijing is a masterpiece expressly crafted with guests' comfort in mind, where opulence is imbued with myth and meaning, and the ancient Chinese principles of feng shui has been harnessed on a grand scale to bring good fortune and prosperity. The hotel looks like a dragon, which symbolizes the most powerful and auspicious animal in the Chinese zodiac.
Located at the penthouse of the hotel, The Pangu Plaza 23rd floor is one of Beijing's most exclusive attractions for visitors and hotel guests. The celestial Sky Courtyard offers an experience unlike any other on earth. Thanks to custom-powered roof slides that allow people to watch the stars when open, the views from the bar and restaurant are breathtaking.
Forbidden Treasures Revealed. At Pangu, art is everywhere and beauty pervades. In or outside of their rooms, guests are permanently surrounded by priceless art treasures from the Forbidden City reproduced in the highest quality imaginable. The collection includes Tang, Ming and Qing dynasty masterpieces by revered names such as Ren Renfa and Yun Bing recreated on burnished copper panels. Hand-carved rosewood ceiling murals depicting the classic story "A Dream of Red Mansions" are some of the top masterpieces of the hotel, which also include the rare Italian travertine marble used throughout, embellished with Chinese motifs hand carved by local master craftsmen. The hotel also features sumptuous dragon carpets inspired by Chinese imperial colors and recessed, molded ceiling motifs representing "heaven above earth."
Pangu 7 Star Hotel is fast becoming the culinary epicenter of Beijing's power elite, not least for the 26 individually-styled private dining rooms of the Wenqi Chinese deluxe restaurant, where movers and shakers meet to savor superb Chiu Chow and Cantonese cuisine in a setting of exceptional exclusivity.
If you are looking for good vibrations and heavenly sensations, Pangu's Spa and Fitness Centre approaches the task of pampering you very seriously, indeed. Thousands of years of wisdom have been distilled to provide auspicious moments of pure pleasure. Traditional herbal remedies are blended with spa amenities sourced from Europe's most exclusive retreats. You can surrender yourself to the hotel's tender ministrations, as they work on your balance and harmony in body, mind and spirit.