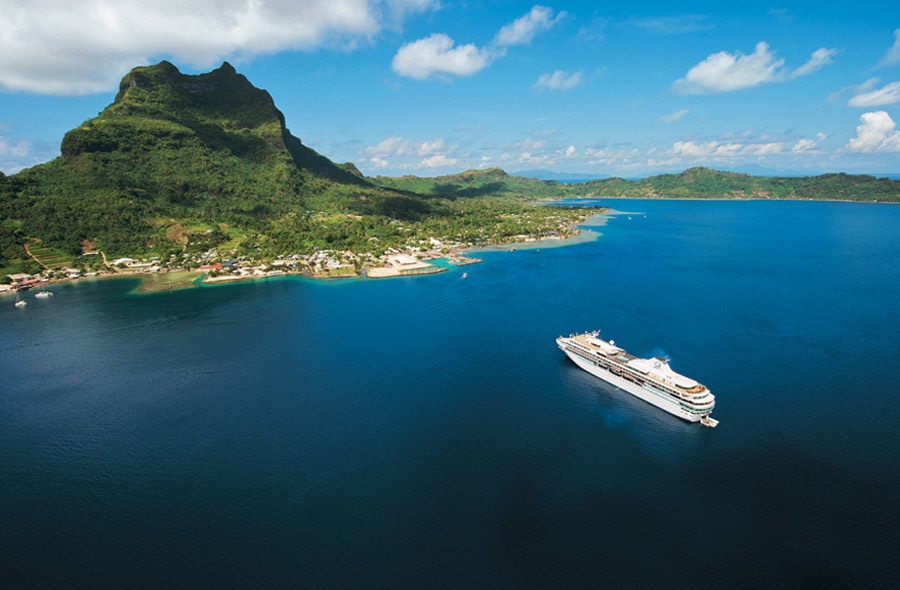 Paul Gauguin Cruises – These intimate, small luxury ships were created to explore the irresistible islands larger ships simply can't.
Scattered like emeralds across the turquoise waters of the South Pacific, the islands and atolls of French Polynesia are unmatched in their allure. Here await sun-kissed beaches, lush rain forests, and barrier reefs teeming with Technicolor sea life, as well as intriguing cultures immortalized by novelist James Michener, songwriters Rodgers and Hammerstein, and artist Paul Gauguin.
The m/s Paul Gauguin takes its name from the French painter who spent the last years of his life in Tahiti. The intimate 332-guest vessel was specifically designed to cruise the South Pacific and sails these storied isles year-round, navigating shallow waters as nimbly as a yacht.
The ship's informal ambience reflects the relaxed nature of the region. A much-loved troupe known as the Gauguines — Tahitians who serve as staff, entertainers and storytellers — add a uniquely South Pacific touch to life on board. Best of all, The Gauguin offers an all-inclusive experience, with airfare from Los Angeles, gratuities, 24-hour room service, bottled water, soft drinks, and select wines and spirits all included in the cruise fare.
All suites and staterooms feature ocean views, and nearly 70 percent have private balconies. Guests who book category B suites or higher receive in-suite bar service, an iPod® music system, and the service of a butler who can unpack your bags, make appointments for you at the spa, or arrange a private car or lunch reservation in port.
A crew-to-guest ratio of 1 to 1.5 ensures the highest level of personal attention. The maitre d' will remember your favorite table, and your stateroom stewardess will fill your fruit basket with the ripe fruits you prefer.
The exclusive treatment continues ashore. Guests enjoy a day on the cruise line's private isle, Motu Mahana, complete with snorkeling, full bar service, and a barbecue with Polynesian entertainment. The ship also features a retractable watersports marina from which you can kayak or paddleboard. Or set out in the Zodiac® for an optional diving excursion; The Gauguin is the only luxury ship in French Polynesia to offer PADI certification onboard.
Paris Chef Jean-Pierre Vigato, Chef Propriétaire of the world-renowned, two-star Michelin-rated Restaurant Apicius will continue to create signature dishes and menus to be featured aboard ship. The three dining venues range from elegant traditional to casual al fresco, and all offer open seating.
Itineraries include an 11-night Fiji to Australia voyage, a 12-night Australia to Fiji voyage, and two 14-night voyages between Australia and Southeast Asia, 12- and 13-night Fiji, Tonga, Cook & Society Islands; 7-night Tahiti & the Society Islands; 10-night Society Islands & Tuamotus; 11-night Cook Islands & Society Islands; and 14-night Marquesas, Tuamotus & Society Islands.
The Gauguin offers 50% savings off standard cruise fares for guests, and includes roundtrip airfare from Los Angeles.
If you're looking for a yacht-like feel, the m/v Tere Moana, the newest ship in the Paul Gauguin Cruises fleet is for you. The Moana carries our cruise line's spirit of Polynesian welcome, geniality, and hospitality into the wider world. Literally "Ocean Traveler," The Moana specializes in warm-weather destinations, with an emphasis on delivering unique itineraries that larger ships cannot offer and exploring hidden ports throughout the Caribbean, Latin America, and Europe—all at our signature all-inclusive value.
With 62 crew accommodating just 88 guests, your experience will be nothing short of first-class. The newly renovated Moana reflects the high standard of quality and service already established for Paul Gauguin Cruises by our flagship, the m/s Paul Gauguin. Spacious staterooms, two restaurants, L'Etoile and La Veranda, and a luxurious spa are among her deluxe attributes. There is simply no better way to experience these amazing hidden ports than aboard this sleek and sophisticated, intimate ship. The Moana's schedule consists mainly of 7 night sailings through Northern Europe, the Caribbean, Costa Rica and Panama.
The Gauguin offers 50% savings off standard cruise fares for guests.
Paul Gauguin's All-Inclusive nature:
Airfare from Los Angeles on voyages of the m/s Paul Gauguin
All onboard gratuities included for room stewards and dining staff
Complimentary beverages including select fine wines and premium spirits, soft drinks, bottled water, coffee, and tea served throughout the ship
In-suite minibar replenished daily with soft drinks, beer, and bottled water
Included watersports
Onboard lecture programs
Elegant restaurants with open-seating dining
Well-being and vegetarian selections and special dietetic menus upon request
WiFi hotspots throughout the ship
Complimentary 24-hour room service
Complimentary in-room movie channels and movies available
The Perfect Venue for Your Incentive Group or Charter Program
Sail away aboard the award-winning m/s Paul Gauguin, or the m/v Tere Moana, which are ideal venues for your next incentive group, meeting or charter program. Your guests will cruise in luxury to the most fascinating destinations in French Polynesia and Southeast Asia on The Gauguin, and Europe, the Caribbean or Latin America on The Moana, enjoying a kind of exclusivity and personal attention only made possible by the ship's intimate size.
On the m/s Paul Gauguin, we sail with a maximum of 332 guests, and on the m/v Tere Moana only 88 guests—a mere fraction of the number of passengers on mass-market cruise ships. Your group will never get lost in the shuffle and individuals can better network and enjoy the company of colleagues.
Delight in the wealth of comforts and amenities The Gauguin and The Moana offer. All staterooms feature an ocean view – and on The Gauguin, nearly 70% have balconies. Plus, a crew-to-guest ratio of 1 to 1.5 ensures incomparable service and attention to detail.
Paul Gauguin Cruises allows you to anticipate and control your budget better than you could at a land-based resort.
Customize every aspect of your voyage, from dining and entertainment to shore excursions, group functions, and activities.
State-of-the-art multimedia facilities and meeting areas, as well as Wi-Fi access and audio/visual equipment, mean you can also set your business agenda while aboard.
We can provide everything you need to organize and promote your charter or incentive program, from logos, ship and destination photos, and information about our private motu, Motu Mahana on French Polynesia itineraries, to everything you need to know about our ship, including deck plans, cabin floor plans, and diagrams of our public spaces. Our travel partners are also available to help with creating a theme, arranging transfers, and more.