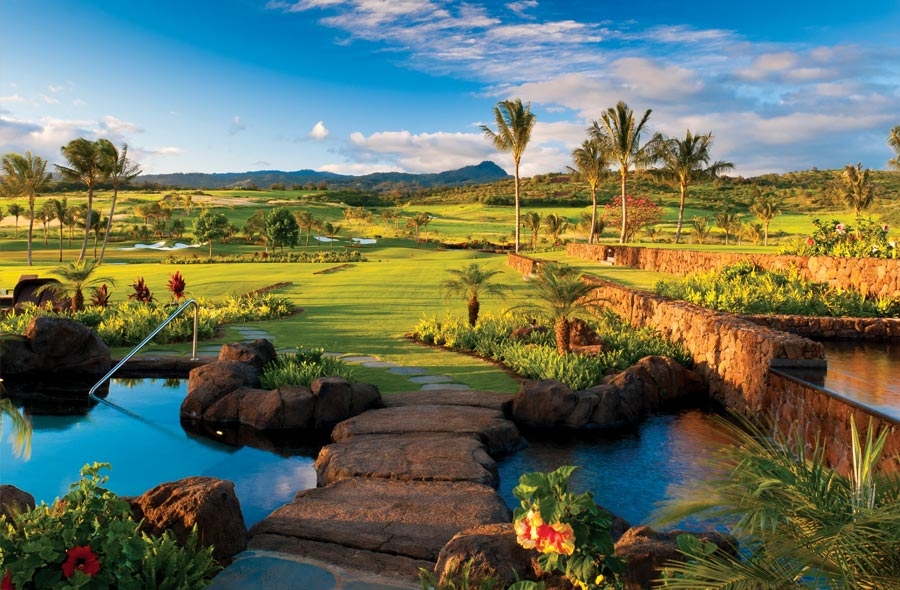 Few regions on earth can compete with the pure, unadulterated pulchritude of the South Pacific.
The region is a lush paradise, offering much to be seen and discovered. Whether you are looking to renew your wedding vows on the white sand beaches of Tahiti or construct your dream home in Hawai'i, our tour of this unrivaled region is destined to leave you inspired.
Our journey begins in fabulous French Polynesia where 30 miles north of Tahiti lies the atoll of Tetiaroa. Comprised of a dozen distinctive islands encircling a shimmering lagoon, Tetiaroa is home to The Brando, an unbelievably inimitable luxury resort. Named after the legendary actor who once called the island his home, this eco-conscious resort is nestled in a hidden paradise once reserved only for Tahitian royalty.
"A stay at The Brando is truly a once-in-a-lifetime experience with … luxury, environmental sensitivity and serene natural beauty."
The Brando is utterly private — it's accessible only by daily, 20-minute resort-chartered flights from a private terminal at Tahiti's Fa'a'a International Airport. Guests are greeted upon arrival at the islet of Motu Onetahi and then whisked to one of the island's 35 intimate villas. Each one is a private Tahitian paradise complete with a private white sand beach and pool. From the comfort of your villa you can admire the sea turtles, manta rays and exotic birds that frequent the island's postcard-esque beaches.
The Brando offers a first-rate spa and two gourmet restaurants showcasing French and Polynesian cuisine. A stay at The Brando is truly a once-in-a-lifetime experience with its fine balance between luxury, environmental sensitivity and serene natural beauty.
Next on our tour is Fiji's Turtle Island, where ebony obsidian rocks juxtapose divinely with pristine white sand beaches. This romantic retreat was the location for the movie Blue Lagoon, and in person, it far exceeds the gorgeous utopia depicted on screen. From its tranquil crystal waters to its gentle trade wind breezes, Turtle Island will soothe and transport you beyond your wildest imagination.
Guests at Turtle Island stay at one of only 15 "bures" — traditional, handcrafted, two-room, thatched Fijian cottages — and are assigned a "bure manager" devoted to meeting their every imaginable need. The luxuriously-appointed bures feature 21-foot vaulted ceilings, wood floors and louvered windows that invite the cool, tropical, blossom-scented breezes to flow through. It's the perfect place to savor picturesque South Pacific sunsets.
Turtle Island is ringed by 14 idyllic beaches where you can reserve a private, romantic picnic spot for the day and feast on lobster, oysters and champagne. The lagoon's water ranks among the most transparent on Earth, enabling you to view the spectacular majesty of its multicolored coral reef and schools of fish. Each night, you'll marvel at the green-gold bioluminescent glow of the lagoon. It's transcendent beauty like this that makes The Brando and Turtle Island two of the finest resorts in the world.
If you want to explore the stunning beauty of the South Pacific even further, consider booking a suite on the m/s Paul Gauguin, a luxury cruise ship named after the famous French artist who created some of his masterpieces here. Offering voyages ranging from 7 to 14 nights, the 332-passenger Gauguin travels to exquisitely romantic destinations like Tahiti, the Society Islands, the Cook Islands and Fiji. Pampering guests is a priority for the crew, and this all-inclusive experience can even include butler service.
Next, we set our sights on two perfect vacation home developments in beautiful Hawai'i. The first one, Kohanaiki, on the Big Island's Kona Coast, is an emerging private community built around an environmentally-sustainable infrastructure, golf and ocean activities. The only new development of its kind in nearly a decade, it is a splendid utopia filled with magnificent homes and preserved historical features. Situated on 450 acres with nearly 1.5 miles of the most pristine beachfront property in the world, Kohanaiki offers unparalleled, breathtaking beauty — all conveniently located only about five minutes from Kona International Airport.
At Kohanaiki, the past and present coalesce harmoniously. You can spend a day playing 18 holes of golf and then explore a path untraveled for centuries. Or you can rejuvenate with an array of personalized spa treatments, either at the immaculately-appointed Kohanaiki spa or in the comfort of your residence, and then relax at any of three pools at this expansive, yet intimate family-friendly development.
"At Kohanaiki, … you can spend a day playing 18 holes of golf and then explore a path untraveled for centuries."
Kohanaiki dining is some of the finest Jetset has ever experienced. The exclusive gourmet Beach Club restaurant, literally steps from the Pacific Ocean, offers unobstructed views and idyllic sunsets beyond description. The dining experience presents an array of the world's finest wines and tantalizing dishes accented with fresh vegetables and fruit supplied by Kohanaiki's own organic community farm.
The homes being developed at Kohanaiki are the ideal choice for discerning jetsetters who want only the very best. Kohanaiki just announced a first release of just 10 finished luxury homes by renowned architect Shay Zak. Invited members will enjoy the unmatched benefits of the Hale Club – a unique, non-equity ownership model that grants all the privileges of Kohanaiki. With prices starting at $3.2 million, these breathtaking properties are located along the 9th fairway of Kohanaiki's 100-acre, 18-hole Rees Jones-designed golf course. Each is lavishly appointed with high-end appliances, and features a swimming pool, spa and stunning panoramic ocean views.
There are several other housing options in Kohanaiki, from townhomes to custom acre lots where you can construct your ultimate Hawaiian dream home. Homeowners are granted exclusive access to the golf course, spectacular Beach Club restaurant, world-class spa and fitness center. The active Kohanaiki community also offers some of the best surfing, paddle boarding, scuba diving, fishing, hiking and cycling in all of Hawai'i. The entire community has a relaxed, outdoor-oriented attitude that when coupled with its stunning views of the Kona Coast and "over the top" service make it a virtual must to check out if you're seriously contemplating buying or building a residence in Hawai'i.
Another excellent choice is Kukui`ula (koo-koo-ee-oo-la) on Kaua`i's southern coast. The first and only private club community in Kaua`i, Kukui`iula is nestled between the National Tropical Botanical Gardens and historic Koloa Town, and offers an exquisite collection of custom home sites and traditional Hawaiian plantation-style luxury homes. The centerpieces of Kukui`ula are a palatial $100 million clubhouse known as the Plantation House, a spa, a magnificent, 216-acre Tom Weiskopf-designed golf course and an upcountry farm.
There are several neighborhoods within the community. One of these is the Makai neighborhood which houses gorgeous cottages that start at $2.5 million and range from 1,500 to 3,800 square feet. The Kukui`ula Club Cottages are an exclusive collection of 15 single-family cottages, and each one sits on its own 12,000 square-foot lot adjacent to the Plantation House.
There is so much to see and explore at Kukui`ula. The golf course was named "Best New Private Course" by Golf Magazine in 2012, and is challenging for those of all skill sets. The spa provides serene indoor/outdoor treatment rooms and there are several lavish pools, saunas and workout facilities. And The Shops at Kukui`ula contain more than 35 unique stores and eateries. All of this makes Kukui`ula an absolutely unparalleled vacation home community.
"Kukui`iula offers an exquisite collection of custom home sites and traditional Hawaiian plantation-style luxury homes."
No matter where in the world you're coming from, traveling to Hawai'i is made easy with the help of Bradley Pacific Aviation. The company offers a full range of FBO services 24 hours a day, 365 days a year, in six key destinations on five Hawaiian islands.
So whether you are looking for a new vacation home property or just the dream getaway of a lifetime, consider exploring these divine pearls of the South Pacific — some of the most stunning and flawless locations on Earth.
Thebrando.com
TurtleFiji.com
PGCruises.com
Kohanaiki.com
Kukuiula.com
BradleyPacific.com