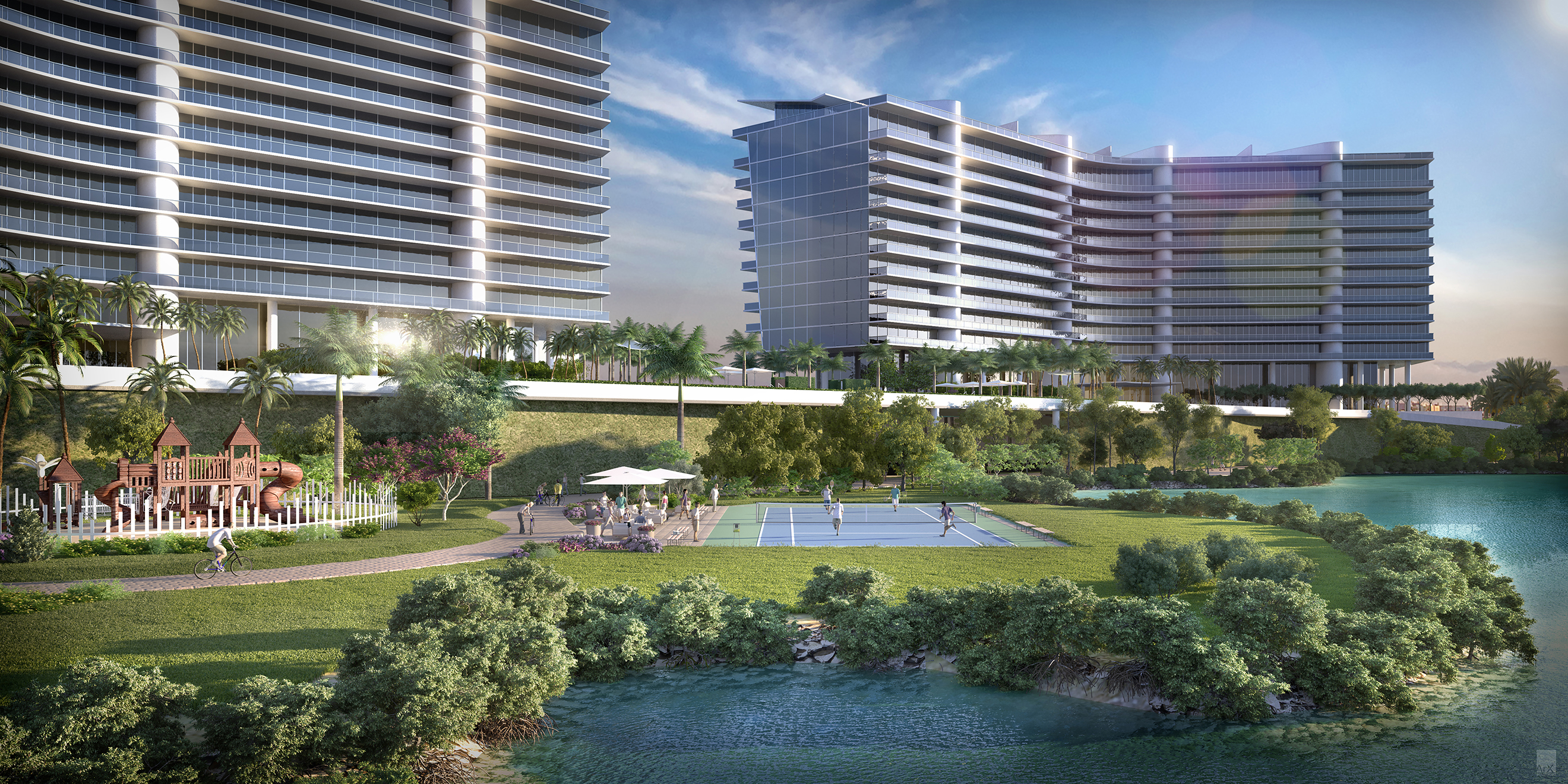 A secret to many, Miami's Aventura neighborhood holds the last buildable island in all of South Florida. This rare hidden gem with year-round warm temperatures will soon be home to its own tight-knit community of just 80 residences in each of its two towers and unimaginably exquisite amenities, promising a bright future on an eight-acre private island for those who are fortunate enough to step foot on it – and even more so, live in it.
Privé at Island Estates offers an idyllic and extraordinary lifestyle on the last private island in South Florida. The iconic 16-story towers are the brainchild of co-developers Gary Cohen and BH3, with architectural design by renowned Sieger Suarez Architectural Partnership, and will be the pinnacle of South Florida's luxury real estate market.
A Luxury Gem Worth Seeking
A home to the global citizen, each flow-through residence boasts a 360-degree view of the picturesque Atlantic Ocean and Intracoastal Waterway of Miami, offering the ultimate luxury with a 24/7 gatehouse providing secure access to a world of ultra-luxurious privacy. Privé at Island Estates grants residents the delight of five-star concierge services, unprecedented access to world-class amenities and private elevator access to their residences. The luxury boutique towers present a variety of grand-scale residential floor plans, Penthouses and specially designed combination residences in the form of the Reserve Collection and Sky Residences with up to eight bedrooms, featuring exclusive rooftop decks with double-sized pools and outdoor summer kitchens.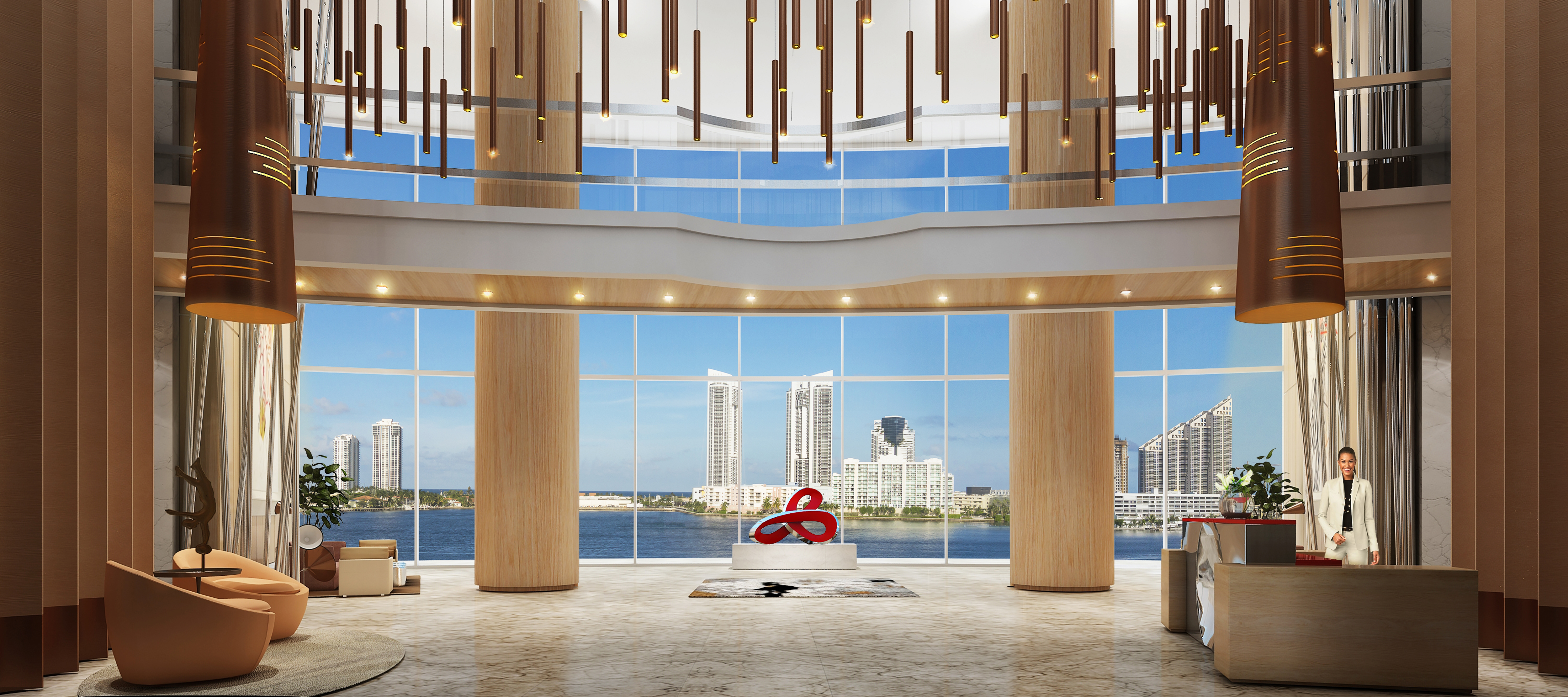 Privé even ranked at Island Estates as the most desirable ultra-luxury residential development in South Florida out of 30 ultra-luxury developments in the Miami and Ft. Lauderdale area, No. 4 in the U.S., and No. 14 in the world, out of 248 properties ranked worldwide on a 21-point checklist that included amenities, services, and facilities that the most affluent buyers seek.
Bright, Blue and Bold
Privé at Island Estates is meticulously located on a private, eight-acre island between Williams Island and Sunny Isles Beach. The two towers are surrounded by bright blue waters of the Intracoastal Waterway. A full 360-degree rotation from within the property will provide visual appeal from every direction paired with a rejuvenating sea breeze and skin-warming sunshine.
The privacy of these residences is born not of walls, but of open air, sea and sky. The surrounding waters act as a barrier from the outside world. They promise unparalleled privacy; a type of privacy that cannot be obtained by mere walls and property lines. Residents who glance out their windows or balconies at night will also be met with the romantic, twinkling city lights of Miami's skyline.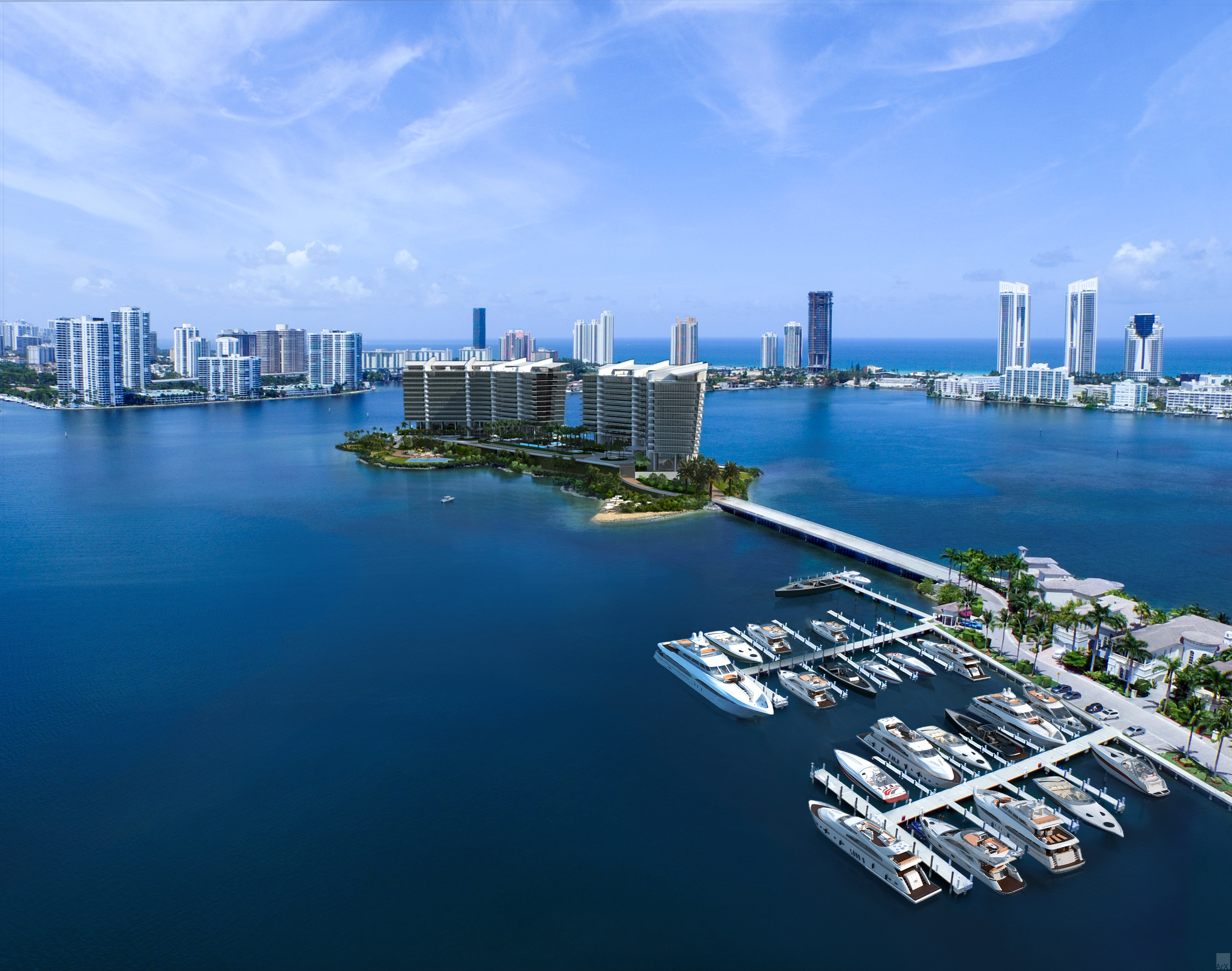 Dream Big
The amenities at Privé at Island Estates are timeless and unmatched. They are thoughtfully designed to accommodate each individual resident's needs and desires. Wellness, sport, leisure, recreation, entertainment and community are the primary keys influencing the remarkable amenities.
Social rooms, private dining spaces and lounges will occupy more than 70,000 square feet of the project. These areas are designed to unify the residents and build a strong community. Each of the two glass-enwrapped towers will feature an additional 10,000 square feet for the fitness center and state-of-the-art spa to indulge the mind and body. Residents will have access to a men's and women's steam and sauna room, massage treatment rooms, aerobic and cardiovascular equipment, a weight facility, fitness studio and a playroom for toddlers.
Expansive pool decks with two oversized swimming pools (a beach-entry pool and a lap pool) and outdoor Jacuzzis overlook the bay for a never-ending blue hue, complete with a poolside café to satisfy last-minute cravings and attendants catering to the residents' poolside needs.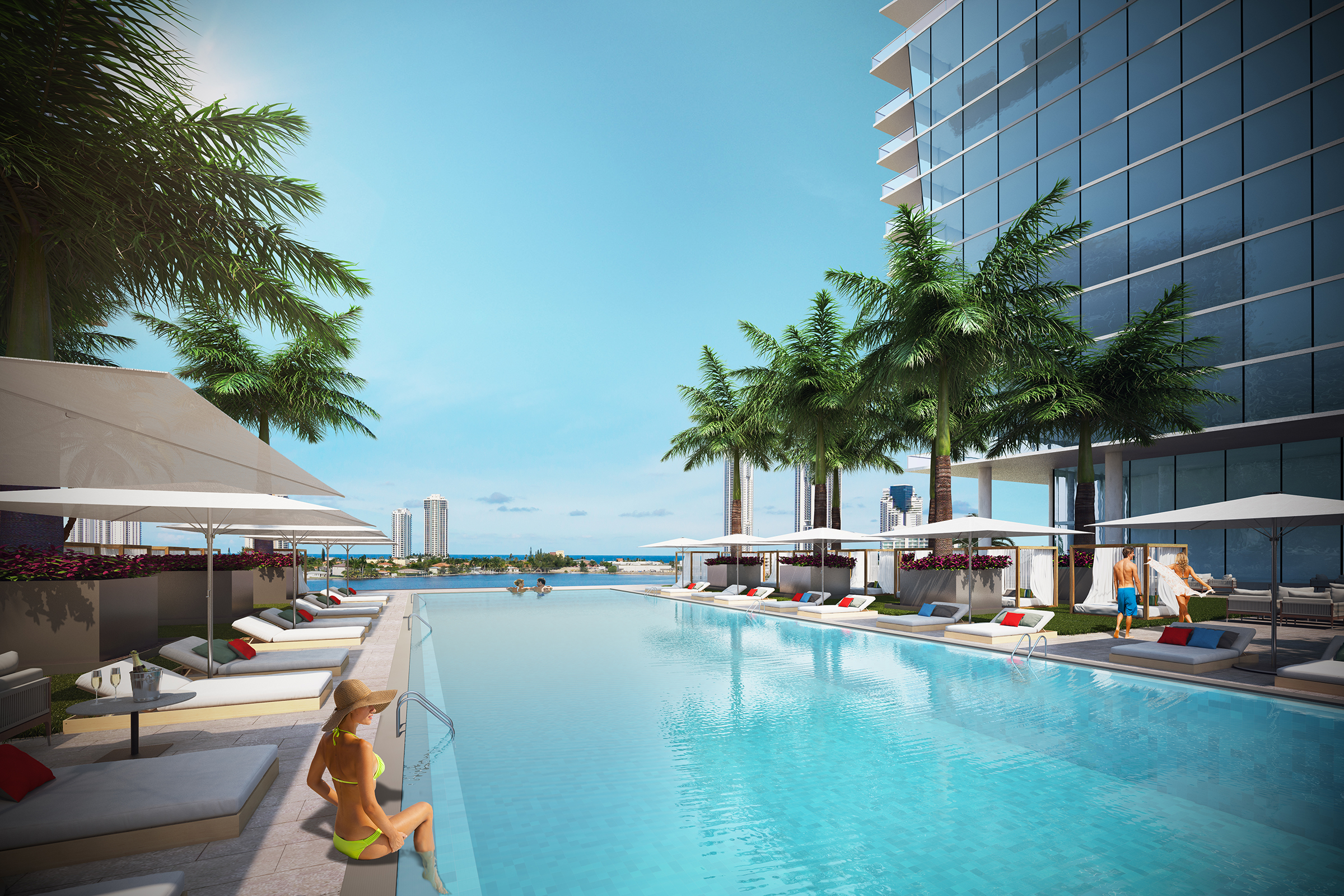 A private marina will bring a world of endless opportunities for passionate yachtsmen. The marina boasts 48 boat slips capable of holding yachts up to 135 feet in length as well as yacht concierge services. A private pier is also available for guest boat landings and fishing.
Marrying the relaxing ambiance of an island getaway and modern technology, Privé residents will also have access to Savant, a fully integrated home-automation system. With just one touch on a mobile device, residents can control their home from anywhere in the world – from adjusting lights to tuning entertainment systems.
Other noteworthy amenities include a pet grooming area, wine and cigar room, an interactive children's playground, tennis court, nature trail, jogging path that circles the island, 24-hour gated entry, private parking and valet service, private garages, electric car charging stations, roving/permanent security and full-time concierge services.
Separate guest suites located on the mezzanine level are also available to residents and include full bathrooms, kitchenettes and an outdoor space with wide-open west or east views. Residents who are interested in created their own "hobby room" separate from their unit can also purchase floor-to-ceiling glass spaces on the second level that can be used for various purposes – from private offices to art studios, car show rooms, theaters and more.
A rich and varied lifestyle will be the new norm for residents with Privé's extensive program of amenities, providing ample opportunity to experience the coveted Miami lifestyle.
A Private Elevator Ride Straight to Your Home Oasis
Every residence features a private elevator entry that provides direct access into the home, as well as yet another water-facing view from the foyer. As the doors open, residents will be greeted by an ultra-luxe home, ranging in size from 2,585 square-feet to more than 9,500 square-feet of pure, limitless dwelling.
Each tower holds 80 residences featuring 10-foot-high ceilings and spacious balconies. Balconies reach 120 feet in length, 10 feet deep and include summer kitchens. Private outdoor spaces feature 6,568 feet of customizable space.
Penthouses feature 15-foot ceilings, topped with rooftop gardens and full-sized pools. The penthouses boast three to six parking spaces and have separate service quarters.
Luxurious fixtures, fittings and finishes throughout Privé take inspiration from the very lifestyle it creates. Flawless to the last detail, the European kitchens and bathrooms contain open, gourmet kitchens, double vanities, marble master spa-like baths, separate glass-enclosed showers and spacious walk-in closets. Residences will feature world-class Miele appliances and Alno fixtures and hardware.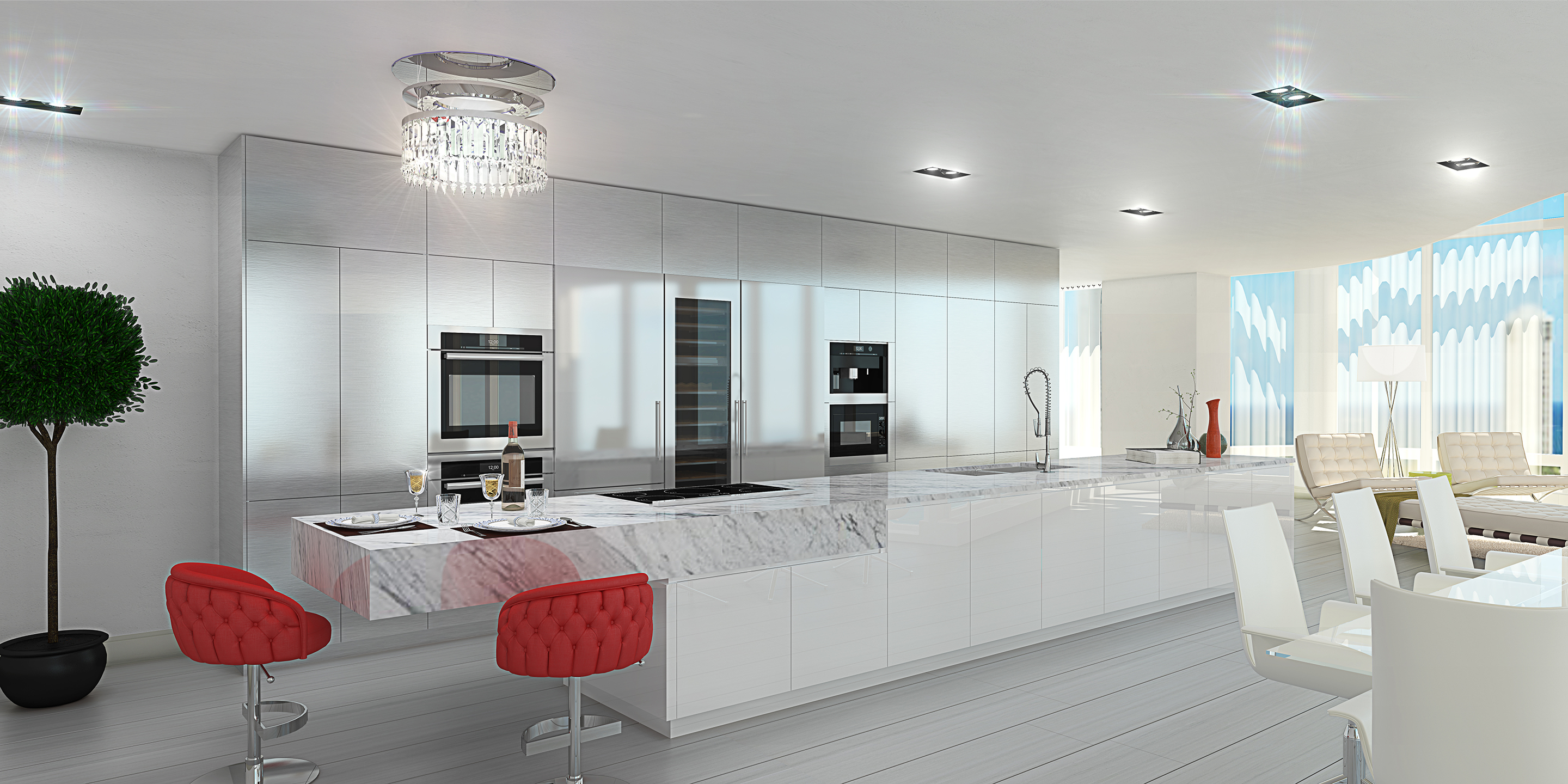 Privé is the first condominium to offer its residences Miele M Touch kitchen appliances, which achieve fast results with innovative touch displays. Miele's new M Touch controls are both easy-to-operate and navigate.
Private Feel, City Vibes
Location is as equally important as amenities when it comes to choosing a new home. Although placed in a private island, Privé is located at the epicenter of Aventura, accessible through the gated enclaves of Williams Island and Island Estates.
Adjacent to neighboring marinas, Privé is within 20 minutes of both the Miami International Airport and Fort Lauderdale-Hollywood International Airport. Residents are closely situated to an abundance of leisure options. At their very fingertips, residents will find:
• Aventura Mall
• Bal Harbour Shops
• Oleta River State Park
• Sunny Isles Beach
• Gulfstream Park Racing, Casino & Village
• Haulover Inlet
• Haulover Beach Marina
• Intracoastal Waterway
• Turnberry Isle Golf Course
• Arthur Snyder Tennis Center
• Dog Park at East Greynolds Park
• Downtown Miami/Brickell
• Fort Lauderdale
• South Beach
• Aventura Hospital & Medical Center
A Powerhouse Team with Impeccable Reputation
An industry-defining alliance was formed when the masterminds of BH3 and Gary Cohen, along with architect Sieger Suarez and Interiors by Steven G, came together to develop Privé at Island Estates. The partnership was met with enthusiasm and a drive to develop one of the most ultra-luxurious and pristine properties in South Florida.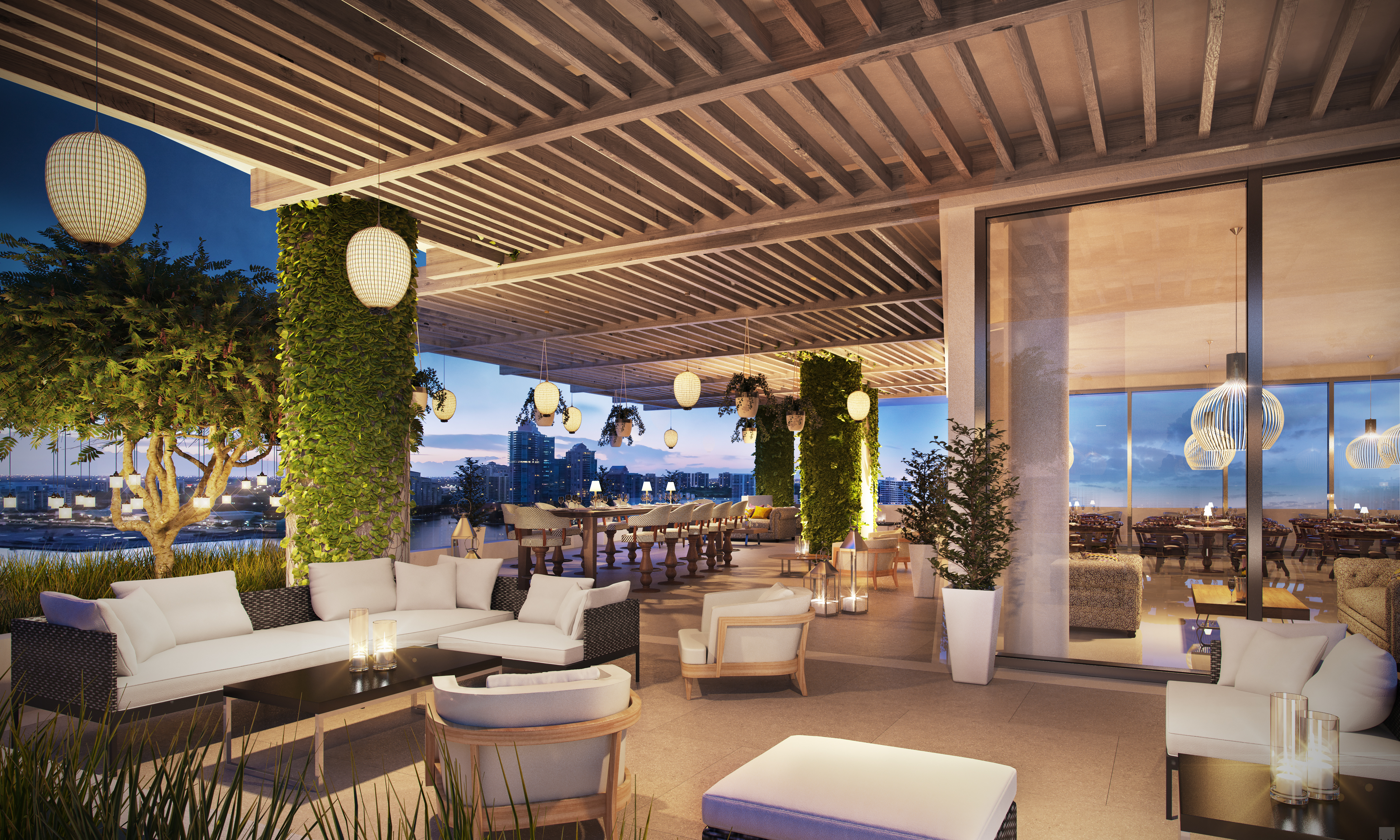 BH3 is a real estate firm led by principals Gregory Freedman, Charles Phelan and Daniel Lebensohn that has successfully developed and transformed residential and commercial real estate in South Florida and New York City. In addition to Privé at Island Estates, the firm's impressive portfolio includes Trump Hollywood, Terra Beachside 6000 Collins, Fontainebleau Sorrento and 1805 Ponce.
Gary Cohen is the developer of Island Estates, the south island of the property, which consists of 21 exclusive mansions and a marina. As one of the founding families of Aventura, the Cohen family has been in South Florida land development since the 1960s, resulting in approximately 1,000 acres of land development and planning of high-rise condominiums, multi-family, and single-family homes, shopping centers and commercial offices.
The Sieger Suarez Architectural Partnership specializes in the design and development of luxury high-rise properties. Owned and managed by Charles M. Sieger and Jose J. Suarez, the firm has received a multitude of awards and both peer and community recognition for its outstanding work over the decades.
Interiors by Steven G. is the most celebrated, innovative and experienced interior design company in Florida, working from a 100,000-square-foot Pompano Beach showroom, which includes some 1,800 lines and $7 million of displayed inventory. The design firm has worked on major projects throughout South Florida, including Trump Hollywood, St. Regis Bal Harbour, Canyon Ranch Living Miami Beach, ONE Bal Harbour, Ocean House South Beach, Las Olas Riverhouse, Grove at Grand Bay, The Ritz-Carlton Residences at Singer Island, and many others.
Privé at Island Estates is currently under construction. The North Tower has reached the top floor, and the South Tower is only a few floors away. Both towers are expected to top off by early September. Privé promises to deliver an exceptional, ultra-luxury residential experience to every resident when it opens its doors for residents to move in during the summer of 2017.
For more information, visit MyPriveIsland.com or call 855-654-2475.