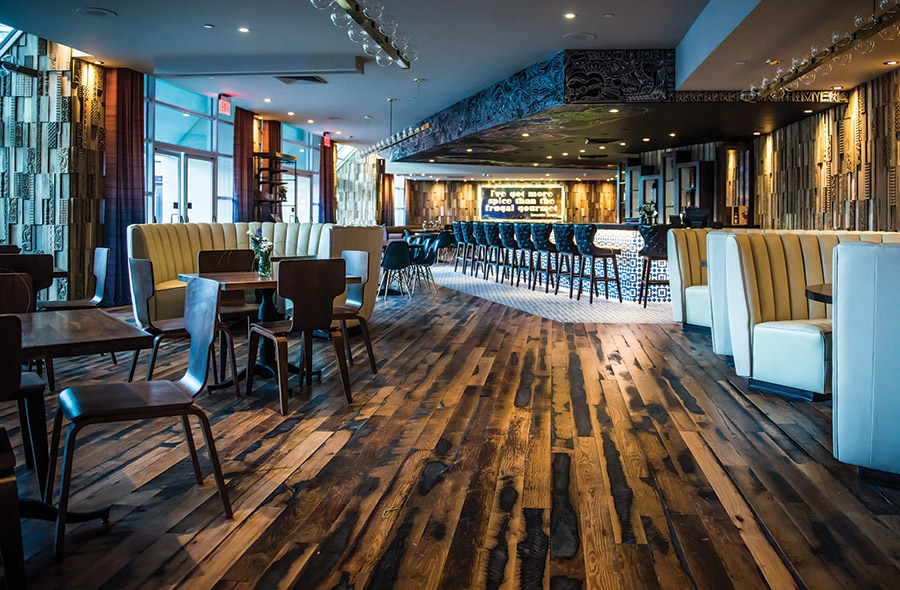 An occasion as big as the opening of a new Hard Rock Hotel calls for something far more exciting than one of those boring ribbon-cutting ceremonies.
And this one delivered. Jetset was on hand for the premiere when the Hard Rock Hotel Palm Springs officially opened its doors with the company's signature Hard Rock Guitar Smash. We were off to a great start.
The grand opening event offered everything you might expect from a music-inspired hotel — and a lot more. Illuminated dancers and dazzling light shows greeted us and set the stage for the evening's entertainment by The Embassy, an L.A.-based DJ group that includes Paul McCartney's own DJ, Chris Holmes. The VIP lounge, co-sponsored by Grey Goose and Bacardi, was set up in the hotel's Rock Pit, and was the place to mingle with personalities from Hollywood and naturally, the music industry.
As grand opening guests, we not only got to enjoy the entertainment, we got a chance to help create it. Turntables were on hand for anyone who wanted to try their hand at mixing beats, and any wannabe rock stars could pick up a Fender guitar and start strumming away. It's part of Hard Rock's unique program called The Sound of Your Stay®, where guests can ask to have one of 20 classic electric guitars (and an amplifier, of course) brought to their room. They can even have a Traktor S2 DJ controller, laptop and stereo delivered any time they feel like channeling their inner DJ. The hotel even offers lessons via in-room videos. Talk about room service.
As you might expect, the guestrooms are all rock-n-roll inspired. The hotel's top-of-the-line Rock Star Suite measures a spacious 1,503 square feet and is first class all the way. It's worthy of true rock star, right down to its Sleep Like a Rock ® bedding, multiple flat screen TVs and sophisticated yet funky décor.
When you visit Palm Springs, you'll find plenty to do, like taking a ride on the city's iconic Aerial Tramway. As the world's largest rotating tram, it travels two miles up the cliffs of Chino Canyon to the Mountain Station at the top in just 10 minutes. The views are spectacular, and your choice of activities when you reach the top depends on the season — hiking and guided nature walks in the warmer months or cross-country skiing or snowshoeing in the winter. The tram operates year round.
Another activity we recommend is hiking the Indian Canyons. Our park tour guide, a member of the Agua Caliente Band of Cahuilla Indians, was very knowledgeable and shared stories about his industrious and creative people who have a reputation for independence, integrity and peacefulness. He expertly guided us along the moderately graded trail that winds down into the 15-mile-long Palm Canyon.
For a change of pace, head for The Thermal Club, the world's premier luxury motorsports club that offers its members 4.5 miles of exclusive racetrack. The Club's three courses can be configured 22 ways, and there's a separate Kart Track with two independent courses. Don't miss the personal garage villas the Club offers — they're ideal for entertaining trackside and even feature observation decks, fire pits and splash pools.
All of this activity is sure to make you hungry, and for lunch we recommend Trio, a hot spot located in Palm Springs' trendy Uptown Design District. Designed in a mid-century style, Trio describes itself as the place "Where Palm Springs Eats," and what they can't wait to eat is the restaurant's satisfying Midwest comfort food with California flair.
For dinner, what could be more "Palm Springs" than dining in an award-winning restaurant located in Cary Grant's former 1940s guest house? At Copley's On Palm Canyon, you can choose from a menu offering upscale American cuisine infused with traces of tropical and European flavors. In addition to the beverage of your choice, you'll enjoy drinking in the spectacular mountain views from the patio. Be sure to save room for dessert — the Trio of Andrew's Ice Creams, offering your choice of Basil, Tahitian Vanilla, Tarragon or Salted Caramel flavors, is an unexpected treat.
Of course, you'll also want to save some of your time — and appetite — for enjoying the farm-to-table cuisine at Sessions Restaurant at the Hard Rock Hotel Palm Springs. Reading the menu is part of the experience. You could order a "Warm Up" of Jimi's Steak & Eggs, go for an "Agent Lunch" of "Phish" and Chips, or go straight for a "Headliner" entrée. At the Hard Rock, there's always time for an "After Party" (known in some places as dessert) like the Brownie IC Sundae that delivers on its menu promise of being "ridiculous."
Music lovers have always been drawn to Palm Springs for its world-class music festivals like Coachella and Stagecoach. And now they'll have a new place to stay. As the folks at the Hard Rock Hotel Palm Springs like to say, it's a place where you can sleep like a rock and live like The King.