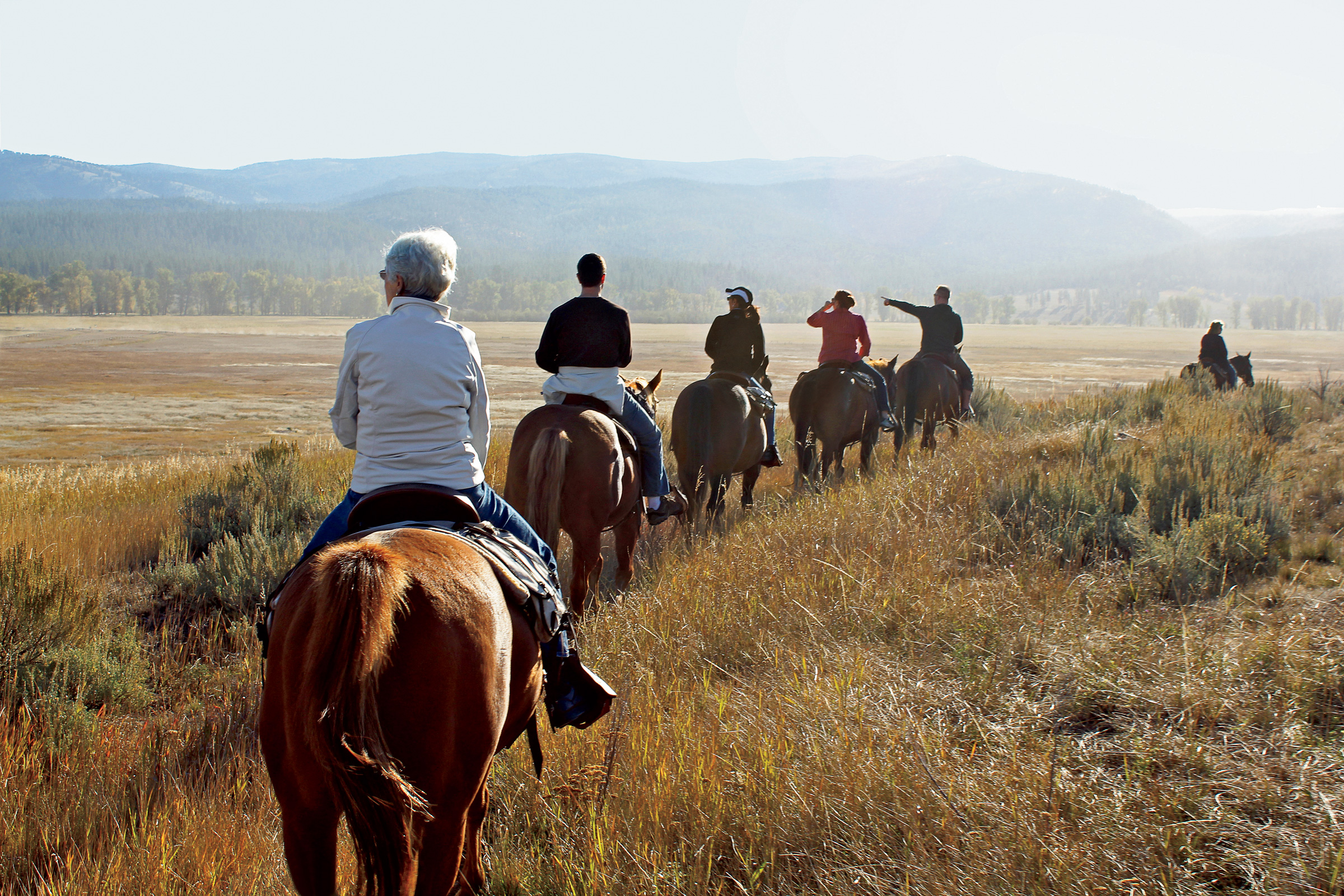 Pack your boots. This is an authentic adventure in the Great American West. Situated on land explored by Lewis and Clark, The Resort at Paw Up only adds luxury and sophistication to an unbridled mountain wilderness.
Explorers welcome.
The Resort's 37,000 private acres of rugged terrain encompass a genuine, working cattle ranch, a 10-mile stretch of the fabled Blackfoot River and more than 120 miles of pristine, pine forested trails. In a region rife with national parks and forests and the 1.5-million-acre Bob Marshall Wilderness, it also offers spectacular, expansive scenery.
From the moment your driver pulls onto its unpaved road, you'll know you're in a truly special place. In fact, little has changed since the Blackfoot Indians roamed this territory centuries ago.
One heart-pounding moment after another.
For anyone with a wild side, The Resort at Paws Up is loaded with all kinds of unforgettable outdoor adventures, from hot-air balloon excursions over Glacier National Park to sleigh rides through the snow on a crisp holiday morning.
After a while, you begin to realize that everything under the Big Sky is on offer. In warmer months, you can go whitewater rafting, fly-fishing, mountain biking, sporting clays shooting, rappelling and stargazing. There are trips to the lake house for boating, jet skiing and swimming, and cattle drives that allow novice and expert riders alike to work alongside seasoned ranch hands for the experience of a lifetime. In colder months, you'll want to try cross-country skiing, ice skating, dog sledding and or simply roasting marshmallows by a Montana-sized fireplace.
Of course, all year round, you can set out with binoculars to study the wildlife. You'll find elk, whitetail deer, moose, bears, mountain goats and bald eagles, to name just a few.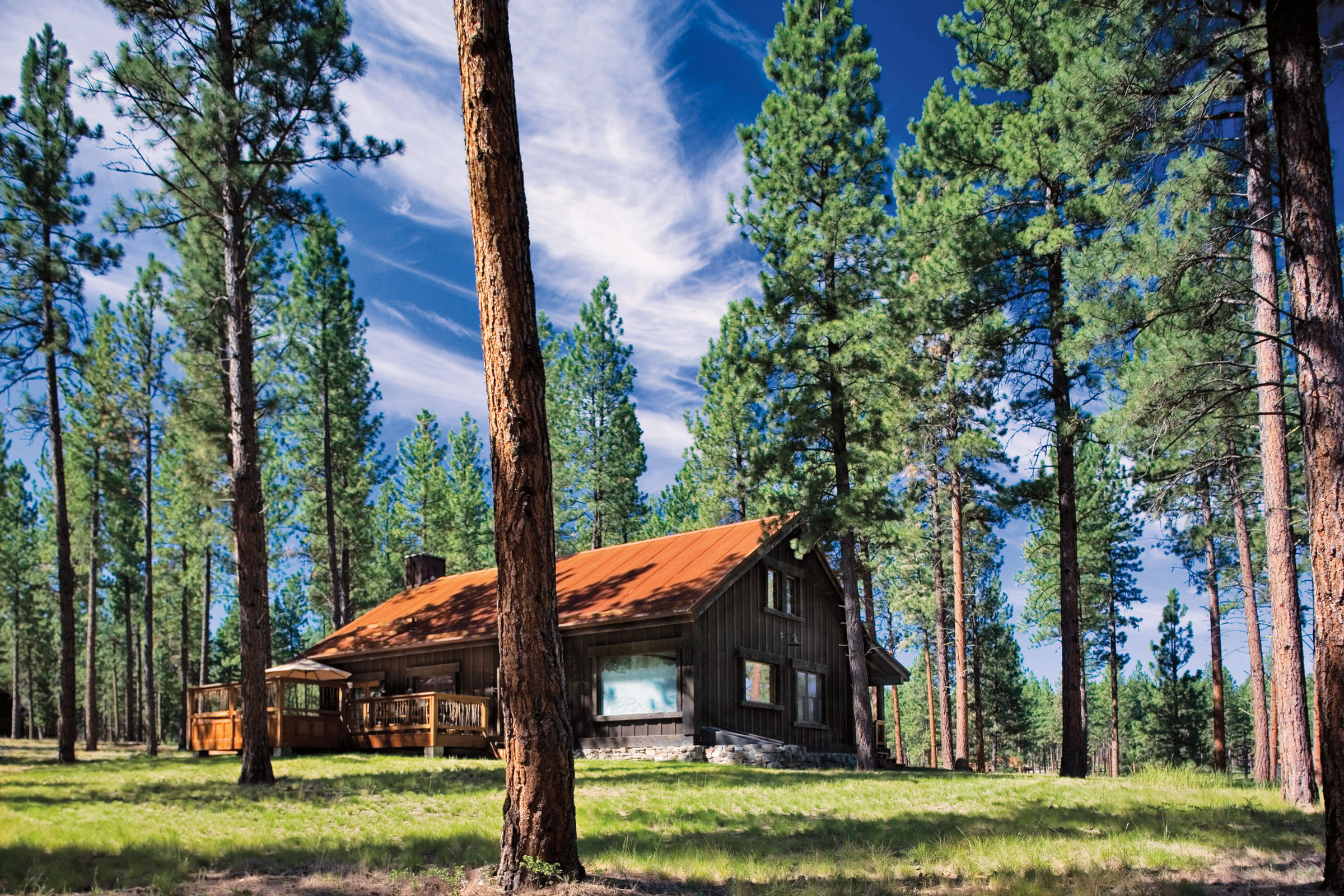 Saddle up at Paws Up.
One of Montana's premier equestrian centers happens to be located at The Resort at Paws Up. As the largest privately-owned in the state, the 72,000-square-foot Saddle Club boasts a 23,000-square-foot riding arena, a VIP skybox suite with a fully stocked bar, a 52-stall barn, equestrian showers, an impressive tack room that can seat 20 people for private dinners, and acres upon acres of outdoor pasture.
Run by experienced trainers and ranch managers, the Saddle Club offers private lessons, group rides, tours and horse care lessons.
Let the kids go wild.
Seven days a week, Paws Up's "Kids Corps of Discovery" provides kids from 4 to 17 a full range of hands-on, age-appropriate activities and crafts including:
• Lewis and Clark Discovery Day—an opportunity to learn map and compass reading; compete in a scavenger hunt; test their memory with a Lewis and Clark matching game; design and make flags; hike; and explore the wilderness while getting instruction in fire building, knot-tying, and building a lean-to.
• A Day at the Ranch—the chance to visit a petting zoo; paint their own cowboy hat, a horseshoe or even a real horse; go on a nature hike; tour the Saddle Club; learn rope tying and lasso techniques; ride a pony; or enjoy an authentic wagon ride.
• Wild Montana!—a day dedicated to nature hikes, examining microscopic wildflowers and insects, pressing flowers, catching plankton, tracking animals, casting and painting animal tracks to take home, and taking lessons in fishing.
Nanny services, high chairs, cribs and kids menus are also available.
Restore yourself in rustic elegance.
In the middle of all this unspoiled wilderness sits your shelter for the night. And whether you opt for a spacious vacation home or a safari-style tent, Paws Up has done everything possible to ensure you'll sleep well.
Each luxury vacation home offers a hot tub under the stars, high-speed wireless Internet, heated bathroom floors, soft leather couches and the sublime comfort of what they call, The Last Best Bed®. The homes are secluded and private, but at the same time, close to the Resort's restaurants, the spa and the activities center. Included in your visit are two full days at Kids Corps of Discovery, plus your own vehicle for exploring the landscape.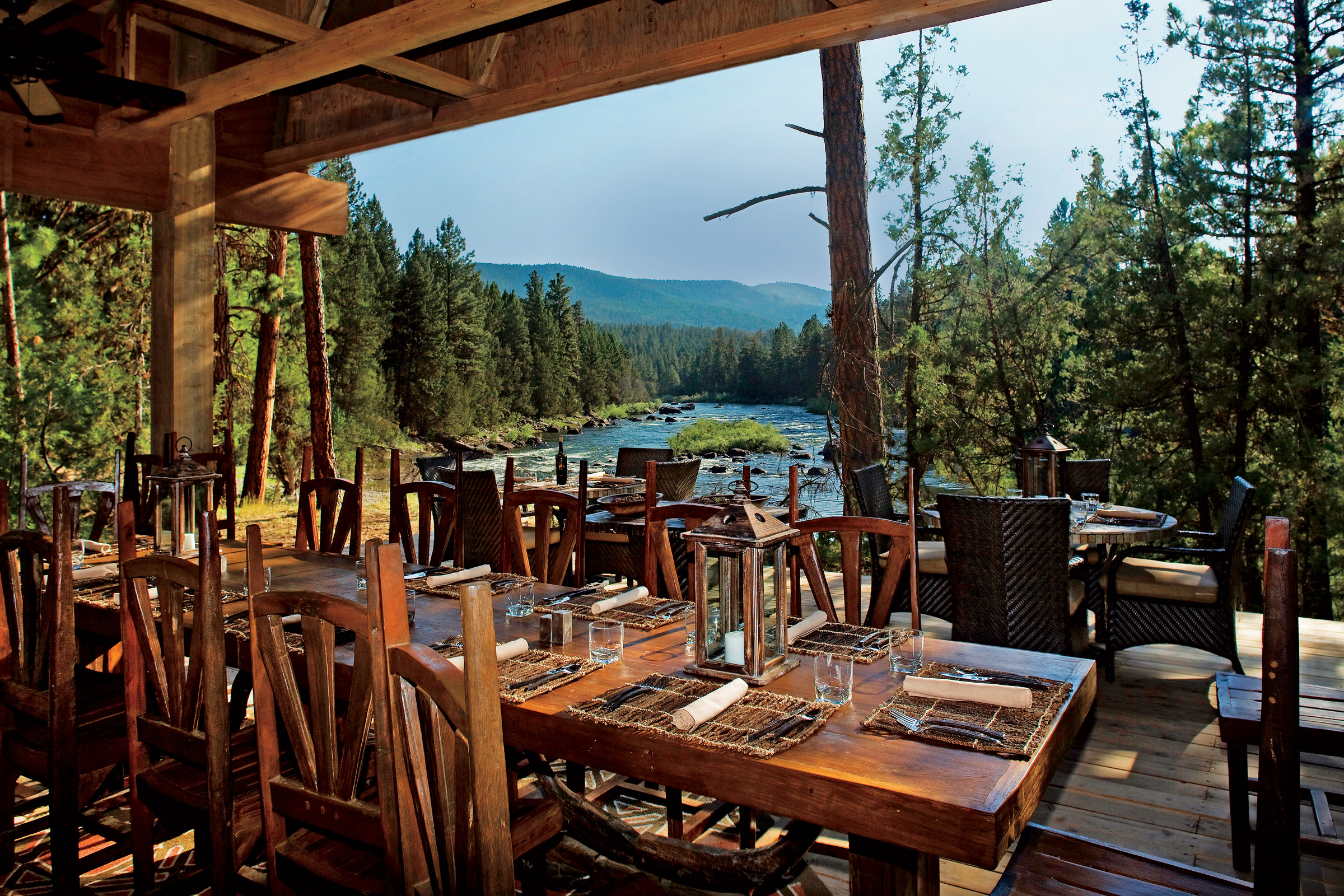 And no one does luxury camping as well as The Resort at Paws Up. They practically invented the genre with en-suite bathrooms, fine linens, king-size feather beds, western-chic furnishings, private decks and other over-the-top amenities. Camping butlers construct perfect s'mores on demand or can arrange your activities for the week. And within steps from each tent, you have access to a dining pavilion where you can dine on sophisticated Western cuisine.
Far from roughing it.
Just when you think nothing could be sweeter than the scent of Ponderosa Pines, along come the aromas of the Cook Shack. In case you're wondering, cowboy cuisine does not mean beans from a can at The Resort at Paws Up. No. Instead, Executive Chef Ben Jones sees to it that every meticulously prepared meal features imaginative, seasonal fare.
It's as if a trendy East Village hotspot had daily access to Montana's vast agricultural wealth. We recommend the seared diver scallops with huckleberry–balsamic purée or the Montana Natural lamp lollipops along with an earthy selection from the award-winning wine list.
The two on-site restaurants plus a world-class spa, Spa Town®, and the Grizzlyman Fitness Trail ensure you'll have an all-around rejuvenating stay.
Why settle for just a special occasion?
Leave it to nature to bring people together. Families and friends, old and new, visit The Resort at Paws Up year-round for all kinds of spectacular events.
Notably, the Resort's full calendar of Wilderness Workshops, festivals, trunk shows and private concerts fills an entire 64-page brochure (ask for the 2016 Program Guide). You'll find instruction in everything from horseback riding and drumming to cooking and painting. Especially popular are the Cowgirl Spring Roundup, Montana Master Chefs and Upper Crust, a "sophisticated cookie, pie and pizza camp."
If you can time your family trip with a holiday, The Resort hosts special festivities for Valentines Day, Mother's Day, National S'mores Day, Labor Day Weekend and Thanksgiving. For the 4th of July, there's a pie-eating contest and grand parade. On Christmas, there are personal visits from Santa. New Year's Eve fireworks and concerts light up the star-filled night.
Of course the scenery alone makes for an incredible backdrop for events like reunions, retreats, weddings and other gatherings.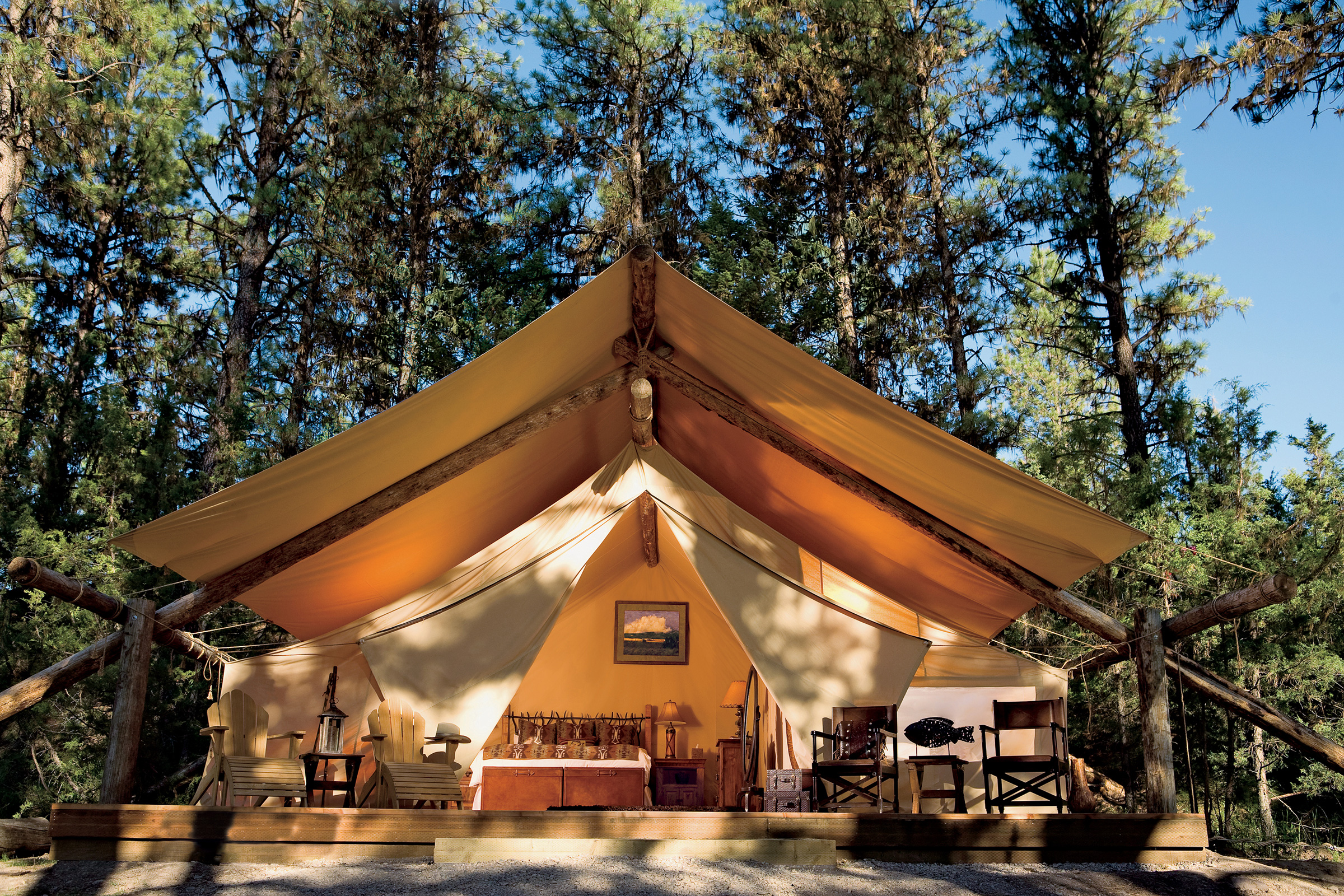 Be prepared for adventure.
There's so much to do at The Resort at Paws Up, it might seem hard to decide which boots to bring. On any given day, you could be rustling, riding, wading, hiking, dancing by the light of your campfire or stylishly stepping out for a 5-star dinner. Which means you may just find that having more than one pair is well worth the weight.
Otherwise, planning is easy. As remote as The Resort at Paws Up seems, it's just 35 miles northeast of Missoula, Montana. Missoula International Airport serves a number of
major airlines and offers direct, daily flights. Ground transportation to and from the airport is included.
To find out more and to book your stay, call 800-473-0601 or visit pawsup.com.