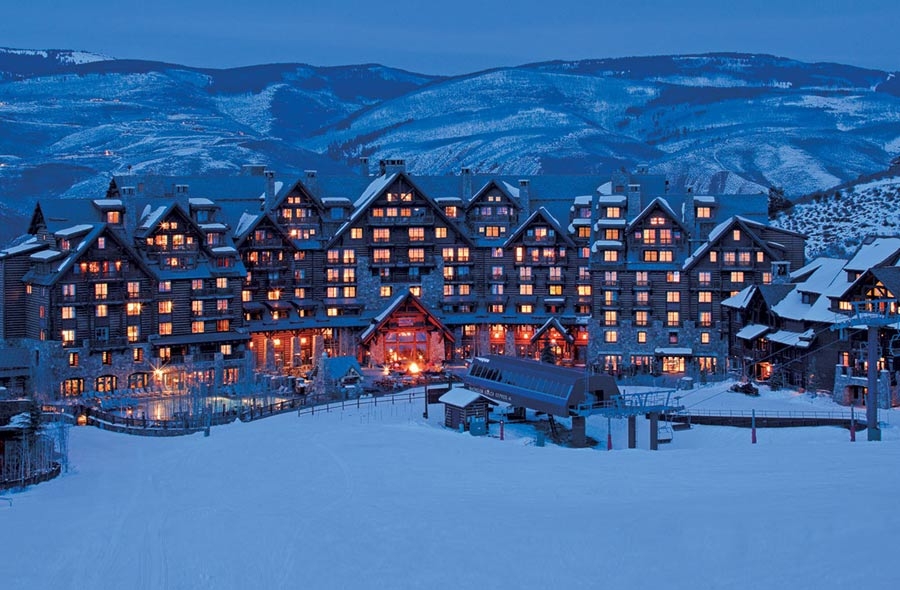 Imagine awakening each morning this winter and inhaling the pure, reinvigorating Colorado air.
You step out onto your balcony and admire the lush pines and diverse wildlife that envelopes you. After an eventful day of skiing, hiking, or playing golf (in season, of course), you saunter into the Forbes Four Star spa — one of the finest spas in the nation — and lose yourself in a relaxing massage or an age-defying treatment. For dinner, you indulge in several divine Wolfgang Puck-devised courses at Spago. Your day culminates blissfully before a roaring fire with a fine spirit; marshmallows are roasted as a "fire concierge" periodically tends to the coals (seriously).
This is just an average day at The Ritz-Carlton, Bachelor Gulch — a mountain paradise set in the heart of the exclusive enclave of Beaver Creek in sublime Vail Valley, Colorado. Featuring what Travel + Leisure named as the "best Hotel Spa in the Continental U.S.," it is a utopia for those in need of a relaxing getaway, and the quintessential lodging choice for experiencing the excitement of the FIS Alpine World Ski Championships in 2015. Upon arrival, you will immediately be struck by the vibrant, earthy "parkitecture" that defines this luxury hideaway resort. Inspired by the timeless lodges of our national parks, the design of the hotel elegantly melds clean, modern lines with natural earth tones, making it a perfect reflection of its pristine surroundings.
As you enter the lobby, all of the subtleties of the unique "grand lodge" design are abundantly clear, as is the rich aroma of fire-roasted chestnuts. You are welcomed by the concierge, who, like the entire Guest Relations team, goes far beyond simply facilitating your standard ski, spa and dining activities. Need to rent skis or secure a preferred tee time at the nearby best-in-state Red Sky Golf Club? That's easy. The hotel even offers the convenience of in-room ski boot fittings for Club Level guests. A representative from Gorsuch will come right to the room with a cart full of sample skis, snowboards and boots to choose from. But let's say you wish to rent a GoPro camera to capture your time on the slopes, or borrow the resort's Yellow Lab, Bachelor, to accompany you on a scenic hike. Don't worry, they've got you covered. And the hotel's convenient "ski-in/ski-out" design grants you instant access to Beaver Creek and Vail mountains, making skiing each day a breeze. And when you're done for the day, the Ski Concierge will clean and store your equipment until you're ready to hit the slopes again.
With their decor carrying over themes from the rest of the posh-but-naturalistic resort, the exquisite rooms are studies in swank New West elegance. If you so choose, you will greeted in your room by the scent of eucalyptus, apple cinnamon or vanilla. While a vast majority of the luxurious rooms feature fireplaces, walk-out balconies and mountain views, you may want to consider splurging for one of the 40 awe-inspiring suites where you can experience the absolute highest level of opulence the resort has to offer. Jetset is particularly fond of the Ritz-Carlton Club Level, with its private access, open bar and delectable daily food presentations.
The Ritz-Carlton, Bachelor Gulch truly distinguishes itself from other AAA Four Diamond destinations with its unparalleled 21,000 square-foot spa. There you will discover 19 distinct treatment rooms, an elegant manicure/pedicure salon and luxurious men's and women's saunas — all surrounding a stunning, candlelit, rock-adorned grotto with a colossal, coed "lazy river" hot tub as its centerpiece. Inside, soothing Mountain Raindrop massages, the signature Copper Tub Soak therapy, and so many more sumptuous treatments are available. Each spa treatment is tailored to provide those of any demographic (including couples, newlyweds and expectant mothers) with maximum relaxation and repose.
But the spa is far from the only attraction at the resort; a state-of-the-art fitness center, heated outdoor pool, whirlpools, and so much more await you. In addition to the only Spago in Colorado, there are several gourmet restaurants to try — the latest being Buffalos, where mouthwatering bison burgers, bison steak salads and other seasonal, ingredient-driven menu items are prepared right in front of guests in an open kitchen. The new restaurant is part of a major renovation project The Ritz-Carlton, Bachelor Gulch recently completed which also included refreshments to the guest rooms, event space, Great Room and spa and the opening of the new Bachelors Lounge.
Oh, and one more thing. Don't be surprised if you run into a few celebrities during your stay. We had the memorable experience of having the entire Canadian ski team lead the diners at Spago in a rousing rendition of "O Canada." Oh, Bachelor Gulch. We will definitely be back.