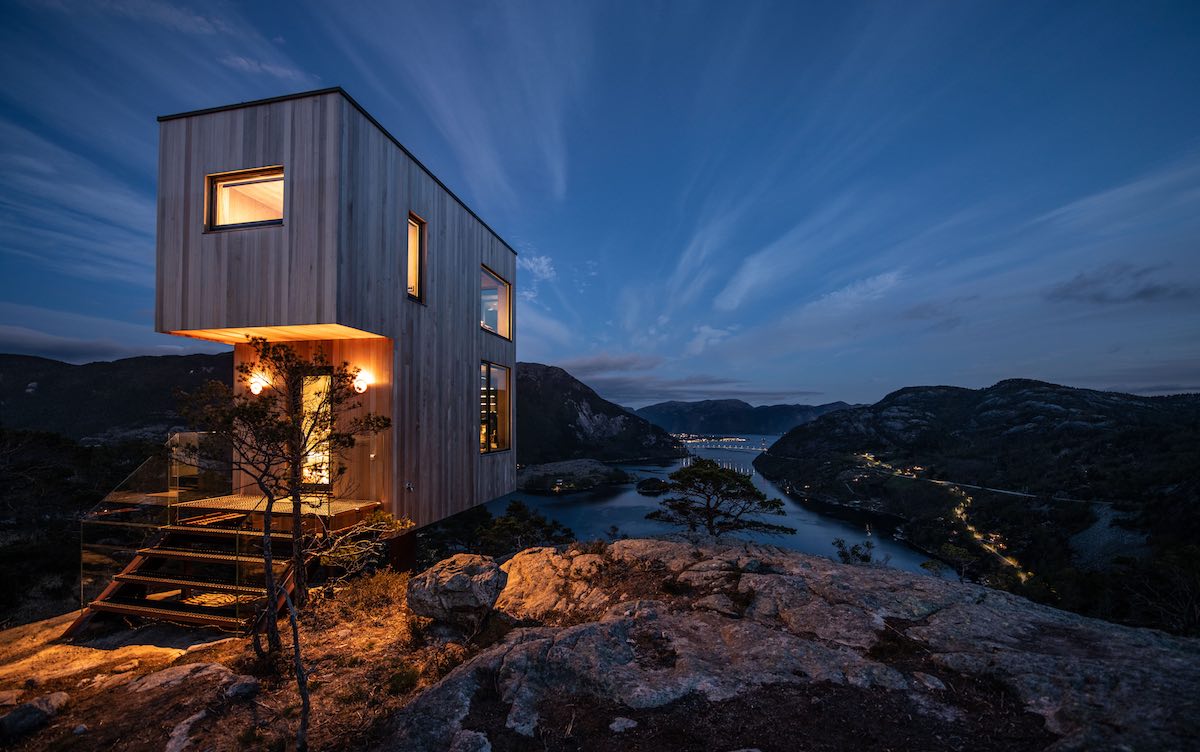 Norway is famous for its spectacular fjords, glorious scenery, and lush pine forests. Despite being partially located above the Arctic Circle, this Nordic nation is a hot destination for campers, hikers, and nature enthusiasts from across the globe. The winter skies unfurl in gorgeous displays of the Northern Lights every year, and the summer months are notorious for having upwards of twenty hours of daylight. Though not the first-place tourists think of for a high-end wilderness adventure, Fjord Norway—known for its winding rivers and sprawling wilderness—houses numerous fancy cabins with innovative designs. Its campsites offer top-notch comfort, providing space to reflect and unwind—miles away from civilization. They are also unique and sustainable, compact yet comfy, and should be on every avid outdoorsman's bucket list. Here are some of the best in show.
The Bolder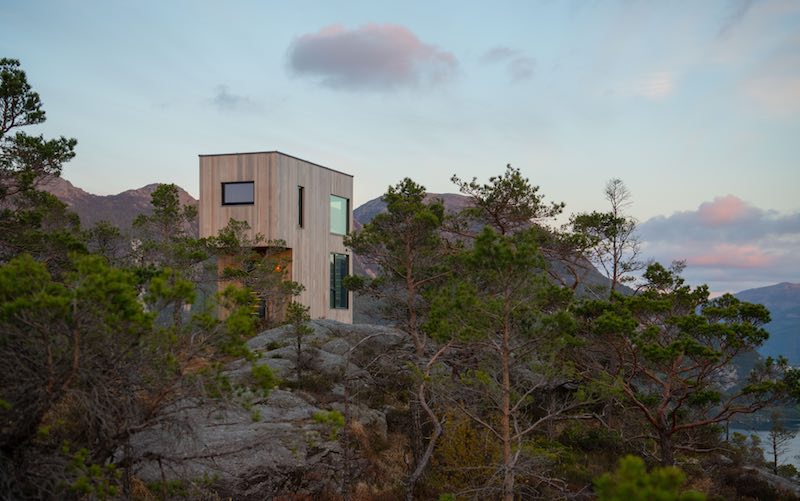 Boasting a clean and simple Scandinavian design, the Bolder is perhaps most notable for its view of Pulpit Rock, which was recently featured in the Hollywood blockbuster Mission Impossible 6. The cabin provides unparalleled panoramic views of the surrounding area, instilling a sense of serenity and peace in all who visit. The tiny bungalow, which is tucked away in the fjords of Norway, is a snug and cozy place to read or write with minimal disruption. The structure is built on a singular column in order to reduce its environmental impact—a trademark consideration of Nordic architects. The ubiquitous pine forests are an adventure in waiting, home to an abundance of wildlife. The Bolder can be either a romantic getaway with a partner or a prime location for a weekend escape with friends, and its seclusion makes it the perfect place to commune with the wilderness.
The Woodnest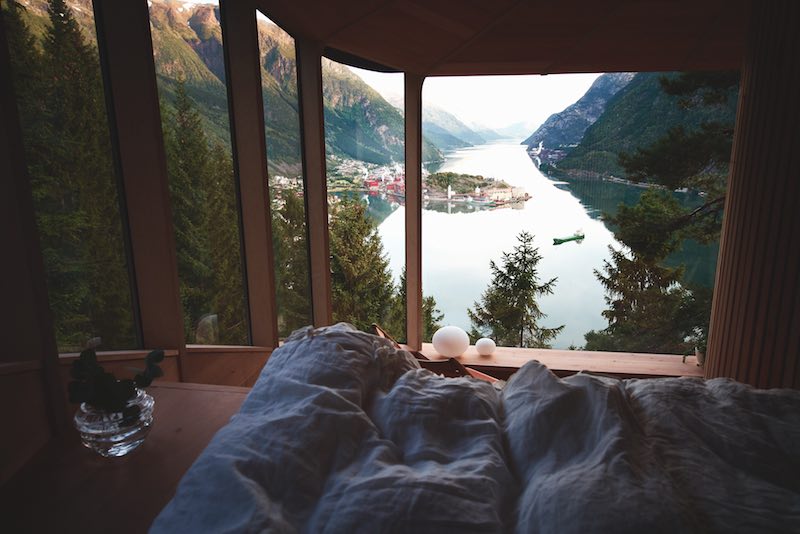 With its whimsical treehouse design, built to resemble the Norwegian "kongla" (pinecone), the Woodnest is unlike any other cabin you have rented before. Suspended high in the trees, this jaw-dropping cabin is punctured by a giant tree trunk that carries the bulk of the structure's weight. This 15×2 meter treehouse supplies world-class comfort for such a small space, with floor-heating for the winter months, Wi-Fi connection, and a mini-fridge to boot. The alder wood interiors are stunning and charming and can house up to four people—ideal for a family trip, or an intimate wilderness excursion with your spouse.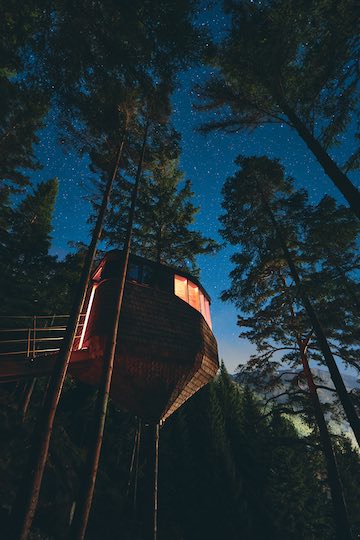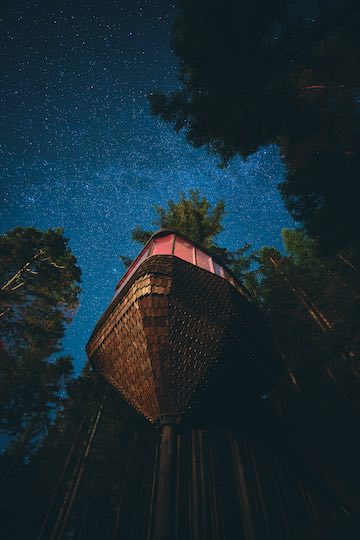 The aerial views from this cabin are made even more spectacular by the open skies above; this location is a great place to stargaze, or during the winter months, catch a glimpse of the Northern Lights. If you are looking for an unmatched adventure in the Norwegian woods, the Woodnest will elevate your vacation to new heights.
Flokehyttene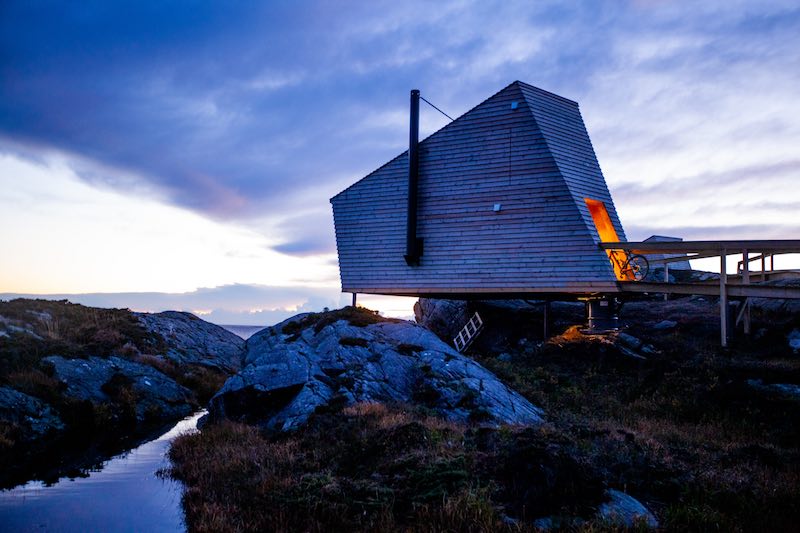 Located 30 minutes from Haugesund city center, Flokehyttene is a group of cabins situated right by the ocean. Here, brilliant sunsets and rolling waves can be seen from the structures' giant panoramic windows, and the rocky coastline is quintessentially Nordic, inspiring the imaginations of those fortunate enough to stop by. The gentle sounds of the tides ebbing and flowing create a serene atmosphere, where visitors can cast off their cares and relax.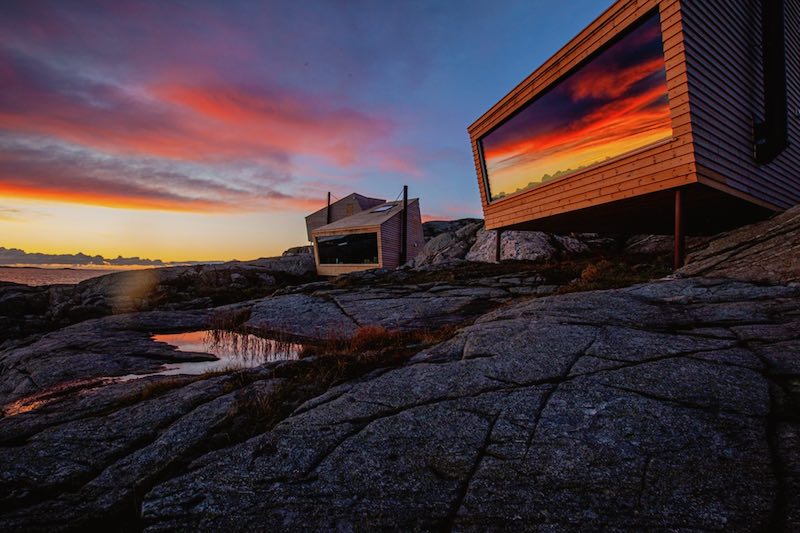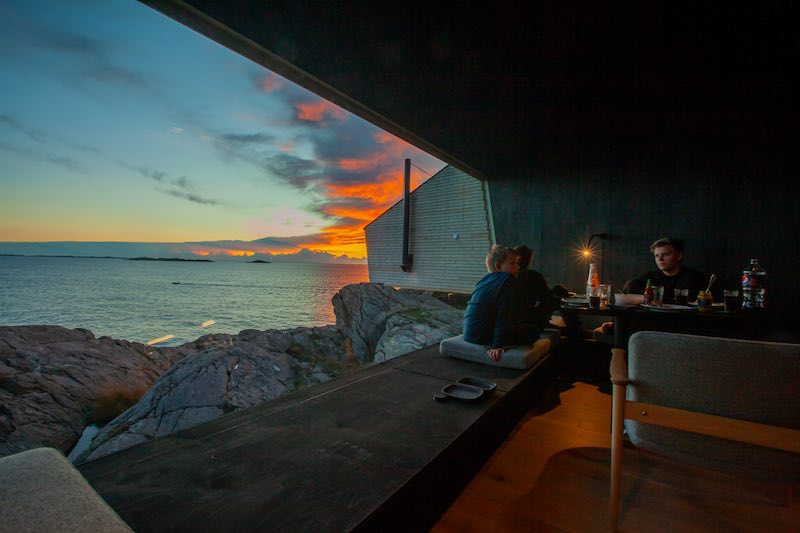 The cabins' quaint fireplaces and Norwegian charm allow residents to keep warm as they bond with family and friends. Each facility sports a clean, minimalistic design, with a five to ten-person capacity, making it great for a one-of-a-kind coastal getaway with loved ones. The soft breezes and spectacular scenery have solidified Flokehyttene's status as one of Norway's most coveted campsites, and the memories made here will last a lifetime.