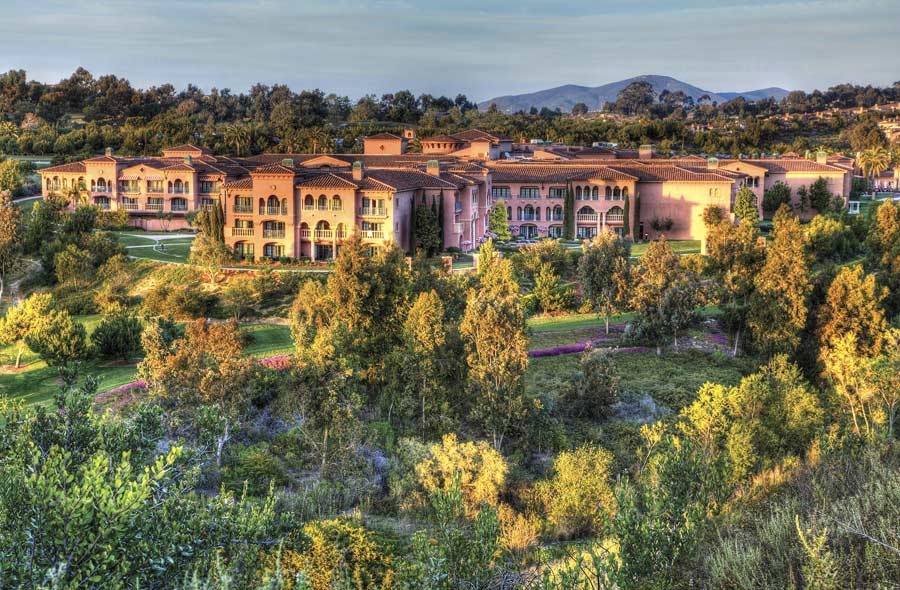 If the question were to be posed, where would a millionaire escape to for a weekend to enjoy some well-deserved downtime? One answer would surely be San Diego.
Blessed with an average annual temperature of 70 degrees and 70 miles of coastline, this SoCal destination is the ideal spot to find bliss on the beach and to indulge in championship golf, award-winning spas, fine dining and so much more.
STAY: THE GRAND DEL MAR
Serenely nestled amidst Los Peñasquitos Canyon Preserve, this premier San Diego resort destination seamlessly combines the old-world charm of a Mediterranean estate with the modern luxury of an elegant resort. The result: a destination unparalleled by San Diego hotels and lauded by Forbes Travel Guide as one of the world's six elite triple five-star resorts. Little wonder, given the sun-kissed San Diego luxury hotel's stunning natural beauty, championship Tom Fazio golf, one of only 23 five-star spas in the U.S., and irresistible dining – epitomized by Addison, helmed by Relais and Châteaux Grand Chef William Bradley. This is The Grand life – just east of the Pacific and well beyond compare.
For additional information and reservations,
please visit TheGrandDelMar.com or call 855.314.2030.
STAY: BEACH VILLAGE AT THE DEL
The cottages and villas at Beach Village elevate the San Diego, California luxury vacation rentals experience to a whole new level of sophistication and comfort. Secluded within the private resort setting, an array of accommodation choices intrigue and delight those who long for a luxurious respite from the everyday.
From stylishly appointed accommodations with spectacular ocean views to a wealth of resort amenities including fine dining and a world-class spa to impeccable personal service, Beach Village at The Del offers an experience unlike anything you've ever known but like everything you've always imagined a Southern California vacation could be.
For additional information and reservations,
please visit BeachVillageAtTheDel.com or call 855.239.7170.
EAT: ADDISON
Located within The Grand Del Mar, the restaurant is situated on The Grand Golf Club, allowing sweeping views of the course's spectacular fairways. Addison features acclaimed Chef William Bradley's artisanal approach to cooking, offering contemporary French cuisine with an emphasis on seasonal California ingredients. For example, half of the produce served at Addison is procured from Crow's Pass Farms in Temecula.
Bradley conveys his persona and culinary prowess through a simple, yet inspired menu. Since 2006, he has been creating highly praised dishes reflecting his artisanal approach to cooking, such as Baby Sea Scallops with Leek Fondue and Vermouth, and Smoked Short Rib with Red Pepper Confiture and Wild Arugula.
For additional information and reservations,
please visit AddisonDelMar.com or call 858.314.1900.
PLAY: TORREY PINES
Torrey Pines, set atop cliffs towering above the Pacific Ocean, has long been recognized as one of the nation's premier municipal golf facilities where golfers marvel at the views of the coastline, deep ravines, and classic championship golf holes. Often referred to as a "golfer's paradise," the Championship North and South courses test even the most seasoned players' skills.
For additional information and tee times,
please visit TorreyPinesGolfCourse.com or call 858.452.3226.
RELAX: SÈ SPA AT HOTEL PALOMAR
Cavernous and cool, the spa inside downtown's newest boutique hotel feels luxe, even from the waiting relaxation area with flavored waters and cozy couches. Sè Spa will transport you to the Silk Road with indulgent rituals inspired by the cultural and aesthetic influences of Southeast Asia, India, Northern Africa and Japan. Before your appointment at this luxurious spa, enjoy the relaxation room along with a welcome ritual of the signature Sè Spa Soma – an alcoholic or non-alcoholic shot mixed artistically by the fine bartenders of Saltbox Lounge Restaurant. Whether you choose to spend an hour or a day, Sè Spa will help restore your balance and focus.
For additional information and reservations,
please visit HotelPalomar-SanDiego.com or call 888.288.6601.
EXPERIENCE: STARS & STRIPES USA-11
Experience the thrill of sailing aboard Stars & Stripes USA-11, the same yacht raced during the 1992 America's Cup. These interactive cruises are considered the ultimate in sailing adventure. Grind the winches to help raise and trim the sails, take your turn at the helm or just hang on as you zip around San Diego Bay aboard one of the fastest and most famous sailboats in the world.
For additional information and reservations,
please visit SailUSA11.com or 866.250.3568.
PLAY: MADERAS GOLF CLUB
Tucked away amidst the rolling hills of north San Diego, Maderas offers a combination of golf strategy and design mastery. Award-winning conditions, services and amenities tell a true Southern California story here, and this challenging course possesses many hazards, narrow fairways and fast greens. Golf publications and players alike continue to tip their hats in respect, making Maderas one of San Diego's top-rated golf courses. Beauty and challenges can both be found here, as holes wind through the cliffs, rock outcroppings, creeks and hills of San Diego's North County.
For additional information and reservations,
please visit MaderasGolf.com or call 888.823.9860.