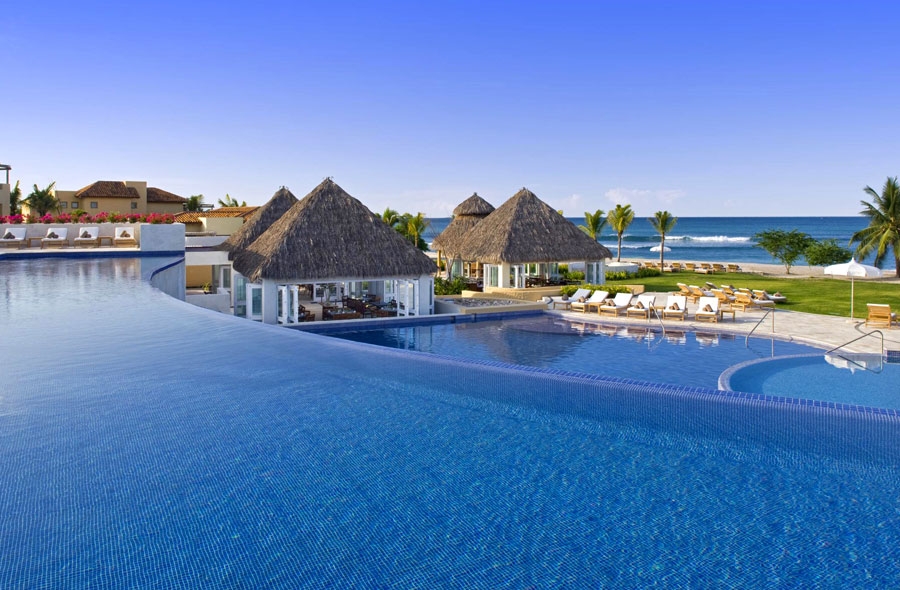 Hacienda Puerta Campeche, A Luxury Collection Hotel
A palette of richly chosen colors and an assortment of textures characterize the Hacienda Puerta Campeche.
This luxurious hotel is a gem flawlessly displaying a collection of restored 17th century historical houses. Wander through corners of deeply colored yellows and oranges, exploring traditional lifestyle with modern luxuries. Discover the beauty of this colonial hotel along with attentive, personal service. Meander throughout our one-of-a-kind pool, with secret alcoves and open windows offering views of an outside world of beauty.
Open the mahogany wood door and step barefoot onto the rust-colored Mayan tiles of our 15 traditionally decorated guest rooms or suites. Fully restored in original buildings with modern technology, our rooms feature 18-foot ceilings with exposed beams and rafters, comfortable beds, and cool tiled floors. Sink into the pillow-top mattress of an untouched bed, amongst flower petals, or curl up in our cotton-woven hammocks and nap, Mayan style. The relaxation options are endless at Hacienda Puerta Campeche.
TheHaciendas.com
Hacienda Santa Rosa, A Luxury Collection Hotel
A small hacienda located on the Yucatan peninsula, Hacienda Santa Rosa is a former nobleman's private estate. Features uniquely carved columns, ornately furnished gardens, and mysterious evening campfires. Come discover the beauty of 17th century Mayan sites with the authentic service of the Mayan people.
Spend an afternoon discovering the life of the Mayans – historical and contemporary. Stroll through local villages and hear stories of yesteryear and explore unique boutiques of talented craftsmen. Indulge in a massage amongst garden greenery, performed by our talented masseuses with indigenous products. Wake up to the chirping of birds and enjoy a deluxe breakfast by the pool with botanical garden views or in the privacy of your own suite's garden. Immerse yourself in one of our 11 unique guest rooms or suites. Place your belongings in hand-carved wood furniture, flawlessly accenting our attention to Mexican culture.
TheHaciendas.com
Hacienda Temozon, A Luxury Collection Hotel
A hacienda of coral walls and white moldings awaits you in the tropical rainforest ambience of the Yucatan peninsula, Hacienda Temozon recreates the belle époque of the Mexican southeast. Special details, like weathered wooden doors and rose petals, reflect the natural display of our Mayan cultural surroundings. Delight in the fine service this superb residence offers and discover the beauty of ancient Mayan architectural sites.
Renowned for its premier services, Hacienda Temozon invites you to experience the most invigorating massage therapy the Yucatan Peninsula has to offer. Inviting, creamy pastels and a lush sub-tropical jungle welcome you to Hol Be Spa. Relax among natural rocks in a soothing candlelit cenote, featuring pristine massage beds, flower petals, and indigenous spa products, as a professional therapist relieves your stress. In the evening, indulge in a romantic dinner in the perfect hideaway complete with twinkling candles and the singing of birds.
TheHaciendas.com
Hacienda San Jose, A Luxury Collection Hotel
Magical walkways of gracefully cut flower arches and dirt pathways welcome you to Hacienda San Jose. Exquisite colors pop at every corner of the hacienda, making days brighter and nights more mysterious against the flickering of candles. Located in the northern Yucatan peninsula, this historical plantation house is close to the Chichen Itza archaeological site and exudes an atmosphere of the past.
Your stay at Hacienda San Jose will embrace historical aspects of our culture while maintaining world-class luxury of the finest facilities. Spend a morning by our elegantly constructed outdoor swimming pool, amongst tropical greenery and flora, and rest under the lustrous sun in one of our native hammocks. Be pampered at our outdoor spa cabin or share a massage with a special someone under ceiling-high wood beams. After, enjoy gourmet regional and international cuisine overlooking the main gardens or a romantic dinner set amongst natural dirt paths, exotic tree roots, and candlelight.
TheHaciendas.com
Hacienda Uayuamon, A Luxury Collection Hotel
Colonial Mayan architecture, high wood beam ceilings, elegant décor, and spacious public areas await you at Hacienda Uayamon. Built in 1700, Hacienda Uayamon reflects the sophistication of a luxury resort with attention to surrounding natural beauty. Walk through our candlelit private gardens amongst the whistling of frogs or discover Edzna, an intriguing Mayan site. With superior service and accommodations, this unique hotel has been awardered by the well known magazine Travel & Leisure in the Global Vision Awards 2010 in the category "artisan revival".
Indulge in the soothing waters of our outdoor pool and sink into our cotton woven hammocks over crystal waters for a mid-afternoon nap. For a luxurious, world-class experience, renew your spirit at the spa at Uayamon amongst graceful tulle netting, pristine massage beds, and aromatherapy candles. For an evening of elegance and international cuisine, Uayamon Restaurant provides a candlelit atmosphere amongst traditional hacienda walls with fresh-baked bread and creative dishes prepared using fresh, indigenous ingredients.
TheHaciendas.com
The St. Regis Punta Mita
Give in to the seduction of pampering treatments in the luxe Remède Spa, play on two Jack Nicklaus Signature Golf Courses or a tennis center nestled in a palm grove. Nearby, the Marietas Islands beckon with natural beauty and outdoor adventures.
Bespoke service is a trademark of the beachside The St. Regis Punta Mita Resort. Personalized butler service, 24-hour Private Dining as well as a selection of tempting on-site restaurants enhance the entire experience. The 10,000 square-foot Remède Spa Punta Mita offers a full menu of sumptuous pampering and revitalizing treatments in nine treatment rooms, couples suite or nail lounges.
Three infinity pools on the beachfront offer the perfect destination for outdoor relaxation. Should guests wish to venture beyond the pool and beach for water-based adventures, they may also call upon Pool Butlers to arrange snorkeling tours and reservations for scenic excursions around the area. Next to the resort, guests can experience the two par-72 Championship 18-hole Jack Nicklaus Signature Golf Courses, or tennis courts nestled in a grove of palm trees.
StRegisPuntaMita.com
The St. Regis Mexico City
A commanding presence within the city's center, The St. Regis Mexico City is ensconced in the sleek, 31-story Torre Libertad. It overlooks the Paseo de la Reforma in the heart of one of the city's most exciting zones.
Revel in architectural legend Cesar Pelli's iconic design; be pampered in the exclusive Remède Spa and refreshed in the indoor swimming pool. Savor superb Mexican cuisine at the elegant Diana Restaurant.
Attentive, personal service is a hallmark of The St. Regis Mexico City. From legendary St. Regis Butler Service to a 24-hour Concierge Desk, the hotel staff anticipates and answers guests' every need or request with consummate efficiency and care. Guests may conduct business with confidence and ease through an onsite Business Room that is fully equipped and offers professional secretarial service.
Stregis.com/MexicoCity