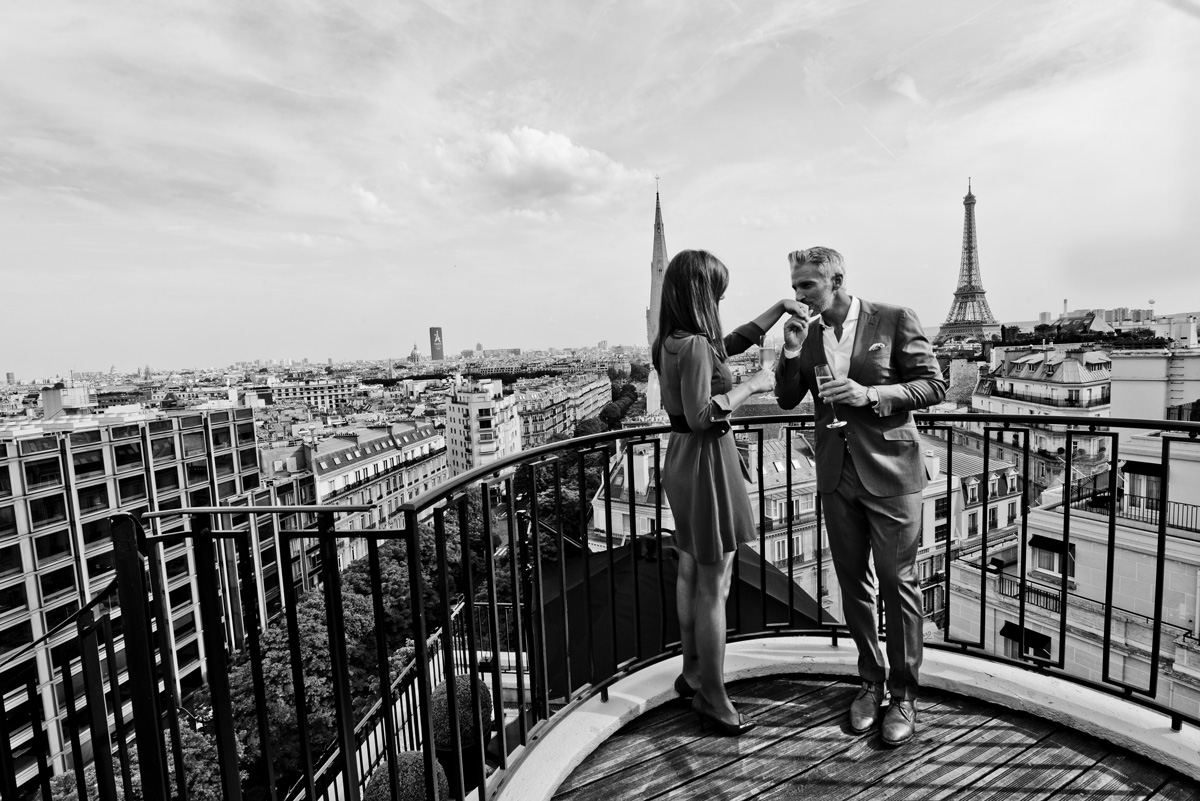 It's a cool May evening. Just as the clock is about to strike midnight, I glance at the vivid, purple and gold journal lying at the edge of my desk. Beckoning for my attention is the page I had titled "Top Bucket List Moments" on a quiet New Year's Eve. Scribbled across the page I see, "Go to Paris for the weekend and stay at the George V Hotel." At the time, I made this note, I knew nothing about the Four Seasons George V Hotel. I had simply seen a picture of it online and felt as though it held the most romantic viewpoint of the Eiffel Tower I'd ever witnessed. As a professional photographer, images speak directly to me through my heart. It had been decades since I was last in Paris and that image was saying to me, "look no further." I had found the most romantic spot in the City of Love and it was time to return.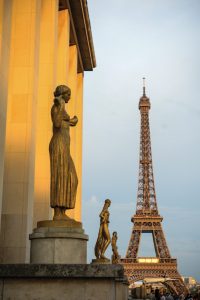 I subsequently discovered that not only was the George located just steps away from the Champs-Elysées — the most fashionable street in Paris, lined with the best designer stores — it is also the hotel most preferred by the fashion industry during Couture Week. It is a place to see and be seen. As a fashion photographer keenly attuned to beauty, I can see why. Its elegant rooms possess private terraces with commanding views of the City of Light. The Georges' romantic spirit of elegance, nestled in the arms of this magnificent city, was calling me. I have learned in life, you need not wait to say "yes" to what calls to you, so I said "Oui" to Paris for the weekend, and from the moment my driver from the hotel greeted me with, "Bon Jour Phyllieeeees" (to my fresh glimpse of Gustave Eiffel's tower and the lovely trees lining the Tuileries), I knew in my heart I was "home."
Pronounced zhorzhg sank, the hotel was built in 1928 in the 8th Arrondissement and contains eight stories, each with their own stories to tell. Like the street it sits upon, this property was named to honor the British sovereign who had helped France during the First World War, George V. King George the Fifth (as he was known in English) was the son of King Edward, and grandson of Queen Victoria. It seems fitting that this beacon of beauty is currently owned by an investment company controlled by the Prince of Saudi Arabia. Named after a sovereign, and now owned by a sovereign, this hotel treats every guest like royalty.
Entering through the black framed revolving door, as my hand touched the brass bar, I felt like Dorothy arriving into the Technicolor of Oz. I walked into a dream come true. The lobby, drenched in light, soothed my heart with a warm greeting of rich, fresh colors and lush furnishings. Like a cathedral of sparkling crystal, a large chandelier cascaded overhead, while a breathless profusion of flowers unfurled their fragrance. This stunning symphony of symmetry was all accentuated by 18th Century tapestries.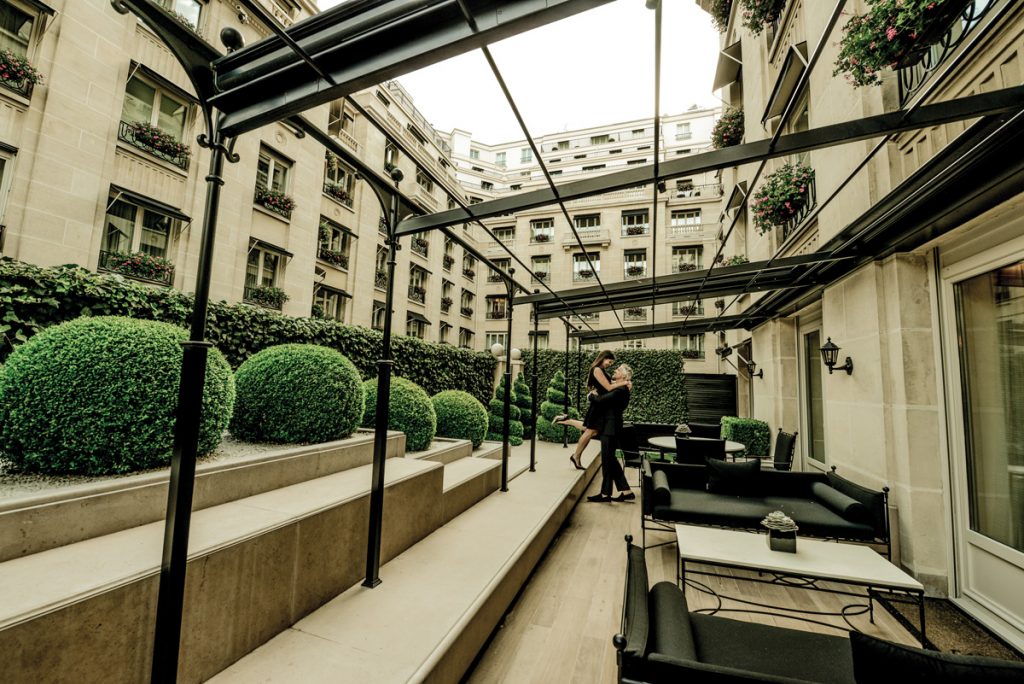 Before I could even set my luggage down, the gracious "femme" at the front desk had upgraded me to the Romantic Suite and I was whisked away into this landmark of 244 rooms and 59 suites. Escorted to my suite, I was greeted by soft strains of classical music, which serenaded a large vase of lemon-yellow roses waiting for me on my nightstand, beautifully framed by golden-hued tapestries lining the walls. My private terrace was draped in a swath of pink roses, soaking up the sound of laughter which bellowed from the Golden Triangle below. I succumbed to its charm, and my love affair with Paris was in full swing. No time to settle into my room; I grabbed my Nikon d800, savored a chocolate-covered-strawberry, and finished my chilled glass of crisp champagne. It was time to take it all in.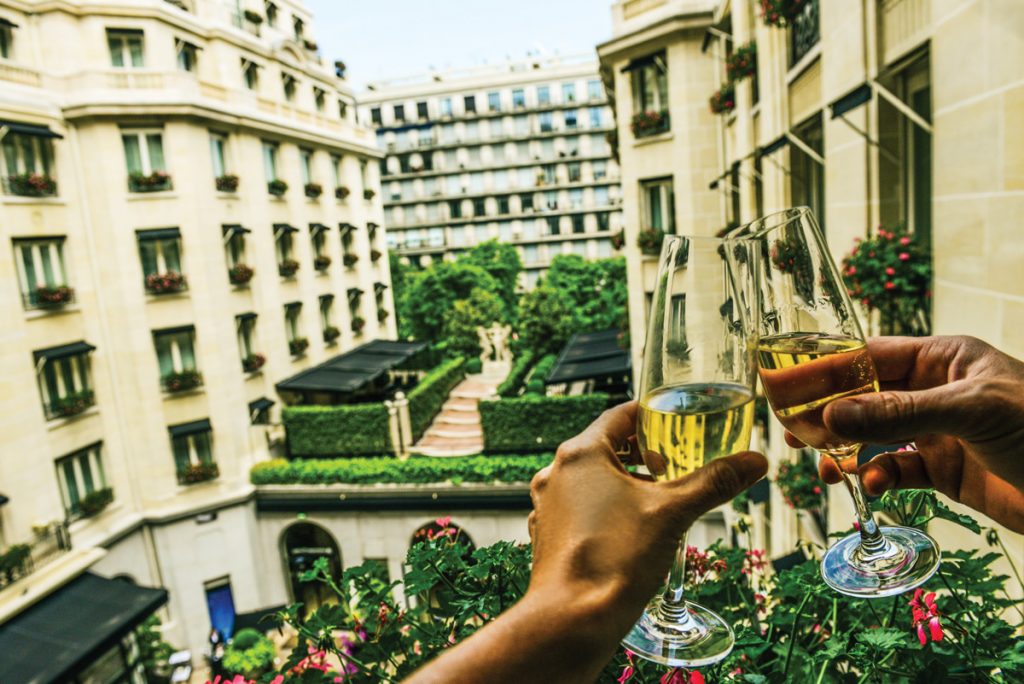 George V offers a heady list of distinct offerings and I was eager to imbibe. A small list of some of these signature experiences can make your head spin and your heart flutter — all signs of being in love.
Spread before me like jewels in a crown were four signature experiences, each worthy of their own five stars award. I could descend the winding staircase underground to the legendary wine cave to explore the George V's cool cache of treasures containing over 50,000 liquid gems. (Restaurant Director and Master Sommelier Eric Beaumard is directly responsible for creating that treasure trove.)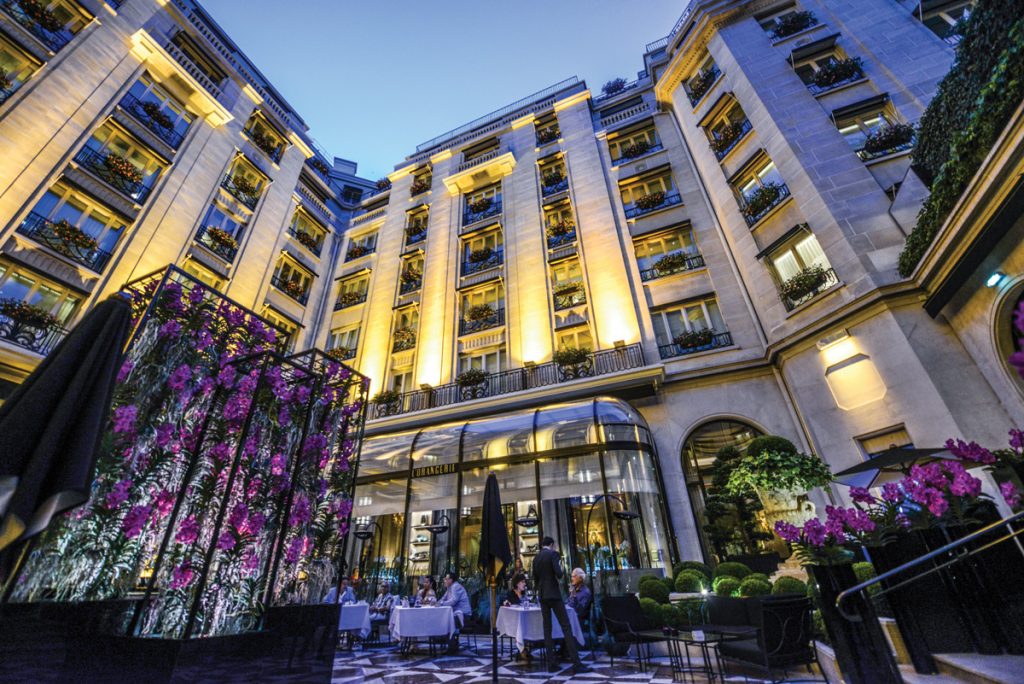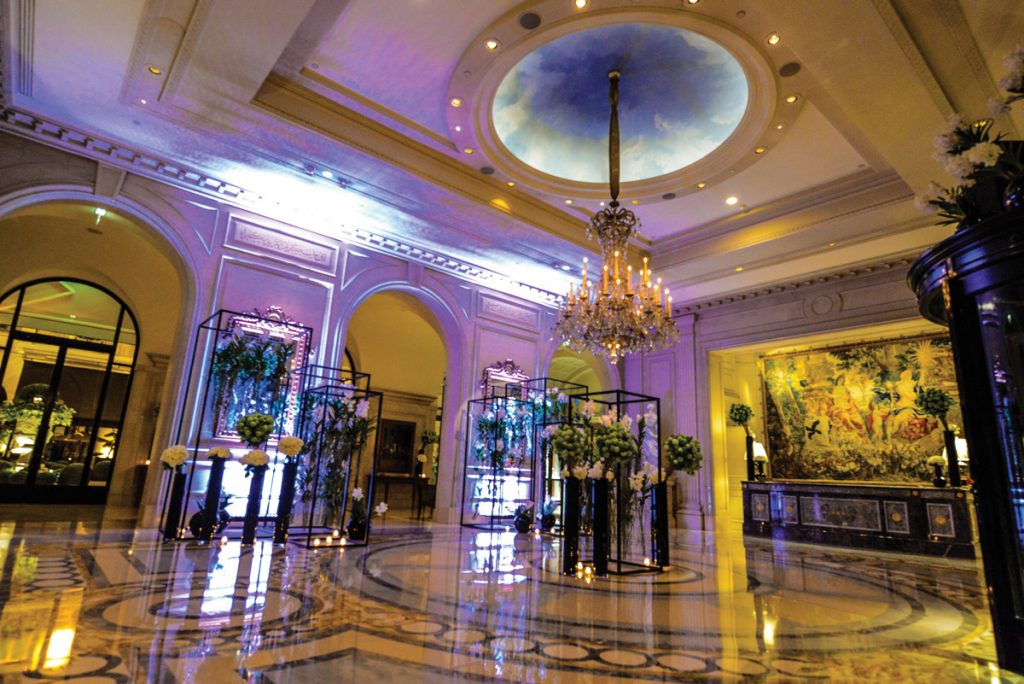 Or I could choose, under the masterful skills of Gregory Hazac, to learn the art of "Le cocktail" and receive the honor of discovering his private recipe for his concoction entitled "Dream Lover." I might flourish in floral skills under the guidance of the hotel's famed Artistic Director, Jeff Leatham, due to his master class in "Fleurology" known as "The Jeff Leatham Experience." If it were sunrise on a Tuesday, I could awake and indulge in the "Run My City" experience. The 5.5-mile trek would wind me thru the City of Light as it was becoming light, allowing me to encounter Paris' monuments in relative seclusion. It would certainly be a nurturing way to gift myself with extra vitality and exquisite uncrowded views.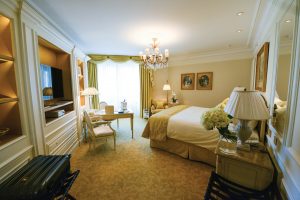 I offer my compliments to the hotel as each of these exquisite offerings are complimentary to hotel guests. One amenity for which I  never need to be asked is to be pampered in a luxury spa/salon. Located on the 4th Floor of the hotel, the Pop Up Spa by Leatham features an array of relaxing and rejuvenating treatments. It's worth noting that this exquisite space is both contemporary and temporary, as the spa itself is undergoing a beauty treatment — a renovation to be complete sometime in 2018.
As someone who appreciates culinary perfection, dining at one of the three George V restaurants would provide me with reason enough to put a future visit on my to-do list. The signature restaurant, Le Cinq, was crowned with a third rarified Michelin star last year. As such, there is often a three-month waiting list. Chef Christian Le Squer's Haute Cuisine exemplifies a creative approach to melding traditional French classics with a modern twist. Perhaps I could avail myself to Le Cinq's "Epicurean Escape Menu"?
Also on my "must taste" list could be the second restaurant, Le George, which offers fresh, modern Mediterranean-style cuisine. At this Michelin star spot, I could sample the "Flavor Menu for Two."  And lastly, L'Orangerie is an extension of La Galerie and the third of George's restaurants to boast a Michelin star. Here, Chef David Bizet serves superb traditional French contemporary cuisine, as reflected in its superb "Tasting Menu for Two." Regardless of what I choose, the hotel offers so much to indulge, enrich, and enchant, that I cannot go wrong.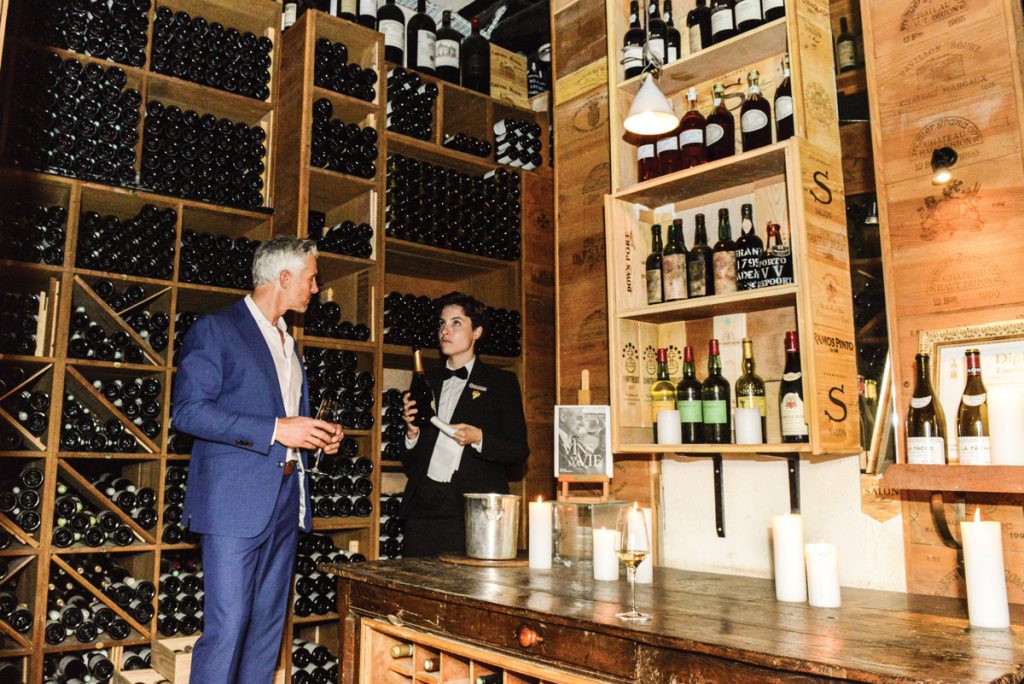 A whirlwind of delights, the days in Paris seemed to rapidly flow into the evening. My moments at the George and strolls through the city became fluid poetry in motion, as they were met with boughs of laughter and a deep-heart connection. It was the spirit of Paris that called to my heart and began to awaken me to a world of unborn feelings. So beautiful, it enchanted me. So empty, it has filled me. Paris became both the lover and the beloved I have been searching for. She was always in me waiting to become alive with passion and beauty. And there was no greater place to embrace that beauty than the Four Seasons Hotel George V.
---
The article was written by Phyllis Lane & Kimberley Ashley.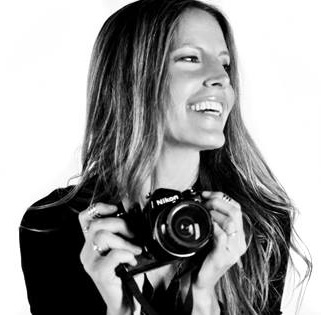 Phyllis Lane is a visionary artist, photographer, intuitive mentor, author and entrepreneur. 
Her photography has recently been featured in O Magazine and numerous national publications. One of her products was a "Favorite Thing" on Oprah's "O" list.
She is the co- founder of Couture Book, a maker of exquisite handmade coffee table books. She is an author of two books "10,000 Hours: You Become What You Practice" and "Surrender to the Flow".