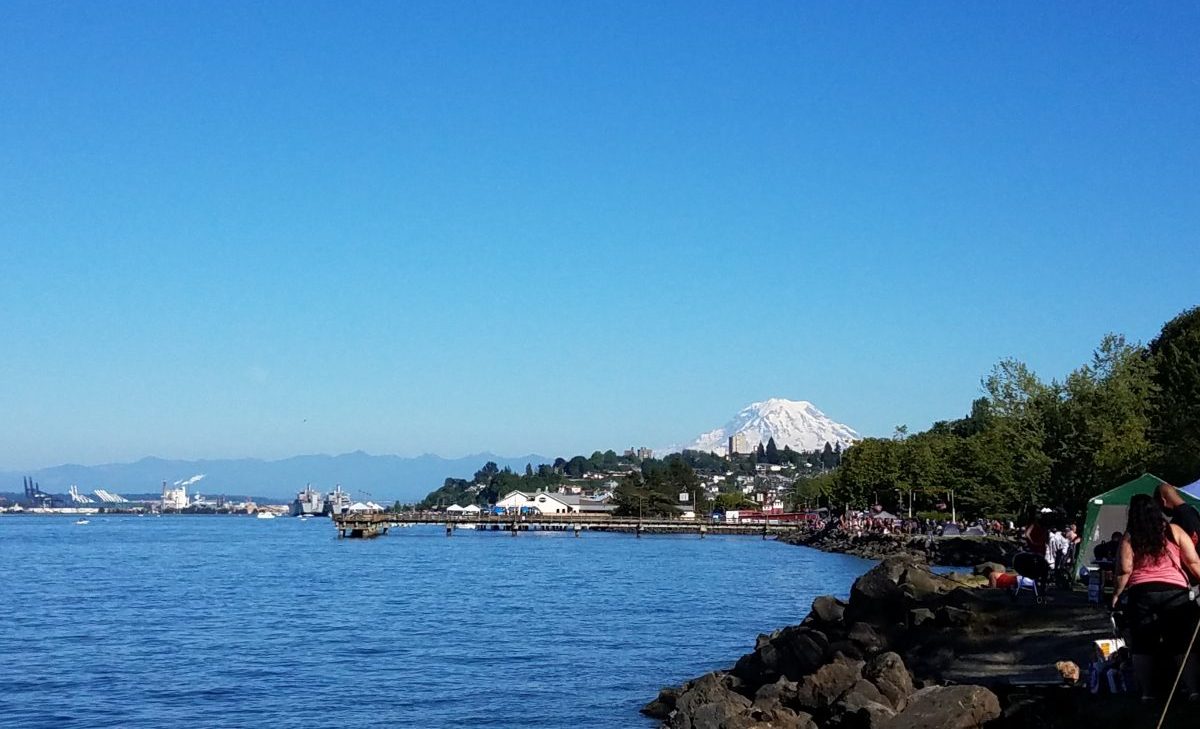 You'll come to Tacoma for the championship golf at Chambers Bay – site of the 2015 U.S. Open – but it's an unexpected bounty of waterfront luxury and a surprising glass-art pedigree that will have you staying an extra weekend.
Overlooking Puget Sound, Tacoma is a waterfront city just south of Seattle that has found fame in recent years as the epicenter for glass art in the Pacific Northwest. As the hometown of the most recognized name in studio glass art – Dale Chihuly – the master left his mark here, and spawned an entire arts scene in the process. Chihuly-original vases, bowls and sculptures are seemingly around every turn – lining pedestrian walkways, decorating a federal courthouse, watching over a local pub – and of course at the city's two glass museums.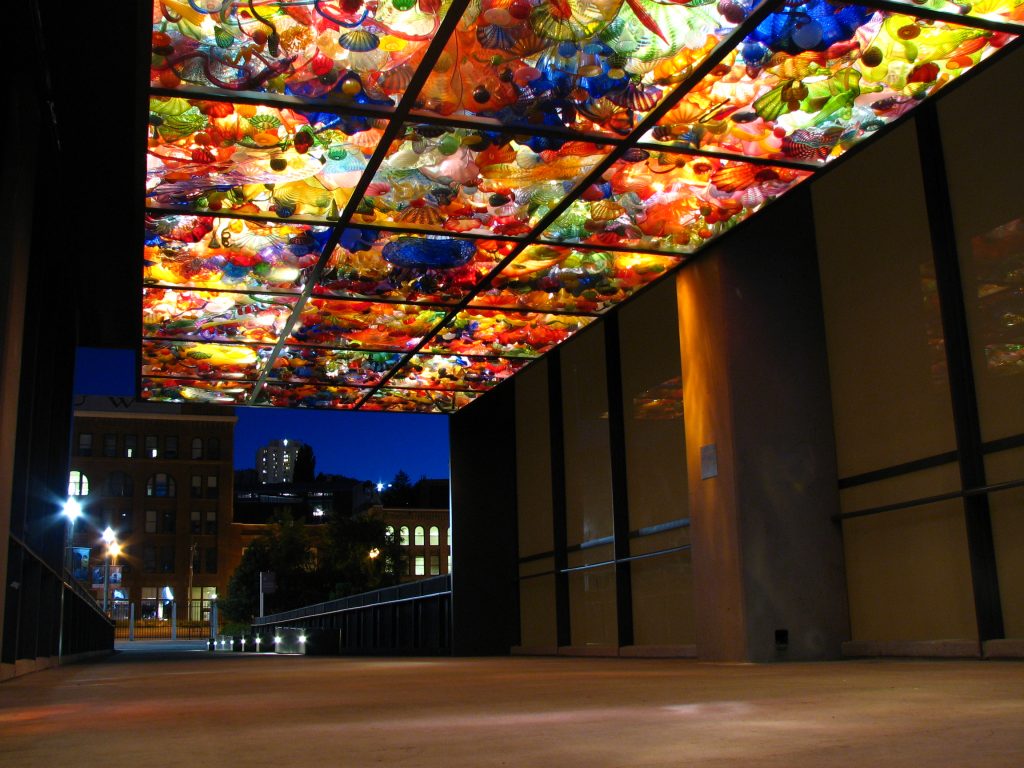 The first thing you'll notice upon arriving in Tacoma is that the city has two distinct sides, each with its own purpose: Downtown is the culture hub, with a thriving, walkable museum district. The waterfront has a slower, more relaxed pace, and recreation reigns there.
Downtown Tacoma for glass-art, classic cars and luxe eats
As you'd expect from the Chihuly's hometown, downtown Tacoma takes his legacy and runs with it. Glass art is not limited to the museums, and even the meals have an artistic bent.
Dine downtown: Pacific Grill
The sophistication of Tacoma's burgeoning art scene finds a natural continuation at Pacific Grill, which is by all accounts the city's go-to establishment for fine dining. The enclosed, black-curtained entryway has the feel of arriving at an exclusive club, a feeling that's reinforced by the juxtaposition of the modern, urban décor with an historic, exposed-brick interior. The dining room is suffused with low, warm light from seaform artwork throughout the space, and is an ideal showcase for the hearty menu from chef/proprietor Gordon Naccarato.
Once one of Food & Wine's top ten best new chefs in America, Naccarato has developed a fresh-seafood-heavy menu of typical Pacific Northwest fare. The chef's selection of oysters was a decision born out of indecision, but one that I recommend for an appetizer. After feasting on a variety of locally sourced oysters, the mignonette sauce (white wine with champagne vinegar) proved to be the real winner, and paired perfectly with a glass of Inniskillin Ice Wine from Vancouver, BC.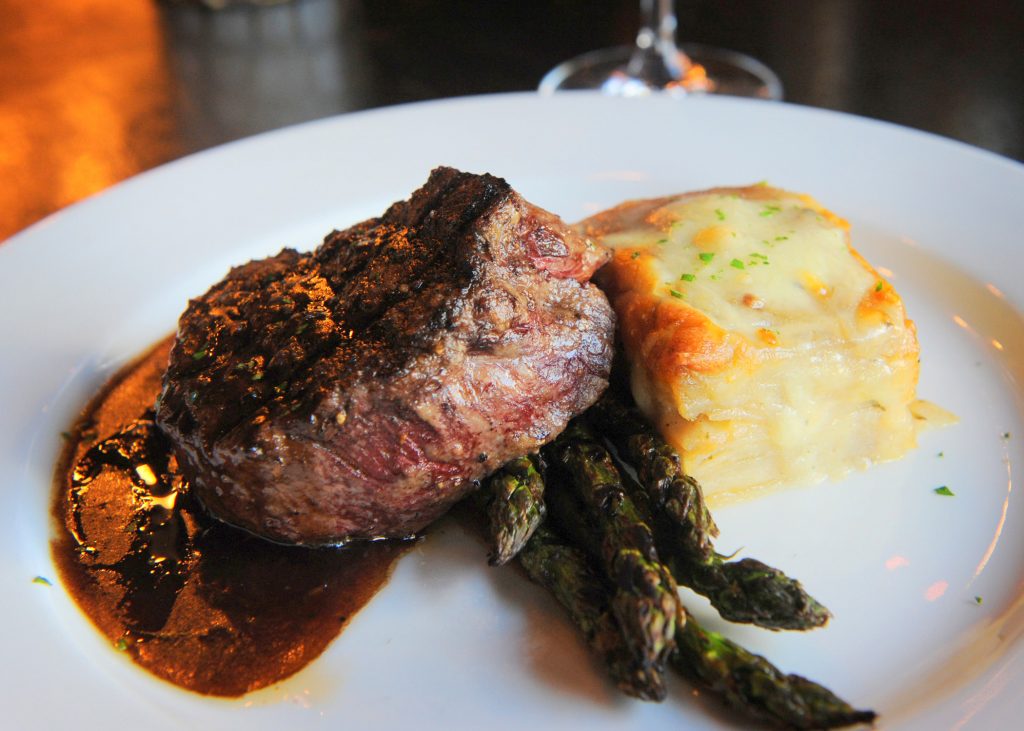 While Pacific Grill is best known for its seafood, the filet mignon as an entrée was a juicy, flavorful delight of protein, served as it was with smoked gouda and green beans in a red wine sauce. But since they're best known for their seafood, you'd be remiss to leave without adding a side of tender Maine Lobster Medallions, slathered in butter that absolutely melt in your mouth.
From just one meal, it's not difficult to see why Pacific Grill is one of the few Tacoma eateries that can attract Seattleites away from their own award-laden restaurant scene.
Do downtown: The art in the museums, and not in the museums
Tacoma's Museum District packs a lot of punch into a small area, but of the six museums downtown, two in particular deserve an extra hour (or two) of time.
The Museum of Glass is an imposing structure, with an unmistakable 90-foot stainless-steel cone towering over the museum and helping define Tacoma's skyline. Inside the cone sits a functioning hot shop surrounded by amphitheater-style seating, where you can watch local artists and students, as well as guest artists from around the world create vases, bowls, plates and sculptures in every color on the spectrum. In the museum's current premiere exhibition, glass meets steel as metal sculptor Albert Paley's work fuses the two rarely combined, fire-born media into modernist sculptures.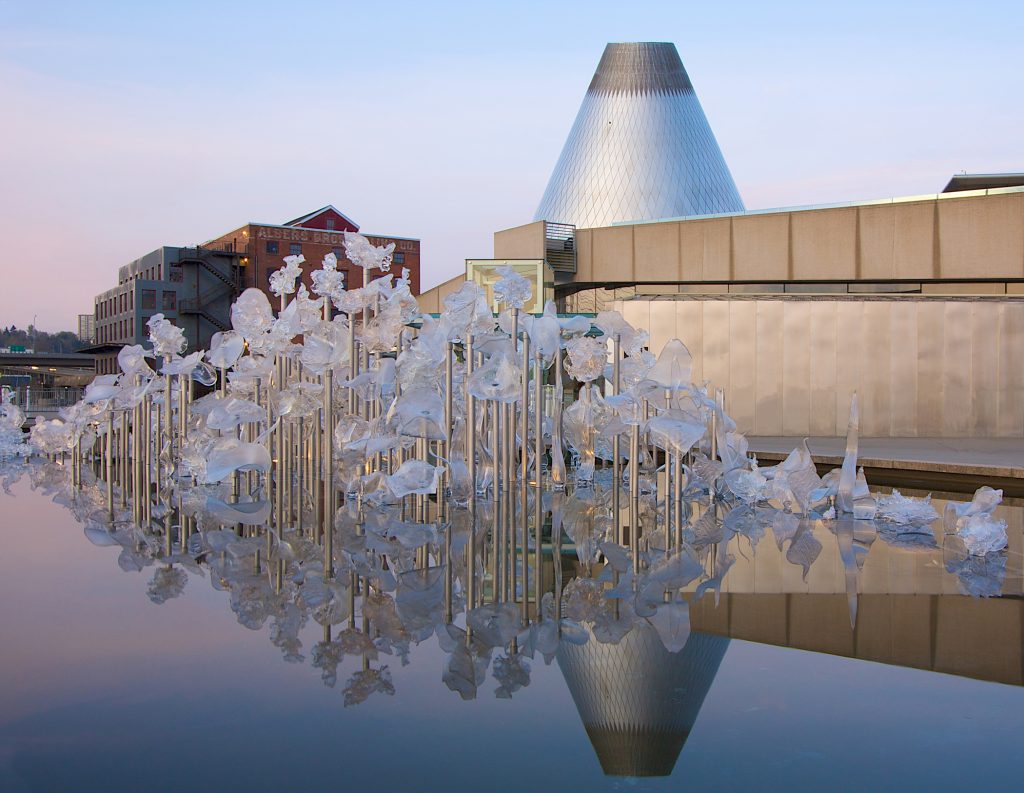 The largest car museum in North America, LeMay – America's Car Museum, is a dangerous destination for affluent visitors with an eye for the rare and exotic. More than 300 collector vehicles spanning centuries, technologies and styles line five floors of galleries and exhibits. Most impressive is the new Exotics@ACM: Seductive Supercars exhibit, where only the sleekest, most valuable and most overpowered earn a place on display. Low-slung Aston Martins, fierce Maseratis, limited-production Porsches and even a De Tomaso grace the top-level gallery, and their sleek lines will fill your dreams for years to come, and might even find a place on your shopping list.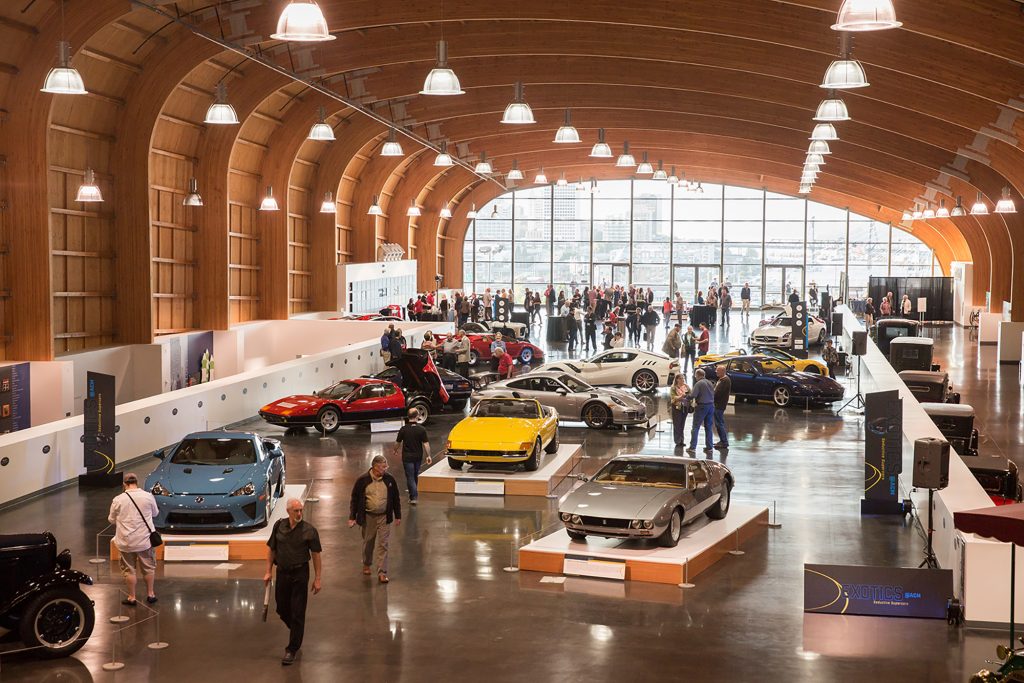 Stay downtown: Hotel Murano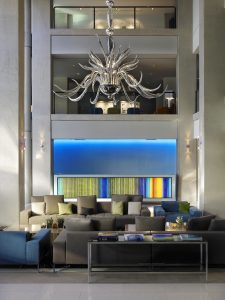 The culture of glass art that infuses Tacoma continues at Hotel Murano, the city's modern, glass-art-themed boutique hotel, situated in the middle of downtown. Sunlight filters through massive, multi-colored glass canoes suspended from the ceiling, and glass sculptures greet you from the moment you enter the lobby. Intricate and museum-worthy pieces are around every corner, some from local artists and some from as far away as Murano, Italy, the place from which the hotel took its name. Each floor of the hotel features a unique – and sometimes risqué – piece of art from a world-renowned studio-glass artist. The ultra-chic rooms provide city and water views that are unrivaled in downtown Tacoma.
For those who haven't yet experienced Chambers Bay Golf Course, the hotel's Championship Experience package includes two nights of accommodation, along with greens fees at Chambers Bay and two other nearby links courses.
The waterfront, for relaxing, refreshing and refueling
Tacoma's waterfront is a two-mile-long esplanade with nearly a dozen small parks dotting its route, seafood restaurants between them and bookended on one side by an open-air shopping/dining/entertainment destination, and the Museum of Glass at the other.
Stay on the waterfront: Silver Cloud Hotel
The best way to experience the waterfront is to base your visit there, and what better way than with a hotel where every room looks out over the water, and several come equipped with Jacuzzis and fireplaces in the bedrooms? Silver Cloud Tacoma Waterfront embodies that luxury.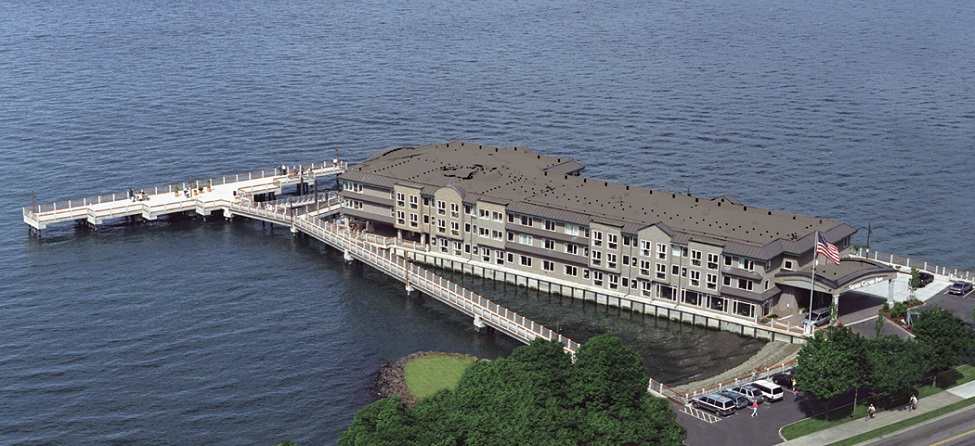 As the city's only waterfront hotel, the Silver Cloud makes magnificent use of that real estate, with natural light flooding the lobby unimpeded from the Puget Sound just outside the windows. Built over the water on pylons, every room in the Silver Cloud has a view of Puget Sound, and on clear evenings, from your room you'll watch Mount Rainier as it turns pink, then purple, then fades into silhouette as the sun sets.
Dine on the waterfront: Duke's Chowder House
Among the restaurants that line the waterfront, Duke's Chowder House is the local favorite, and finishing off a bowl of their clam chowder is as much a rite of Pacific Northwest passage as seeing the view from the Space Needle or visiting Pike Place Market. The restaurant is situated on a pier that juts out over the water, so the outdoor seating under shady umbrellas provides a panoramic view, fresh air, and a temperature that tempts you to stay for hours after the last plate is cleared.
While the walls are adorned with tongue-in-cheek pictures of restaurant founder Duke Moscrip, pun-filled newspaper headlines and nautical kitsch, the provenance and preparation of the seafood are taken seriously. The menu and website state in no uncertain terms that only sustainable, all-natural, traceable seafood from the Pacific Northwest and Alaska is served, and the proof is in the eating.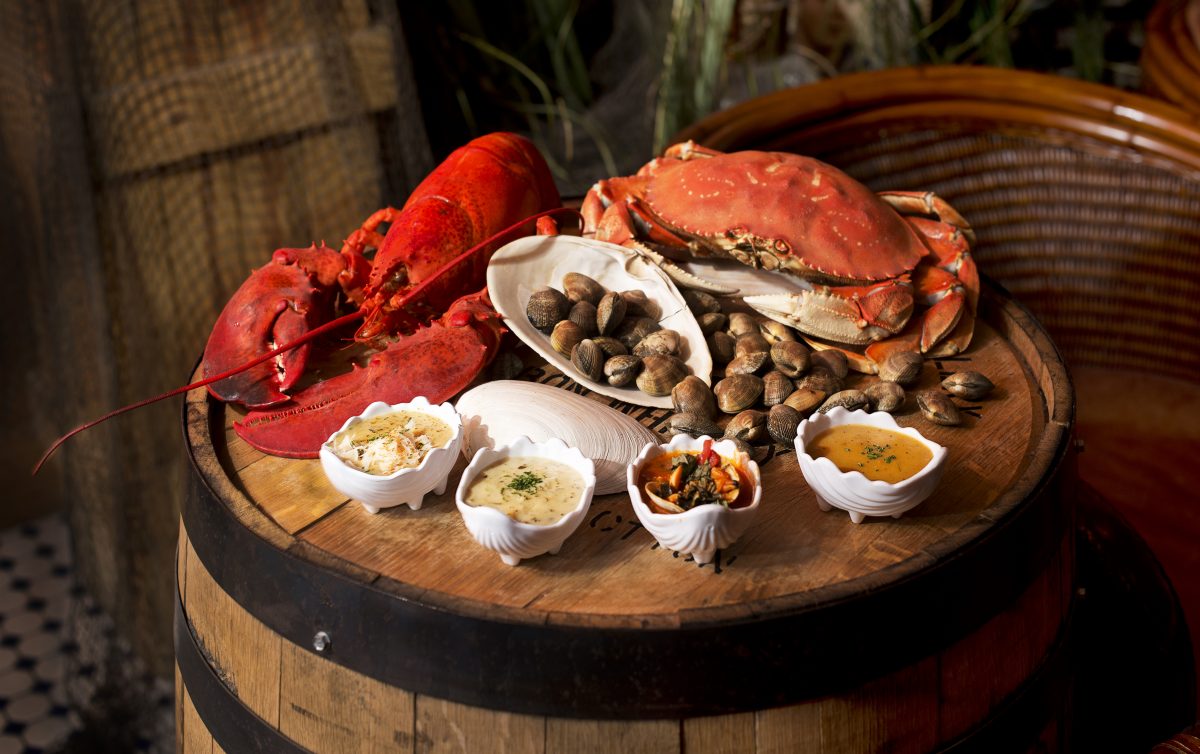 There's a good reason the restaurant is named after their chowder. For those who agree that variety is the spice of life, I recommend the Chowder Sampler that combines the Award-Winning Clam Chowder, the Lobster Mobster Pernod Chowder, the North by Northwest Seafood Chowder and the Ragin' Cajun Chicken Corn Chowder. Aside from the awards that are part-and-parcel of the chowder's name, the Award-Winning Clam Chowder's creamy smoothness with robust chunks of fresh clam also won the affection of our table.
See and do on the waterfront: Ruston Way Esplanade and Point Ruston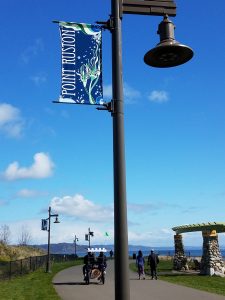 Tacoma certainly takes advantage of every foot of waterfront. Almost any time of day, you'll find locals jogging, walking, biking and blading the paved walkway with Mount Rainier looming in the distance. The parks along the esplanade are filled with enough art to make them de facto sculpture gardens.
The northern terminus of the Ruston Way esplanade is Point Ruston, a new high-end outdoor retail neighborhood where you'll get your shopping, sushi, gelato, champagne and craft beer fixes. With a spray park to keep the kids entertained within eyeshot and earshot, you can snack on seafood crostini and a glass of Maryhill gewürztraminer at Wildfin. Couples and families can best explore Ruston Way and the waterfront by rented bicycle surrey or out on the water by rented kayak.
Whether your passion and purpose are in the inspiration of arts, or in the relaxation and rejuvenation of waterfront activity, Tacoma has a side that will suit your needs.
Resources and recommendations:
Planning your trip – Travel Tacoma + Pierce County
Visitor information – Tacoma Visitor Information Center