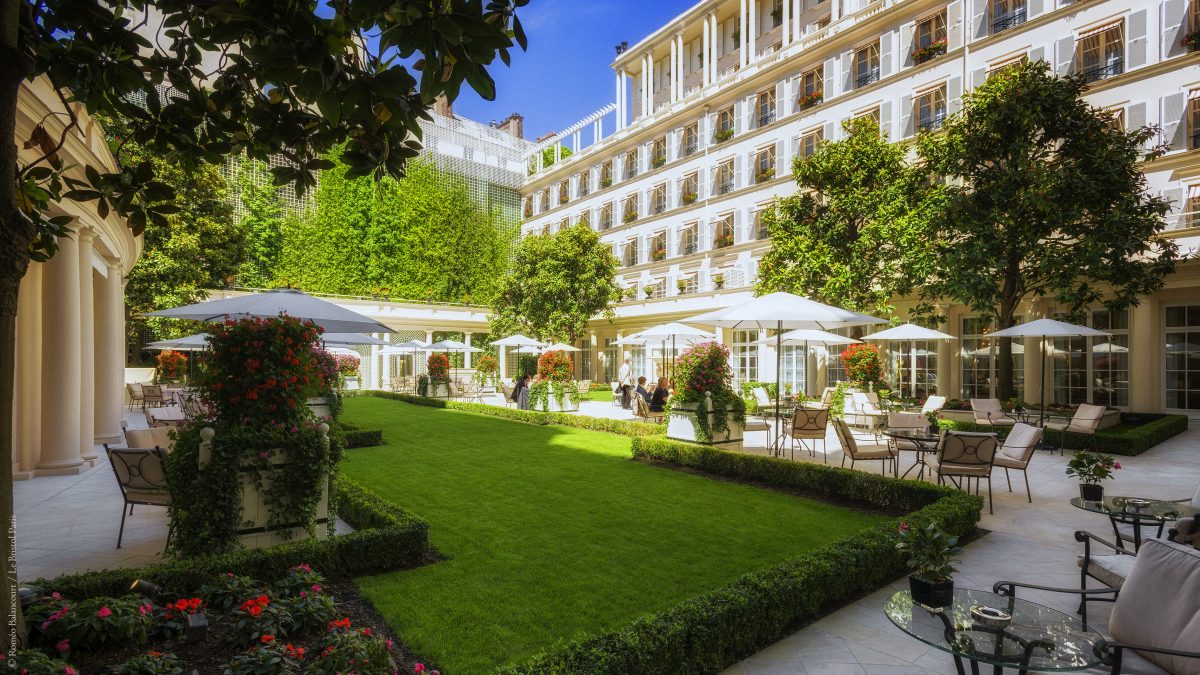 With a timeless opulence on permanent display, it's hard to argue against Paris being the ancestral home of luxuriousness. The radiant florals that permeate the air combine with curvaceous Neoclassical architecture and ornate Gothic arches at every turn, making for a bustling European city that seems as if it's hardly ever been touched by modern times. Add to this feast for the eyes a dash of art, some high fashion, and an updated take on classical French cuisine, and a quick visit to Paris the perfect escape into the lap of luxury. In that spirit, we have assembled the following selection of some of its finest hotels and restaurants so that you may better enjoy its unwavering majesty.
Hôtel Le Bristol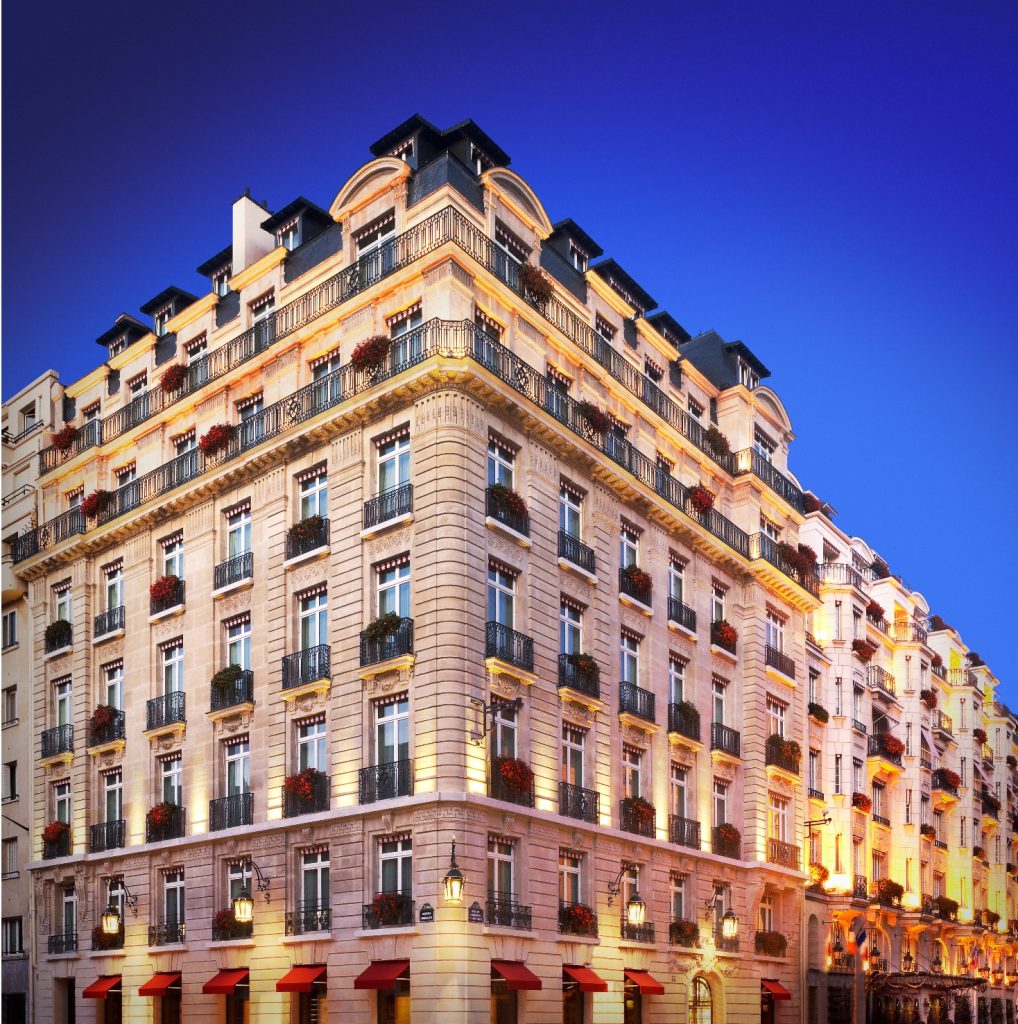 Embodying the absolute essence of Parisian savoir-faire, Hôtel Le Bristol is located on rue du Faubourg Saint-Honore, one of Paris' most prestigious streets tucked away in the fashion, design, and art district of the 8th arrondissement. Bearing a designation as the first-ever "Palace Hotel" — an honor bestowed to only the finest five-star hotels by France's Minister of Tourism — Le Bristol has been uniquely recognized for the exceptional qualities that embody French standards of excellence. Learning of these accolades, it's difficult to imagine there being any higher standard of quality, and this shining Parisian pearl of the Oetker Collection's Masterpiece Hotels delivers on this lofty promise.
Open since 1925, Le Bristol's elegance is immediately distinguishable, with giant bouquets of flowers, precious fabrics, works of art, and original Louis XV and Louis XVI furniture adorned throughout the hotel. Upon check-in, prepare yourself for entry into Le Bristol's carefully manicured experience, as the irreproachable staff hands over an 18-karat gold key that could be mistaken for a weighty souvenir. Don't be fooled, as this key unlocks an experience of unmatched charm and extravagance from the glass and wrought iron Art Deco era elevator, all the way up to your room and throughout the grand expanse of suites and restaurants, down to the ultra-modern Spa Le Bristol by La Prairie. Before proceeding past the lobby, be sure to keep an eye out for the most charming resident of the hotel: the renowned Burmese cat "Fa-Raon," said to have his own private residence, though its entrance remains a secret. These sentimental subtleties at every turn make all the difference when staying at Hotel Le Bristol, articulating just why it has long been reputed as the premier Parisian destination for celebrities, heads of state, foreign diplomats, and elite travelers alike.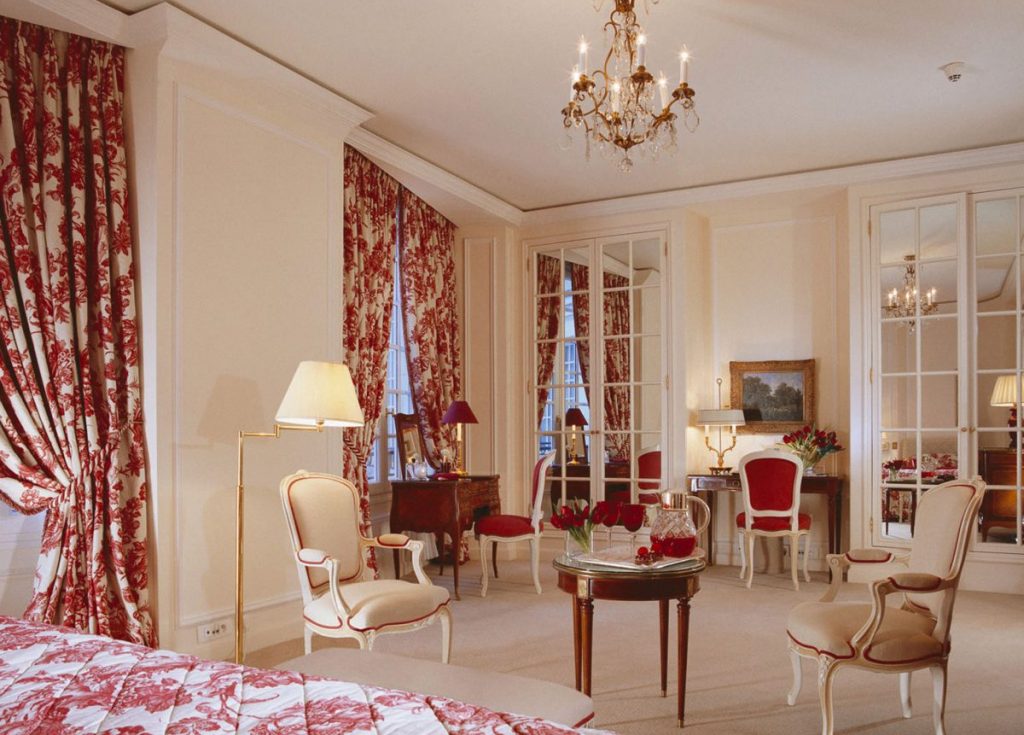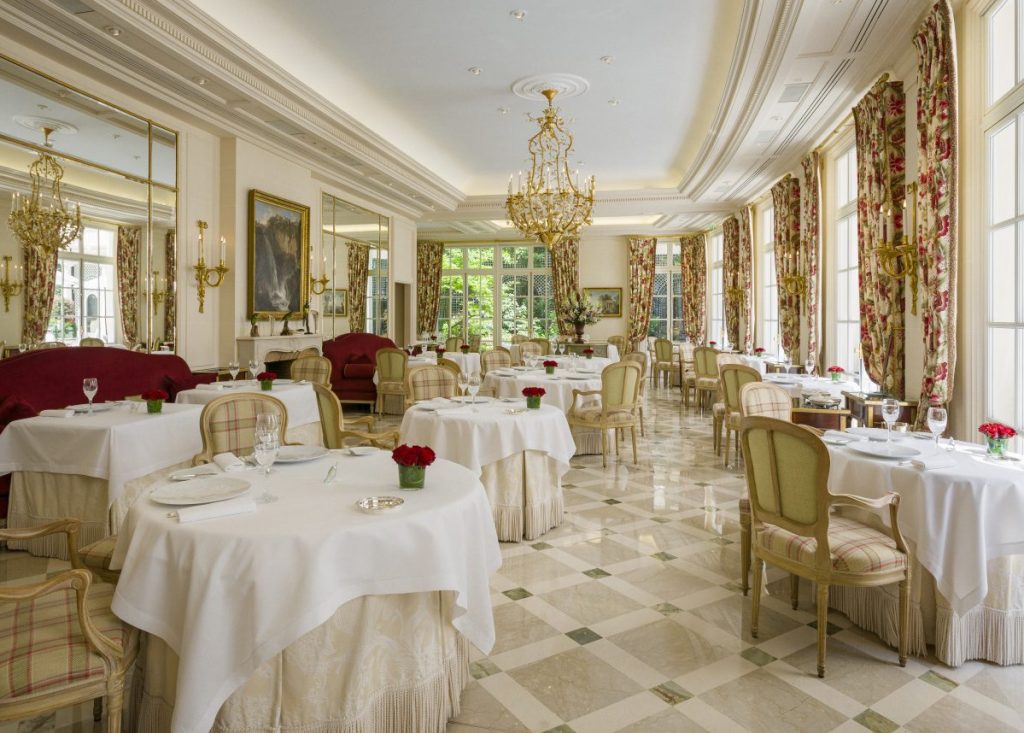 Featuring 190 rooms categorized into 40 junior suites and nine signature suite types, all of Le Bristol's rooms and suites are spacious and replete with 18th-Century chic balanced with modern amenities. Nestle into the Deluxe room featuring a sizeable King bedspread, signature Louis XV- and Louis XVI-period furniture and engravings, original paintings, antique mirrors, a vast marble bathroom with a separate shower and twin basins, plus a balcony with panoramic views of Le Bristol's lush Inner Garden, the Eiffel Tower, and an artful maze of Parisian rooftops. Overlooking the streets of Paris in this modern-meets-rustic setting, one finds it natural to be completely at ease in the secure intimacy Le Bristol provides.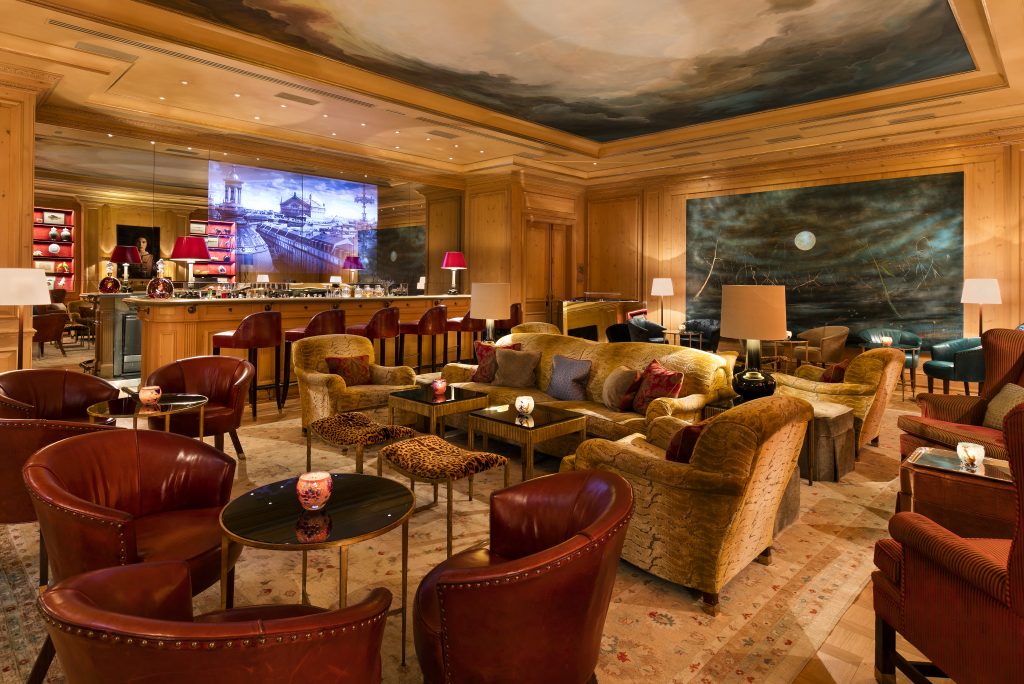 As the gastronomic delights of Paris will soon come calling, rest assured you won't have to go far, as Le Bristol offers a feast of classical French cuisine in the form of Epicure, a Michelin 3-Star restaurant and 114 Faubourg, a laxer but still luxurious brasserie awarded its own Michelin Star in 2013. Headed up by universally acclaimed culinary superstar Eric Frechon, Epicure is a true temple of French gastronomy attracting as many, if not more, Parisians than visitors. In the morning, revel in the splendor of your room and indulge in buttery pastries, cakes and breads courtesy of Le Bristol's pastry chef Laurent Jeannin who carefully crafts details in his pastries that add up to perfection. Before a night on the town, another can't miss stop is Le Bar Du Bristol, tucked away in a corner past the lobby headed up by alchemist Head Barman, who gives classic and modern cocktails an original signature, custom-made with precise measures and the ritual of a flawless execution. When ready for some pampering, make your way to La Spa Le Bristol (conceptualized by world-renowned, French skin and makeup brand La Prairie), or go for a swim and a steam at the windowed rooftop pool overlooking the Montmartre and Eiffel Tower. French refinement in every aspect of hospitality is the key feature at Hotel Le Bristol, making for a satisfying stay and unparalleled experience in the heart of Paris.
Le Narcisse Blanc
For a more intimate stay, nestled in between the Eiffel Tower and Les Invalides you'll find the ineffable Le Narcisse Blanc hotel-spa, a 37-room gem that embodies the true essence of what a Paris luxury hotel should be with its wit and bold design. For those travelers wishing to seek that certain "je ne sais quoi" during their temporary tenure as a Parisian, the chic nature of Le Narcisse Blanc's charming enclave is surely where you'll wish to be. The recently inaugurated five-star hotel and spa features all the modern comforts and amenities desired for an international getaway, but also provides an unabashedly unique atmosphere which separates itself more distinctively from its surrounding counterparts. After breezing past the storied banks of the river Seine, the warm welcome guests receive at reception upon arrival is the first clue that this hotel has ditched the stereotypical notion of hauteur often associated with Paris' aristocratie. The staff at the hotel finds a way to effortlessly infuse the guest rooms with a sense of airiness, an effect that's replicated into the secluded dome of the hotel's lobby. Throughout every element of the hotel, there's also the unique recurring artistic theme of Cléo de Mérode, the photographic It Girl of the Twentieth Century whom composer Reynaldo Hahn loved to call his "pretty little narcissus", hence the coined name of "Le Narcisse Blanc" Like Mérode, the hotel doesn't so much rub luxury in your face as it quietly seduces you with it.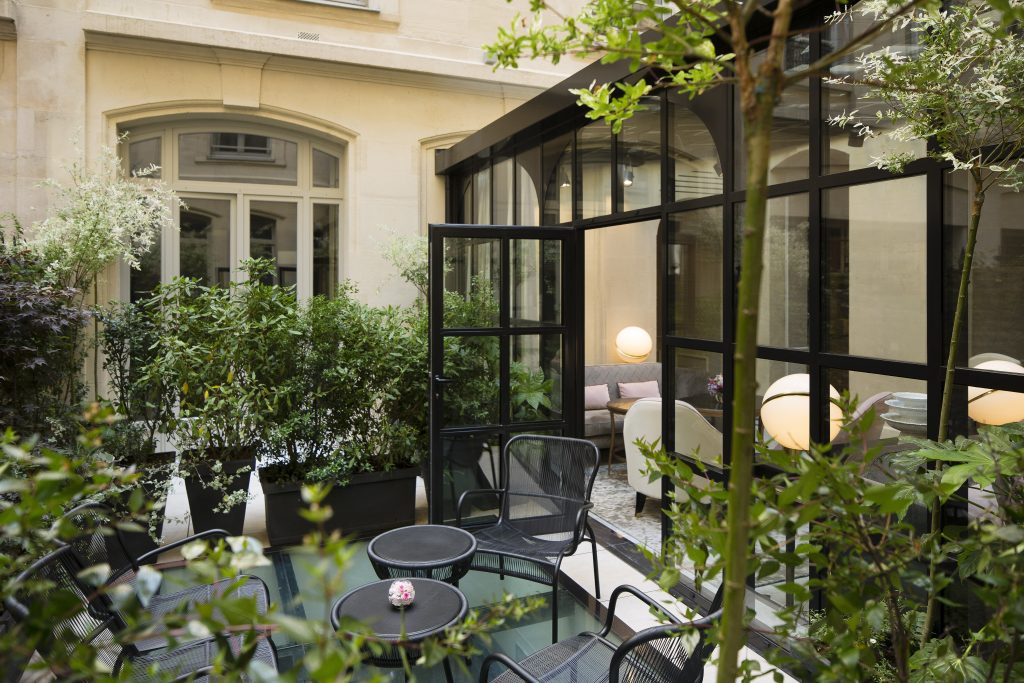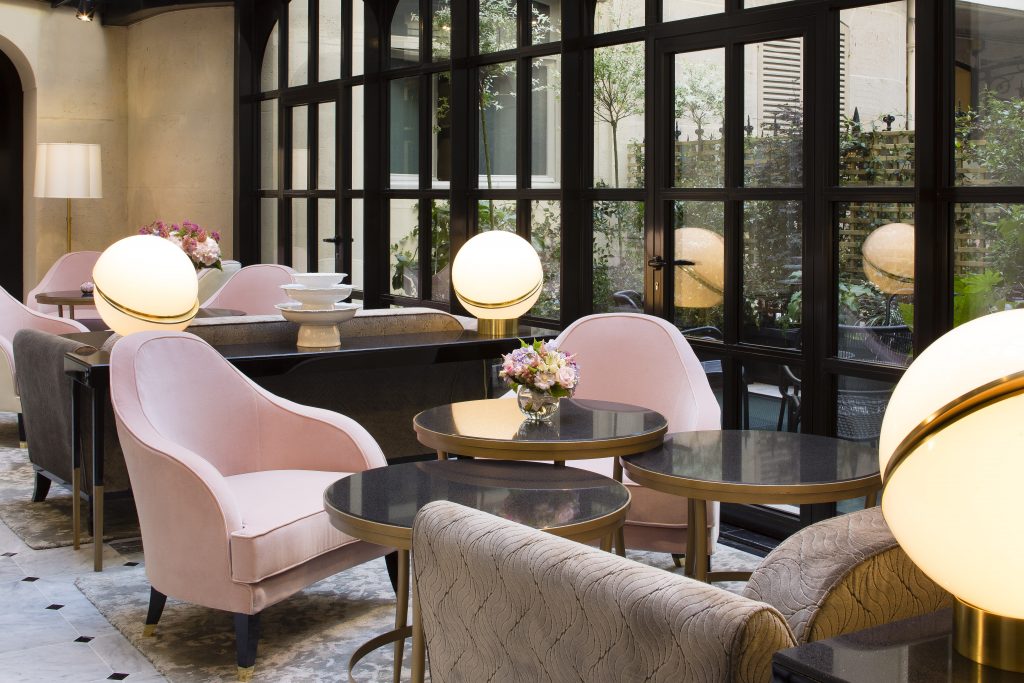 The individual rooms all exemplify Cléo's theme in a palette of light colors and bright accents, emitting an aura vibrant with the history of Paris. They manage to seamlessly integrate Nouveau, Deco, and modern art themes with a beautifully constructed mélange of nest fabrics: Tweed, velvet, duchesse satin, burnout, silk faille, and dappled rugs, all subtly combined in a couture mix of restful grey-beige, cream, champagne, sand, ash, and powdered rose, contributing to the subtly lush atmosphere. The hotel has positioned itself with its inclusive, discreet and secure environment by offering 37 spacious bedrooms, including seven suites, some with replaces, others giving onto their own terrace garden, or offering the rare pleasure of breathtaking views of the City of Light.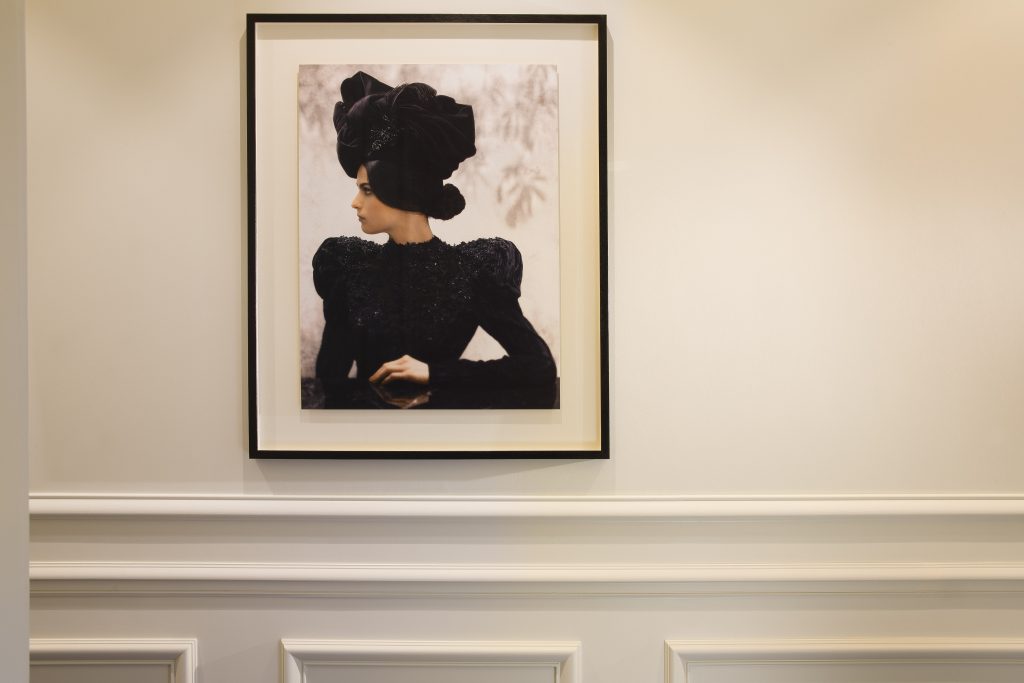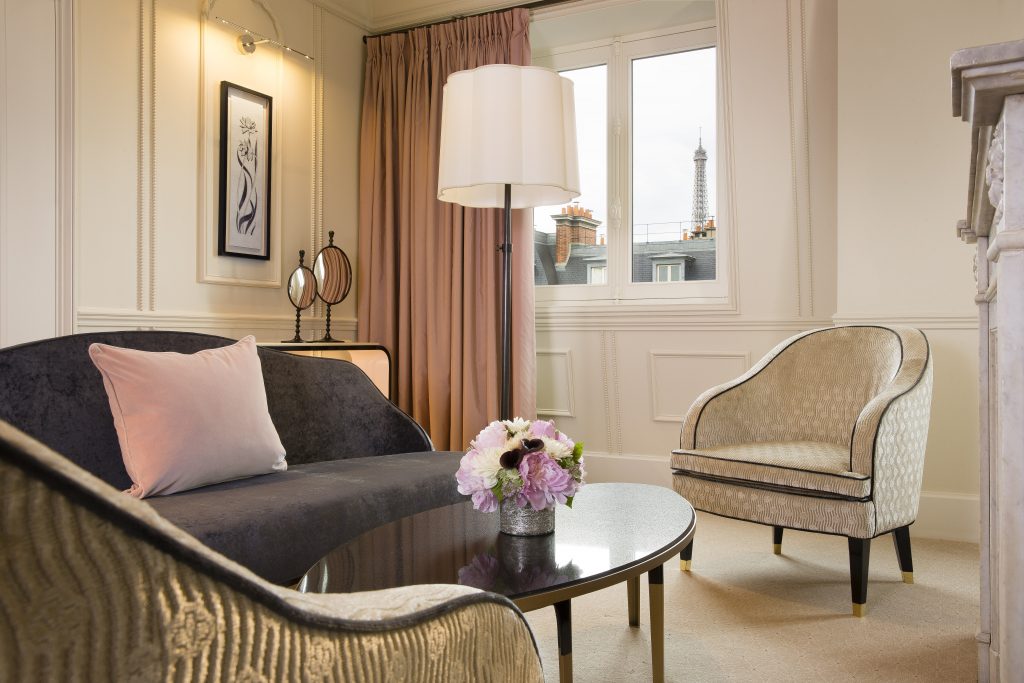 Located on the main floor is Cléo, a light and airy restaurant that further adheres toward the theme of the elegant hotel and spa, and acts as an inviting centerpiece catering to your culinary desires. For a dining experience that will appease both your palate and your too tired traveler legs, Chef Zachary Gaviller from Canada proposes a tasty, refined, and unusual cuisine, composed exclusively of organic products that are rigorously selected. Concocted dished like lamb from Pyrénées with gratin dauphinoise bring a refreshing Parisian take on the ever-popular farm-to-table experience.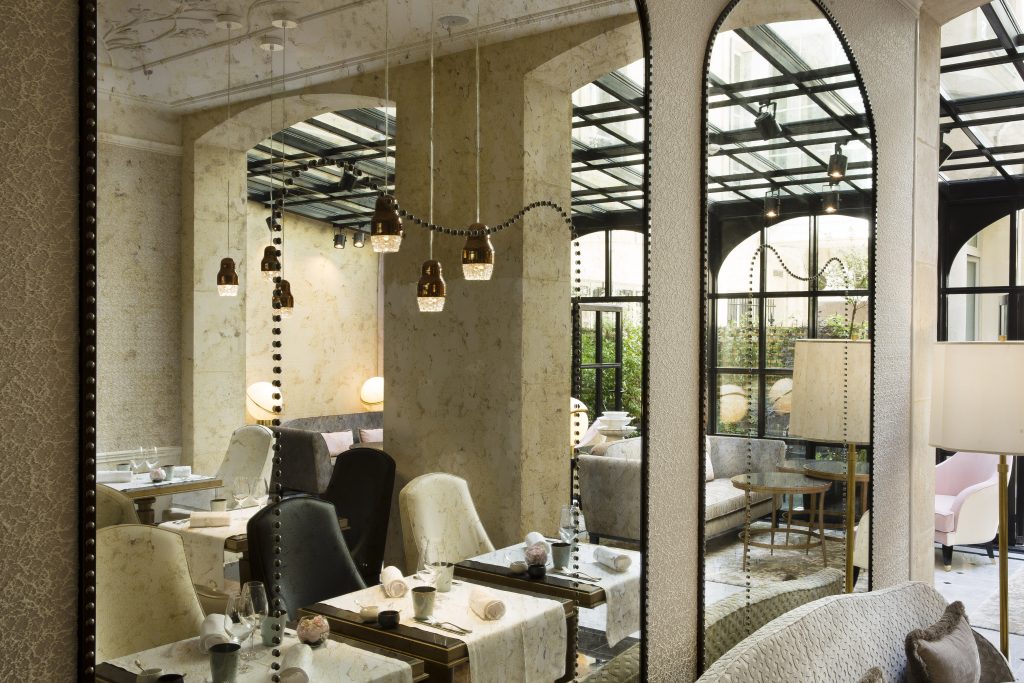 Last but not least, one cannot visit Le Narcisse Blanc and miss the opportunity to submerge in their premier, world-class spa, where you will become blissfully invigorated by its tranquil nature during your stay. The spa continually stays true to the hotel's theme, providing an invigorating atmosphere which features numerous exquisite architectural details throughout the facility. Prepare for the ultimate in Parisian renewal by plunging into the oasis of the 13-metre, swim-in-place pool, complete with hydrotherapy massage jets and elegant ivory poolside loungers for soaking up the spa's charismatic sensuousness and well-being. After a day of endless sightseeing, one must round out immense relaxation inside the spa's sauna, complete with a unique hydrotherapy experience that includes an in-house ice fountain and hammam steam room.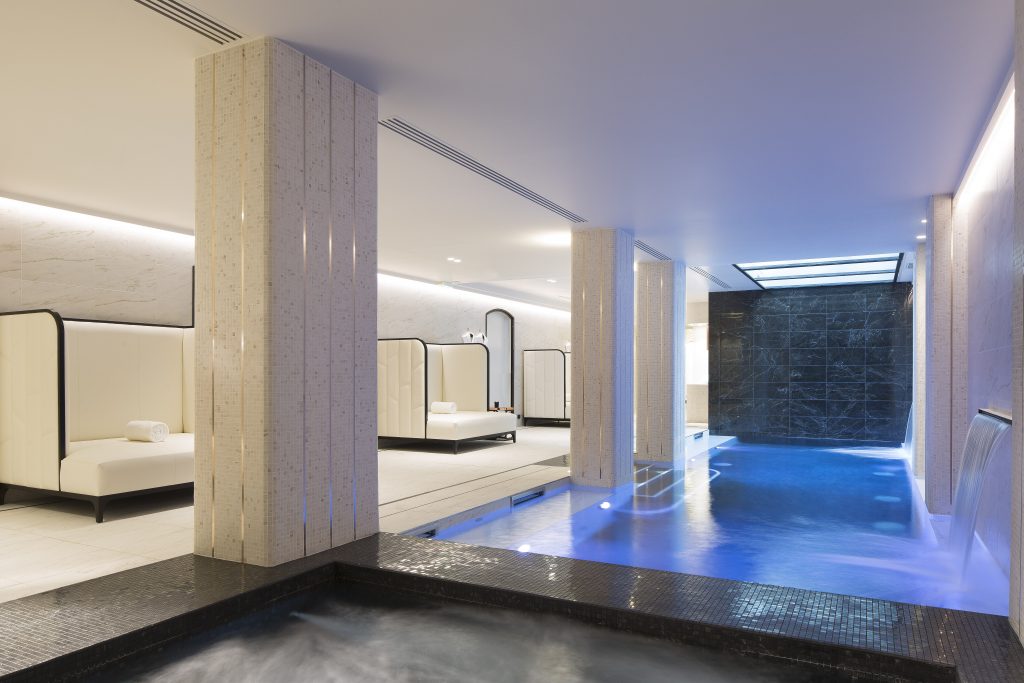 Simply put, Le Narcisse Blanc sets forth an irresistible Parisian experience for well-seasoned travelers who long for those unique personal touches and luxe nuances throughout in a refreshingly subdued way while abroad. The combination of a premier location, world-class amenities, chic style, and inclusivity are just a few reasons amongst countless others that make this hotel and spa so impeccably charming. If we do say so ourselves, Le Narcisse Blanc is the très chic way to do Paris right.
Le Lobby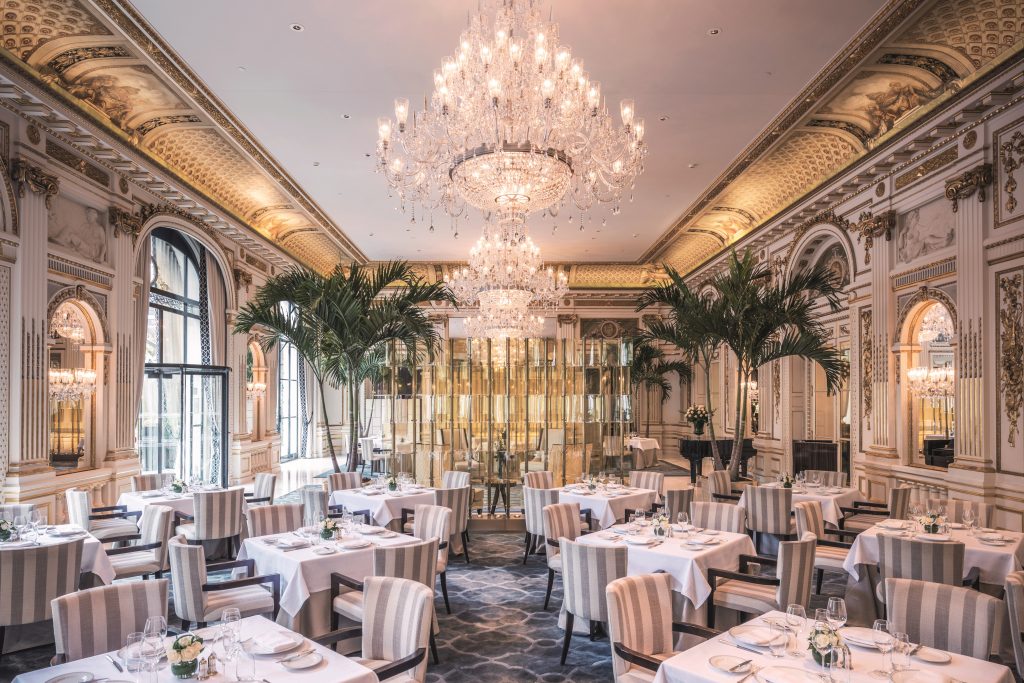 Steps away from the Arc de Triomphe, the Parisian extension of the Peninsula Hotel group perfectly blends the impeccable reputation of the Peninsula brand with a modern take on Chinoiserie aesthetics. As one of the Hong Kong-based group's newer offerings, the Peninsula Paris Hotel offers a refreshing brand of luxury that pays homage to Parisian sensibilities but also creates a unique harmony between its French distinction as a Palace hotel and the Peninsula Group's storied history of five-star hospitality. It is here, situated naturally amongst the haute couture-inspired decor of the Peninsula Paris, that you will find the culinary hidden gem known as Le Lobby. While Le Lobby offers an all-day international menu, it is their dinner menu that is the true highlight, offering a new dimension of dining in the gastronomic paradise of Paris. With the pedigreed leadership of Chef Laurent Poitevin — a former member of Michelin-starred kitchens across Paris including Hotel Vernet, L'Angle de Faubourg, and Le Taillevent — Le Lobby's dinner service crafts an imaginative take on what are, at their essence, delectably simple dishes utilizing seasonal ingredients. Paired with the incredible palate and guidance of their resident sommelier, expect a match made in heaven when indulging in this lively dining experience.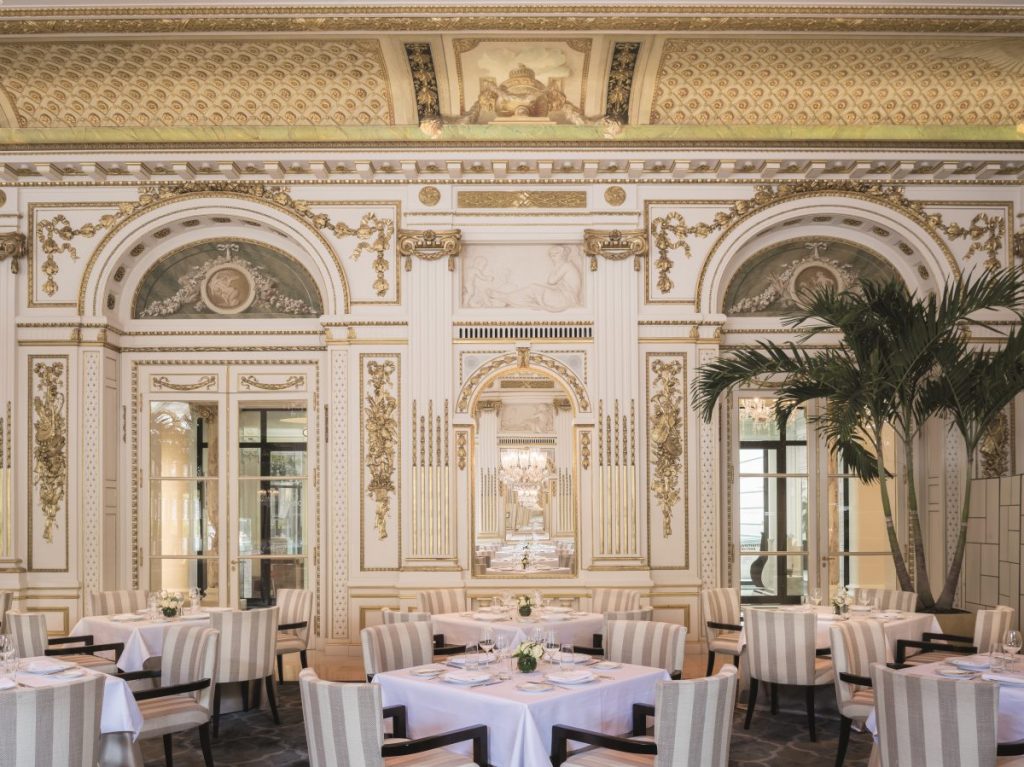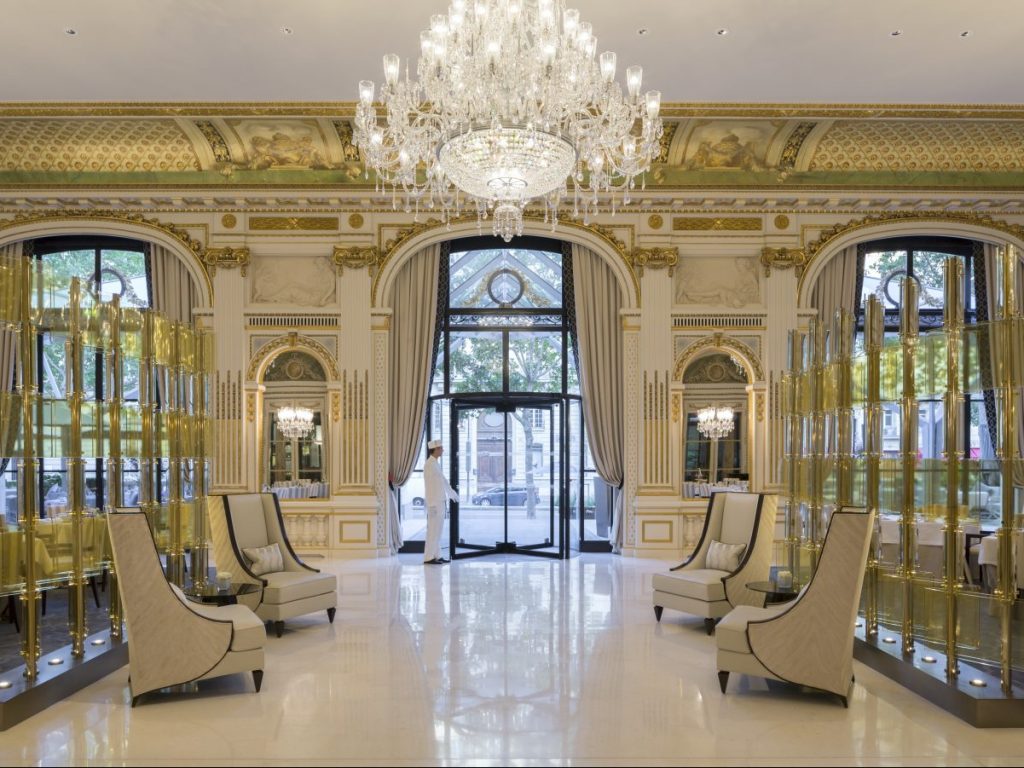 A natural extension of the Peninsula Hotel's spacious lobby, Le Lobby's atmosphere is elegant yet casual, as the lively chatter of international hotel residents and locals is soundtracked by lightly pulsating electronic beats in the Belle Époque-inspired grand dining room. When imbibing, it's our recommendation that you put yourself into the hands of Le Lobby's incredibly charming sommelier, who is eager to recommend perfect wine pairings to guide you along your culinary journey. Three-course dinner and wine pairing highlights include plump, ginger-scented king crab in leek with wakame and sesame seeds paired with a light, crisp glass of Pouilly Fume's Chateau de Tracy white; an incredible Dombes duckling served with spiced vegetables and slightly tart caramelized fruit with a perfectly paired glass of Gevrey-Chambertin Petite-Chapelle Cru 2013 Pinot Noir; and the pan-fried sea bass and razor clams coated in black truffle shavings paired with Mersault Limozin's buttery and complex Domaine Parigot Chardonnay.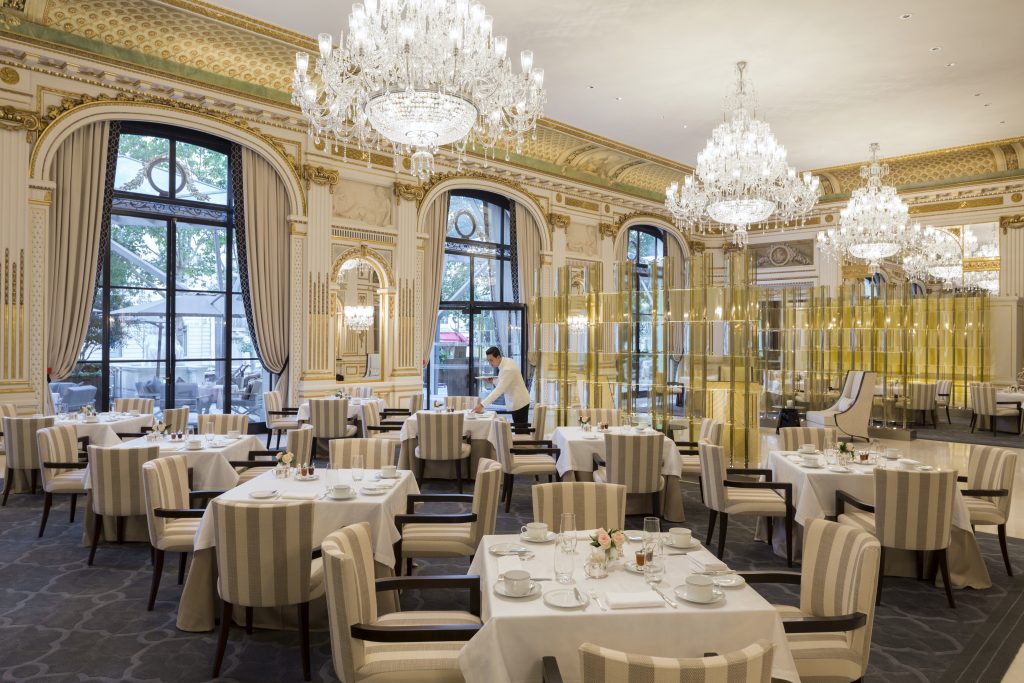 All the dishes are exceedingly complex in execution yet retain a sense of simplicity highlighting the freshness of the seasonal and regional ingredients used. When coupled with the sommelier's delectable but sensible wine selections, one is only sent further into transcendent bliss. Top this beautiful symphony of flavors off with a tart and just-sweet-enough 'Riz à l'Impératrice', served on a bed of citrus marmalade and hazelnut streusel with blood orange-lemon sorbet and tchuli pepper to really provoke your palate. This is but just a mere taste of what awaits the palate at one of Paris' hidden gastronomic destinations: Le Lobby at the Peninsula Paris Hotel.