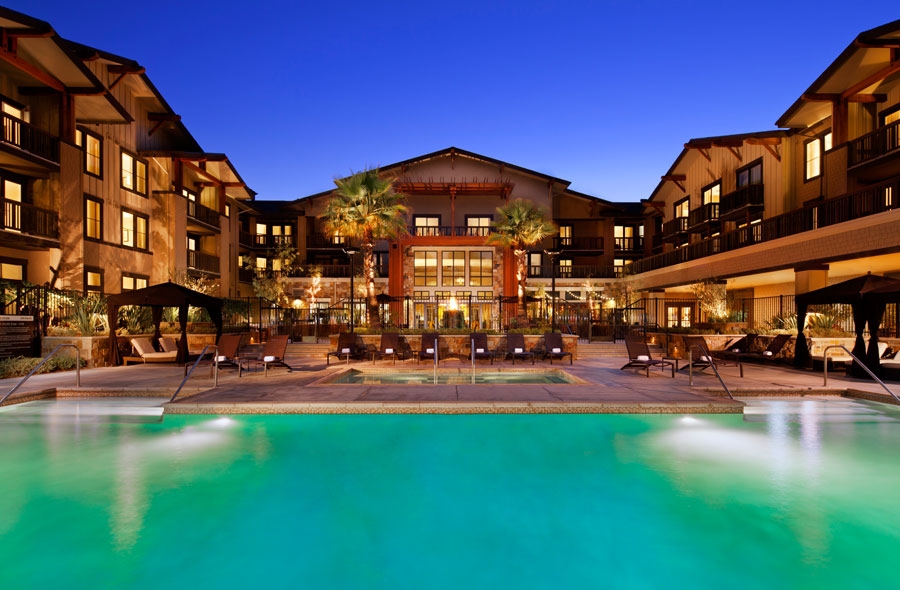 Resting serenely on the Napa River there is an exquisite oasis in downtown Napa that welcomes guests for a luxurious experience.
Although easy to miss, The Westin Verasa Napa's quiet location across from the Napa Preserve is a half block from the bustling Oxbow Market, and deceptively close to more than 20 wine tasting rooms and an equal number of well-known restaurants and luxury shopping boutique's. After a renewing day of wine tasting, it's a delight to have all of downtown Napa at your footsteps without having to make any special arrangements or pre planning. Or stay in and enjoy your private balcony, the resort's private Bocce Courts, and the grand 40 person saltwater heated whirlpool. For social butterflies Bank Café and Bar (named after its riverbank location) is often crowded with visitors and locals alike, served by happy mixologists delighted to offer the most popular libations. Many are headed to a sumptuous, multi-course wine pairing dinner at the Michelin Starred La Toque restaurant, excited to partake of their Grand Award wine list (one of 73 restaurants in the world with this designation). Chef Ken Frank oversees all of the hotel's menus, so your breakfast, lunch and room service will be just as divine as dinner.
The sleek, contemporary lobby welcomes visitors with soaring 30- foot ceilings and stone columns, hardwood flooring, a warm fireplace and a wall of custom glass doors that open completely to the fire pit fountain poolside patio. Each evening guests are invited to Unwind with a hosted wine tasting reception surrounded by warm candles and light music.
Deciding whether to stay in a Suite or not is an easy choice when 160 out of 180 guest rooms include kitchenette's amply supplied with all of the comforts of home, including an un-ending tray of Starbuck's coffee, utensils and glassware for that private moment of enjoyment, and a fridge to chill your white (and red) wines to the most delightful temperature. One Bedroom Suites provide an elegant separate living room with its own flat screen television, an extension of the kitchen area that is perfect for entertaining. The modern granite counter tops, stainless steel appliances and built-in dishwasher is a benefit you didn't realize you needed.
Besides providing the Westin Heavenly Bed – Westin's trademark luxury sleeping experience – each guest room includes a Heavenly Bath rain shower, and the upgraded suites have a separate bath and shower. This rejuvenating experience might become first on your list after a vigorous run with their running concierge, bookable with advance appointment, or a private session with the yoga concierge. The Westin Workout Fitness Center offers all that a traveler needs, and the hotel even provides New Balance running shoes and workout gear for those that have more time in their agenda than originally planned. Replenish your spirit and sense of fun at The Westin Verasa Napa by experiencing the bloom of spring, the peak of summer, the autumn harvest or the cozy ambiance of winter in luxury at this unique resort that has captured the celebration of food, wine and wellness inherent to the region.
[iframe width="565″ height="330″ src="https://www.youtube.com/embed/fg9fHYWgUYk" frameborder="0″ allowfullscreen ]