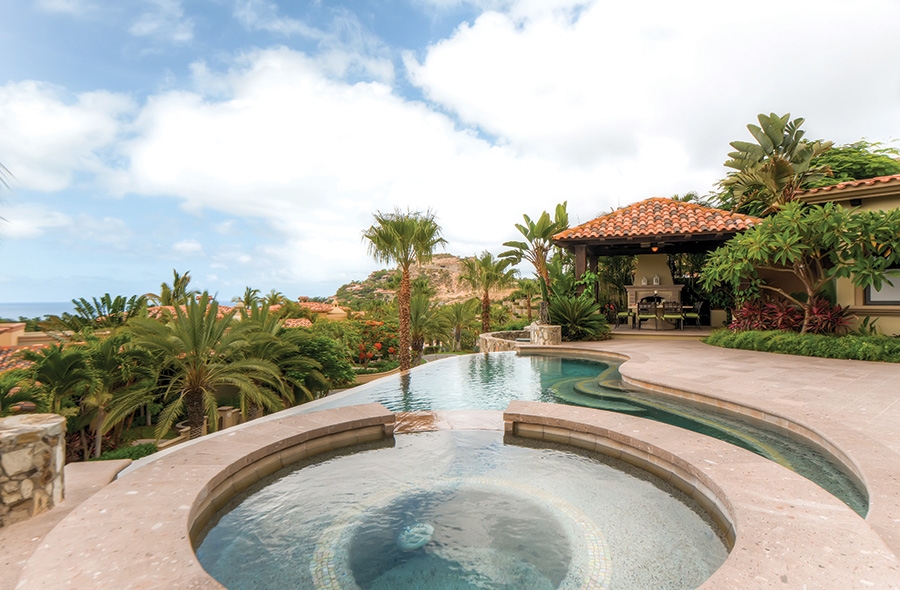 This summer, Jetset was lucky enough to be invited by the Quintess Collection to travel to Cabo San Lucas and experience one of their premier luxury homes.
Of course, being Jetset, while we were down there, we couldn't also help but visit a handful of the finest resorts, restaurants and golf courses that Cabo has to offer to bring you the ultimate Cabo experience, 2014.
"Members of the exclusive Quintess Club (there are only around 600) enjoy annual access to more than 100 fully-furnished luxury properties in locations as diverse as New York City and Algarve, Portugal."
First-class charter service company ASI Aviation was kind enough to provide us with transportation for our journey on one of their medium-sized, turbo-powered Cessna Citation Excels. For jetsetters who want the convenience of flying private without the hassle and expense of owning and maintaining their own plane, ASI offers a very attractive alternative via their "Sky is the Limit" share program. Whether it's a family vacation or a business trip, ASI takes care of everything, making private air travel a seamless, luxurious experience.
For those who may be unfamiliar, Quintess is one of the world's preeminent leaders in shared luxury properties. If you rolled your eyes when you read the word "shared," know that Quintess is far more than a mere timeshare company. Members of the exclusive Quintess Club (there are only around 600) enjoy annual access to more than 100 fully-furnished luxury properties in locations as diverse as New York City and Algarve, Portugal. Furthermore, members are granted special access to restaurants, private golf courses and other world-class entertainment.
Homes in the Quintess Collection in resort locations average between 3,000 and 5,000 square feet and have four to five bedrooms, while homes in the city locations average between 1,200 to 1,500 square feet and have two to three bedrooms. The home Quintess set us up with in Cabo was a sumptuous four-bedroom estate in the elite One & Only Palmilla Resort community. The place was lavishly furnished and featured new appliances and flat-screen TVs. Plus, during our stay we had access to the exclusive Club Ninety Six beach club on Pamilla Beach and all of its amenities.
Finding and accessing our home in Palmilla Resort was an absolute breeze, as the Quintess staff goes out of its way to make the entire experience more effortless than that of any shared property company we've encountered. Even when club members aren't staying at a Quintess Collection home, they can utilize the company's extremely helpful concierge services year-round. In addition, Quintess Beyond and Quintess Adventures offer an extraordinary array of additional handpicked experiences for club members. Whether it's an African safari or a weekend excursion to Provence, these are once-in-a-lifetime adventures and Quintess does all of the heavy lifting for you.
While in Cabo we wanted to experience the very best of what this oceanfront paradise has to offer. Luckily, Quintess sets guests up with a Member Relations Manager and a Destination Host who make this as easy as humanly possible. Furthermore, their intuitive Collective iQ online app constantly feeds you up-to-the-minute recommendations for restaurants, clubs and exciting entertainment and activities during your stay. We were easily able to plot out the best course of action to maximize our time south of the border.
"Set at the very tip of the Baja Peninsula, Esperanza was built to capitalize on its stunning views of the Sea of Cortez and Punta Ballena."
Another "must-visit" destination in Cabo is the resplendent Esperanza Resort. Set at the very tip of the Baja Peninsula, Esperanza was built to capitalize on its stunning views of the Sea of Cortez and Punta Ballena ("Whale point," where visitors can routinely watch gray whales breaching). As you slide open the exterior wall in one of Esperanza's 57 casitas and suites — revealing your own private veranda and infinity-edge hot-tub — and bask in the breathtaking ocean view, you'll quickly understand why Esperanza is renowned as Cabo's number one resort. Each suite is designed to invite the tranquil sea breezes, while the devoted staff, spa, cuisine and relaxed atmosphere coalesce to make your stay nothing short of blissful.
For the serious food enthusiast, Esperanza plays host to a full calendar of culinary events, such as beach barbecues with live music, fireworks and gourmet food from different regions of the country. Even the bar at the Esperanza offers delectable dishes like oak-smoked marlin sandwiches on chapata bread, but the real draw here is the exquisitely ambient Cochina del Mar restaurant. Here you can indulge in eclectic dishes like Peruvian quinoa or yellowtail carpaccio with avocado as you savor the sunset from one of the restaurant's patio tables which overlook the ocean. The ambience and a vast assortment of seafood make Cochina del Mar one of Cabo's finest restaurants.
Another phenomenal place for dinner in Cabo is El Farallón at the Capella Pedregal resort. El Farallón is truly an other-worldly establishment, a place where you can dine on a cliff while the waves crash into the shore beneath you. The restaurant is a seafood lover's paradise, with each day's catch proudly displayed upon mounds of shaved ice for all to admire. After you make your selection, your seafood is prepared to your exact specifications while the rich, smoky aroma of the grill fills the air. Meanwhile, the Capella Pedregal resort that houses El Farallón is a chic and opulent retreat that encompasses 24 mountainside acres at the exact point where the Pacific meets the Sea of Cortez. It's secluded, gorgeous, and luxurious — in other words, another great resort option in Cabo.
No trip to Cabo San Lucas is complete without playing some world-class golf. So we ended our adventure at Diamante Cabo San Lucas, a stunning, private oceanfront community. With its sparkling, 10-acre swimmable Crystal Lagoon, Diamante is a beautiful place to experience. But it is not just its aesthetics that draw people from across the globe to become a part of this community. Two magnificent golf courses — the Dunes course and El Cardonal — highlight the array of world-class amenities that are offered to the owners of Diamante.
The Dunes Course was ranked #52 in the world by Golf Magazine and gets its name from the pristine sand dunes that envelop it. Meanwhile, as Jetset was among the first to report last year, El Cardonal is set to be the world's first golf course designed by Tiger Woods and his design company, Tiger Woods Design. Woods poured all of his passion and knowledge of the game into El Cardonal, and this will surely shine through once it is open for play in December of this year. The setup of the course provides an array of creative ways to approach each hole. And, like the Dunes Course, it will be uniquely fun and challenging for those of any skill level.
The climate in Cabo is arguably the best in the world on a year-round basis. With wintertime highs in Cabo hovering in the low 70s and the low 80s during the spring, this destination is the perfect escape from the cold weather as we head into the new year. So whether you decide to become a member of the exclusive Quintess Club or visit any other Jetset-recommended resort, head to Cabo and forge your own unforgettable experience.