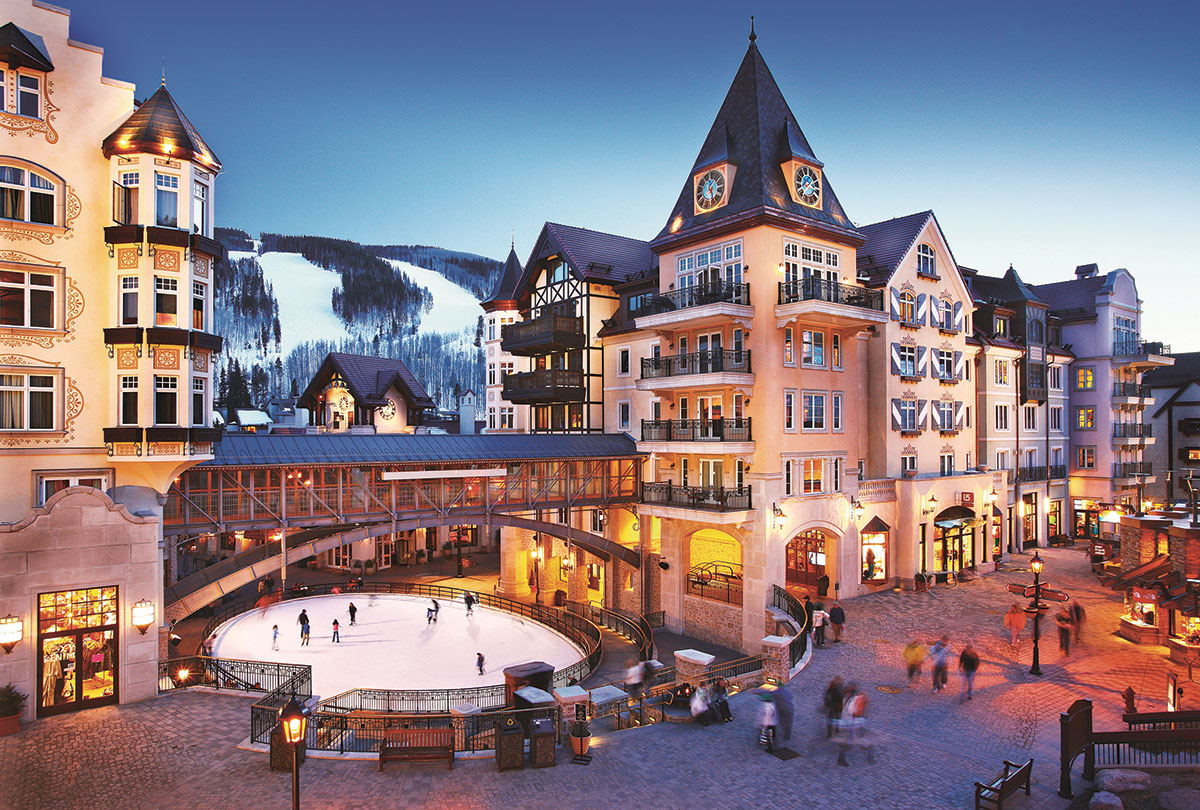 From its perfectly groomed runs to its smashing culinary scene, Vail takes its hedonistic delights very seriously. Slopeside lunch spots are littered with robust, rosy-cheeked athletes feasting on hearty slow-cooked fare. It's indubitably a posh scene, but one without the airs of Aspen. I spot hand-knit Himalayan hats being adjusted Moncler mitts; it's a democracy of outerwear that you certainly wouldn't see in Gstaad. With sporting spirit and thriving restaurants, Vail doesn't need a cluster of misbehaving celebrities to confirm its appeal.
On my recent trip to Vail, the mountains glistened with idyllic snow while the village crackled with cozy comforts and a cool community. What is better than spending the day skiing with others at your level, and then reuniting with more or less-advanced friends for lunch? The best part of any ski holiday — besides the powder — is the social high. Evenings spent in convivial splendor, tucking into copious amounts of recovery proteins and decadent carbohydrates.
Vail Resorts is the world's leading mountain resort operator; the company holds nine world-class mountain resorts and three urban ski areas. If you are more keen on Breckenridge, you can't get more central than Crystal Peak Lodge. Nestled at the base of Peak 7, this dashing lodge offers guests sweeping views of the majestic Rockies, and convenient ski-in access mere steps from the BreckConnect Gondola and Independence Superchair. Choose between one, two, three, and four-bedroom condominium suites with full kitchens and living rooms with fireplaces. How special is Crystal Peak? Olympic snowboarder Shaun White has been known to bunk down here from time to time.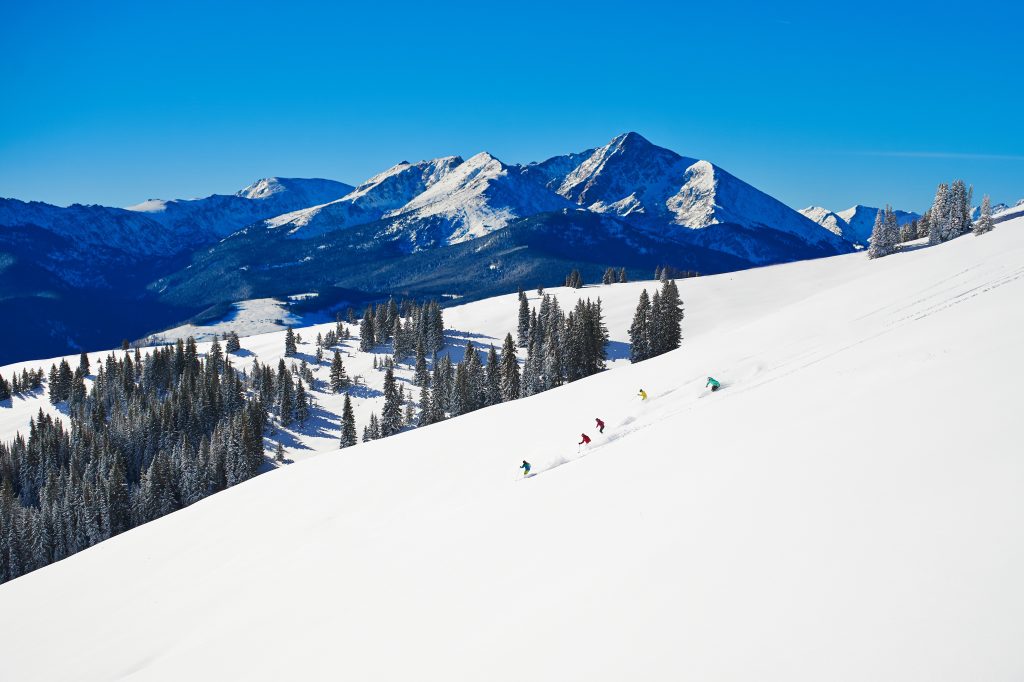 My intermediate snowboarding skills got considerably sharper after of two days of private coaching from Vail instructor Jen McCreery. Looking like a flamingo trying to bowl a strike in stilettos, I took on the challenging Whistle Pig run with vim and vigor. McCreery's mindful manner is fresh in my mind as I make necessary stance adjustments to compensate for the demanding terrain. She honed my technique over two days, taking advantage of the flawless conditions. When snow clouds did gather, we seized the window to tackle Simba before a complete whiteout took over. It's only a blue diamond, but its sheer length — plus the fact that it is a rather narrow catwalk in some places — made it feel like a real coup.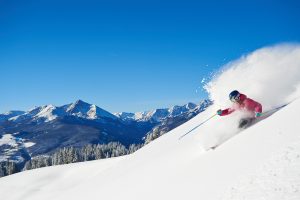 With more snow than you can shake a snowcat at and an average of 250 days of sunshine per year, Vail is one of the more reliable destinations for powder hounds. After all, the season is far too short to ski in slush. With seven of America's 10 most popular resorts, Colorado is the alpha force of US skiing. Vail and Breckenridge each draw more than a million skiers each season with immaculately groomed runs. Vail offers the freshest, fluffiest bowls and most carvable chutes in the state, making it a beacon to those who prefer to make tracks rather than follow them.
Of Vail's various festivals, SKADI is the latest innovation to court ambitious, upwardly-mobile female athletes. Inspired by the titular Norse goddess of winter, Vail Mountain hosted their inaugural women's ski festival last January. The event is designed by women for women and is offered for any level of skier. SKADI organizers are the fest's most meaningful asset, serving up a distinct brew of camaraderie. They shuffle around like beloved mountain royalty: egoless, alpine suave in their bright Burton gear. Attendees rejoiced in customized experiences with top notch women instructors, spirited evening gatherings, and chick-friendly equipment demos. From film premieres to culinary presentations and wine tastings, SKADI presents the full Vail lifestyle experience, both on and off mountain.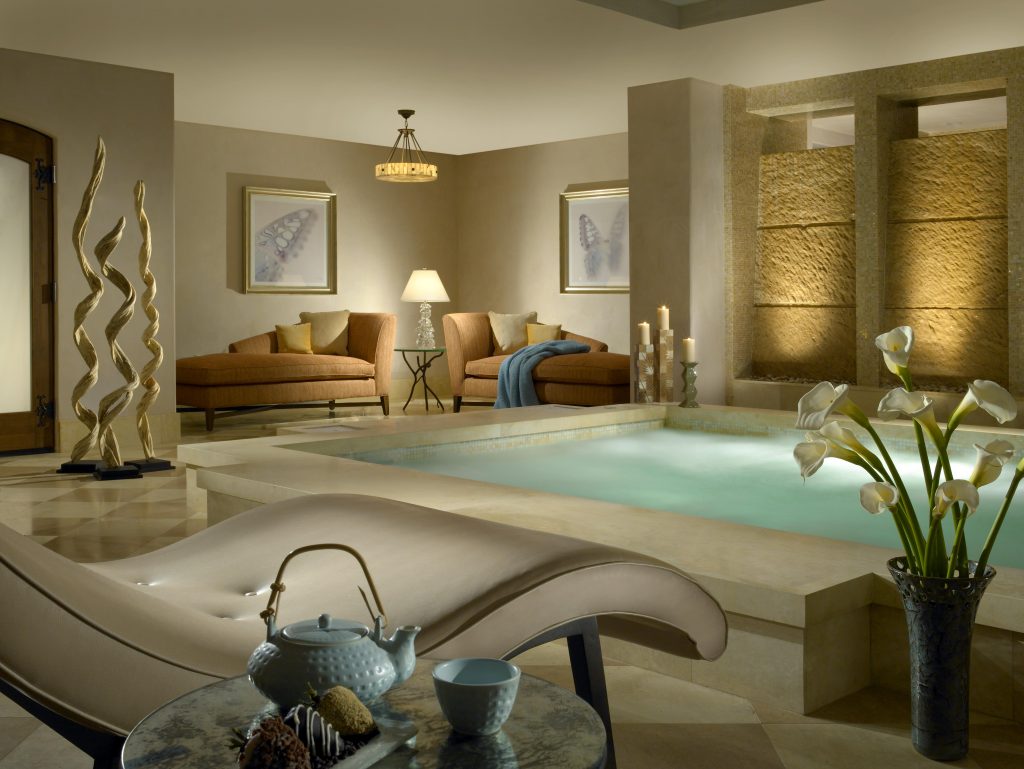 After a brisk day on the slopes, a massage at the Spa at Arrabelle is a welcome reprieve. A deep massage releases oxytocin and other happiness-inducing hormones. The Arrabelle Hotel as a whole offers a gateway to enlightenment and physical vibrancy. The first thing to note about uploading selfies shot at The Arrabelle is that everyone — even those who like you — will secretly hate you for it. Reason enough to go straight away. Yet when you're dining on your own private terrace, while a tangerine sunset illuminates the sky, it's hard to recall the rest of the world even exists — much less fret over what it might think.