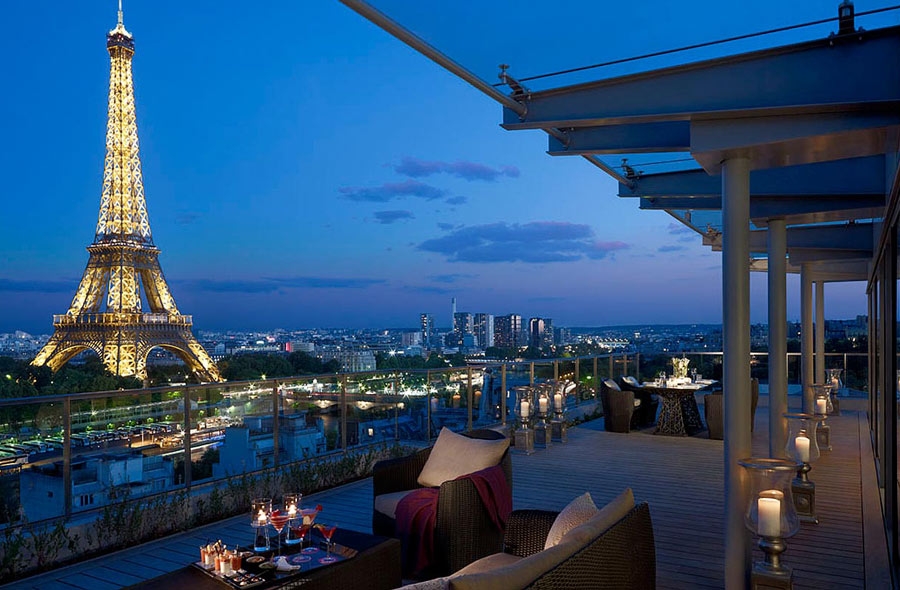 Immediately upon my arrival at Le Bourget from New York City, I was greeted by the limo driver from the five-star Shangri-La Hotel.
I have elected to spend a "Millionaire Weekend in Paris" and walk in the footsteps of some of the wealthy Americans that come to Paris once or twice a year and sometimes have difficulty making up their mind on where to stay, where to eat and what to do in the most beautiful city on earth, Paris. Being a French native, I designed a turnkey two-day program that didn't leave much time for improvisation.
Passing through the original iron gates, I arrived at 10, Avenue d'Iéna in a small, protected courtyard under the restored glass porte cochère. Two Ming Dynasty-inspired vases flank the entryway and set the tone from the outset for Asia-meets-Paris elegance. The hotel chief receptionist took me to my suite booked for the two-night stay in Paris. La Suite Shangri-La offers a sprawling 2,938 square feet of pure luxury, including a private terrace overlooking the Eiffel Tower. This jewel in the crown of the Shangri-La Hotel is nestled at the top of this historic mansion, and overlooks Paris and its monuments. Imagine having the Eiffel Tower virtually at your doorstep – that is La Suite Shangri-La. Panoramic bay windows in every room offer views of the Eiffel Tower, the River Seine, bridges and the Grand Palais.
At 1:00 p.m. it was time to take the limo to 6, Rue Arsene Houssaye where I had a lunch reservation at Citrus Etoile, one of the best restaurants in Paris. Just a few steps from the Champs Elysées in the 8th, you can enjoy great food, wonderful wines and the elegant atmosphere that the restaurant offers. The creativity and innovative cuisine by Chef Gilles Epié make Citrus Etoile a Paris must. Chef Epié's reputation preceded him from when he was the youngest chef to receive the Michelin Star at the age of 22. Chef Epié believes that food is a cultural experience and he wishes to take his customers on a journey of taste and textures with the best ingredients that the world has to offer. Not only does Epié know how to cook food, he takes it down to the molecular DNA and redefines it to bring out the most simple and delightful taste that it was meant to have. It is not only a gift, it is divine. To eat his food is to feel his passion in your soul. Chef Gilles Epié's menu can be viewed as a "limited edition" of gastronomic pleasures.
Following this great lunch at Citrus Etoile, I decided to take an enjoyable boat ride on the Seine River by the Eiffel Tower. Coming back from my true Parisian excursion, I asked my limo driver to take me by the Paris luxury shopping district to admire the boutiques on Avenue des Champs Elysees and Montaigne. After a short nap, it was time to get ready for dinner at Shang Palace, one of the most exciting restaurants in Paris.
A one star in the Michelin Guide 2012, Shang Palace symbolizes the art of Cantonese fine dining in Paris. The restaurant offers authentic Chinese cuisine originally inspired by Southeast China's culinary traditions. A main room and three private dining rooms named for the Tang, Ming and Qing dynasties are available. Guests experience a unique culinary journey full of genuine Asian traditions in the heart of Europe. Cantonese Head Chef Frank Xu, a veteran of the industry from Shenzhen, honed his skills in restaurants at Shangri-La Hotels and Resorts.
After a well-deserved night in my suite, I started the day with an American breakfast at La Bauhinia. With seating on the ground floor as well as a mezzanine level in the heart of the Shangri-La Hotel beneath the magnificent 1930s-era, Eiffel-inspired steel and glass cupola, La Bauhinia is the social hub of the hotel.
My morning was spent visiting the incredible, iconic Eiffel Tower. After a lunch at Carette at 4, Place du Trocadero, it was time to take my limo and head to the Left Bank of Paris to the Musée d'Orsay, one of the most breathtaking museums on the planet. The museum holds the most extensive collection of impressionist and post-impressionist masterpieces by such painters as Monet, Manet, Degas, Renoir, Cézanne, Seurat, Sisley, Gauguin and Van Gogh.
Saturday night dinner was a total true French culinary experience by my friend, the world renowned Chef Guy Martin of Le Grand Véfour. Located at 17, Rue du Beaujolais in the Paris 1st, Le Grand Véfour, currently a Michelin two star, opened its doors in 1784 in the Arcades of the Palais Royal. It was Paris' first grand restaurant. Guy Martin has turned opposites into his religion. Talk about cuisine and the chef replies with art. "Paintings are my main source of inspiration," he says. "I cook like others paint." He always has a pencil in his pocket and a piece of paper to design a sketch. "I draw the recipes which are born in my head…" For him, cuisine is an aesthetic pleasure. Each dish is a masterpiece. The flavors of the world come together in airy creations like Breton lobster with green apple jus, grilled turbot and artichokes with pineapple-sage infused oil, or green pea ice cream. We recommend the Menu Plaisir that can include foie gras de canard, artichaut poivrade en salade et poire au fenugrec as an appetizer, followed by filet d'agneau apprêté de cinq variétés de radis, rehaussé d'une râpée de raifort. If you like French cheese, you cannot miss la table des fromages fermiers de France et de Savoie. Guy Martin is an extraordinary human being and his restaurant one of the best in the world.
On Sunday morning, I caught my flight back to the U.S. full of memories, wishes and the desire to be back again very soon.
Thanks to Shangri-La Paris, Guy Martin, Gilles Epié, Societe de la Tour Eiffel and Musee d'Orsay that made my journey in Paris possible. Photos courtesy of Shangri-La, Citrus, Le Grand Véfour and Emmanuel Lupe.