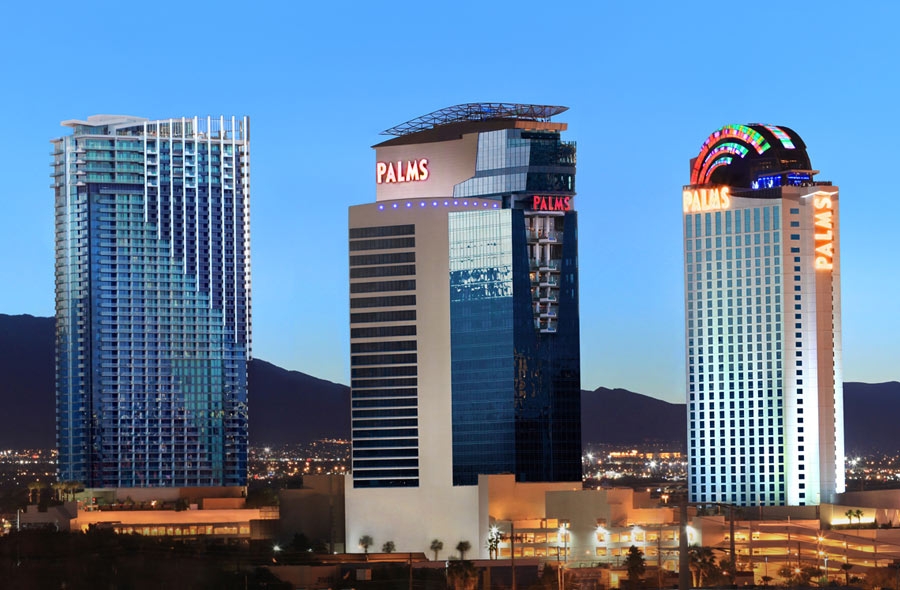 What happens in Vegas stays in Vegas, unless you're staying in one of the exclusive over-the-top luxury suites at Palms Casino Resort, then you'll want to return home and tell everybody you know about it.
The property's iconic Two Story Sky Villa, a celebrity favorite, packs jaw-dropping views from a glass-enclosed infinity pool overlooking the glistening Las Vegas Strip below and amenities inside the 9,000-square-feet suite include an in-suite glass elevator, massage and fitness rooms, a rotating bed, fireplace, dry sauna and deluxe media center.
Similar to the Two Story Sky Villa is the resort's lavish One Story Villa, featuring the same level of sophistication as its counterpart, with over 6,100 square-feet of space.
Palms' Hardwood Suite is a sports lover's dream complete and the only suite in the world with an indoor basketball court, professional locker room and fold out Murphy beds, allowing guests to sleep right on the court. This massive suite features a scoreboard, Jacuzzi, plasma TVs, pool table and two master bedrooms with extra-long beds to accommodate the extra-tall athletes that stay there in over 10,000 square-feet of playful luxury.
Bowling lovers will strike gold in the popular Kingpin Suite boasting two full-sized bowling lanes, regulation bowling equipment, pool table, full bar and a theater-sized projection television with lounge. The retro-style, 4,200-square-foot suite offers two bedrooms and three bathrooms with LCD and plasma TVs throughout.
Each stay in one of Palms' luxury suites includes: roundtrip airport transportation, 24-hour butler service, VIP registration and concierge services, six complimentary daily passes to Drift Spa and complimentary VIP admission for six people at Ghostbar, the property's dynamic boutique-nightclub. Experience Vegas in distinct style at Palms Casino Resort.