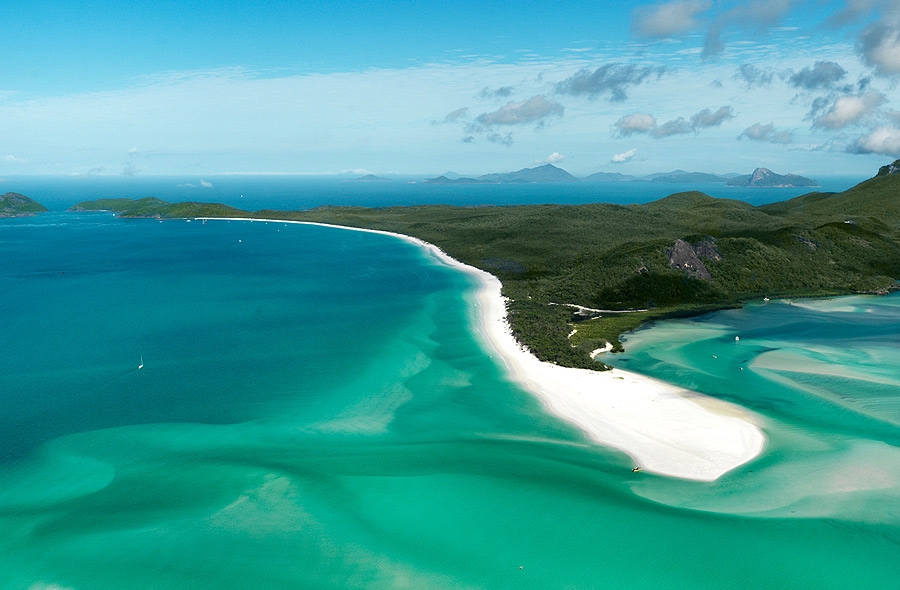 You've done Cannes and Monte Carlo, and have some wild memories from Dubai and Phuket.
There's South Beach, of course – but Miami was fun the first 10 times. How about a different kind of world-class yachting destination this year? How about the Whitsundays?
Less well-known than the French or Italian rivieras, but with just as much to offer, are Australia's Whitsunday islands, a collection of more than 70 breathtakingly beautiful oases (most uninhabited) located off the central coast of Queensland – and one of the most popular yachting destinations anywhere in the Southern Hemisphere. With the Great Barrier Reef, the metropolis of Brisbane and some fantastically luxurious resorts all within reach, the area is a nautical playground for the world's elite.
Although visitors to the Whitsundays will imagine they've embarked on a to-the-ends-of-the-earth kind of vacation (in a good way), reaching the islands is, thankfully, relatively uncomplicated. We recommend touching down via the carrier of your choice in Brisbane, Melbourne or Sydney. From any one of those cities, Jetstar connects directly to Hamilton Island, the commercial hub of the Whitsundays, and the airline's business class is really the only way to go. Well, not the only way to go, of course, but with an extra baggage allowance, dedicated and spacious cabins, 38 inches of legroom (plus a foldout footrest), unlimited access to a beverage bar, quality meal and snack choices, personal Video on Demand units, amenity kits (blanket, pillow, eye shades, toothbrush, toothpaste, socks, cosmetics) and a whole lot more, the business class boarding pass removes all other options.
Hamilton Island, where the majority of visitors catch their first glimpses of the Whitsundays, is the most populated of the islands, although it's not quite two square miles and is home to only a few thousand residents. Each year, the island hosts Hamilton Island Race Week (currently the Audi Hamilton Island Race Week), a keelboat regatta established in 1983. Originally occurring in April, the event is now held every August, timed to take advantage of the area's prime weather season.
Close to 200 vessels have participated in recent years, drawing scores of participants and spectators alike. But as with events such as The Kentucky Derby and the F1 grand prix, the events of Hamilton Island Race Week are simultaneously all about the races, and yet not all about the races. For the social set, there's more going on off the water than on, including golf tournaments, swanky seafood dinners, fashion shows, cocktail parties and more, so do some careful packing. Mark your calendars for this year's events, taking place Aug. 17-25, 2012, and visit HamiltonIslandRaceWeek.com.AU for everything you need to know.
Of course, regardless of whether you're in town for the races or your own special R&R, the No. 1 choice for accommodations is qualia (pronounced kwah-lee-ah), an utterly unique, world-class luxury resort. Situated at the edge of the Great Barrier Reef on the secluded northernmost point of Hamilton Island, the property provides guests with a quiet and peaceful retreat, where luxury and oneness with nature seem to blend seamlessly. Each of the 60 light-filled Leeward and Windward pavilions feature subtle timber, stone and glass accents in their interiors, and face the water, surrounded by tropical landscapes and uninterrupted nautical views.
Indisputably the island's premier resort, qualia also boasts exclusive beach access, two infinity-edge pools, fine dining, 24-hour chauffeur service, priority tee times, a state-of-the-art fitness center, a top-tier spa and more. Overnight rates for the pavilions begin circa AUD $950 per night, or you can reserve qualia's secluded Beach House (from AUD $3,000 per night) for additional space, privacy and star treatment.
Whatever your interests – sailing, snorkeling, golfing, exploring, relaxing, dining – and regardless of whether your goal is to spend as much time as possible on the water, in the water, or gazing at the water, qualia can, and will, plan a one-of-a-kind experience you'll not soon forget. Visit Qualia.com.AU for more information regarding the resort's accommodations, offered experiences, luxury packages and other details.
Once you've made anchor among the Whitsundays, getting around presents no major challenges. First, the islands' sizes mean that to get lost you'd have to really be trying. Second, if you're staying with qualia, VIP around-island transport service is automatically provided, and all guests are granted use of a two-seater electric golf buggy for independent exploration. (Motor vehicle use is restricted to tradespeople on the islands.) Additionally, there are a number of door-to-door sedan, limousine and taxi services available on the Whitsunday Coast (that's the Australia side of the area), as well as a ferry system for shuttling passengers to and from the mainland and the islands. Just as the concierge for the most direct route to where you're going and you'll be on on your way.
And yet, you came to see how the islands looked from the deck of your own private vessel, did you not? A favorite destination among expert and novice sailors alike, the Whitsundays are protected by the Great Barrier Reef from ocean swells, making for smooth and safe waters. Whether you prefer to skipper your own craft – aka, bareboat – or have a professional lead your voyage, Charter Yachts Australia (CharterYachtsAustralia.com.AU) makes reserving a yacht an easy process.
The company's well-maintained fleet of quality bareboat and charter yachts, sailing and power catamarans, which range in lengths up to 164 feet, are located at Abel Point Marina at Airlie Beach. But you don't have to wait until you arrive in order to check out your charter. The CYA website includes photos of each vessel in its fleet, a comparison tool, seasonal rates, specials, packages, and a wealth of additional information that will make planning your voyage a breeze.
Are your sailing skills a little rusty? Or maybe you don't know the first thing about sailing but would love to learn? Your bareboat charter fee with CYA includes a four-hour briefing covering operation, safety and handling procedures, as well as rules and regulations, or you can hire a sail guide by the hour or half-day to provide further education. Better still: Schedule an extra day to participate in the company's Prepare to Charter course (two-person minimum), held on board a modern Beneteau 411 yacht, to gain some crucial sailing skills before taking your own boat out to sea.
And now, where to? While there's a lot of enjoyment to be had in lounging on the foredeck, there are many more must-see's and must-do's. Whitehaven Beach, located on the east side of Whitsunday Island (the largest island of the collective Whitsundays), is world-renowned and the most popular beach throughout the area. Even Oprah Winfrey, who took audience members on a whirlwind trip of Australia in 2010, made the time to visit this spectacular stretch. (And where did Oprah stay while she was in the Whitsundays? Why, qualia, of course.) Roughly 4 miles long, the expansive, pristine Whitehaven Beach is beloved for its white sands and frequently receives high marks for being among the world's cleanest and most environmentally friendly. Command your vessel through Solway Passage to approach Whitehaven and maybe drop in the water for a quick snorkel to check out the coral.
As the closest point off the Queensland coast to the Great Barrier Reef, the Whitsundays are the ideal starting location from which to explore the world's greatest underwater wonder. At more than 1,500 miles long and home to thousands of unique species of fish, mollusks, starfish, sea urchins, seabirds, marine turtles and other fascinating creatures, it is an adventure every visitor must experience. Companies such as H2O Sportz (H2oSportz.com.AU) specialize in ensuring clients have memorable SCUBA diving and snorkeling experiences while exploring the reefs. A PADI five-star dive center, H2O Sportz can provide you with all the equipment you'll need for a few days of underwater fun; or, you can take advantage of the training facility in order to receive instruction and gain your SCUBA certification. What better way is there to appreciate this remarkable natural phenomenon than in person and up close?
Another must-see lies above water: Tongue Bay. If you direct your boat northward, following the line of Whitehaven Beach, you'll come upon Tongue Bay, home to many sea turtles and a wonderful place to anchor if you time it right (anchorage must be made at or near high tide, since a minimum of 4 feet is needed to cross the reef). There are also three moorings, but due to the spot's popularity, they are seldom available – so be prepared to leave one of your crew with the boat. Just make sure that whoever draws the short straw, it isn't you, because the views from Tongue Point lookout are ones you don't want to sacrifice. From the beach, walk 15 to 20 minutes further into the Hill Inlet estuary until you arrive at the lookout – you'll know you're there, when the magnificent view of turquoise waters and tranquil beaches takes your breath away.
For such small islands, the Whitsundays can pack a surprising number of thrills into any Down Under holiday. From seaplane rides and barbecues on the beach, to whale-watching and swimming with sea turtles, to safaris, fishing and nature walks, the range of possibilities and exploration is nearly as expansive as those ocean views from the starboard side of your vessel. Anchor's aweigh.