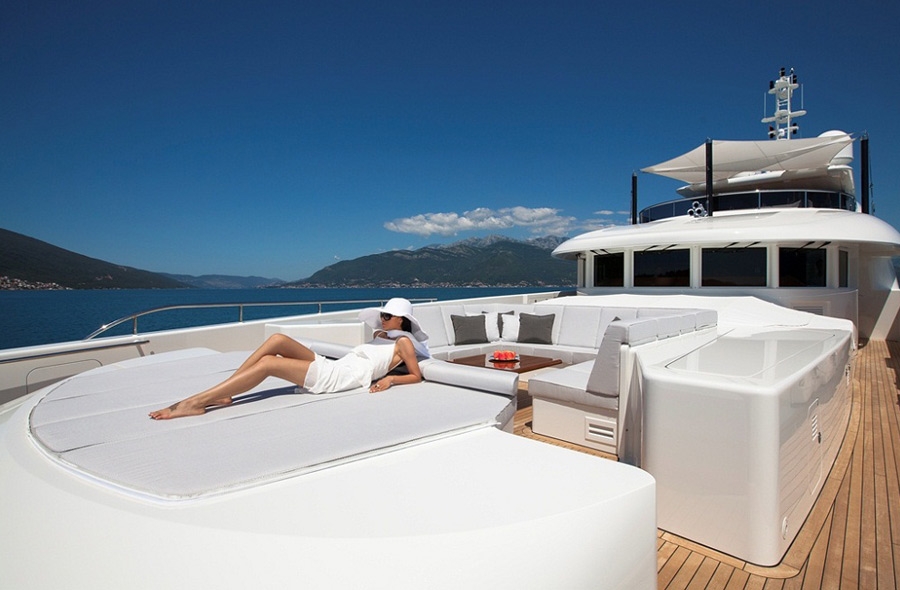 With so many spectacular destinations around the world, narrowing down your choices for your next getaway is no easy task.
So we've researched five intriguing choices for your consideration. Your travels may take you to the romantic streets of Rome, a tropical paradise off the coast of Thailand, or to enjoy some fun in the sun in Southern California. Or maybe an eco-adventure on Mexico's Riviera Maya or finding your own "Treasure Island" off the coast of Australia is in the stars for you.
ITALY
STAY: THE ST. REGIS ROME
Italy's extremely photogenic capital city of Rome has been called the world's largest open-air museum, and it's easy to see why. As visitors stroll along the city's beautiful piazzas and past centuries-old architectural masterpieces, they are immersed in history at every turn. St. Peter's Square and the Colosseum are just two prime examples. One of the most popular stops for visitors is the legendary Trevi Fountain, which dates back to 1762 and has starred in movies such as La Dolce Vita and Roman Holiday. According to tradition, visitors who toss a coin into the fountain are guaranteed to return. If you do toss in a coin, you very well might want to return for the shopping. The area surrounding the famous Spanish Steps at Piazza di Spagna is home to some of Rome's most prestigious boutiques, including Fendi, Prada, Valentino and Gucci. Of course, no description of Rome would be complete without paying tribute to the city's tempting cuisine.
You just might want to leave the calorie counter at home, because Romans love to eat and visitors are the beneficiaries of their passion for food. Whether you enjoy a hearty pasta meal at a family-run trattoria or indulge in the finest haute cuisine from around the world, you'll never go hungry in Rome. Just one hint: If you see locals packing into a restaurant, it's a very good sign.
While in Rome, you can bask in the ambience of a grand palace in your suite at The St. Regis Rome. This opulent hotel is elegantly appointed with fine art and decorated in a combination of Empire, Regency and Louis XV styles. For dining, consider booking a private dinner for your traveling party at di…Vino Private Wine Cellar, or seeing and being seen at Le Grand Bar in the lobby, or dropping into Vivendo for some contemporary cuisine.
Stregisrome.comStregisrome.com
THAILAND
STAY: CONRAD KOH SAMUI
Located at the very heart of Southeast Asia, the exotic kingdom of Thailand beckons guests with its abundance of treasures which include fascinating Buddhist temples, spectacular beaches, and diverse wildlife. The country's landscape is equally diverse. Thailand is home to more than 100 national parks that encompass everything from tropical rainforests to stunning marine settings ideal for snorkeling, scuba diving and kayaking. The Thai people, most of whom speak English, are another of the country's treasures. They have earned Thailand a well-deserved reputation for being the "land of smiles." You may have also heard that Thailand has fabulous spas. It's true. The country was recently named the "Asian Spa Capital of the Year" by AsiaSpa magazine.
Many visitors are also drawn to Thailand for its spectacular beach resorts and islands which are among the most beautiful in the world. Phuket, Thailand's first resort destination and also its largest and busiest, is located off the southwest coast of Thailand in the Andaman Sea. Just off the country's eastern coast lies the stunning tropical island of Koh Samui, the top island destination in the Gulf of Thailand. Koh Samui is served by Samui Airport, which has been called "the most beautiful airport in the world." Koh Samui also offers easy access to the scuba diving paradise of Koh Tao (Turtle Island,) home to a dazzling array of marine life.
Nestled on hillside at the southwestern tip of this idyllic island is the luxurious Conrad Koh Samui resort which offers 80 free-standing one and two-bedroom villas, each featuring its own infinity pool and spectacular views of the Gulf of Thailand. Even the treatment rooms at the resort's two-story spa offer private decks and beautiful sea views. For an exquisite dining experience, the chefs at Jahn, one of the resort's four restaurants, take guests on a culinary journey through Thai cuisine, complemented with selections from the resort's extensive wine cellar.
CALIFORNIA
STAY: THE RITZ-CARLTON, LAGUNA NIGUEL
As a vacation destination, Southern California is undeniably synonymous with "fun in the sun." With over 150 miles of shoreline, the area is a virtual beach lover's paradise. Huntington Beach became a symbol of the laid back California lifestyle when Jan and Dean made it famous with their 60s song "Surf City." Today, this popular vacation spot is still known as "Surf City USA."
Nearby Newport Beach is home to Newport Harbor, the largest recreational harbor on the West Coast. Laguna Beach, with its seven miles of scenic beaches and charming village setting is a haven for artists, and Dana Point, located halfway between Los Angeles and San Diego, is tucked away amid coastal bluffs and rolling hills and offers spectacular views of the Pacific. For the young (or the young at heart), Southern California is also "theme park central," as it is home to Disneyland, Universal Studios, Knotts Berry Farm, Legoland and SeaWorld.
Located in the heart of it all, atop a 150-foot bluff overlooking the Pacific, is the Ritz-Carlton, Laguna Niguel. Recognized as one of the top hotels in the world, it offers exceptional dining, oceanfront golf at Monarch Beach Golf Links, and eco-adventures for children and adults through Jean-Michel Cousteau's Ambassadors of the Environment program. The pet-friendly resort also welcomes four-legged members of the family with its "Posh Pooch" amenities.
RIVIERA MAYA, MEXICO
STAY: AZUL VILLA ESMERALDA, BY KARISMA
Spanning along the eastern coast of Mexico's Yucatan Peninsula south of Cancun, Riviera Maya is the ideal destination for enjoying eco-adventures and exploring the fascinating Mayan culture. The area is also home to the largest coral reef in the northern hemisphere, so it's a natural choice for snorkeling and scuba diving. The ideal home base for these adventures is Azul Villa Esmeralda which offers more than 11,000 square feet of private, oceanfront accommodations and a dedicated staff of eight.
KarismaHotels.com/VillaEsmeralda
LORD HOWE ISLAND, AUSTRALIA
STAY: CAPELLA LODGE
With its rugged volcanic peaks, lush forests, rolling surf and serene lagoon, Lord Howe Island, located northeast of Sydney, has been described as "Treasure Island." Three-quarters of this pristine UNESCO World Heritage site is permanently preserved as a marine park and subtropical rainforest. The island's Capella Lodge has been described as "the first luxury lodge in the world's last paradise." Guests are treated to mesmerizing views from their luxurious accommodations designed in a relaxed, contemporary style.