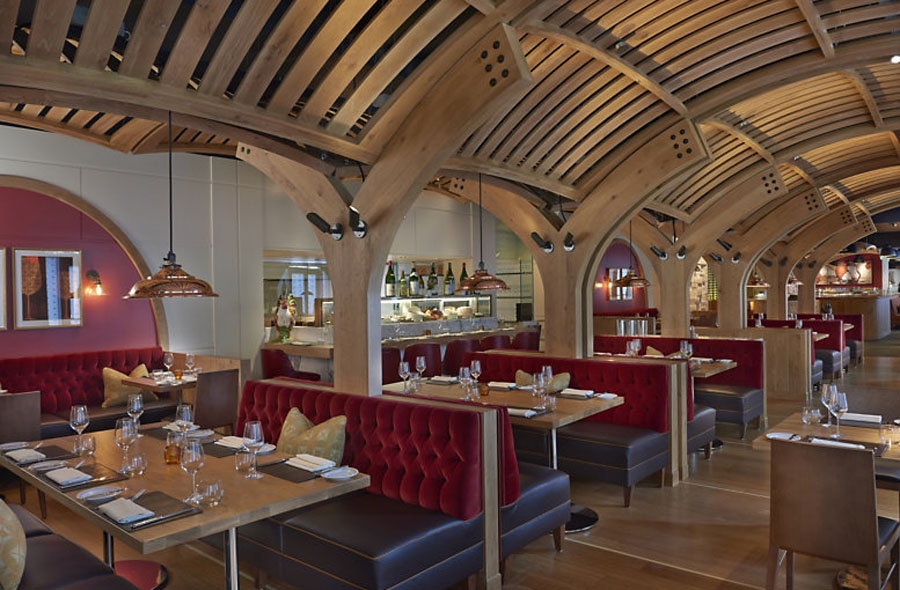 Bar Boulud is a French-inspired bistro & wine bar featuring brasserie fare, seasonal New England dishes and signature charcuterie.
Joining its award-winning sister restaurants in London and New York, Bar Boulud is a French-inspired bistro and wine bar from internationally acclaimed chef Daniel Boulud. Specializing in classic brasserie fare, Bar Boulud is known for its delicious French menu, seasonal New England inspired dishes and signature charcuterie from renowned Parisian charcutier Gilles Verot.
Entered directly from Boylston Street or through the lobby of the hotel, Bar Boulud's design offers a contemporary take on the craft of winemaking with vaulted ceilings inspired by wine barrels, wood floors and walls fashioned from wine crates. With a choice of seating including a row of stunning rich burgundy leather booths, the restaurant also features a 7-seat marble charcuterie counter, a glass enclosed wine cellar and a 17-seat backlit zinc top bar.
Overseen by Chef Aaron Chambers, Bar Boulud's menu offers a wonderful choice of both French and American dishes, enhanced by an impressive wine cellar specializing in Burgundy and the Rhône Valley. As suited to special occasions as it is to business lunches and leisurely meals, Bar Boulud is one of Boston's most exciting dining venues.