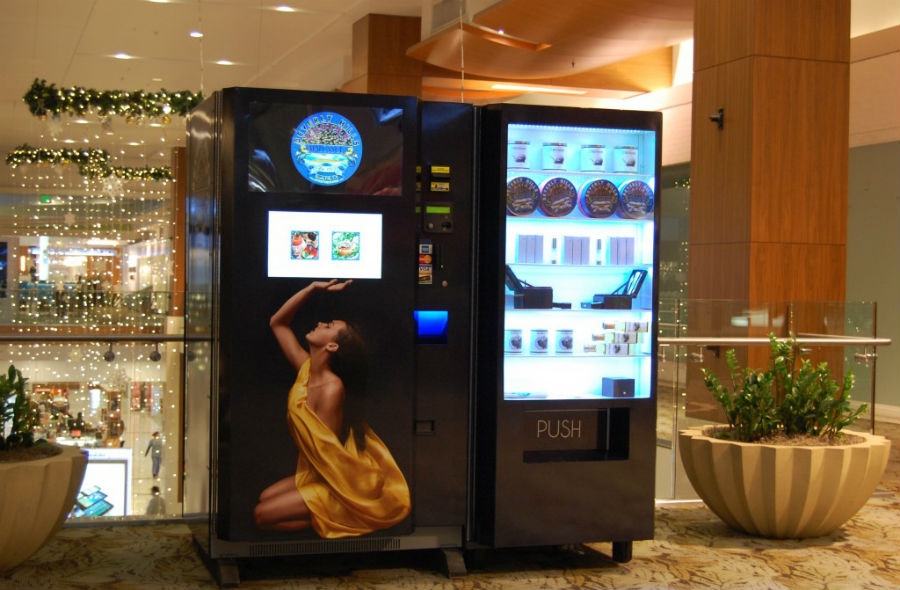 You can get just about anything in a vending machine in Japan – from high end beer and sake to make-up and underwear, but we didn't start to see the trend so much in the U.S. until Best Buy offered electronics at the airport via machines and Sprinkles put cupcakes in an ATM dispenser in Beverly Hills last year.
You never know when a 24 hour cupcake craving is going to hit – especially when red velvet is involved, but now you can also access one of the world's top delicacies by swiping your credit card and pushing a button. The all access caviar vending machine has arrived in the Westfield Century City Mall.
Beverly Hills Caviar is offering luxury, top-shelf caviar vending machines, located at three locations throughout the greater Los Angeles area. The machine behind the brand seems to be targeting the holidays and gift giving with the new launch. With items ranging from small gifts such as a Pink Mother of Pearl Spoon ($5) to Black Truffle Salt ($20) and Imperial River Beluga Caviar ($500 for 1 oz.), the gourmet caviar can now be sourced at any time. Caviar is always tasteful gift to lavish loved ones on your Holiday list and now it's more convenient, too.
Other locations include The Westfield Topanga and The Burbank Town Center.