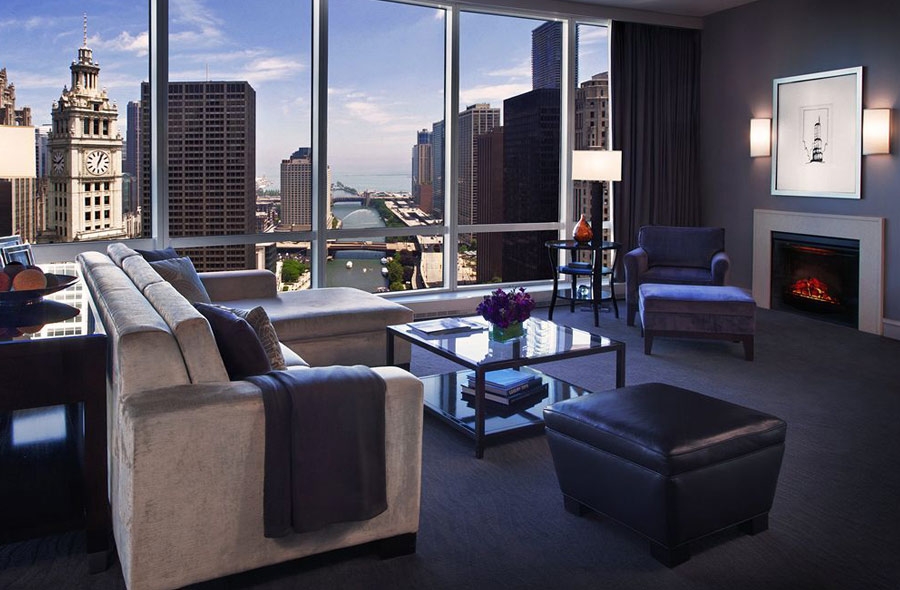 The city of Chicago is known for many things.
A jaw-dropping skyline as elegant, gleaming and impressive as any. Fortune 500 mega companies. An amazing collection of A-list natives. World-class museums. The Sears Tower (Yes, I know it's the Willis Tower now). Oprah! It's also home to legendary sports teams and athletes, so in homage to Da Bears, the Stanley Cup Champion Blackhawks and Michael Jordan, we are going to lay out a simple, luxury game plan that, if followed, we guarantee you will not only want a second helping of the Second City, you might be shopping for a high rise condo in hopes of spending part of your year there.
We're going to focus on two meals and a luxury hotel suite, and we only hope your experience will be as memorable as ours. Based on the fact that Chicagoans are experts at many things – providing impeccable service with panache, flair and personality being one of them – we think it will be.
Let's start with what we recommend to be your headquarters for a memorable vacation, the Trump International Hotel & Tower Chicago. It takes a special piece of architecture to stand out in the Chicago skyline, and this 92-story masterpiece steals your glance from almost every angle of the city. It's bold, beautiful and the home of contemporary accommodations that include personal attaché service, incredible views, impeccable service and an array of spa services that will prepare you for a night on the town or a shopping excursion on Michigan Avenue or Oak Street, which is located just a few short blocks away. The hotel has 339 rooms, including 22 Grand Deluxe Two-Bedroom Suites and 176 Luxury Suites. Pampering yourself or your travel companion is an absolute must at Trump International Hotel & Tower Chicago, and oh, do they make it easy to do that. The Spa measures 23,000 square feet and offers signature treatments, 12 private treatment rooms and Kate Somerville products and skincare services.
Another aspect that stands out about the hotel is how every detail, no matter how elaborate or minute, was designed to impress and allow its guests to indulge. It's grand yet quaint, massive and majestic, and the service is over the top and omnipresent. The rooms are sophisticated and upscale, and amenities include custom-designed furnishings, limestone bathrooms, 42? flat-screen plasma TVs, fireplaces in-suite and fully equipped kitchens.
Trump International Hotel & Tower Chicago is a world-class hotel in a world-class city, and catering to affluent travelers is literally in the DNA of the property.
Trump International Hotel & Tower Chicago
401 N. Wabash Avenue
Chicago, IL 60611
312.588.8000
TrumpHotelCollection.com/chicago/?
Dinner, Day One: Chicago Cut Steakhouse
Chicago is a city that is home to great steakhouses. That's wonderful news for diners, and the good thing for you is that if you're planning a visit to Chicago, there is one steakhouse that truly stands out from competitors, and its name is Chicago Cut. There's no steakhouse in the country that can match the big city feel, ambiance, character, energy, service and quality of food. We experienced Chicago Cut on a Tuesday night – a Tuesday – and the hustle and action inside was as vibrant as any restaurant you'd visit on a weekend. It's situated on the historic Chicago River, in the heart of downtown, and owners David Flom and Matt Moore have used their decades of experience to create a big-time traditional steakhouse that is a haven for celebrities, business executives, sports stars, tourists and locals who want to celebrate something special and have a meal that will not disappoint. It's the only steakhouse in Chicago to exclusively serve USDA-certified prime steaks, which are butchered and dry aged on the premises. The wine list is extensive and impressive, and is offered on 40 iPads that provide video, images and detailed information about each wine and its origins.
The wait staff is expertly cast, with an impressive balance of knowledge, instinct, experience, personality and charm. Dining at Chicago Cut is an event and an experience, and the servers and Mr. Flom and Mr. Moore make you feel like your night truly is special.
Executive Chef Travis Strickland is an alum of Culinary Institute of America, and he recently unveiled new menus that feature his approach and philosophy of rustic simplicity. Some of his menu highlights include perfectly-prepared steakhouse standards of filets, rib-eyes and chops, along with dynamic and unique pairings, including Seared Hudson Valley Foie Gras, Dungeness Crab Louie, Prime Steak Tartare, thick cut Neuske Bacon and Maine Diver Scallops. The desert menu is as ambitious and delightful as the entrees. It's a dining experience that is as renowned as the city it is located in.
Chicago Cut Steakhouse
300 N. LaSalle
Chicago, IL 60654
312.329.1800
ChicagoCutSteakHouse.com
Dinner, Day Two: Chicago Q
Is there anything better than an unexpected gift? That is the best way to describe what you will receive when you dine at Chicago Q, a new urban BBQ restaurant in the heart of the Gold Coast. Chef and Partner Lee Ann Whippen is literally in the BBQ hall of fame, routinely being featured on BBQ Pitmasters on cable network TLC and the Food Network. She truly has a passion for BBq, and it is on full display as her artisanal house-made rubs, southern quality service and modern ambience of the charming restaurant all join forces to create a dining experience that is intimate, fun, and as incredibly ambitious as it is delicious.
If you are not a fan of BBq before you arrive, you will be when you depart, and when you go, we suggest you do what we did: ask Chef Whippen to bring out a little bit of everything and experience as much of the menu as you can. There is so much character and creativity to her menu, but at the heart of it is a true Southern influence that focuses on flavor and service. Starter dishes like Blackened, Farm-Raised Alligator; House Bacon Cheddar Hush Puppies and Kobe Brisket set the tone for what you know will be a magical night of dining. The BBq comes out next, and include Kobe Beef Ribs, Pulled Pork Shoulder, Pulled Chicken and St. Louis Ribs as well as Seared Ahi Tuna, Bone-in Rib-eye steaks, and Smoked Vegetable Tamales.
Early each morning, the chefs smoke their signature high-quality meats in wood-burning smokers, and the results are tender, made-from-scratch BBq masterpieces.
Chicago Q is really a hidden gem in a metropolis of world-class culinary destinations, where the Southern charm and hospitality is as inviting as the aromas inside are intoxicating.
Chicago Q
1160 N. Dearborn
Chicago, Illinois
312-642-1160
ChicagoQRestaurant.com