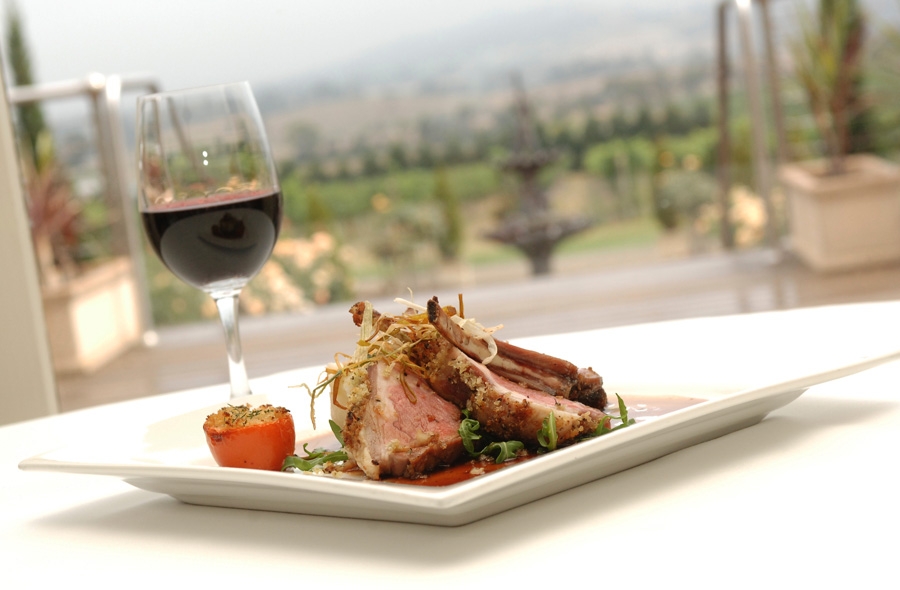 It's a question that has been discussed by so many wine and food writers in so many fashions that it makes the reader wonder, am I doing it right? Why does this have to be so complicated?
First of all, pairing wines and foods is an entirely personal treatment expressed by you and your creative taste experiences. You must remember that your palate is as unique as your fingerprints, and what you like may not be what everyone else likes, depending upon their experience and palate preferences. There are a few general rules of thumb that you can use, so with that in mind, here is my take on how I look at pairing food and wine.
Properly chosen, wine acts like a condiment rather than a beverage. Like salt and pepper or a squeeze of lemon on fish, wine enhances and amplifies food flavors. When combining foods and wines, the goal is to create some kind of synergy. In order to properly experience this synergy you must taste the food and wine simultaneously, by combining the food and wine in your mouth at the same time. This way, you taste a much more complex experience, which can be expressed by the business formula for synergy: 1 + 1= 3
Think of it this way: you wouldn't eat your fish and then, because you forgot to squeeze some lemon juice on it, pick up that slice of lemon and squeeze it in your mouth, that would be silly. What's interesting to me is to watch people dining in restaurants. Most eat their steak and then reach for that Cabernet to wash it down, treating wine like a beverage. In order to see the magic created by "food wines" you need to take a tiny sip of wine while the food is in your mouth to get the full effect. Do you put steak and mashed potatoes on the same fork sometimes? It's the same thing.
What are food wines? I feel that the best wines for food compatibility possess lively acidity, little — if any, oak, ripe fruit and soft, if any, tannin. Sauvignon Blancs from Sancerre, New Zealand, South Africa and some Californians are a good start. Dry German Riesling is perhaps the most food friendly white in the world. With the reds I like Pinot Noir, Cabernet Franc, Sangiovese, Barbera, and of course, Cabernet Sauvignons (if properly aged). There are many others and books have been written that thoroughly explore this, and some of the best are written by my Master Sommelier colleagues. Evan Goldstein with Daring Pairings and Andrea Robinson with Great Tastes Made Simple are suggested reading.
Food Pairing Suggestions
Pair fruity dishes with wines from New World regions (warmer climates/big fruit) such as California or Australia, or pair earthy dishes (ex: mushrooms, leeks, shallots) with restrained wines from Old World regions such as France, Spain or Italy. When foods and wines are paired well, essentially the food makes the wine taste better and the wine makes the food taste better.
An Example of a Perfect Meal
I enjoy a warm plate of spaghetti (cooked al dente (4-5] minutes) served with a great Bolognese sauce. To me, a great Bolognese sauce is complex containing pancetta, onions, garlic, celery, thyme, oregano, nutmeg, ground veal or beef, sausage, acidic tomatoes, fresh flat leaf parsley and topped with freshly grated 2- to 3-year old Parmesan cheese.
With this, I serve a great Chianti Classico (Fontodi, Monsanto etc.) at 62 degrees in a delicate crystal glass. Then I have a simple salad of chopped Romaine lettuce (chilled in an ice bath for 5 minutes and spun in a salad spinner to dry). This salad I dress with a light shallot vinaigrette (no balsamic) and nothing else.
I have them served simultaneously so that I can take a bite of the spaghetti and just as I swallow it I follow that immediately with some crisp cold salad. I then sip that acidic Chianti Classico, again with some spaghetti and I am in heaven. I go back and forth combining these ingredients until I feel their explosive contrasting flavors are beginning to wane, then on to dessert before my appetite fades.
Other Classic Pairings To Remember
Champagne & Caviar
The rich mousse in Champagne balances off the brininess of the caviar quite nicely. The bubbles also will echo the shape and mouth feel of caviar on the palate. A classic caviar accompaniment is crème fraiche, and blinis. The acidity in Champagne will cut through the creaminess like a warm knife through butter, and the toasty note of Champagne will mimic the blini. Not to mention it's pairing a luxury item with a luxury item.
German Riesling with Spicy Seafood Dishes
One of the best ways to counteract spice in a dish is with residual sugar (RS) in a wine. Choosing the right level of sweetness in German wines (Kabinett, Spätlese, Auslese, etc.) with the level of heat in a dish can lead to some wondrous pairings. German Riesling has always gone extremely well with Japanese cuisine and Sushi. Ask your wine merchant or sommelier to let you try some of the "dry" style Rieslings (Halb-Trocken or Trocken). These are what I serve.
Sancerre & Goat's Cheese
One of the oldest adages in food and wine pairing vernacular is "If it grows together it goes together." If you're ever been completely stumped by what to pair with a dish, try to think what regional influence the dish has, and choose a wine that is from that region. This is never truer than with this pairing: Sancerre is 100 percent Sauvignon Blanc from the Loire Valley, France. The Loire Valley is famous for its great Goat's milk cheeses. The delicate and aromatic nature of this wine compliments the typically delicate, ashy texture, and aromatic profile in Goat's cheese. Also the high acidity helps to break down the fattiness and creaminess on the cheese. This pairing is magnetic. Sancerre is my favorite white wine for restaurants with fish courses as it is usually not expensive and has just the requisite acidity to amplify anything you throw at it.
CA Chardonnay & Pan Roasted White Fish w/ Creamy Sauces
The full velvety texture of a lightly oaked CA Chardonnay is a great for almost any delicately flavored white fish (Halibut, Turbot, Dover sole, Trout, etc.) with butter-based sauces (Meuniere, Buerre Blanc). The weight is identical, the viscosity of both the sauce and the wine will meld together, and the oak will highlight the slight caramelization that is sure to be on the fish from the pan roasting process.
Classic Pairings To Remember
Pinot Noir/Red Burgundy & Grilled Salmon
Because of the weight and high fat content of Salmon, it requires a wine that is medium bodied and has a lot of acidity. Salmon also has a delicate sweet flavor that can easily be lost if paired with too overpowering of a wine. Pinot Noir is ideal, especially those "fruit forward" ones from California. I like to marinate the salmon in the Pinot Noir for 4 to 6 hours — even better, try marinating the salmon in Teriyaki Sauce, it's wonderful with Pinots.
Bordeaux & Herb Crusted Lamb
Lamb is a very fatty red meat that requires a wine of judicious tannin and acidity to break down that fat. Since lamb also has a full body, it requires a wine that will match that body. Most Bordeaux (especially those of Pauillac, St-Julien, and Margaux) fit that bill perfectly. Often times, Bordeaux show a slight lavender/rosemary aroma which will complement the herb crust on the lamb as well
Syrah/Shiraz & Braised Red Meats
Syrah is a high alcohol wine with a medium-full to full body. It has medium tannin and acidity, which is perfect for braised beef. Don't forget, even though short ribs are a very fatty cut of beef, their fat has been mostly broken down already by the long, slow cooking method. The molasses-like viscosity of Syrah will seemingly melt in your mouth with the soft texture of the ribs.
Sauternes & Foie Gras
The rich fatty texture of Foie Gras is ideally matched to the honey-like texture of Sauternes. The sweetness of the wine also helps to balance the saltiness of the sea salt that the Foie Gras is almost certainly to be seasoned with.
Some Basic Guidelines:
With simply prepared foods, use simple wines. Keep things in perspective. Neither the wine nor the food should compete with each other — balance is key.
With older, more complex wine, serve less intensely flavored foods.
Opposites attract. Try contrasting flavors (i.e. sweet/fruity vs. salty). Riesling with smoked salmon, Port or Madeira with Stilton cheese, for example.
Reds with grilled meat. If using a great wine, the simpler you prepare the meat, the better you will showcase the wine. As a general rule, as the subtlety and complexity of the wine increase, care should be taken with the food preparation so that the wine will stand out
With dessert wine, the higher the quality of the wine, the simpler the dessert. Always make sure the dessert is less sweet than the wine (think pound cake or unsugared shortbread cookies, sabayon custard). Most desserts kill dessert wines because they are too sweet. Very often, I serve a glass of Eiswein as dessert, and it doesn't need to be paired with anything. It is a flavor rush your guests will never forget — don't buy cheap ones.