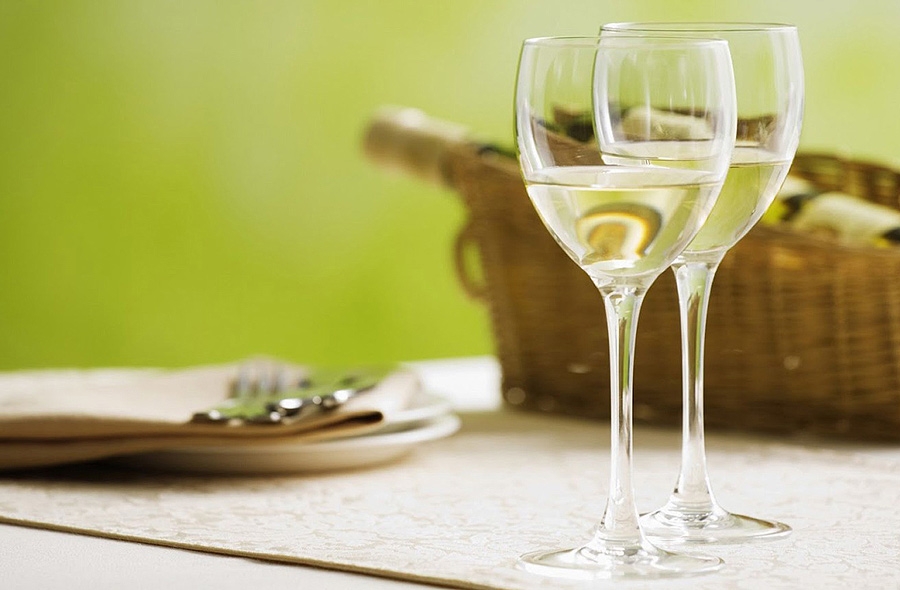 German wine, and more importantly German Riesling, is one of the most interesting, versatile, and misunderstood grape varietals in the world.
The incorrect general consensus is that all Riesling comes in blue bottles, is sweet, and simple. In fact, in a recent poll of Master Sommeliers German Riesling was overwhelmingly chosen as the favorite 'Desert Island' white wine, thanks to its bracing acidity levels.
For too long German Riesling has been relegated to the bottom shelves of grocery stores across America. But now, its time has come…again. Here is a brief synopsis of what you need to know to Power Entertain with German Riesling. If you want to delve deeper, take a look at this website, which is a company dedicated to the "dry style" Rieslings…they have it all! (www.trulyfinewine.com)
QbA (Qualitatswein – Quality Wine): This is the common classification for basic wines in Germany. They range from Blue Nunn to higher quality estate fruit wines from well known producers. The main difference between this category, is that this level will allow for chaptilization, which is the addition of sugar during fermentation to increase alcohol and enhance flavor. Pradikatswein (distinct wine, formerly known as QmP): This is the higher quality level of wine production and these wines do not allow chaptilization. They must be produced 100% naturally from the grape and have a hierarchy based on ripeness level at harvest, which is explained below.
Kabinett: Picked during normal harvest, lighter bodied wine, lower in alcohol (7-12%), and usually dry or semi-dry. Term coined from the Kloster Eberbach in the Rheingau, where monks used to store reserve wines in the cellar "Kabinett." Aging Potential: 3-5 years (min 17 Bx). Bx or Brix is the sugar in the grape at harvest. For Germany, there is a minimum level required at harvest for each Prädikat classification.
Spätlese: Means late harvest, made from late picked grapes (7-12 days past the Kabinett) that are fully ripe with greater intensity and strength. Built dry to fully sweet (alc. 8 – 13.5%), with a bigger body, and more pronounced concentration of fruit. Aging Potential: 7-15+ years (min 18.4 Bx)
Auslese: Selected harvest, made from very ripe grapes harvested in select bunches. Rich intensity and only made in best warm years when botrytis (a beneficial mold) can start to set in. Increased labor contributes to higher prices. Much fuller and loaded with tropical fruit aromas, balanced acidity and exceptional as entry level dessert wines, but can also be done dry. Aging Potential: 25-40+ years (min 19.9 Bx)
Beerenauslese: Berry select harvest, rare and costly due to high labor. Usually affected by botrytis (20-80%). Deep, honeyed, raisin richness. Aging Potential: 60+ years (min 25.8 Bx)
Trockenbeerenauslese: Dry, berry select harvest. Richest, sweetest, and rarest, most expensive. Only made in exceptional years. Experience difficulty in fermenting, and are usually 6-9% alcohol. Incredible richness and character. Aging potential: 80+ years (min 33.9 Bx)
Eiswein: Very ripe frozen grapes (typically BA quality and not affected by botrytis). As the frozen grapes are pressed, the sweet, high acid, concentrated juice is separated from the ice or water in the grape. Results in high levels of natural sugar and acidity. Elixir of the Gods! Aging Potential: 100+ years (min 25.8 Bx)
NOTE: As a general rule of thumb, if the wine is between 6-9% alc., it will be sweet, between 9-11.5%, off-dry, and north of 12% will typically be dry. The more sugar left over after fermentation (Residual Sugar, RS), the greater sweetness. The more sugar fermented to alcohol, the greater dryness and the less RS.
Important Terms on a Label:
Trocken: dry (up to 9gl RS)
Halbtrocken: off-dry (up to 18gl RS)
How To Pair Rieslings With Food:
Dry Riesling Food Pairing:
Classic dry Rieslings are a perfect complement to a variety of cuisine. Experiment, you might be surprised.
The work extremely well with fish and sea foods, since the high levels of natural acidity act as a stunt double for lemon.
They also work great with heartier proteins like pork, veal, chicken and game. Don't be afraid to try them against a rich sauce preparation either.
It is not uncommon in German to serve wild boar or venison, over a home-made Spätzle and hunter sauce, with a dry Riesling.
We only suggest avoiding spicy foods, which is covered below.
Sweet Riesling Food Pairing:
Classic pairings for sweet Rieslings are bold spicy dishes like Thai, Indian, Mexican, Szechuan and other ethnic cuisine.
The most renowned Thai restaurant in North American (Lotus of Siam, Las Vegas) coincidentally has one of the best German Riesling lists in the country, and for good reason.
Auslese can also pair with spicy foods and typically have a high enough residual sugar level to pair with fruit and cream based desserts. As a general rule of thumb, the dessert wine should always be just a hint sweeter than the dessert.
Riesling is grown in many parts of the world and done well. If you don't yet serve Riesling then start with Germany because they do it the best. Then take a look at New York, California, Washington, Oregon, New Zealand, Austria, Australia, and Alsace. The homework is fun!
Eddie Osterland, M.S., is a nationally acclaimed speaker on food and wine and was the first American to receive the Master Sommelier certification. For the last 25 years, he has worked with event, meeting planners and hosts to customize corporate and private parties and special occasions, adding his own unique touch and perspective to create unforgettable culinary experiences. His clients have included General Mills, American Express, Morgan Stanley Smith Barney, and Procter & Gamble.