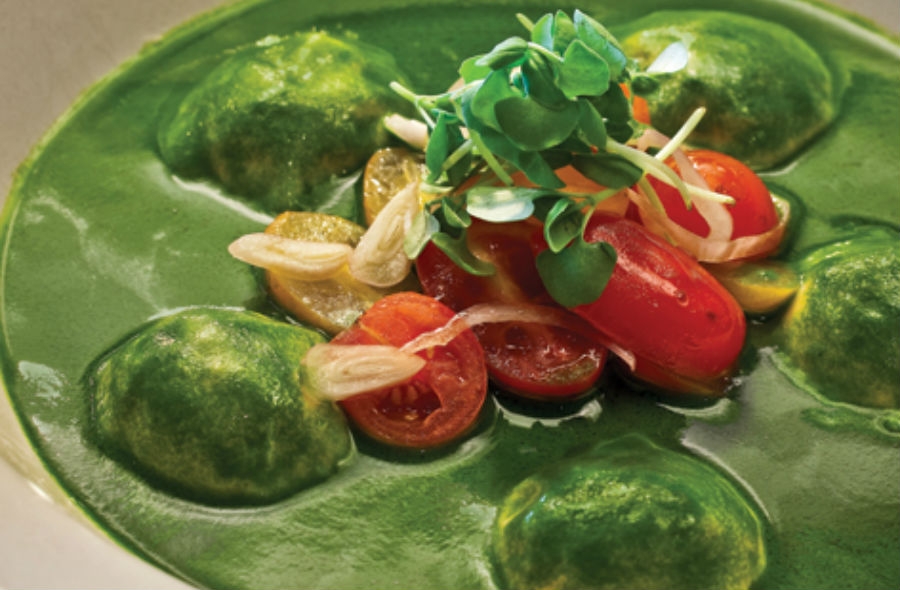 When it comes to what is regarded as the best cuisine, there are only a few at the very pinnacle.
This peak is a kingdom of sorts, ruled by masters and legends who cultivate perpetual satisfaction, ensuring their seat at that throne. Certainly, the French have earned the title of "Gratifying Gourmets," as their recipes have influence far beyond the country's borders. In my recent encounter with three award-winning French chefs, Guy Savoy, Gilles Epie and Jean-George Vongerichten, they described the evolution of worldly influences they've infused into their own gourmet cuisines.
I have to admit that I was a bit surprised to learn that the three Frenchmen, each adorned with Michelin Stars, are not egotistical about fine French cuisine at all. Instead, much like a boomerang, these three chefs have gathered the best of what they've learned from kitchens around the world and brought them back to their own. The chefs are now spread far and wide with restaurants in Europe, Asia and America.
Our first stop in the land of edible gratification is Paris where I met with Chef Guy Savoy at his namesake restaurant to sample his nouvelle cuisine. "For me, it's a marvelous fairy tale," explains Savoy when asked about his passion for this profession. "Cooking is the art of lifting food from the merely edible to the realm of pleasure," he says with a smile, starring deep into my eyes. "Go on," I quickly and curiously insist. He continues describing this love affair by illustrating, "Cooking is about transforming matter into joy. Products are made in a limited time, consumed within an equally limited time, and provide pleasure very rapidly."
Suddenly, the "Clear Iced Poached Oysters" and chilled wine appeared at the table set for two, followed by his "Blue Lobster Raw-Cooked in Cold Steam," and then a taste of "Caviar and Potato Pebbles." And we lived happily ever after. I snapped out of his kingdom and the romantically-narrated fairy tale and came back to reality. Yet reality was a fairy tale indeed for me with Savoy in Paris. As another satisfied guest of Guy Savoy stumbles onto the streets, grinning from the experience, I remember to collect myself for the next two chefs.
While still in Paris, I dined at Citrus Etoile where the handsome Chef Gilles Epie delighted me with a mouthwatering beef dish and truffle mashed potatoes. "I don't use butter, except for in the mashed potatoes," Epie reveals of the cuisine style. In short, Epie still holds the title of the youngest chef ever to be awarded a Michelin Star at the green age of twenty-two. Then he moved to the U.S. without speaking any English yet still managed to be awarded Best New Chef in America 1996 by Food & Wine after only one year at the then famous L'Orangerie in Los Angeles.
Epie became a celebrity chef to the stars of Hollywood, but returned to Paris, and for the last seven years, he has been at his successful restaurant Citrus Etoile which still gathers Hollywood stars and international political dignitaries. He describes his dishes as "California cuisine," as they are fresh and light, thus no heavy sauces. Epie explains that he had to evolve for his California clientele at L'Orangerie who were often concerned that rich French dishes were too caloric. In "cuisine Epie style," seemingly uncomplicated meals are created to "bring out the most simple and delightful taste that it was meant to have." Just be sure to end your meal with his award-winning Chocolate Soufflé. C'est magnifique!
My final visit was with Chef Jean-George Vongerichten at his J & G Steakhouse in Scottsdale, Arizona. I went with Chef's recommendation and had their tasting, with the added wine pairing to accompany the experience. The highlight was the Chilean Sea Bass in a Miso Yuzu Broth as it was so flavorful and tender, and melted in my mouth.
Among the many notable achievements for Chef Vongerichten are the triple-crowned James Beard awards he received all in just one year, a first for the Foundation. In the beginning of his career, it was working with the top chefs in France that taught him how to master his own signature dishes as much as his experiences in Asia. Vongerichten's empire of establishments has advanced across the globe and is managed by his Culinary Concepts Hospitality Group (CCHG). I would describe him as a genie who has collected all the edible riches of the world offered up in his restaurants. As your wish is his command, the menu created at J&G is an "individually designed, customizable menu" of the finest and freshest "globally selected" meats and seafood.
For more on Guy Savoy, go to GuySavoy.com
For more on Gilles Epie and Citrus Etoile, go to CitrusEtoile.com
For more on John-George Vongerichten, go to JGSteakhouseScottsdale.com