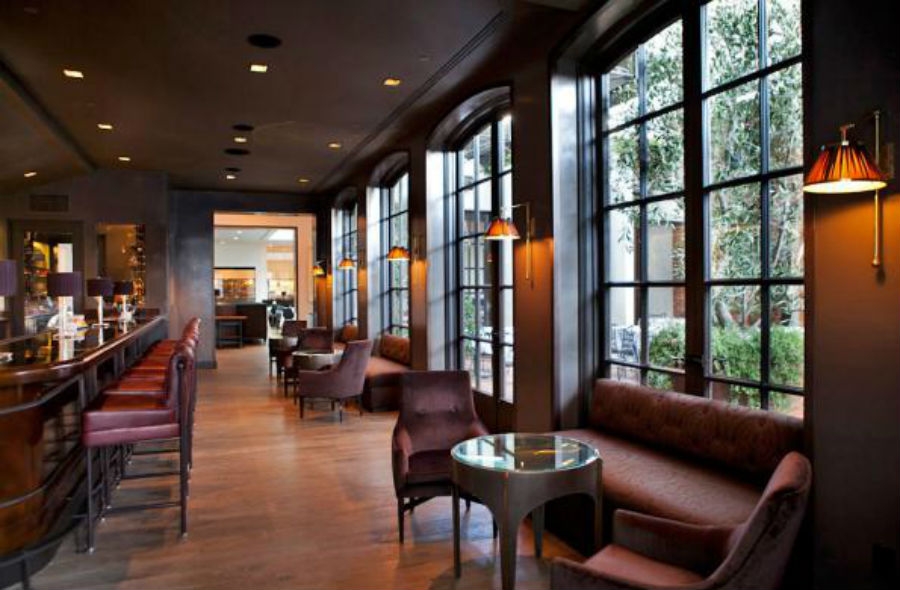 We love historic restaurants and chefs that have stood the test of time while evolving year after year.
The best example of such a place in Los Angeles must be Wolfgang Puck's Spago in Beverly Hills. The revamped modern dining room by Waldo Fernandez (Soho House) was revealed along with the new menu items at the end of last year.
The patio has always been a main draw – and you will still be hard pressed to book a table for lunch on a Friday afternoon, but the bar is now coming into its own as a prime spot to not only drink but dine. There are even more spacious lounge style two-tops lining the wall and continuing out into part of the main dining room space. No longer just an afterthought for a bite of sushi, the new menu is bar food that you want to eat – fun and approachable while being culturally interesting and comforting. Some of our favorites include the tempura ice fish with Thai curry vinaigrette which is finger food that was presented similar to French fries or fried zucchini. You can get a Spago burger but try the house-cured pastrami sandwich with coleslaw and pickles for something a little lighter, or the soft shell crab po'boy with tartar sauce and a fried Jalapeno, is also a nice change from the typical slider bar options. Die-hard fans will be happy to discover that you can order the beloved smoked salmon pizza – add shaved summer truffles; or go into an Asian direction with Bincho grilled chicken wings, pork and leek chili dumplings, Chinese steamed bao with grilled short ribs or garlic noodles with bok choy, shrimp and Shitake. End with a frozen strawberry, basil and almond kulfi pop. You'll need some time to graze though the menu so we also discovered the perfect refreshing summer drink that will go with all of this food, Tiffany Twisted. Mixologist Andrew Kim was kind enough to give us the recipe if you'd like to try your luck at home, but it tastes much better perched on a Spago bar stool people watching.
Tiffany Twisted
½ Oz Aperol
½ Oz St. Germain
½ Oz Simple Syrup
¼ Oz Lemon Juice
1 Dash Lemon Bitters
2 Oz Riuhart Rose